Bridal Gown Inspo for Fall 2021 and Beyond
It's that time of year again! Bridal designers are showcasing their latest collections, and we've been getting a taste of the wedding dress trends that will be making it big at bridal boutiques and down aisles alike. From flirty florals to gown alternatives to transitional pieces, we are discussing the top 10 bridal trends we've been seeing from the Fall 2021 and Spring 2022 collections.
Wedding Dress Trend No. 1: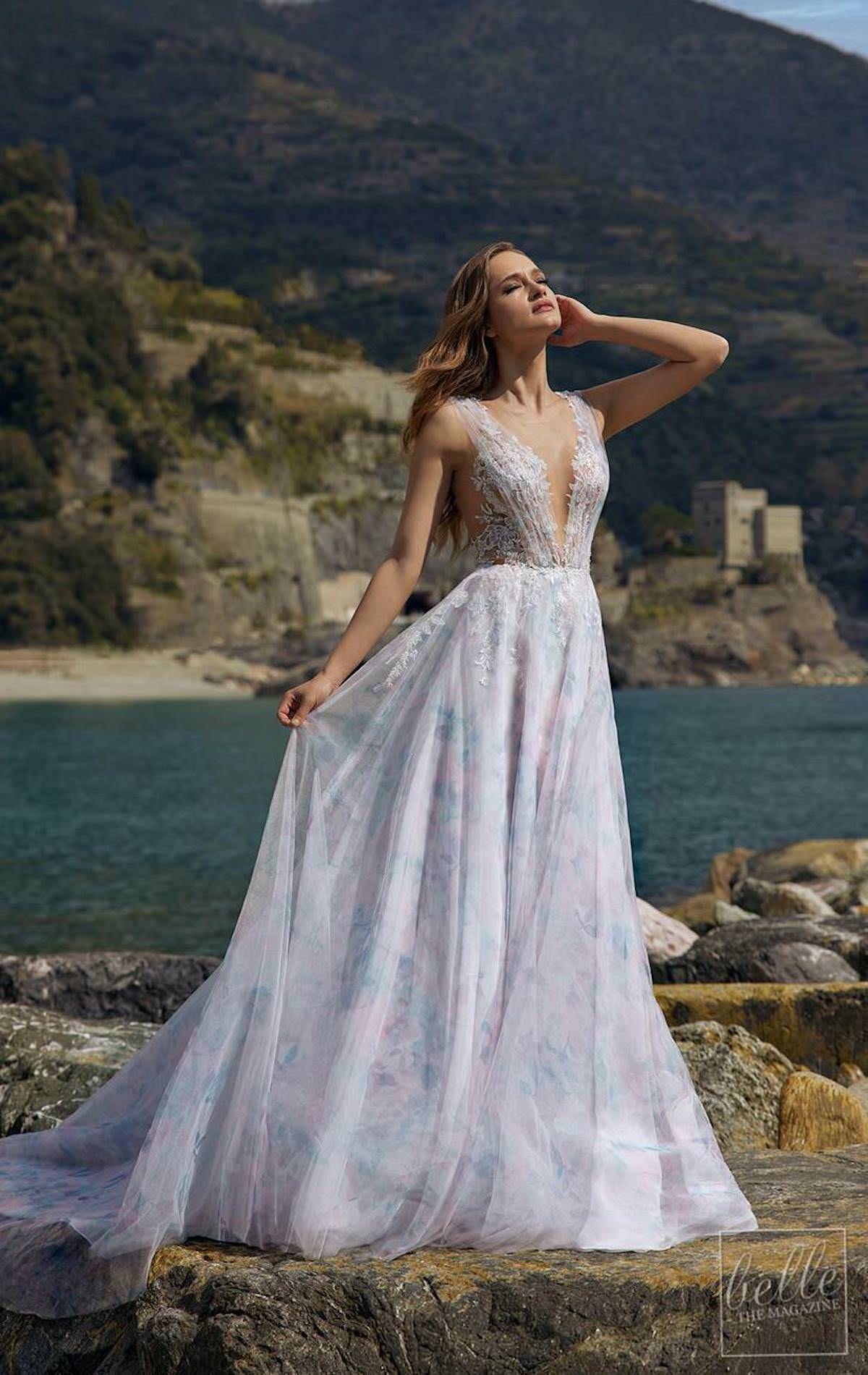 FLORALS
Floral elements are a bridal trend that never really leaves us, but we've been seeing designers incorporating this design element with a fresh and modern perspective! While dainty floral laces and dimensional flowers are a more subtle version of this trend, bold brides can opt for oversized floral laces or even painted flowers like the beautiful orchids on the Ines Di Santo "Aine" ball gown below. Another trend we've seen in conjunction with the floral trend is the use of color, perfect for the bride who wants something different! Just check out the dreamy floral masterpiece from Romona Keveza's collection aptly named, "The Secret Garden." (Featured Image: Ines by Ines Di Santo Spring 2022)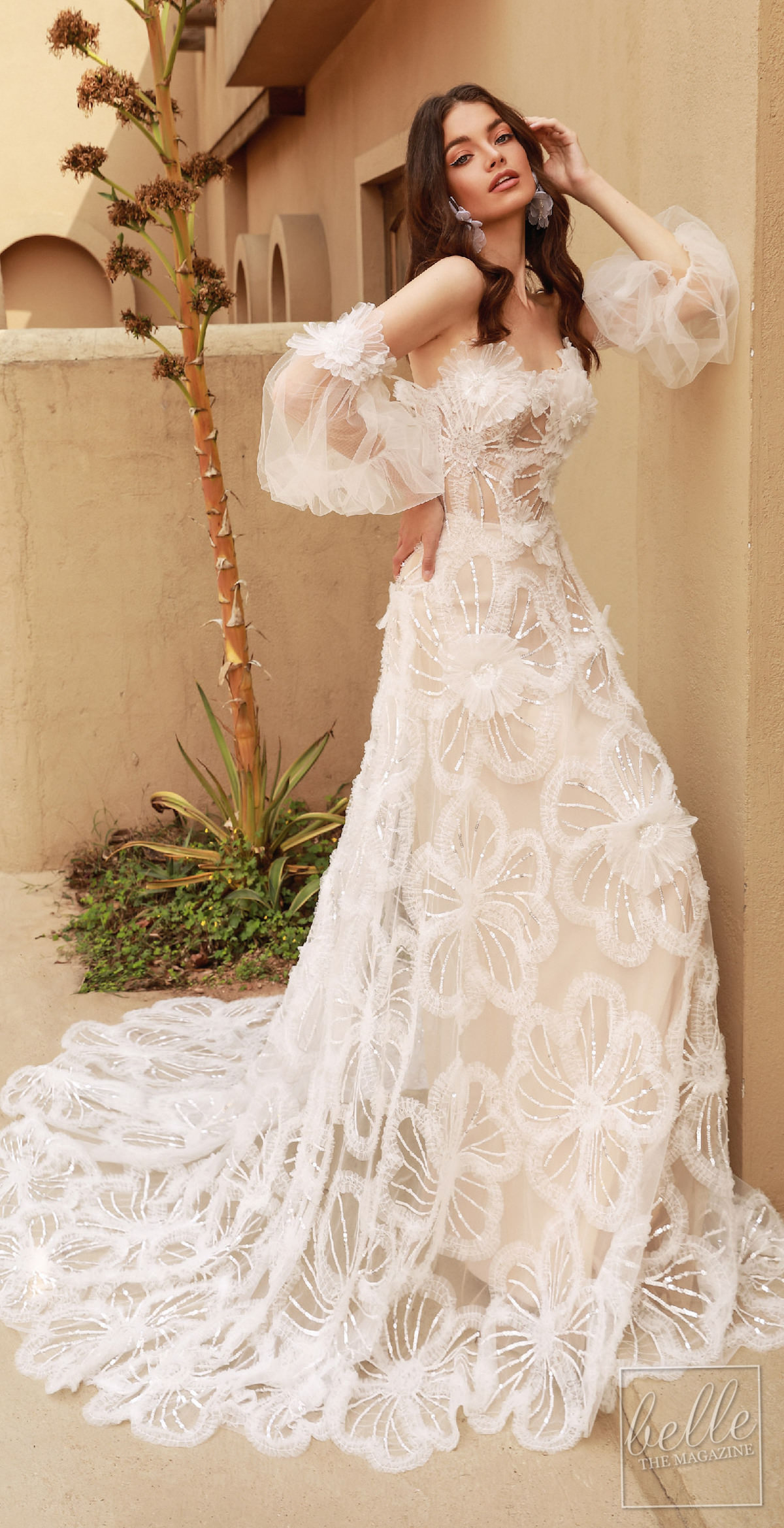 Wedding Dress Trend No. 2: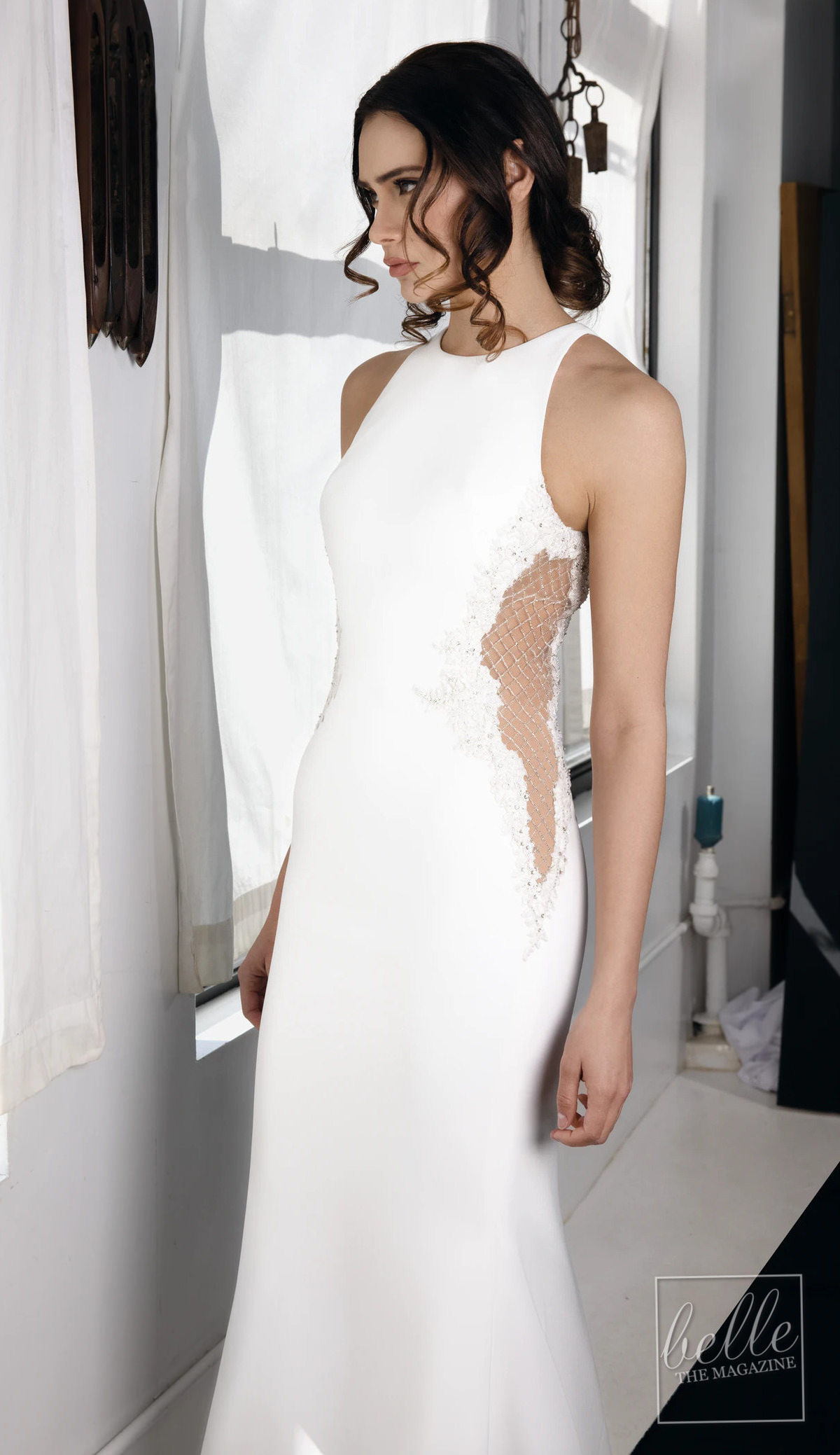 MINIMALISTIC GOWNS
As brides simplify their wedding plans, the gowns are no different! The slip dresses popular in ready-to-wear fashion are now making their way into the bridal arena. This 90s inspired style is ultra-chic and the perfect canvas for accessories. For a little bit of a twist, look for unembellished fabrics with details like asymmetrical necklines, slits, cut-outs, and draping, or a gown that combines a few of these elements, like the "Anaisa" gown by Ines Di Santo. And don't forget your bridesmaids! This trend has made its way into eveningwear as well. (Featured Image: Verdin Bridal New York)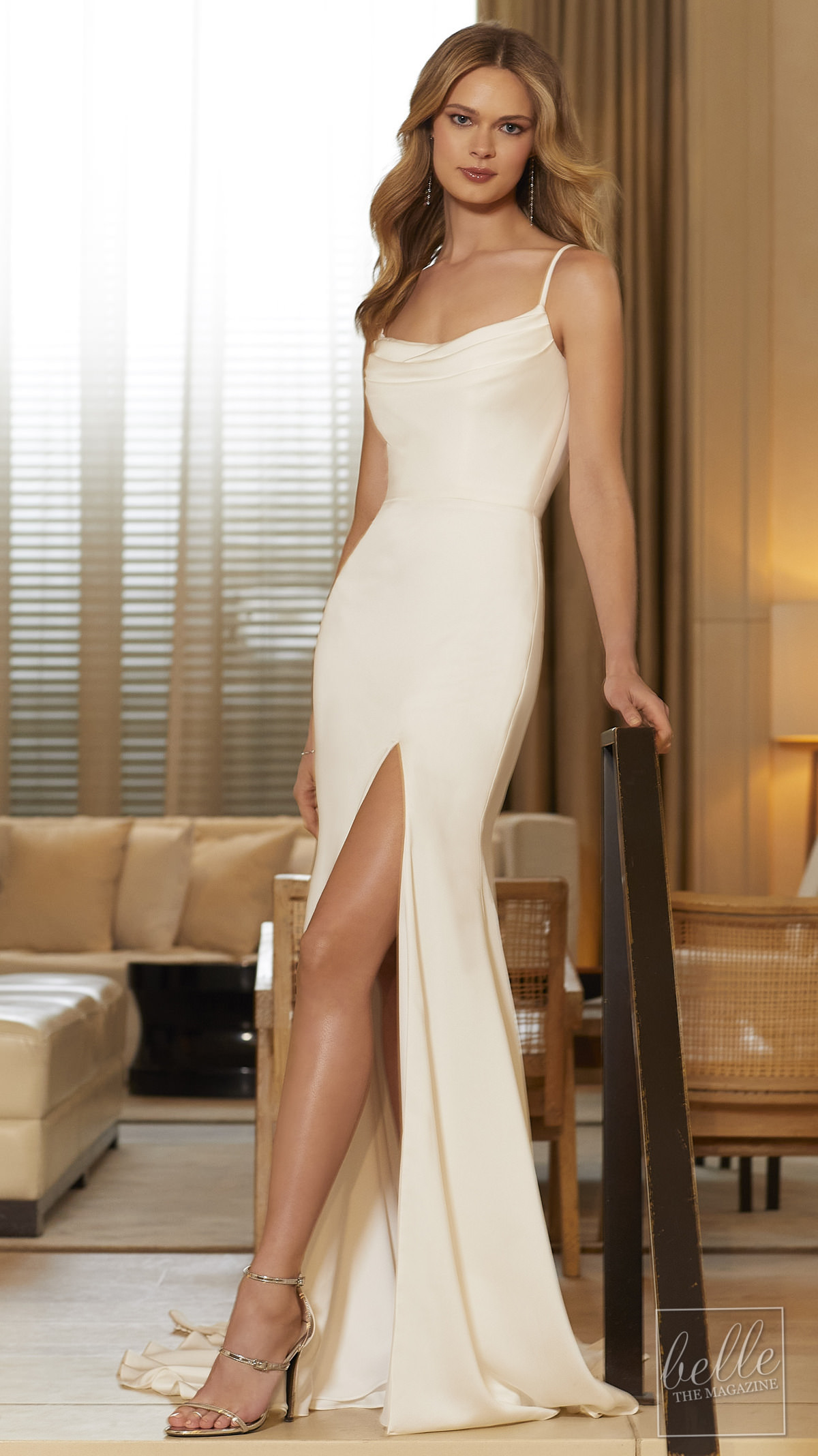 Wedding Dress Trend No. 3: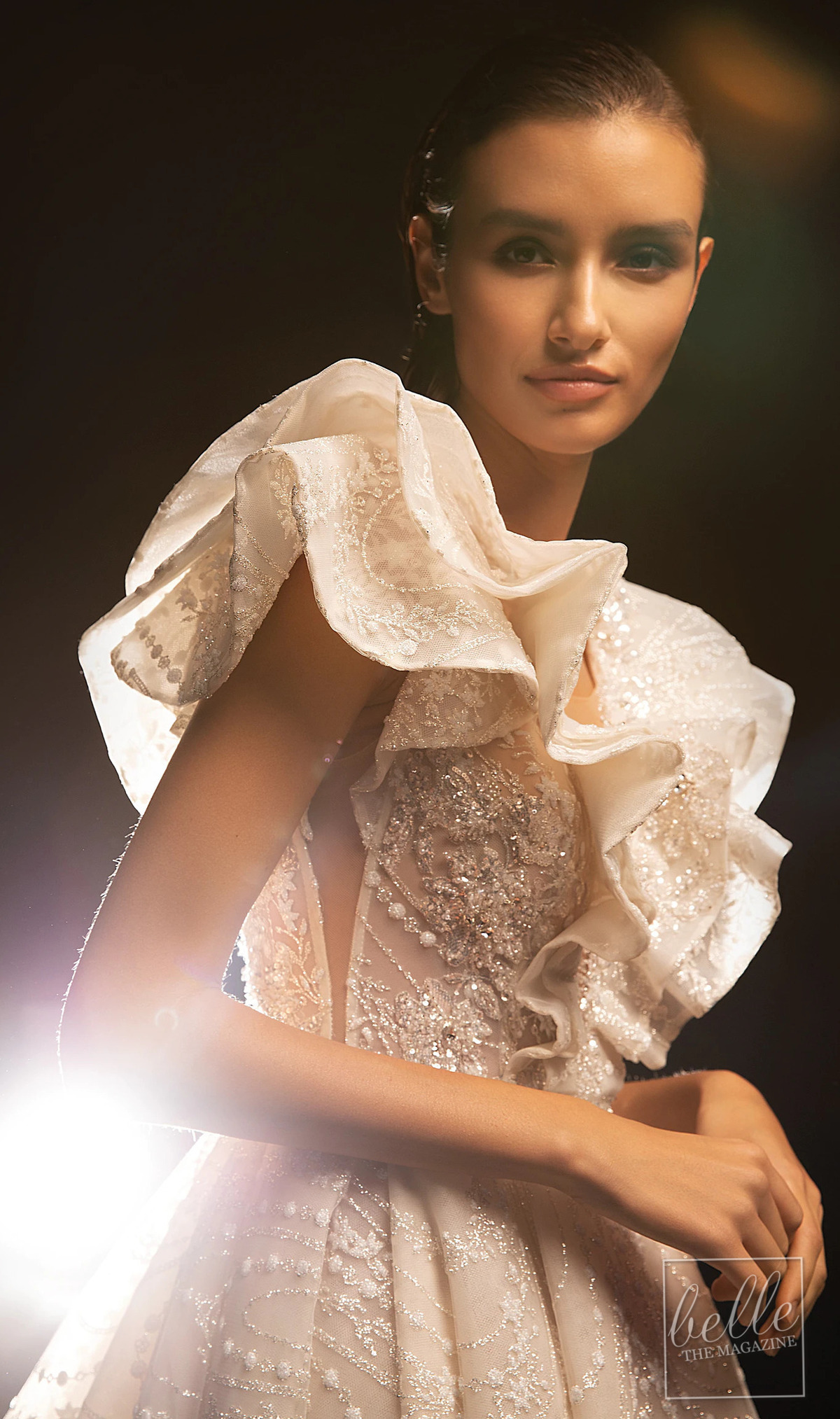 RUFFLES
For the bride who doesn't love a minimalistic look, ruffles are all the rage! Not only do they offer beautiful movement for your wedding day photos, but they also add an element of texture and the wow factor to your gown. While ruffled skirts and trains are always a beautiful choice, a ruffled neckline is a unique take on this design element. Check out the Francesca Miranda "Siena" gown and Woná Concept "Letrice" gowns (Featured Image: WONA Concept – LETRICE)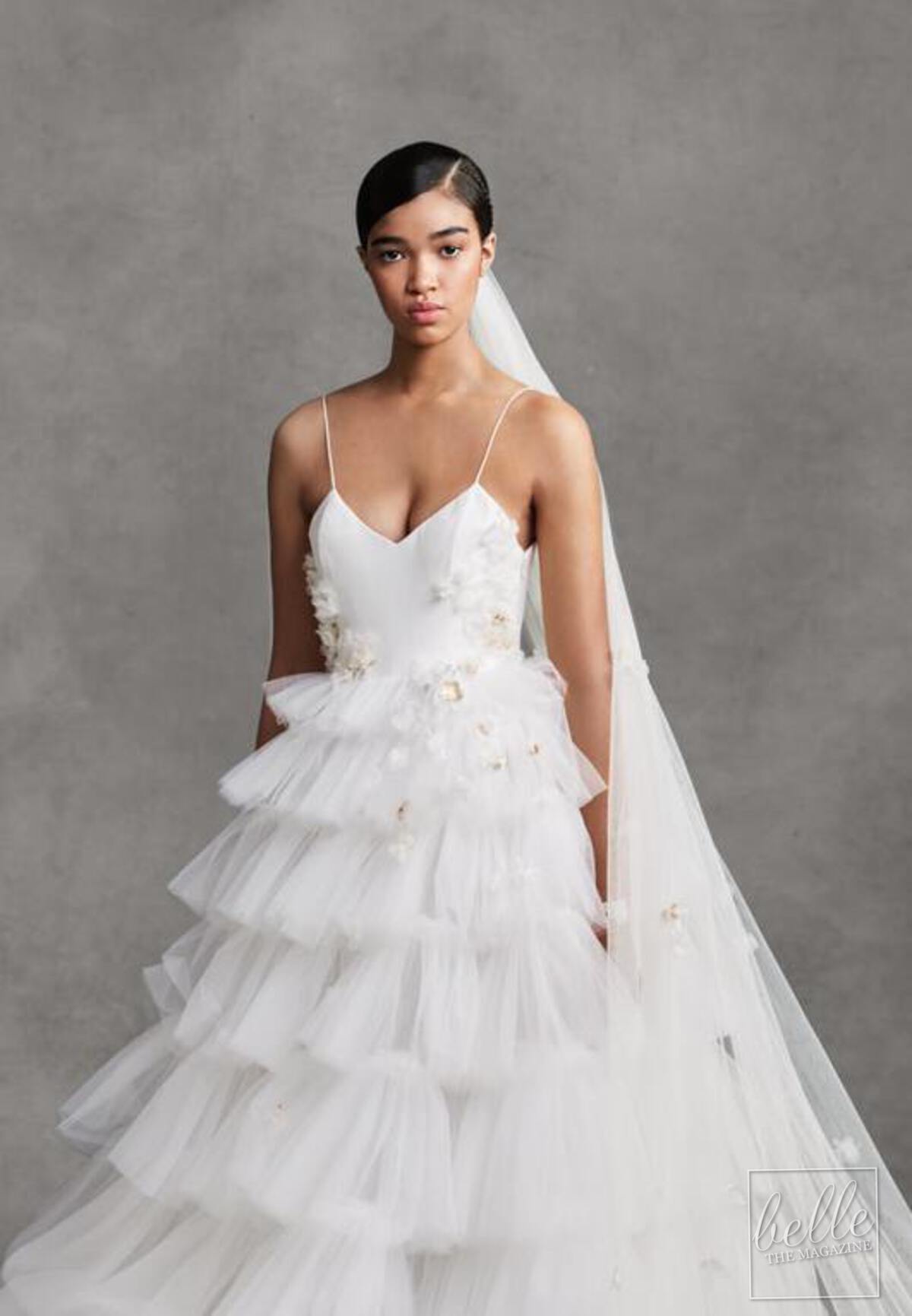 Wedding Dress Trend No. 4: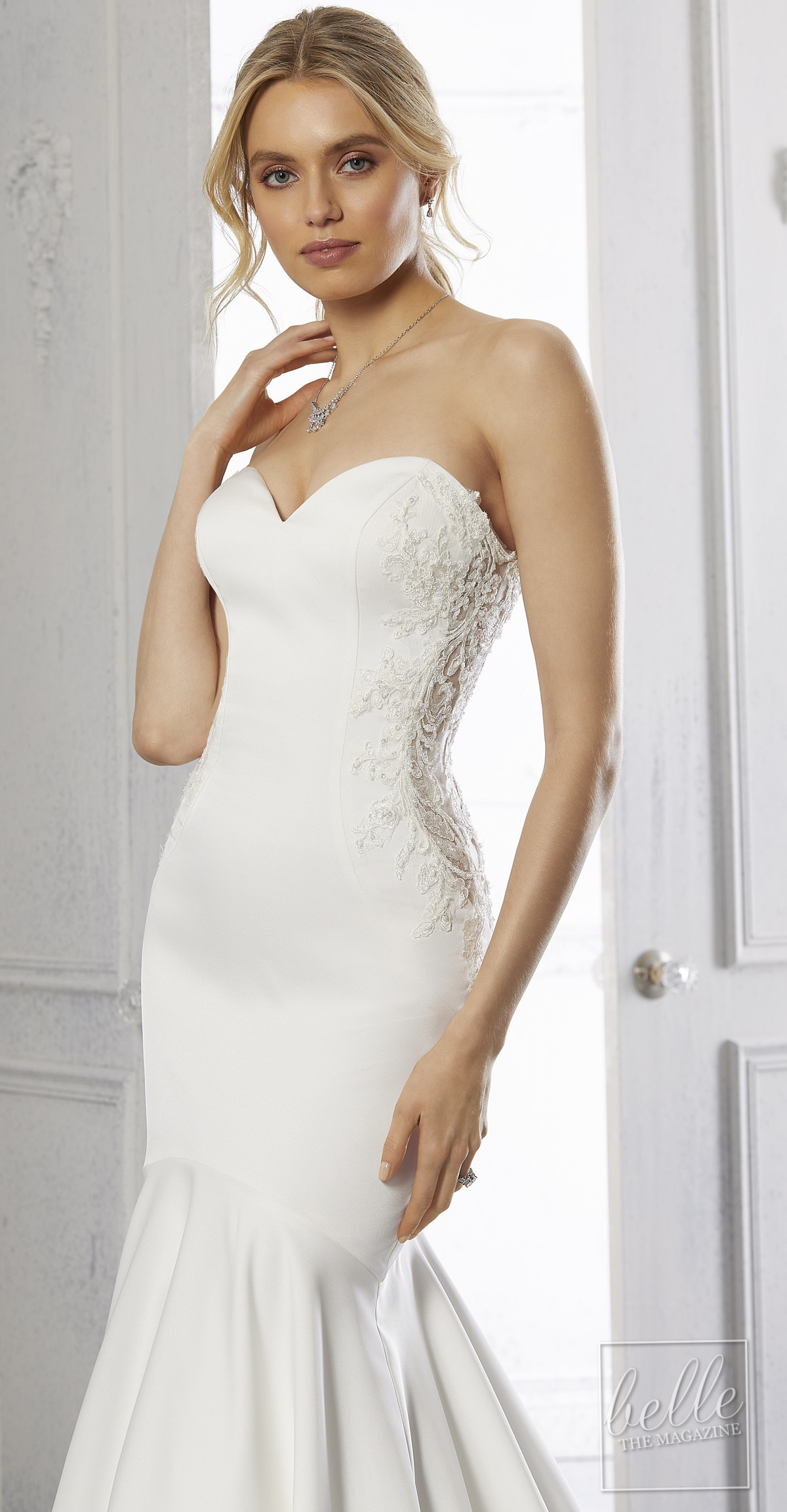 SEXY SILHOUETTES
Things are heating up when it comes to wedding day style! For the bride who wants a sexy look, she will have many options to choose from. From ultra-fitted styles to thigh-high slits, sheer cut-outs, and low backs, there are so many iterations of this trend from subtle to bold. Check out the sheer panels in Casablanca's "Celia" gown or the red carpet-worthy slit on Enaura's "Maya" gown! (Featured Image: Voyage by Morilee 2022)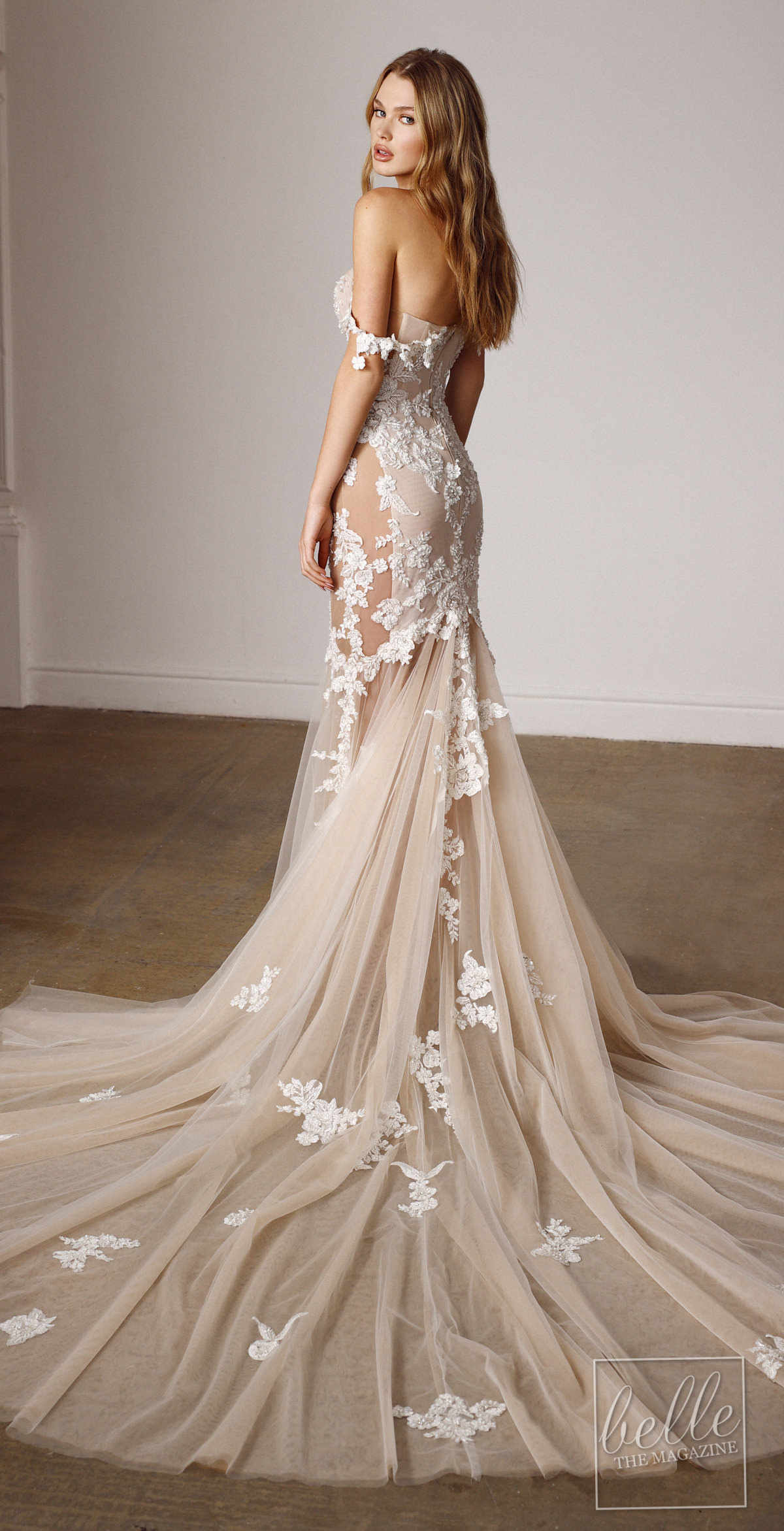 Wedding Dress Trend No. 5: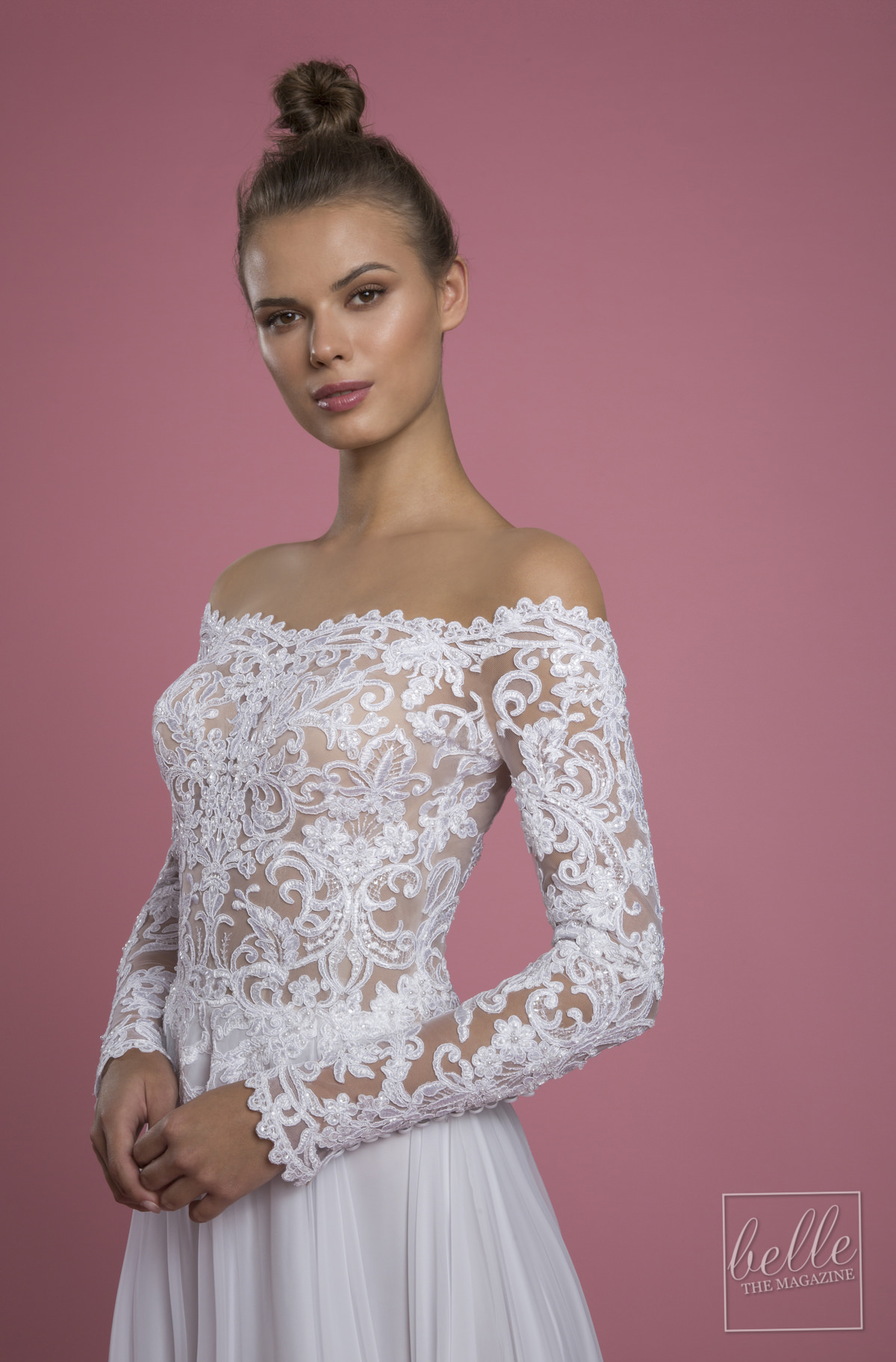 OFF-THE-SHOULDER SLEEVES AND STRAPS
One of the wedding dress trends that may come as no surprise! Off-the-shoulder styles have been trending for quite some time, and it's easy to see why. From regal long lace sleeves to romantic tulle straps that drape off the shoulders, this design element can be found gracing so many gowns this season. Pro tip: If you love to dance and want to raise your arms, opt for a looser strap or go for a style that appears to be off-the-shoulder but isn't! There are so many ways to fake the look with illusion fabric. The "Veronika" gown by Eva Lendel is a perfect example. (Featured Dress: P by Pnina Tornai)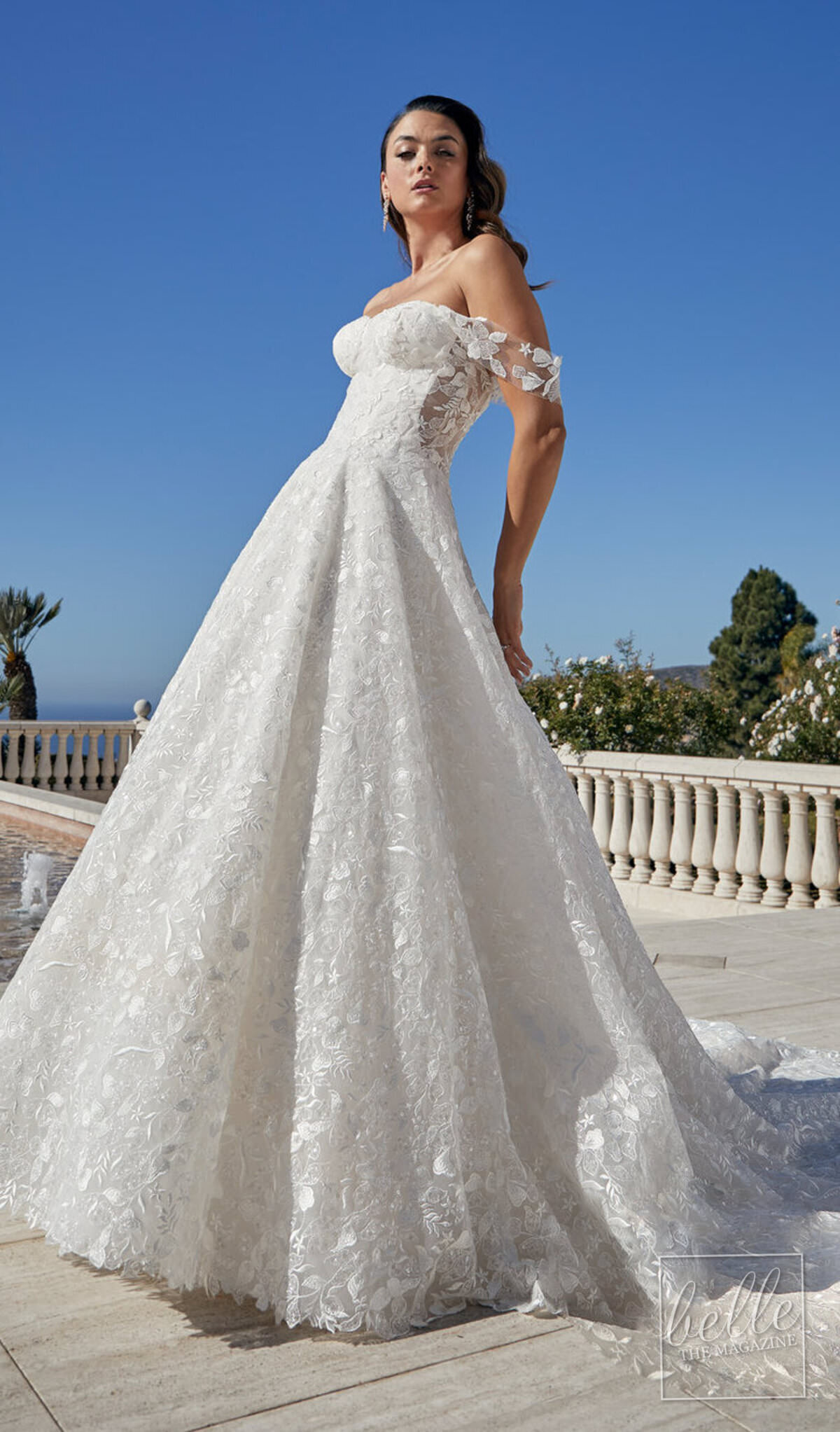 Wedding Dress Trend No. 6: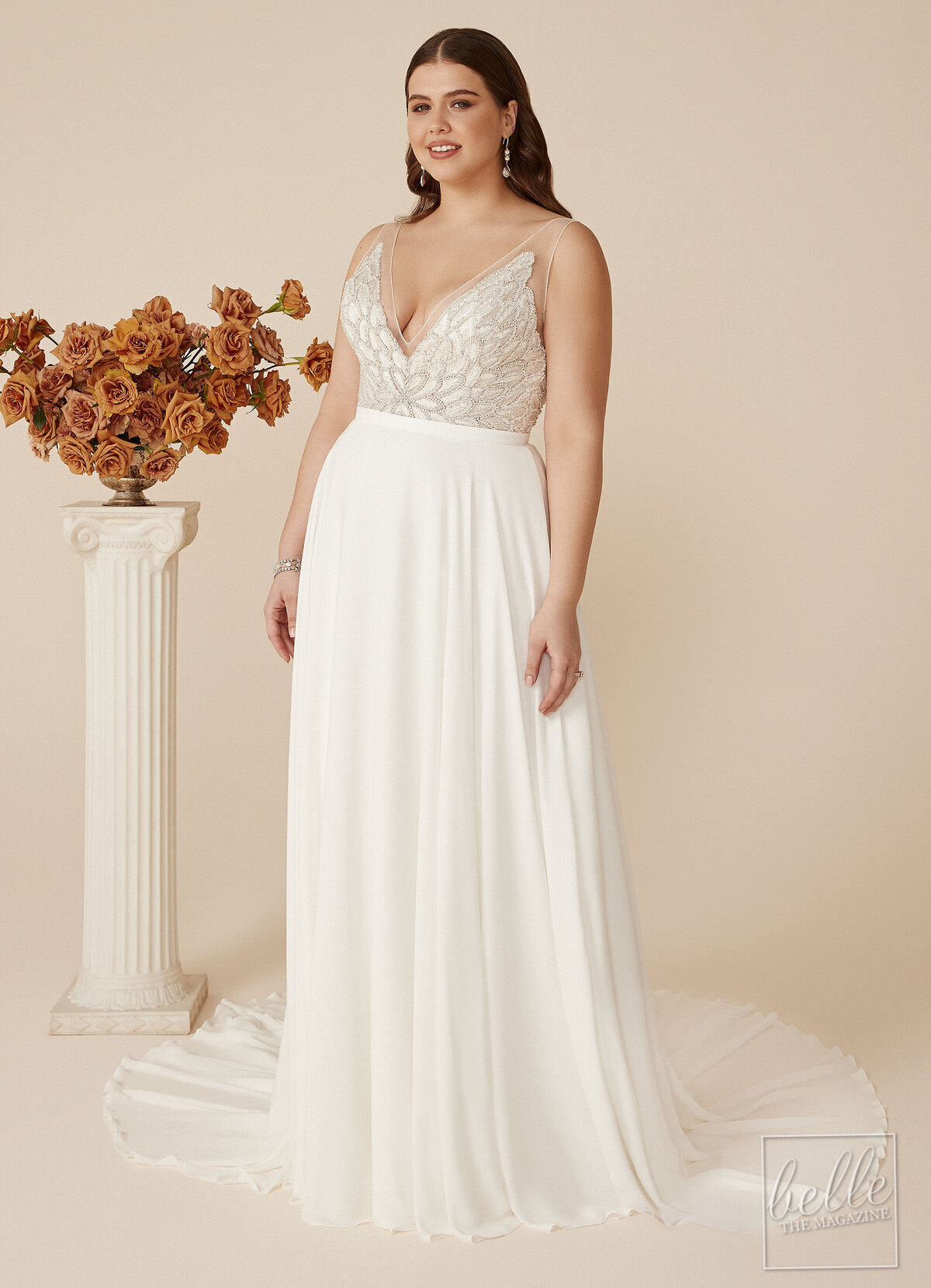 DEEP V-NECKLINES
While a low-back gown will never go out of bridal fashion, it's all about the daring deep V-neckline this season. Even the sweetest ball gown gets a touch of sexiness when it comes to this trend. For a little extra support and structure, search for styles with an illusion insert like Kelly Faetanini's "Evelyn" gown or Woná Concept's "Winona" gown. (Featured Dress: Justin Alexander Bridal)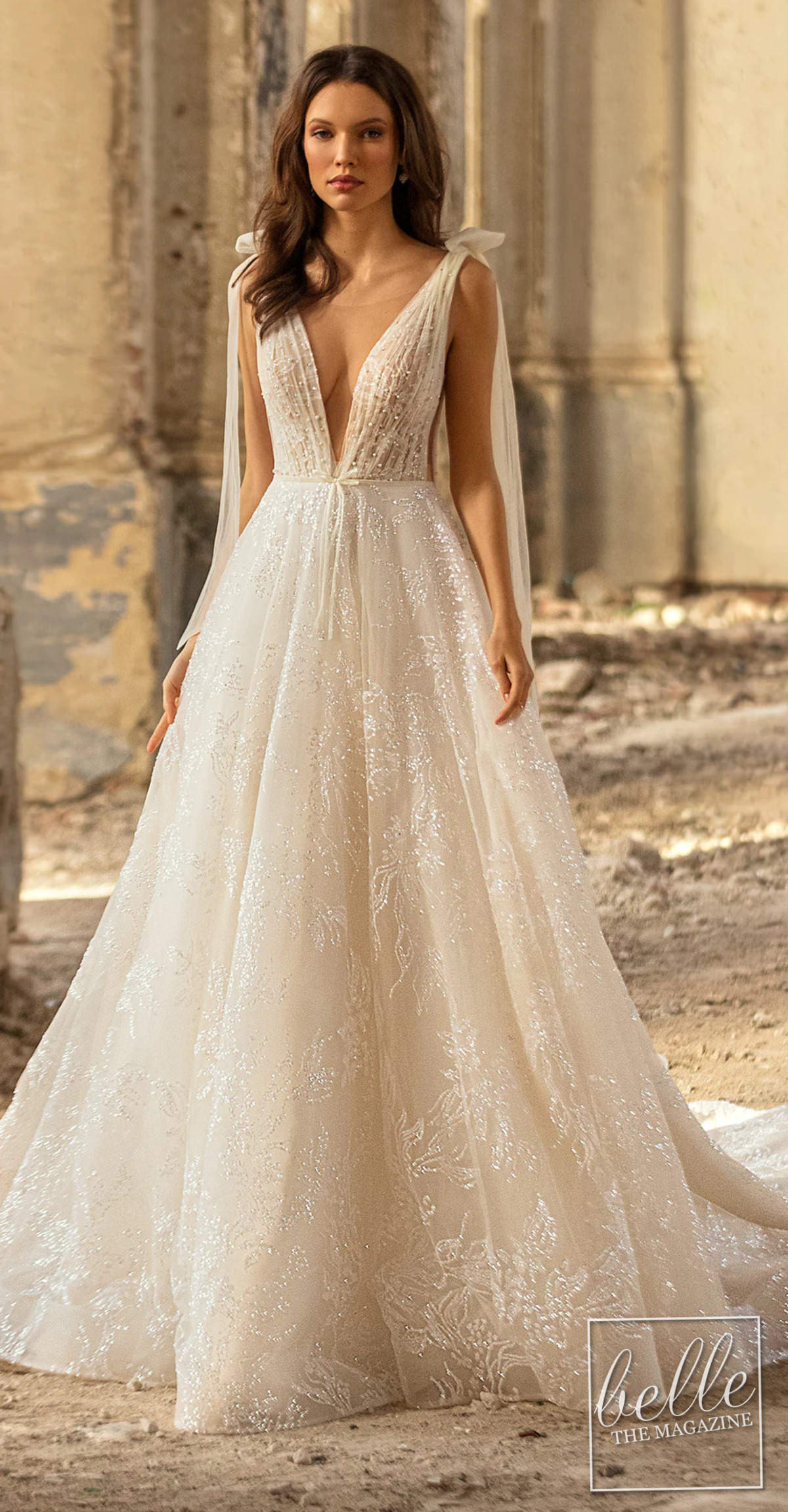 Wedding Dress Trend No. 7: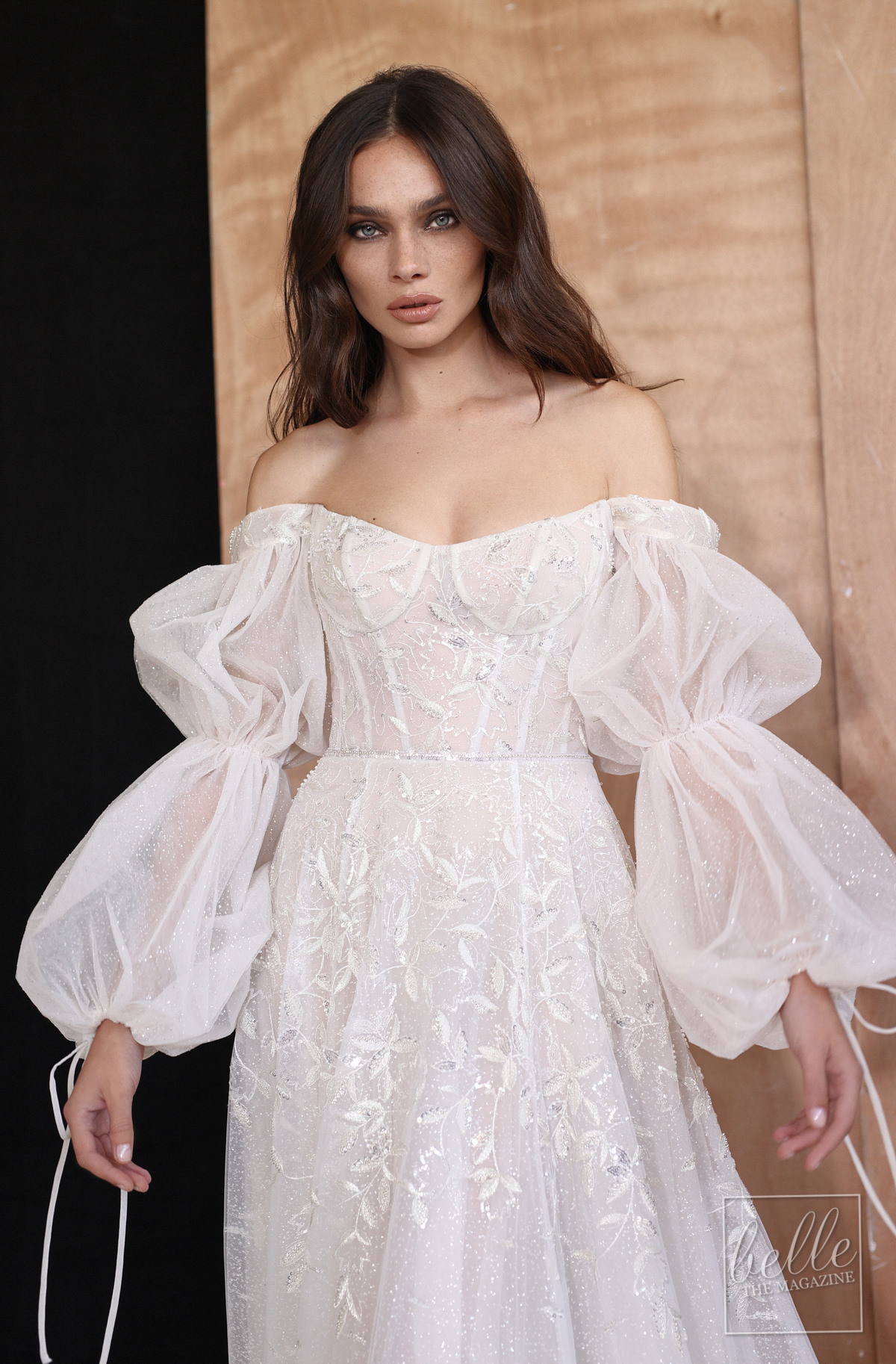 PUFF SLEEVES & BISHOP SLEEVES
Some of the most popular wedding dress trends we have been featuring here at Belle The Magazine in the have sleeves. Don't get us wrong, tighter sleeves are still "in" in the bridal world, but you'll be seeing a lot of puff and bishop sleeves in stores and online! This regal style of sleeve instantly ups the drama and romance of even the most simple of gowns. Sheer tulle styles are light and whimsical and perfect for the bride who wants to wear sleeves for her spring or summer wedding! An embellished cuff or lace appliqués add to the beauty of this trend. For all of the romantic bridal vibes, check out Galia Lahav's "Indie Gown." Major swoon! (Featured Dress: GALA by Galia Lahav Spring 2022)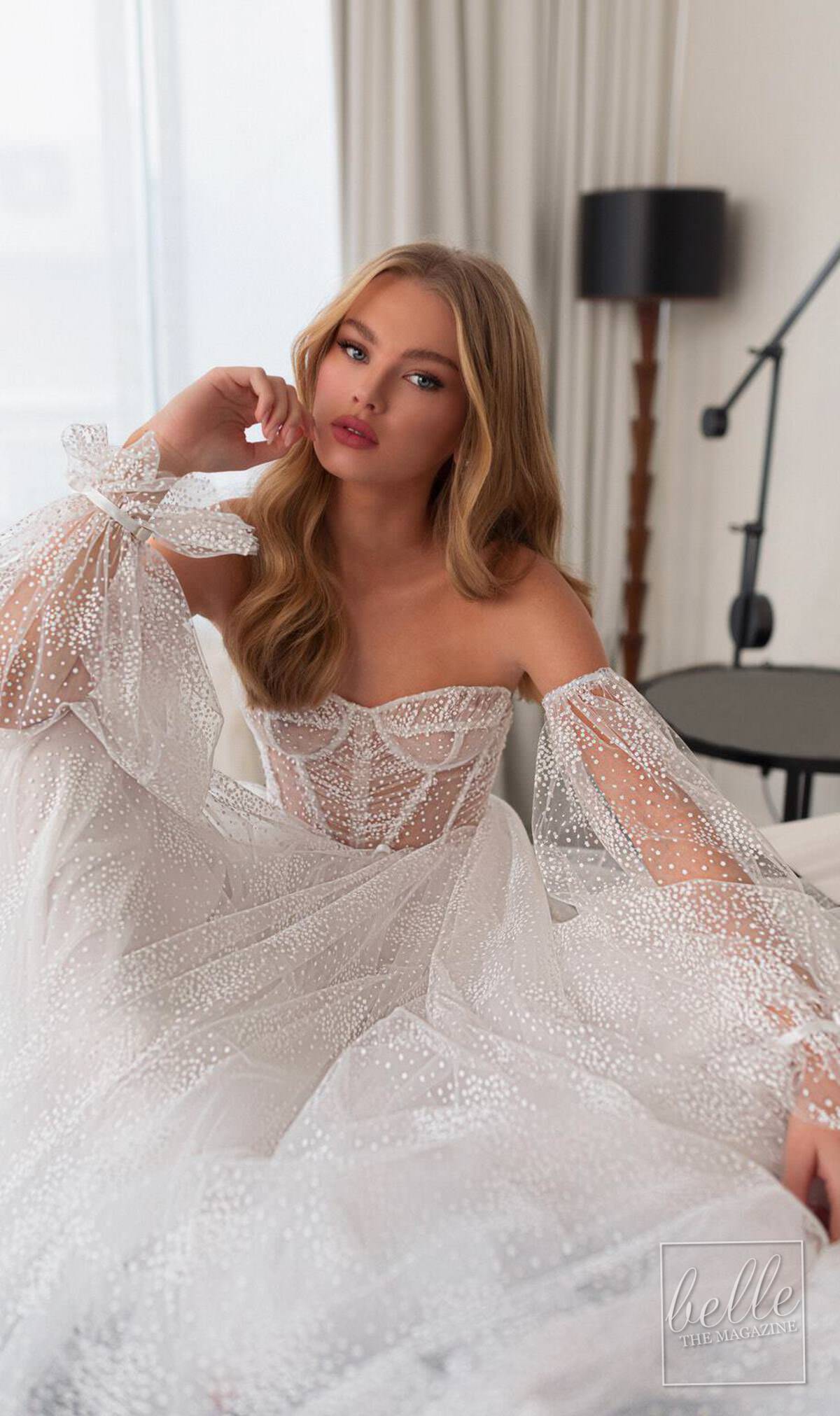 Wedding Dress Trend No. 8: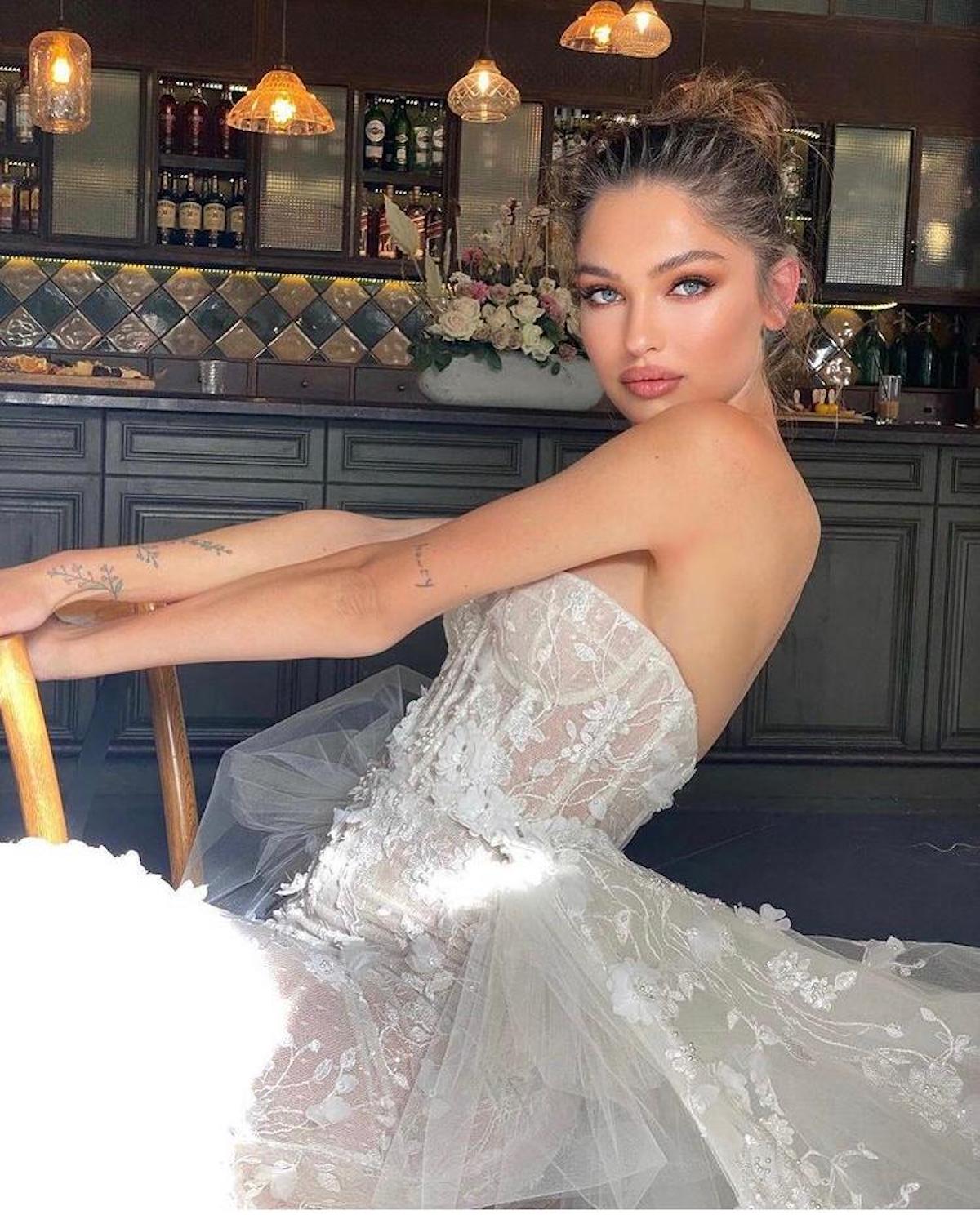 CORSET BODICE
Maybe it's the obsession with all things Bridgerton, but corset bodices are going to be big in bridal fashion! The boning and structure of this style help enhance the fit of the gown and adds to the level of detail as well. A sheer style with lace adds a touch of sexiness like Style 2110 from the P by Pnina Tornai Collection, while a style with cut-outs like Galia Lahav's "Gale" gown is daring and bold. This is perhaps one of our favorite wedding dress trends of the year! (Featured Dress: BERTA Spring 2022)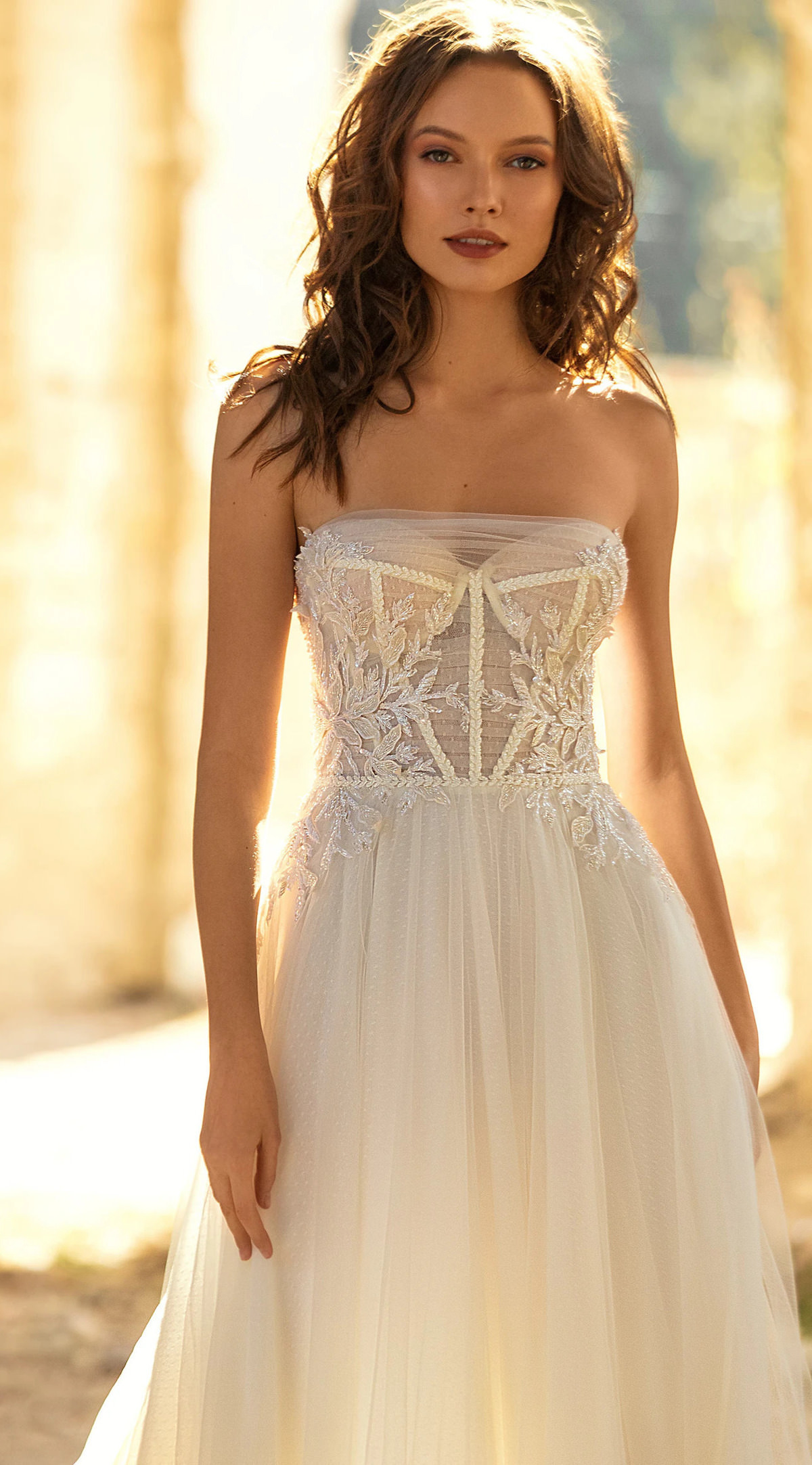 Wedding Dress Trend No. 9: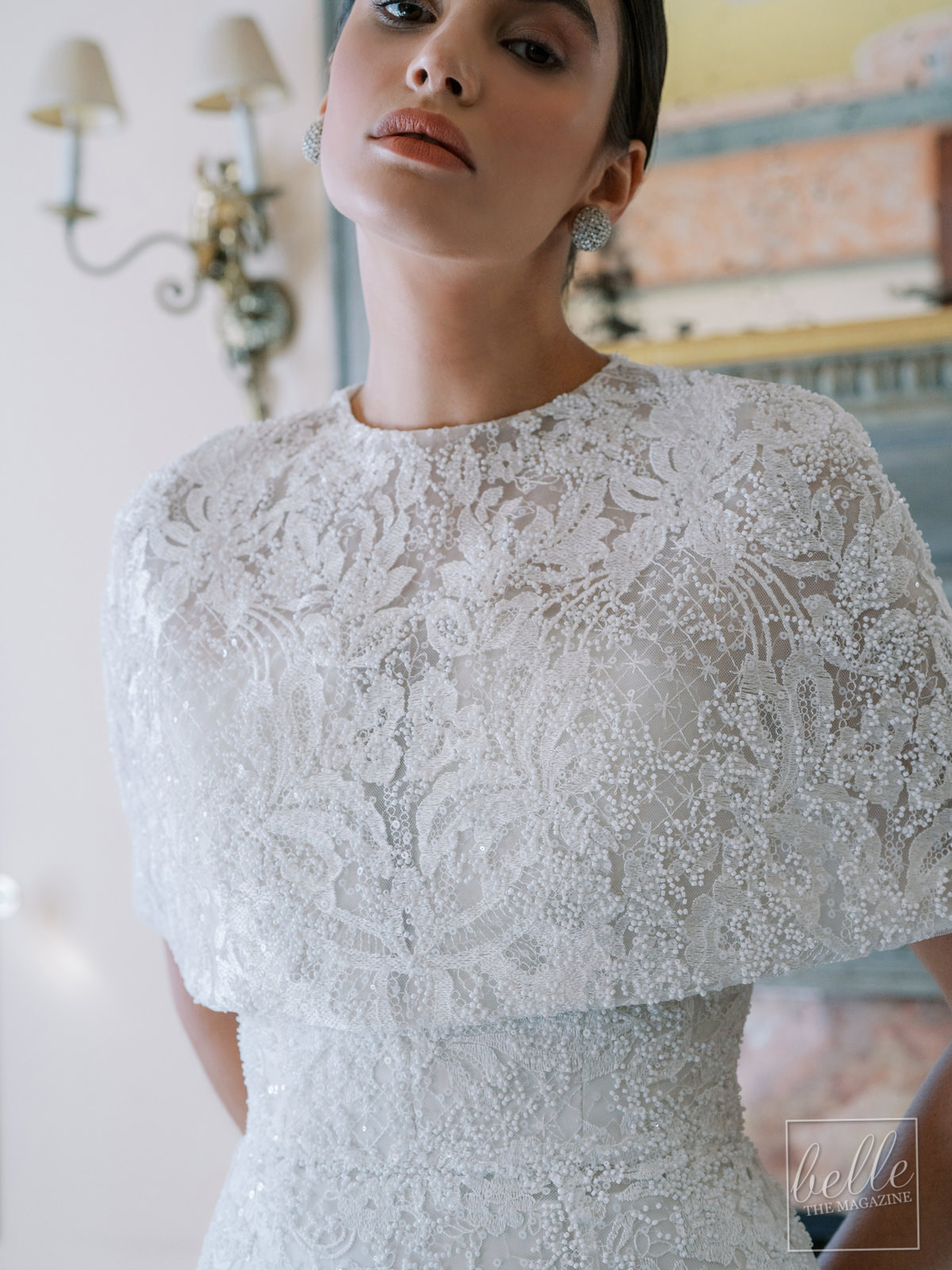 TRANSITIONAL PIECES: CAPES & OVERSKIRTS
This past year, brides have been opting for two looks, one for the minimony and one for the big celebration to come. Transitional pieces have made this process so much easier and will be sticking around for 2021 and 2022. Think capes, overskirts, detachable Watteau trains, and wraps that can be added to any dress for two looks in one. These pieces also make great additions to allow your gown to transition seasons if you've been forced to postpone. Wear an overskirt for the ceremony and take it off for the reception, or wear your gown for your minimony and add the overskirt for when your big party happens. Pnina Tornai's P by Pnina Tornai Collection features two styles with matching detachable skirts and is her most accessibly priced line yet with gowns under $3000. (Featured Dress: Anne Barge Spring 2022)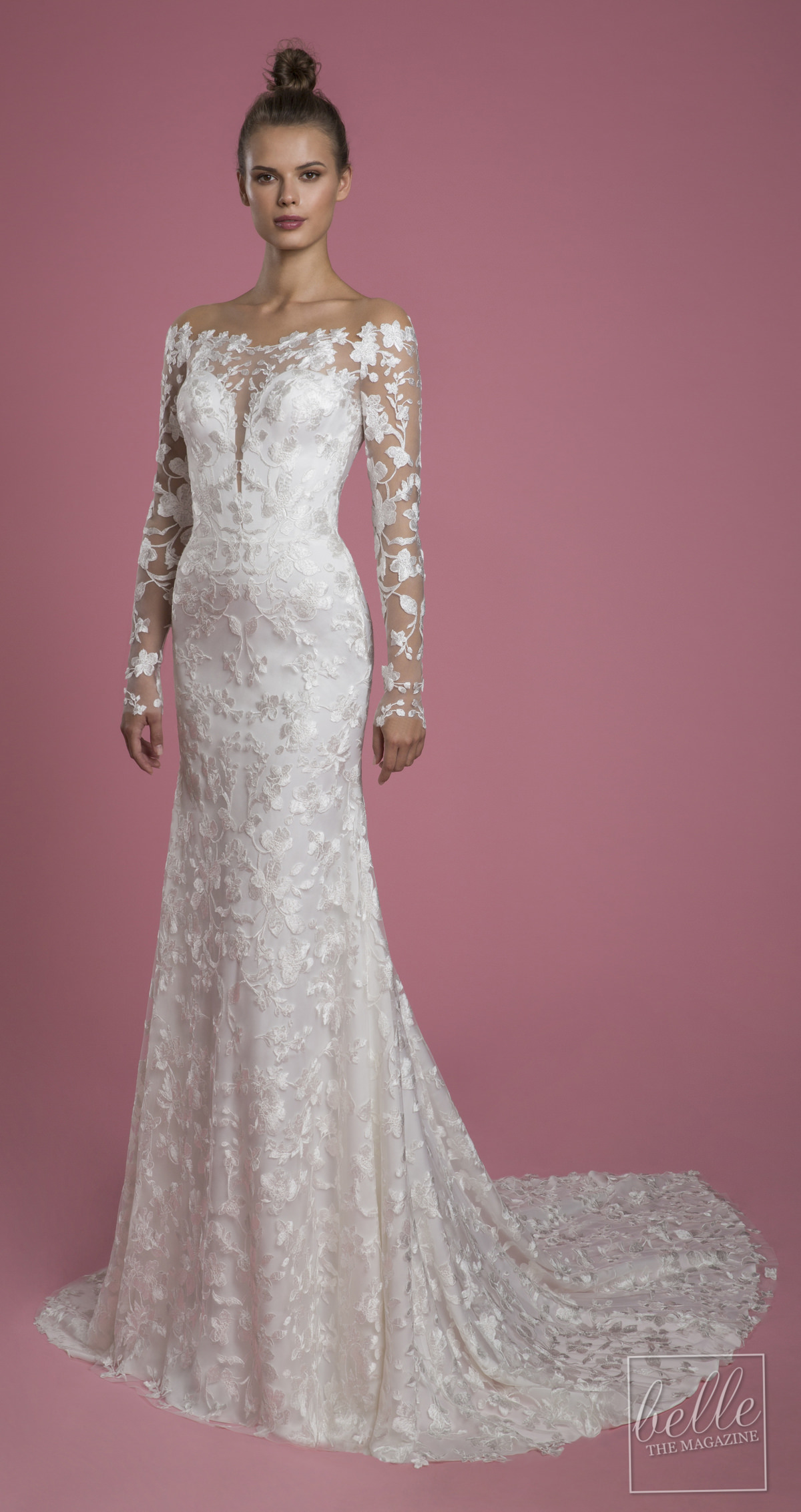 Wedding Dress Trend No. 1o: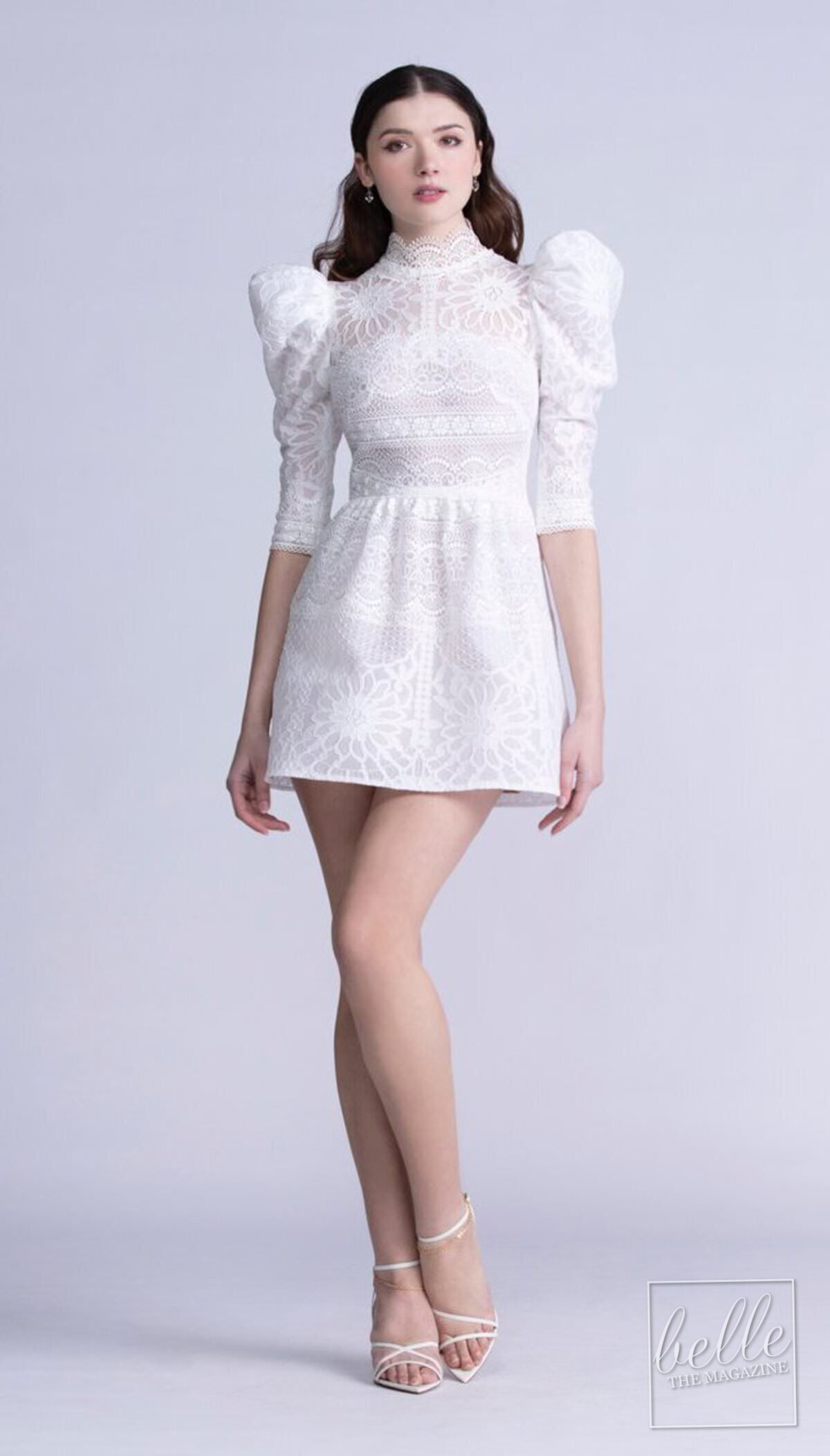 MINI DRESSES & TWO PIECES
With mico-weddings, minimonies, and more backyard weddings and neighborhood elopements happening than ever, gown alternatives have been a hit with brides, and they don't seem to be exiting the bridal fashion scene any time soon. Crop top and pants sets, pantsuits, and mini dresses are making their way into designers' collections. These pieces make for great second looks, bridal shower outfits, and rehearsal dinner looks as well! In fact, Alexandra Grecco's Poppy Collection is made up entirely of alternative bridal looks that draw on photos of civil ceremonies from the past. (Featured Dress: By Watters – Love is Not Cancelled Collection)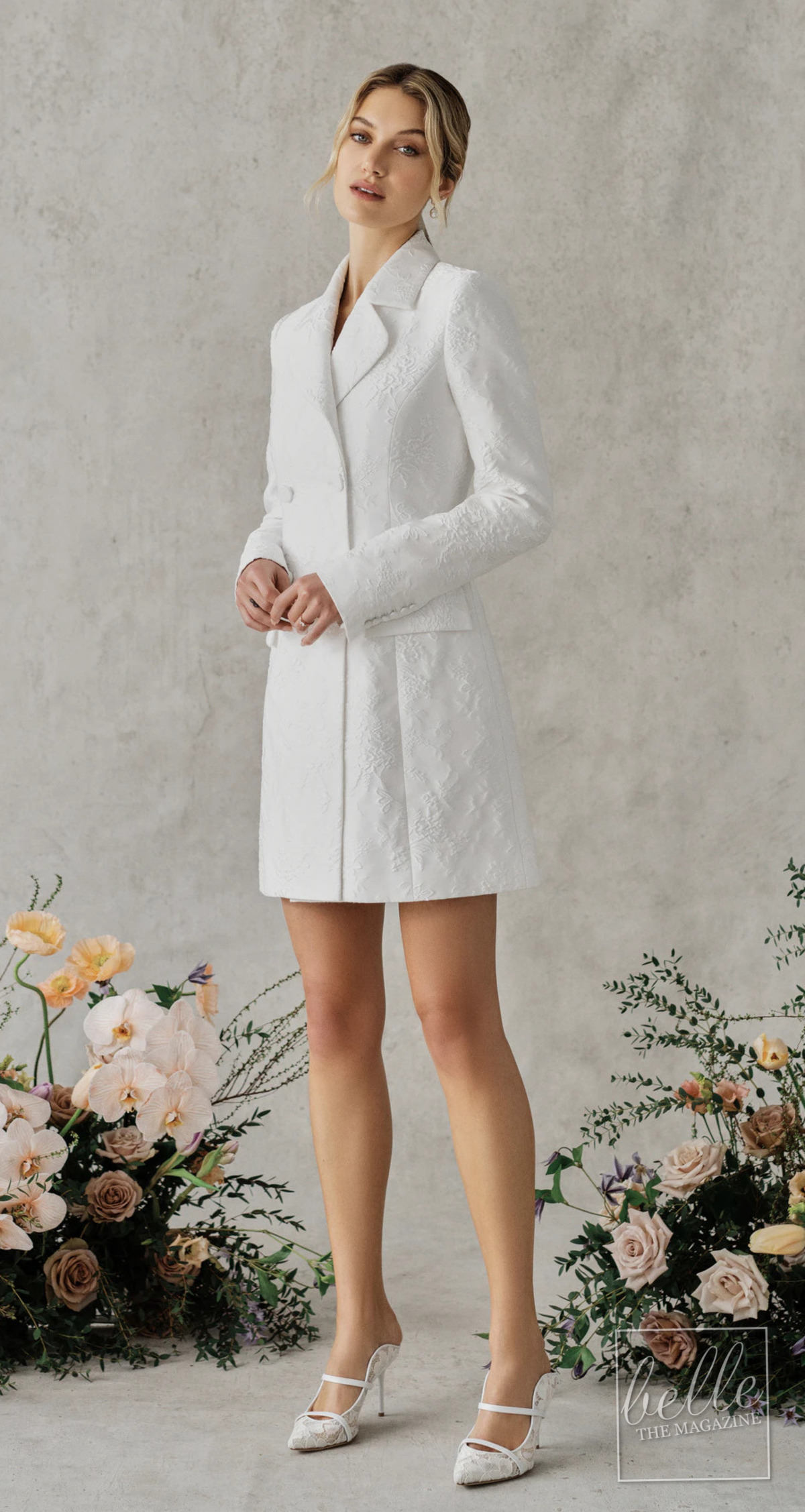 That rounds up the top ten wedding dress trends you'll be seeing from bridal fashion week! We hope that you're feeling inspired to find the wedding day look of your dreams. For even more bridal fashion and wedding inspiration, make sure to follow the Belle the Magazine Instagram and stay tuned for even more bridal fashion and wedding dress trends content right here on the blog!
Featured Vendors
Wedding Pros Who Made It Happened