Less is More + Golden Hour Bridal Collections
Are you in need of some gorgeous wedding gown inspiration? We have your bridal fashion fix! Eva Lendel has not one, but two collections of magnificent wedding dresses that you have to see. The Less is More Collection 2021 and their newest Golden Hour Collection 2022 feature the wedding dresses of your bridal dreams. You'll find classically elegant gowns as well as more fashion-forward pieces featuring beautiful laces and incredible silhouettes! Read on to find the Eva Lendel gown perfect for your bridal style and see more here.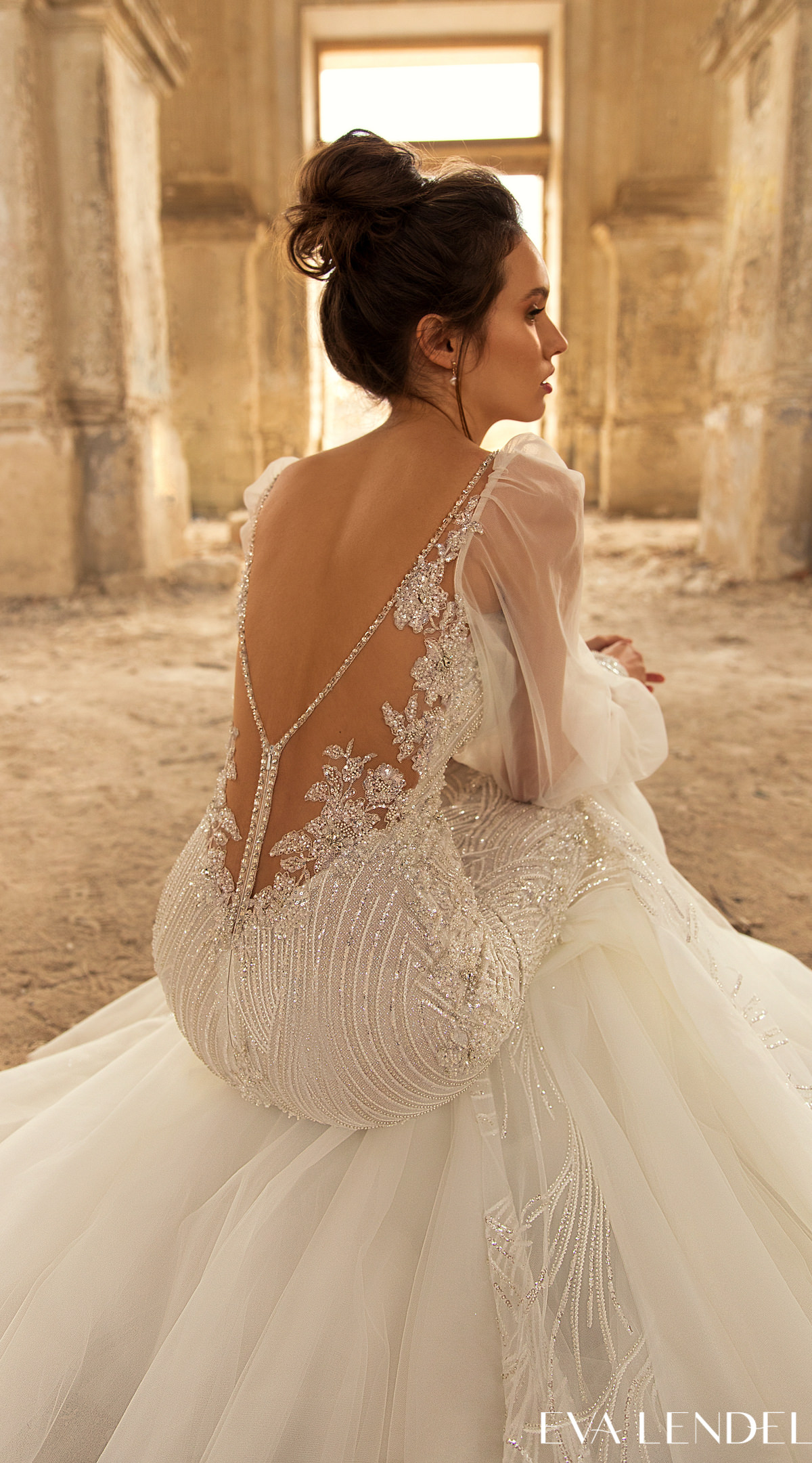 The Classic Bride
If your bridal style is timeless, you'll swoon over the classic wedding dresses Eva Lendel has designed for 2021. Satin and lace ball gowns and sleek silhouettes with elegant details like bows, buttons, and fold-over necklines will never go out of bridal fashion. For the bride who does want a bit of a twist, detachable overskirts, plunging necklines, and dramatic backs add a modern touch. Check out the Jess gown with its off-the-shoulder neckline and detachable skirt or the Valery gown with its plunging neckline, dramatic ball gown skirt, and low bow-embellished back.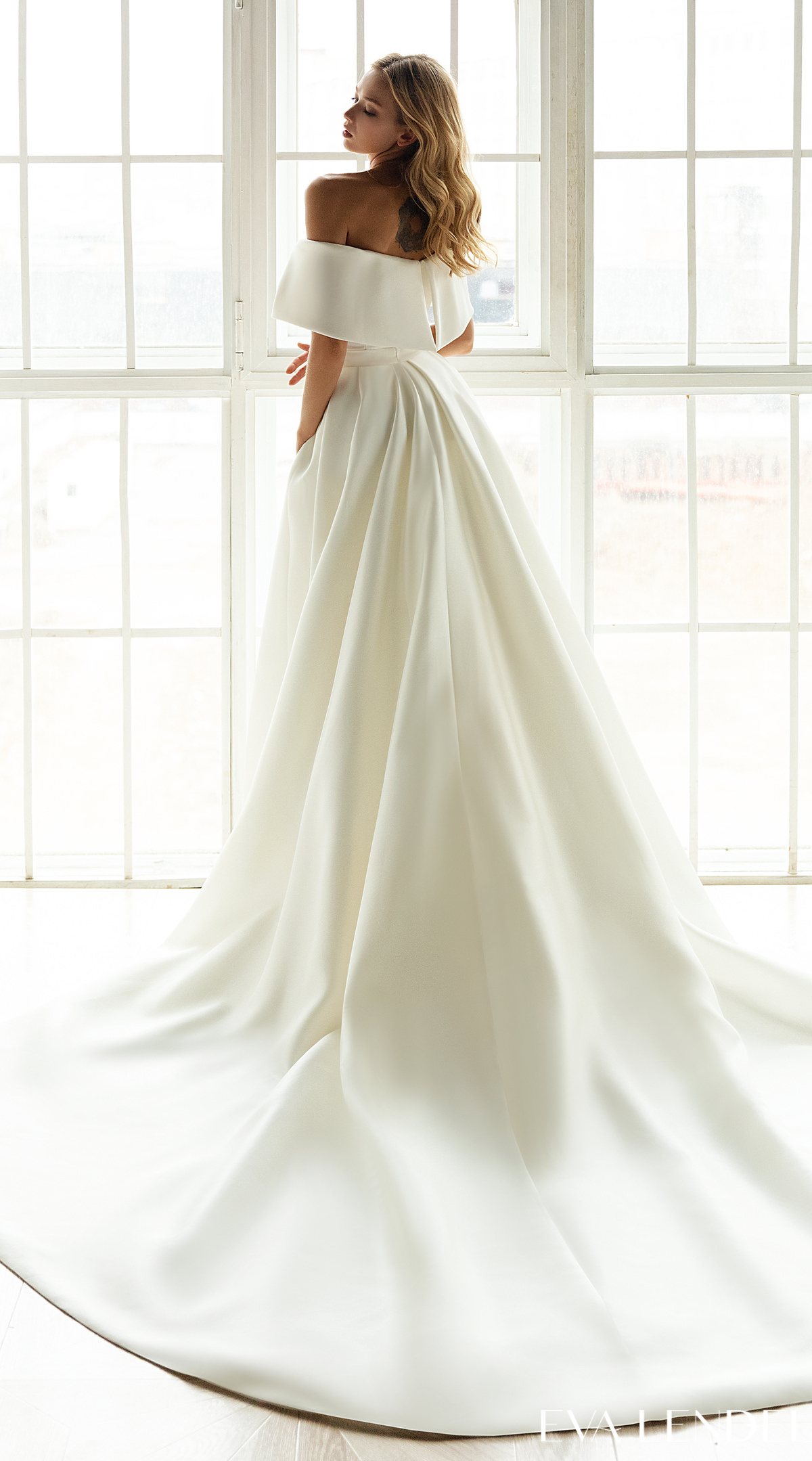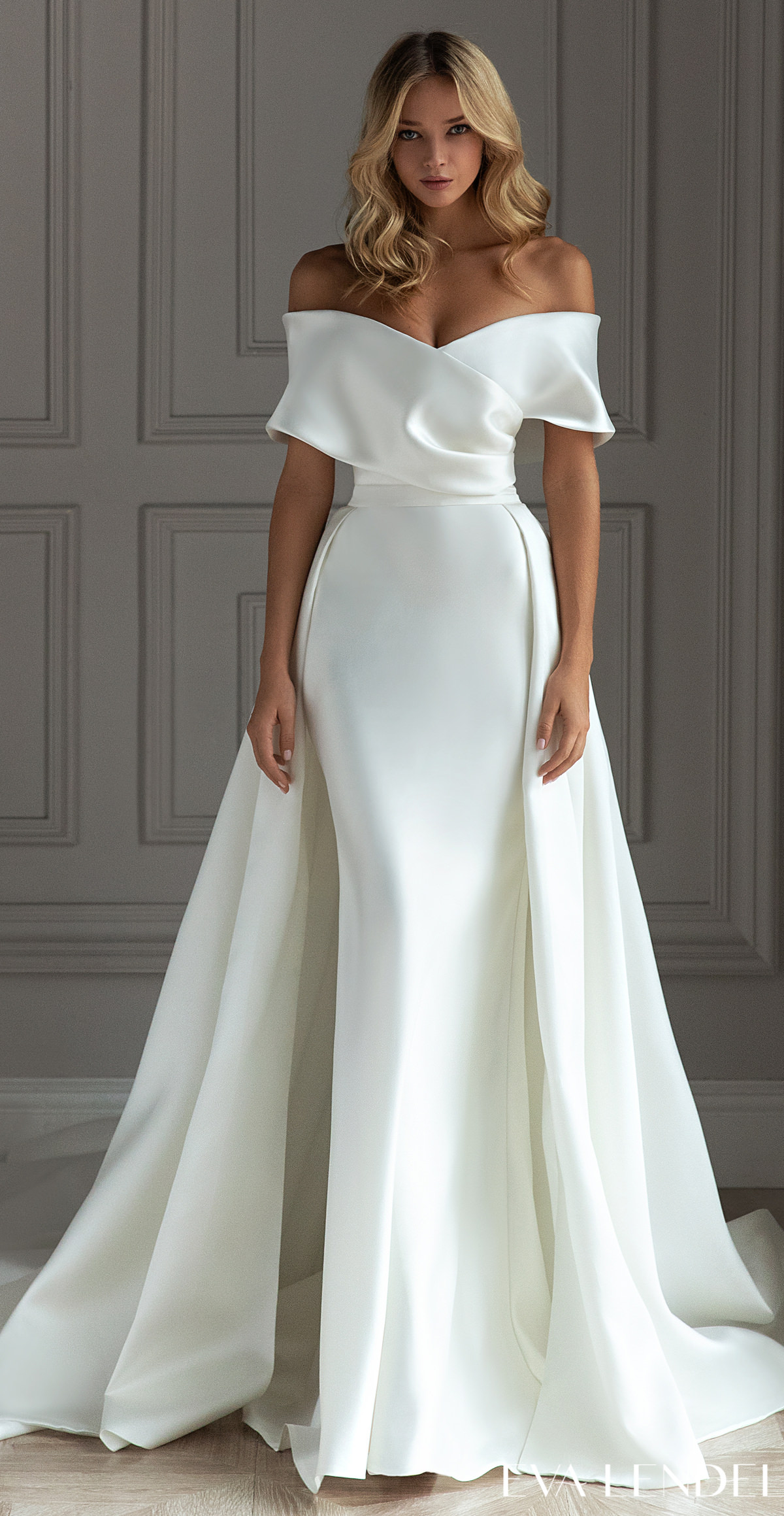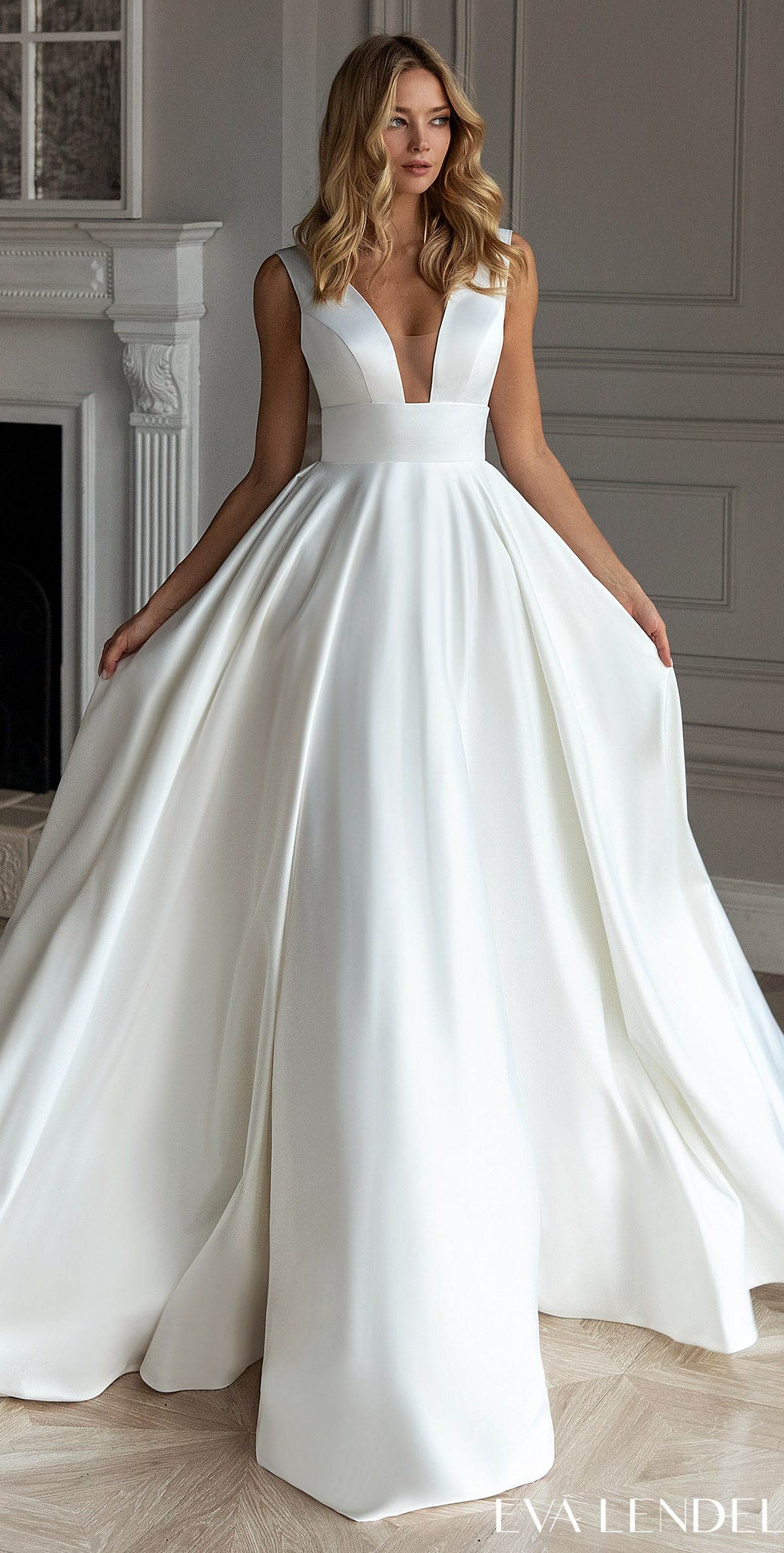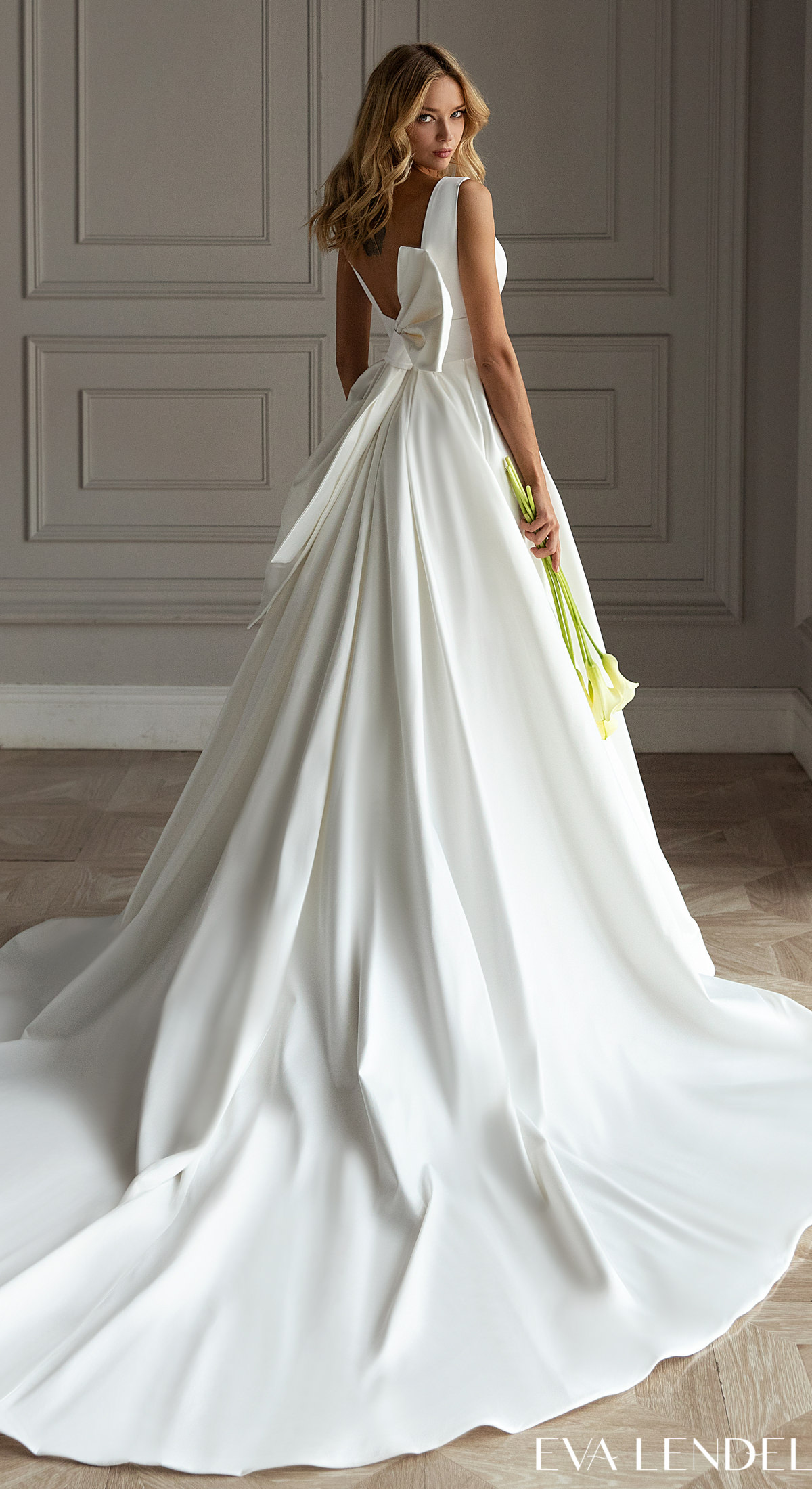 The Romantic Bride
There are so many dreamy and ethereal wedding dresses to choose from for the bride who loves a romantic wedding day look! Floaty tulle skirts add a beautiful softness and movement perfect for stunning photos and dancing the night away. Details like shoulder bows, sheer puffy sleeves, ruffle straps, off-the-shoulder necklines, stunning floral laces, and corset bodices add to the beauty of these lovely gowns. The collections also feature super sheer capes, which instantly upgrade the romance factor no matter what gowns you pair them with. For a dress straight out of a fairytale, look no further than the Emily gown from the Golden Hour Collection. Swoon!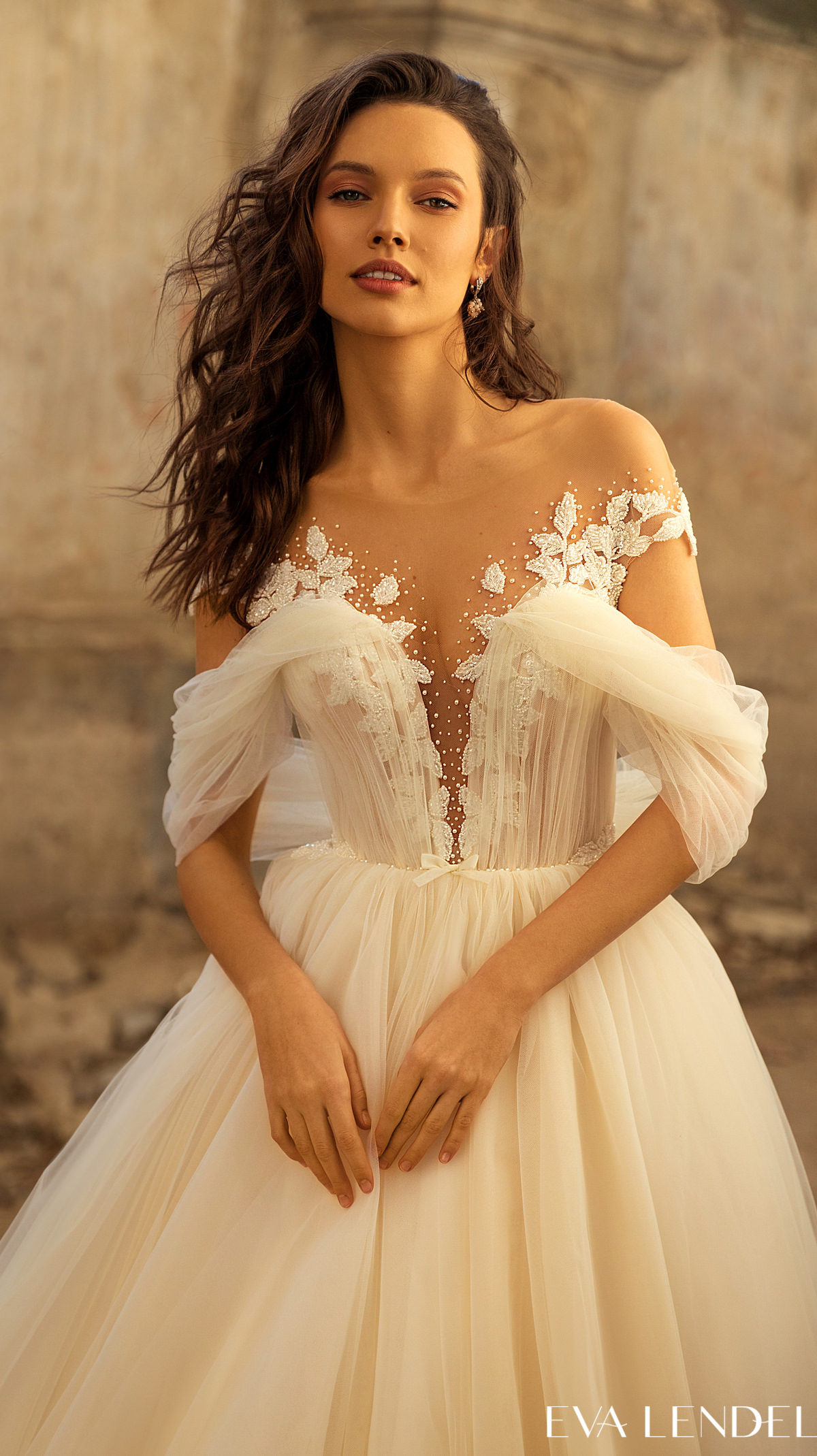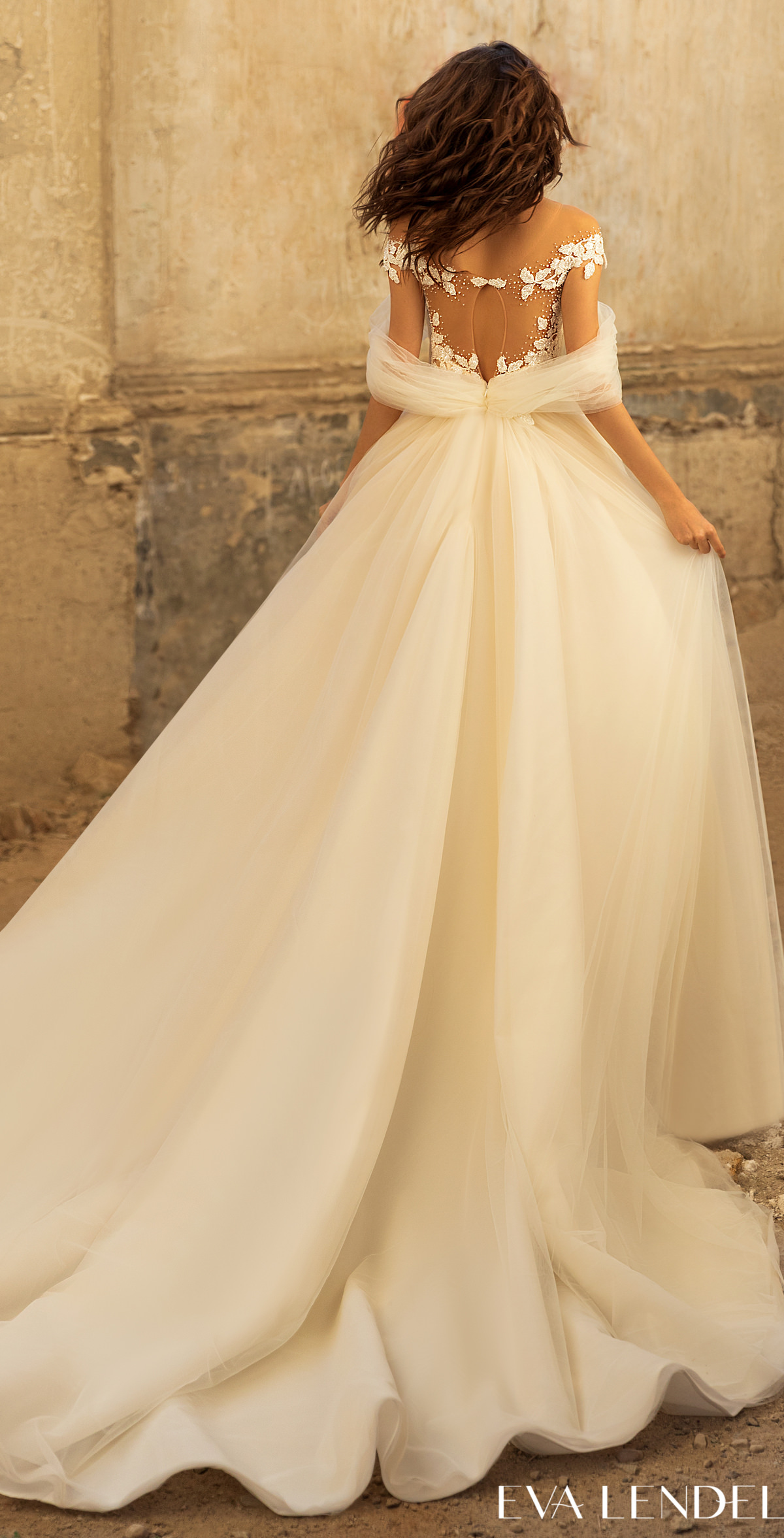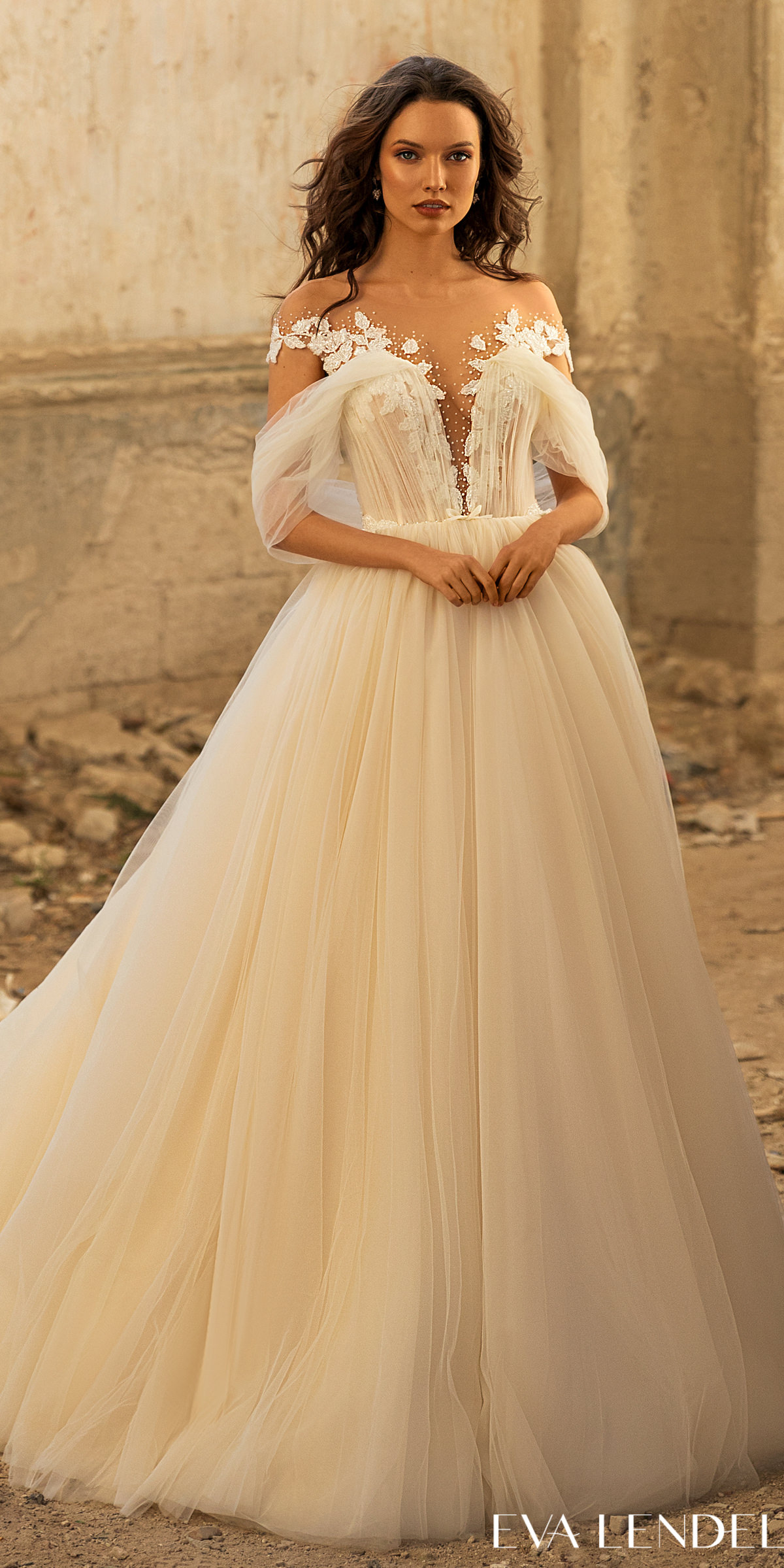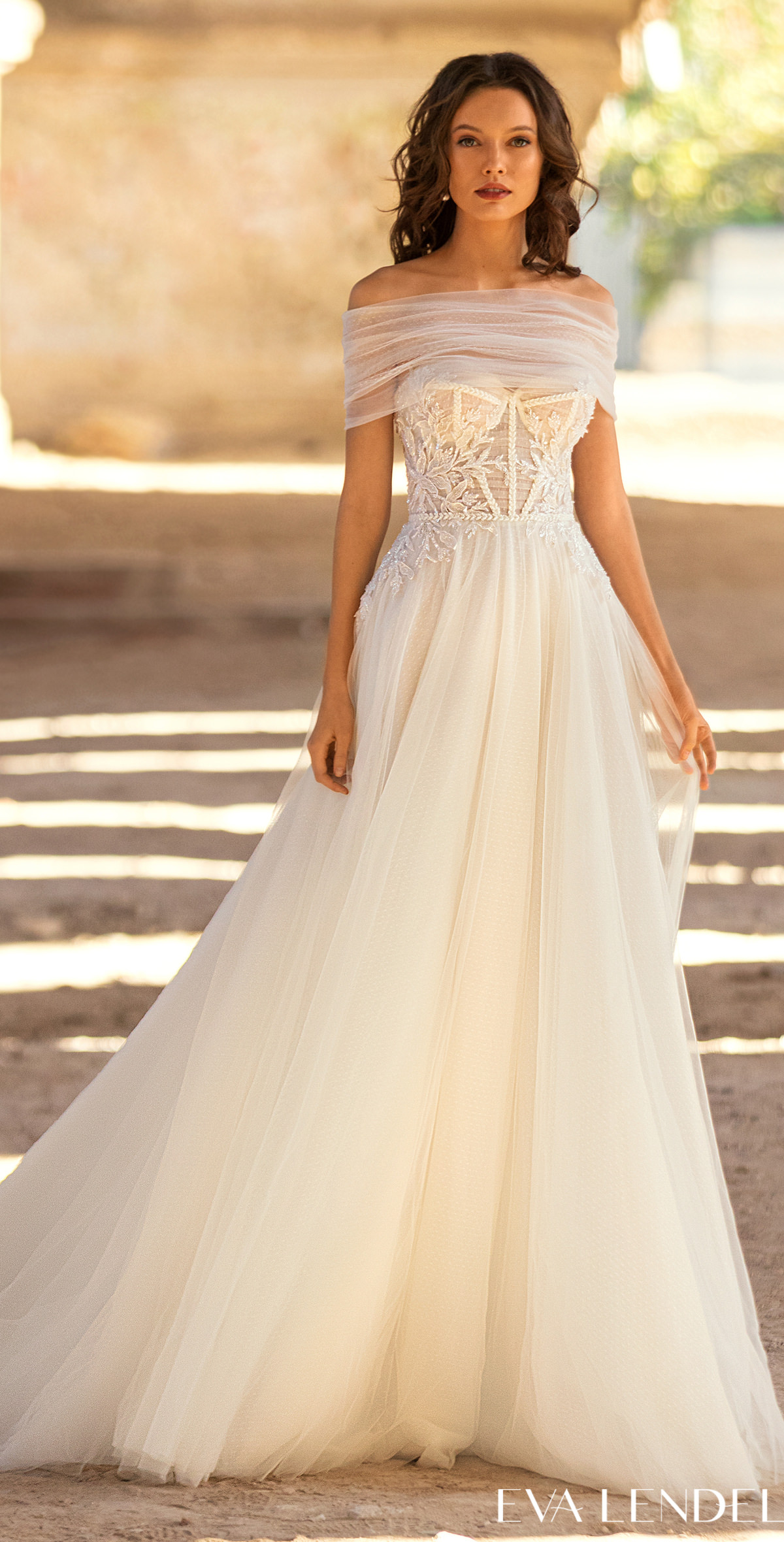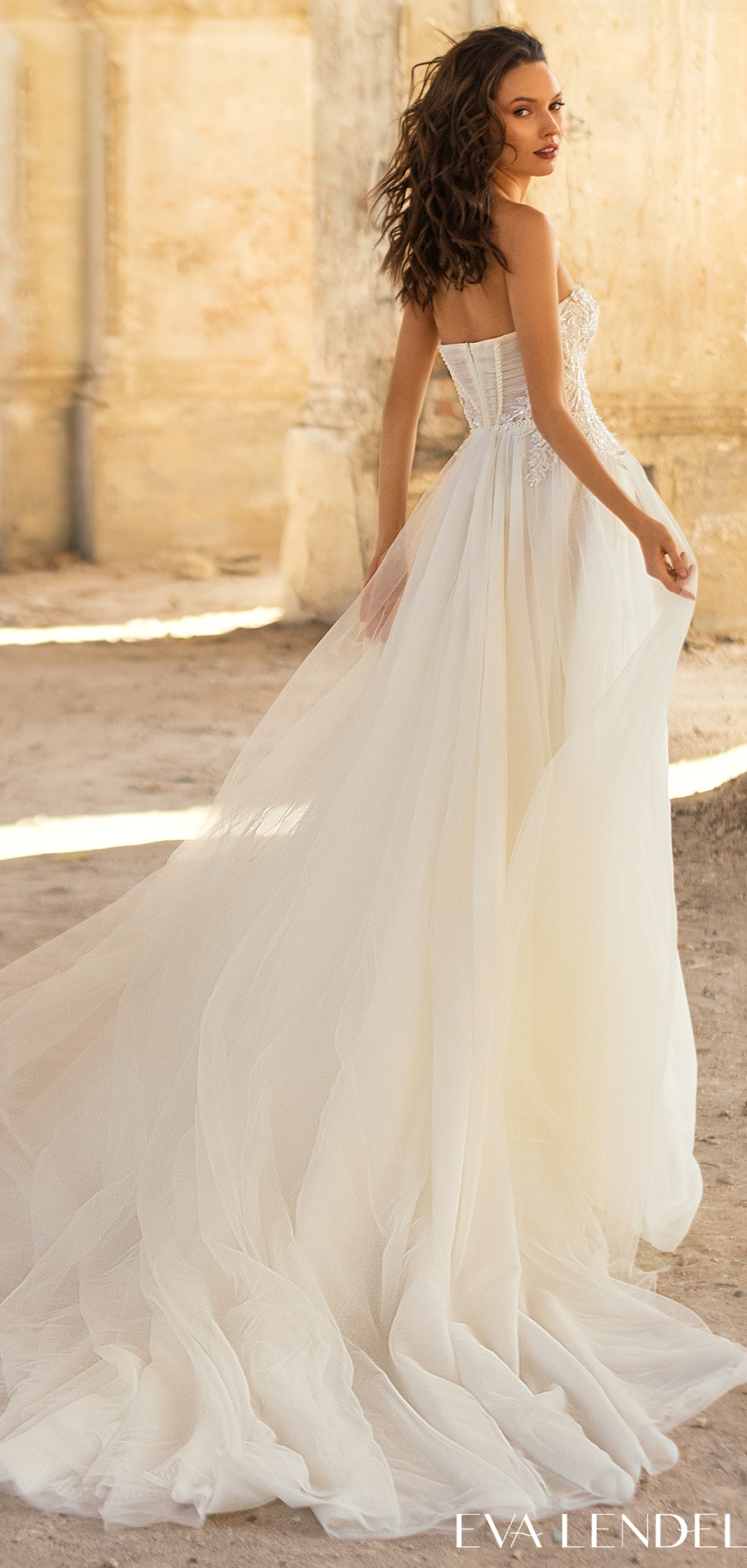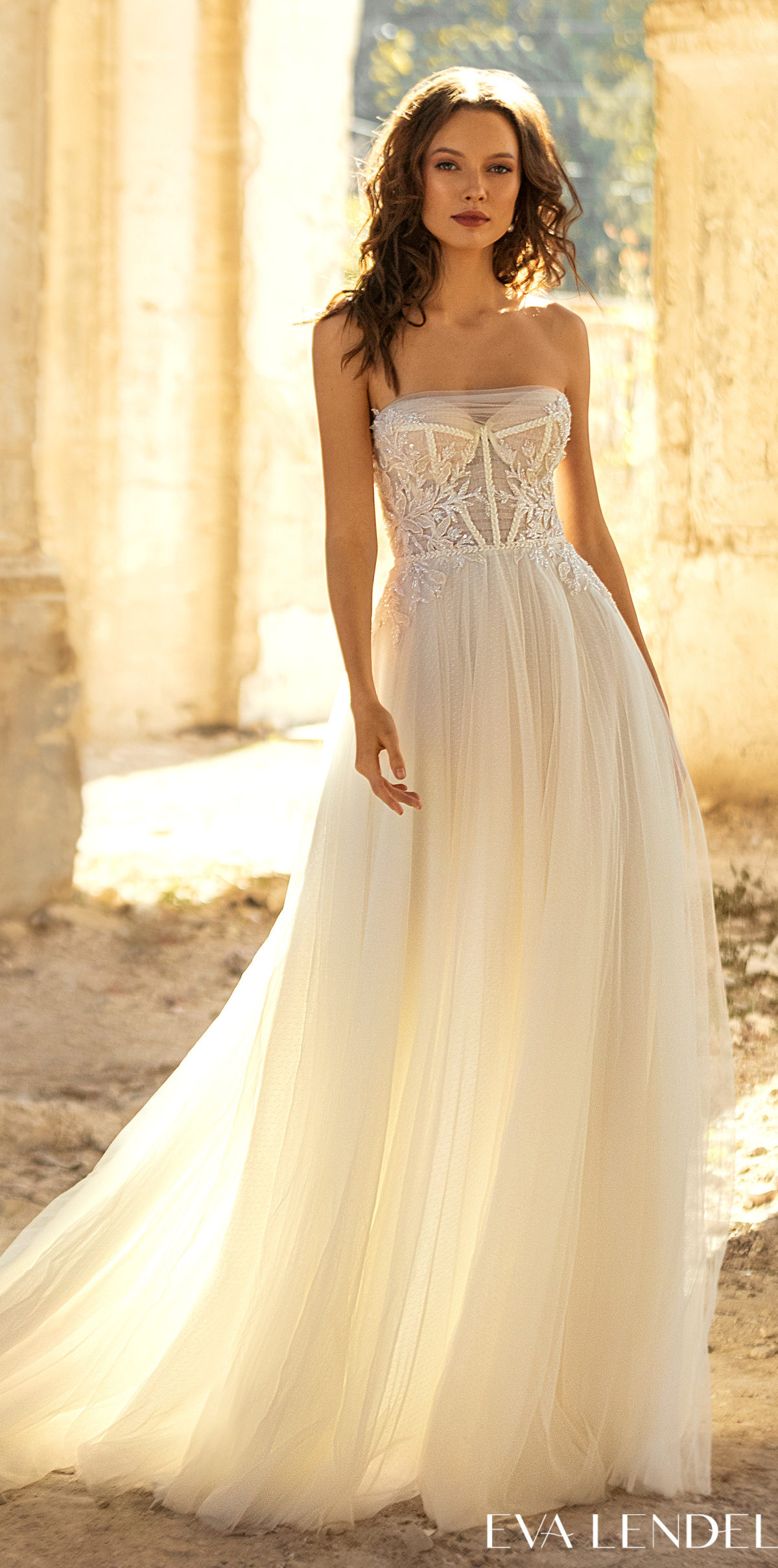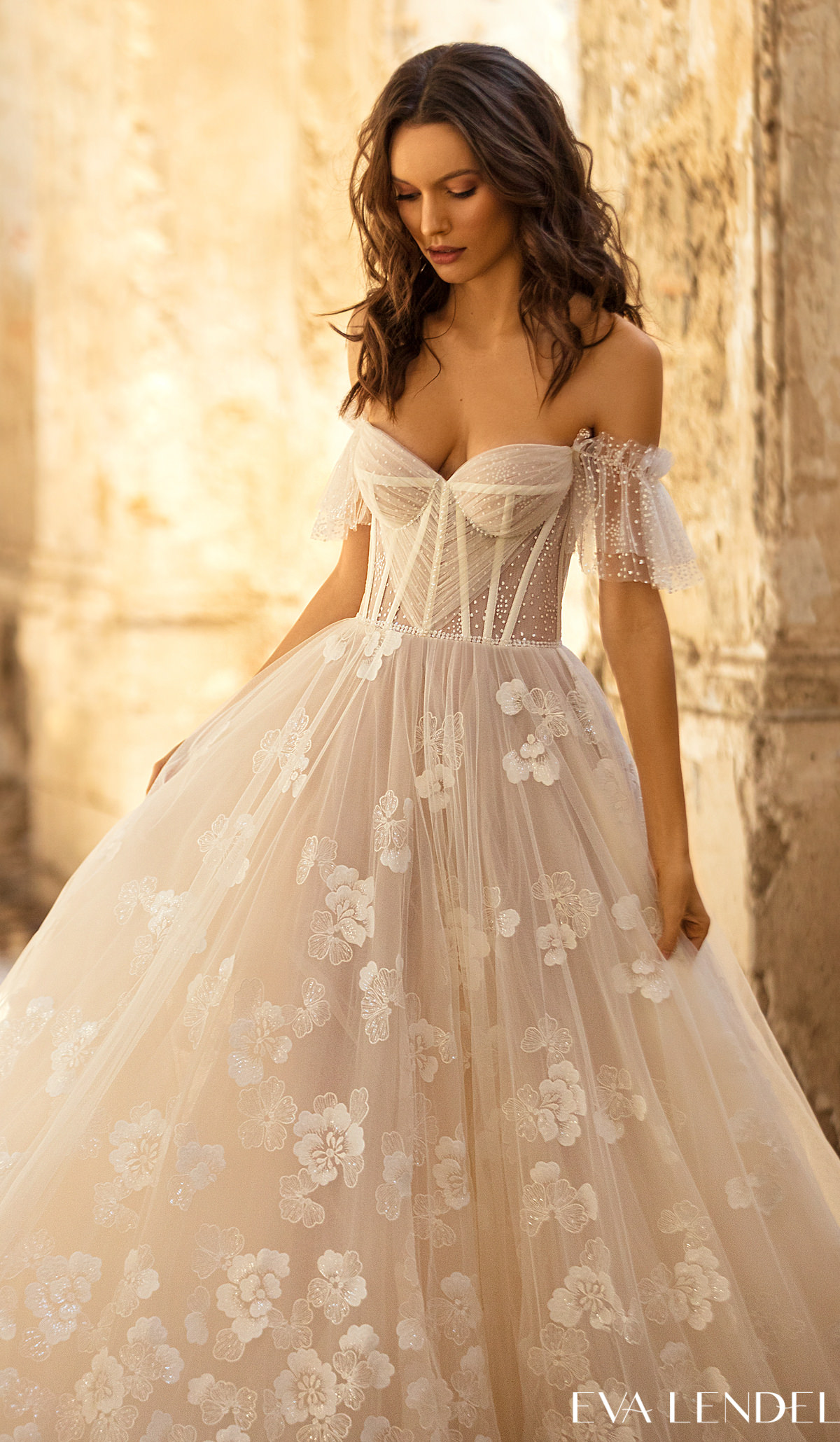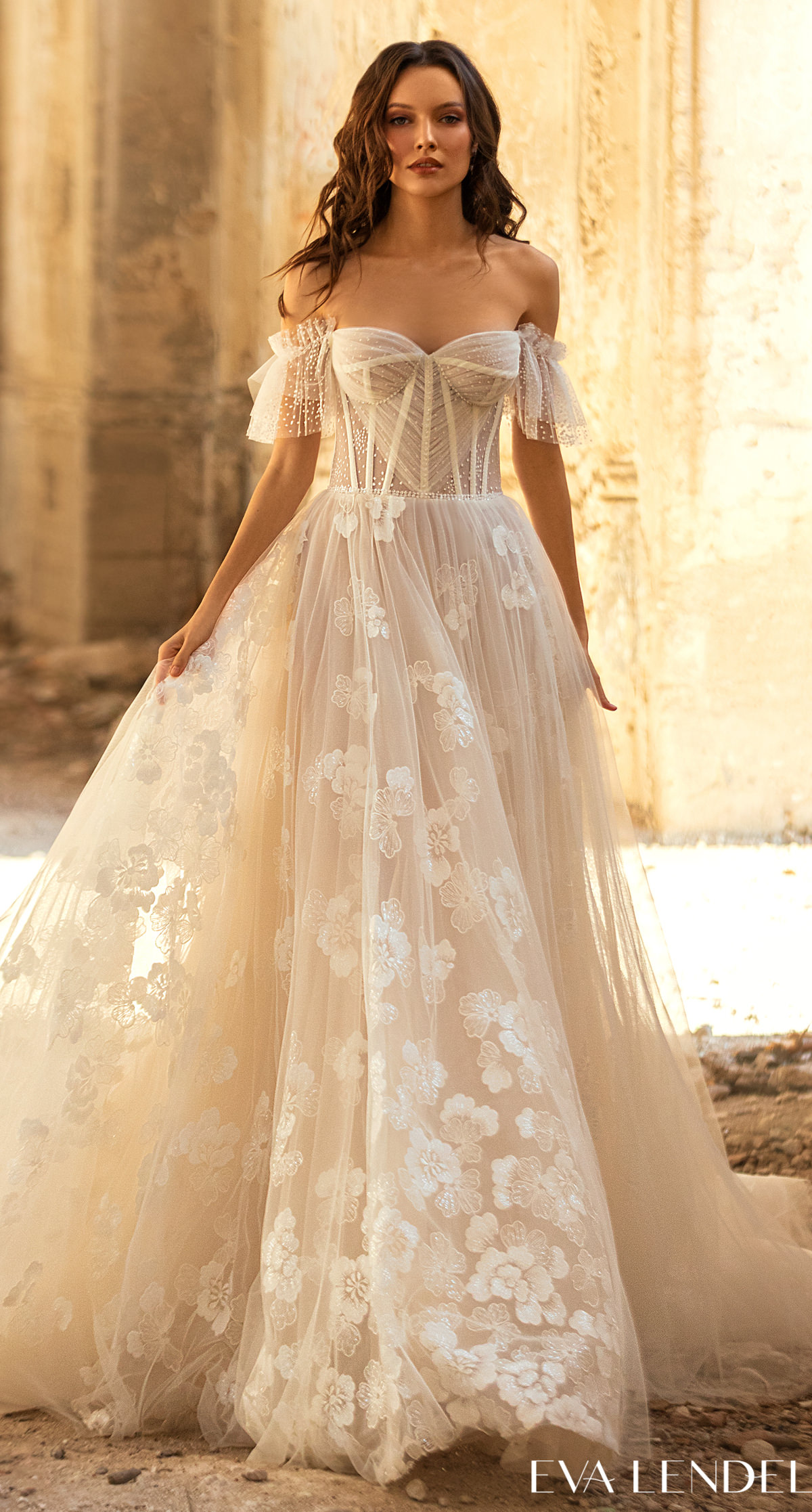 The Red Carpet Bride
For the bride who loves a glamorous look worthy of the red carpet, look no further! The Sia gown offers a minimalistic and chic take on red carpet bridal style with its cowl neck and slinky silhouette, while the shimmering figure-hugging Daniel gown and the Cory gown with its sleek lines are also beautiful options. If you're really going for the wow factor, check out the majestic Davina gown styled with a crepe satin detachable skirt and one-shoulder topper or the Bredley gown from the Golden Hour Collection with its low dramatic back and stunning lace pattern.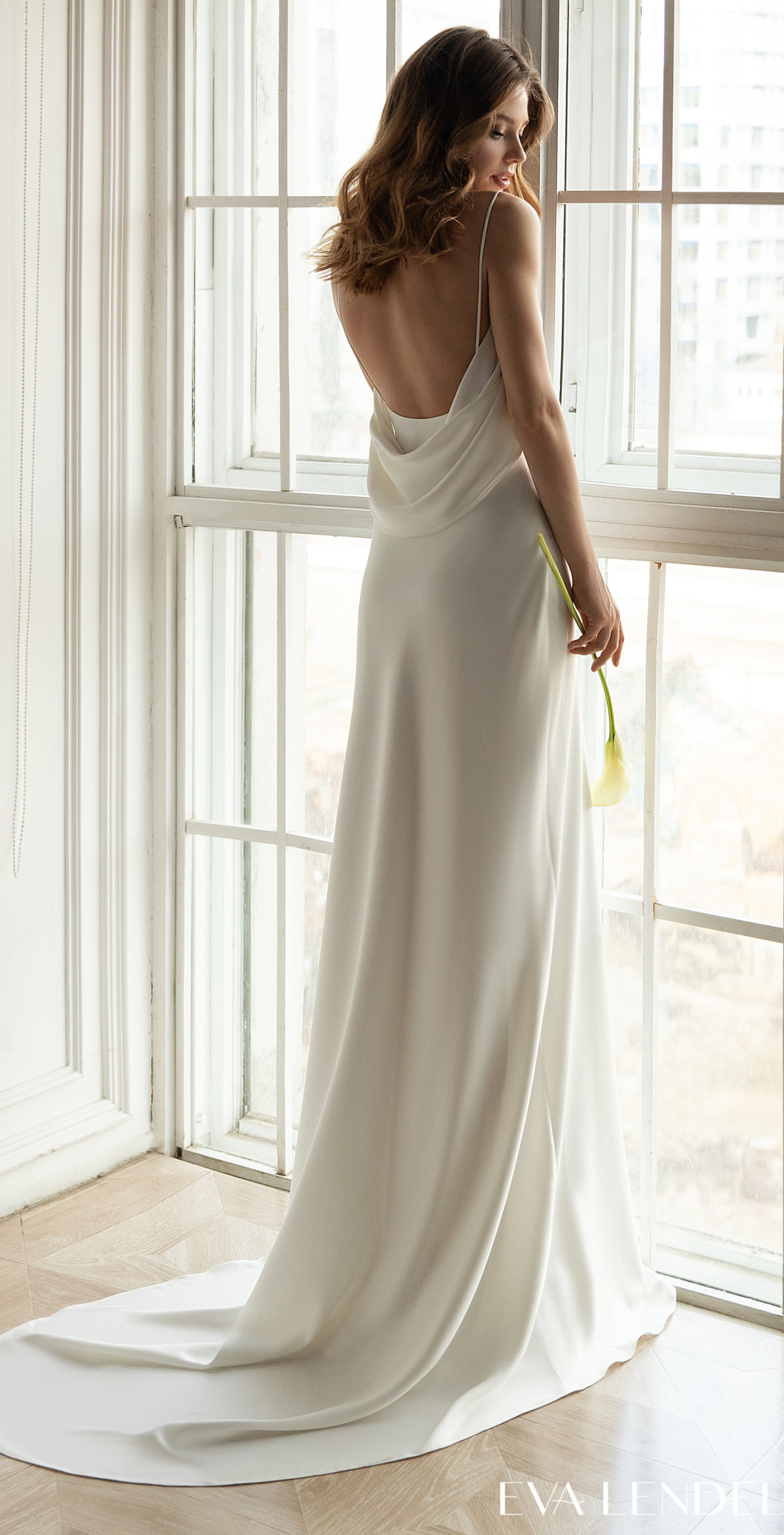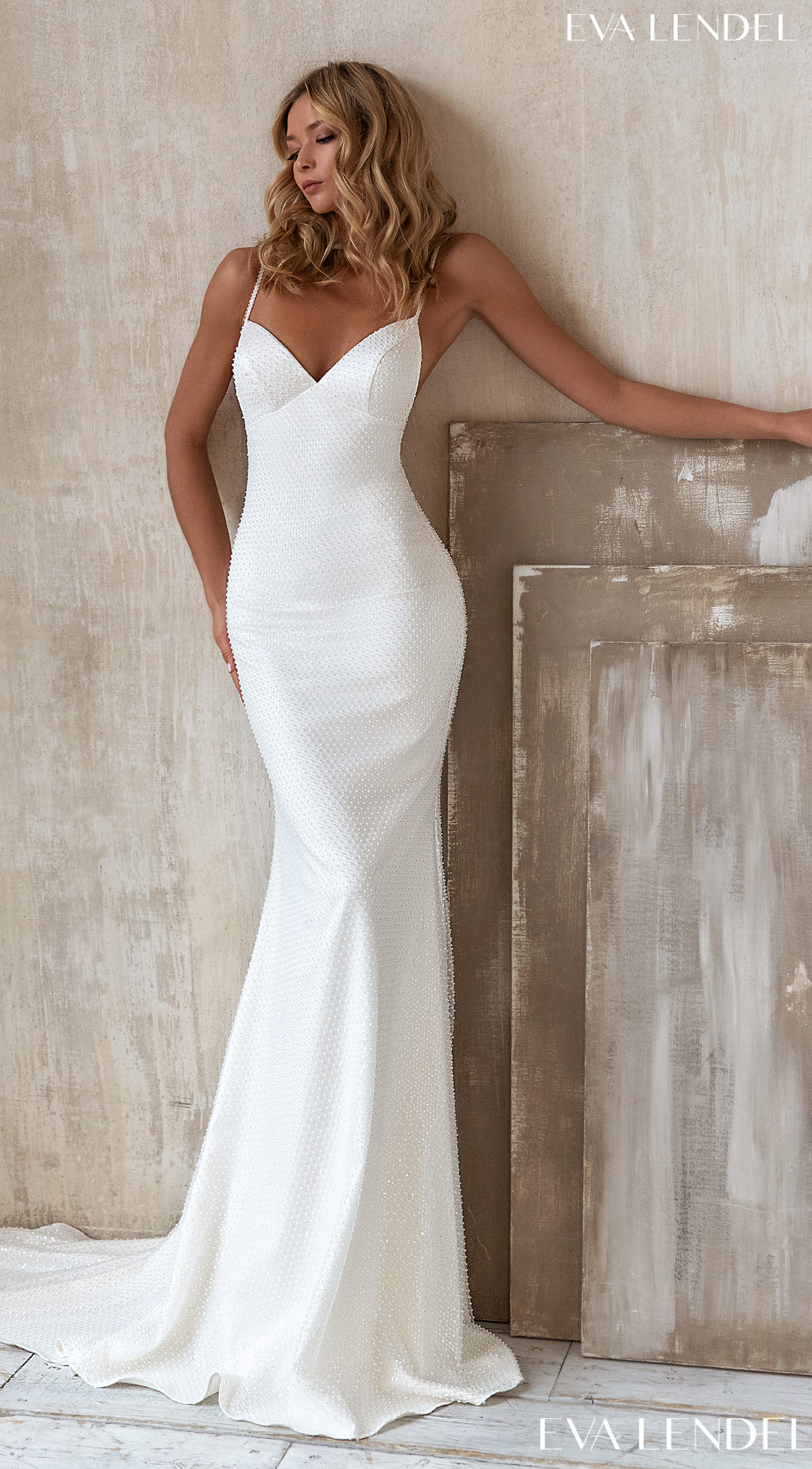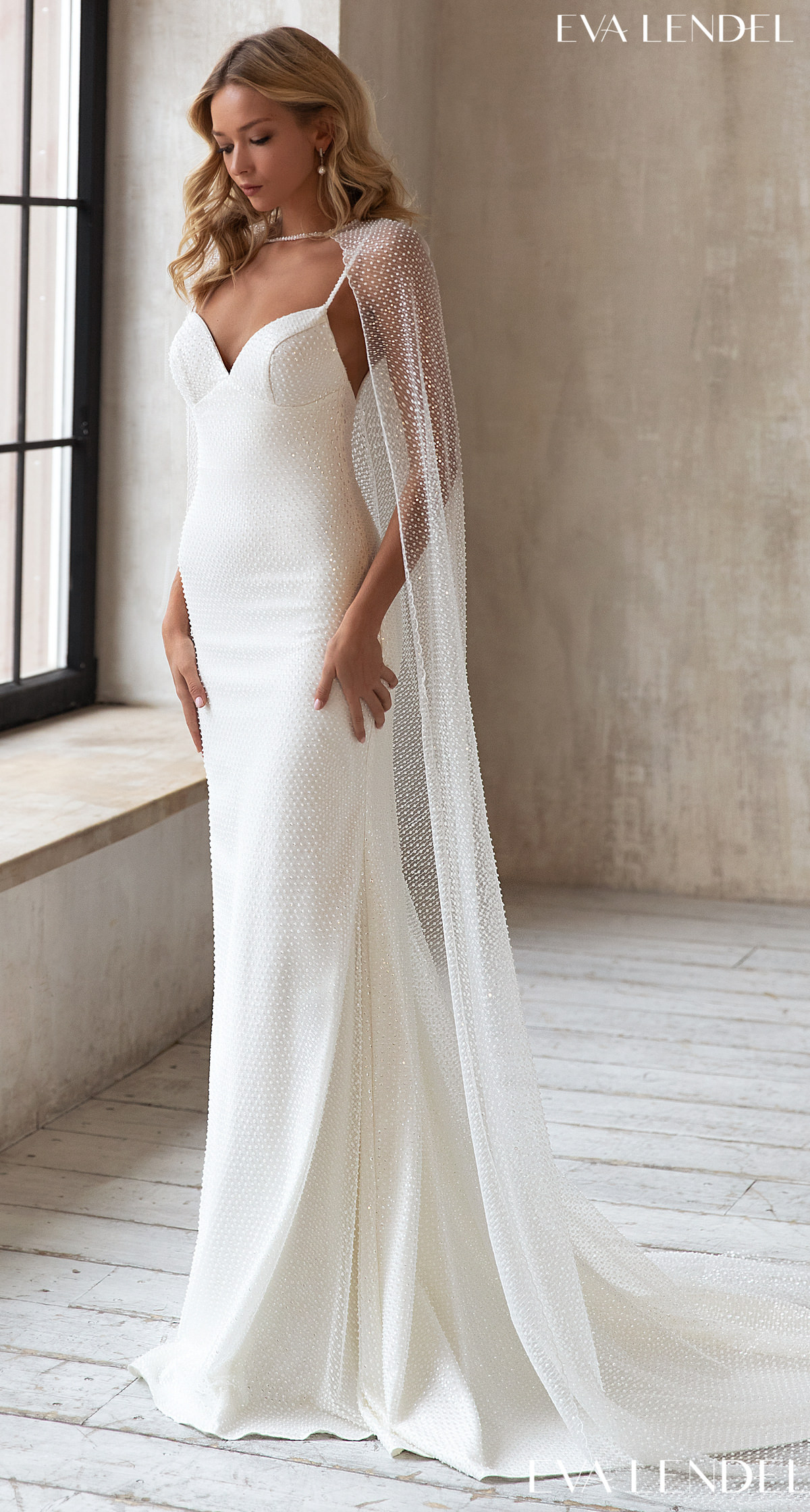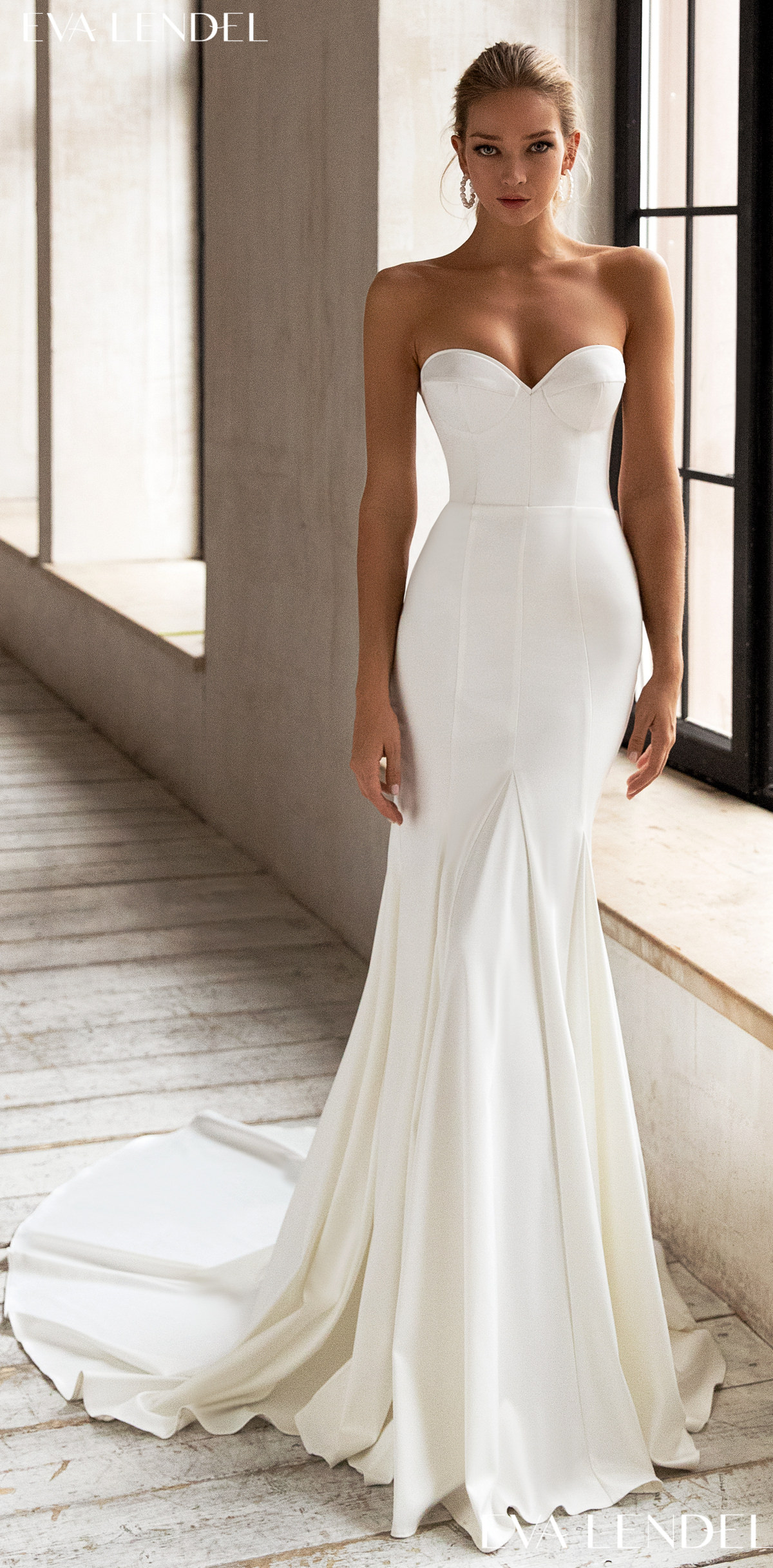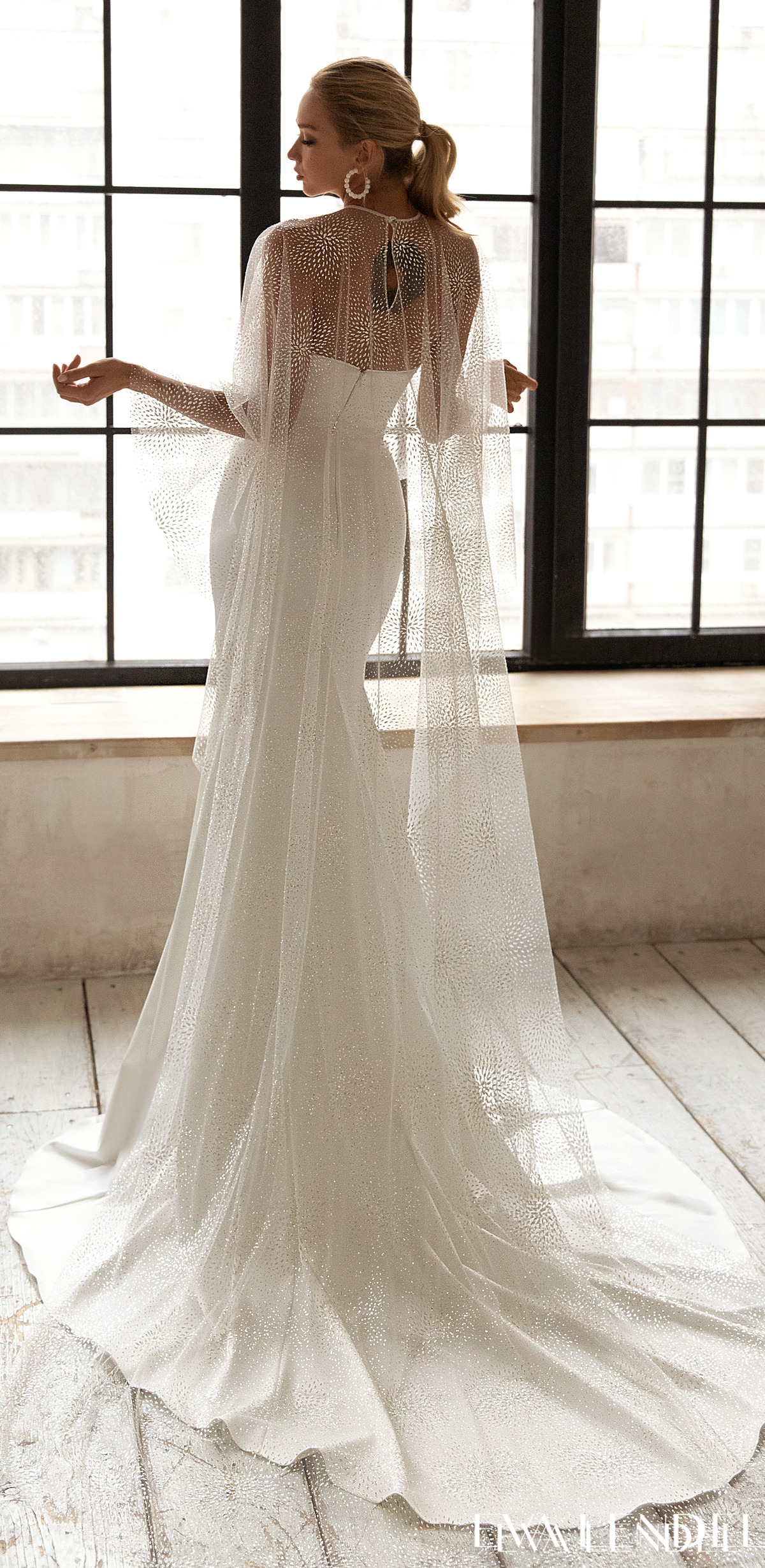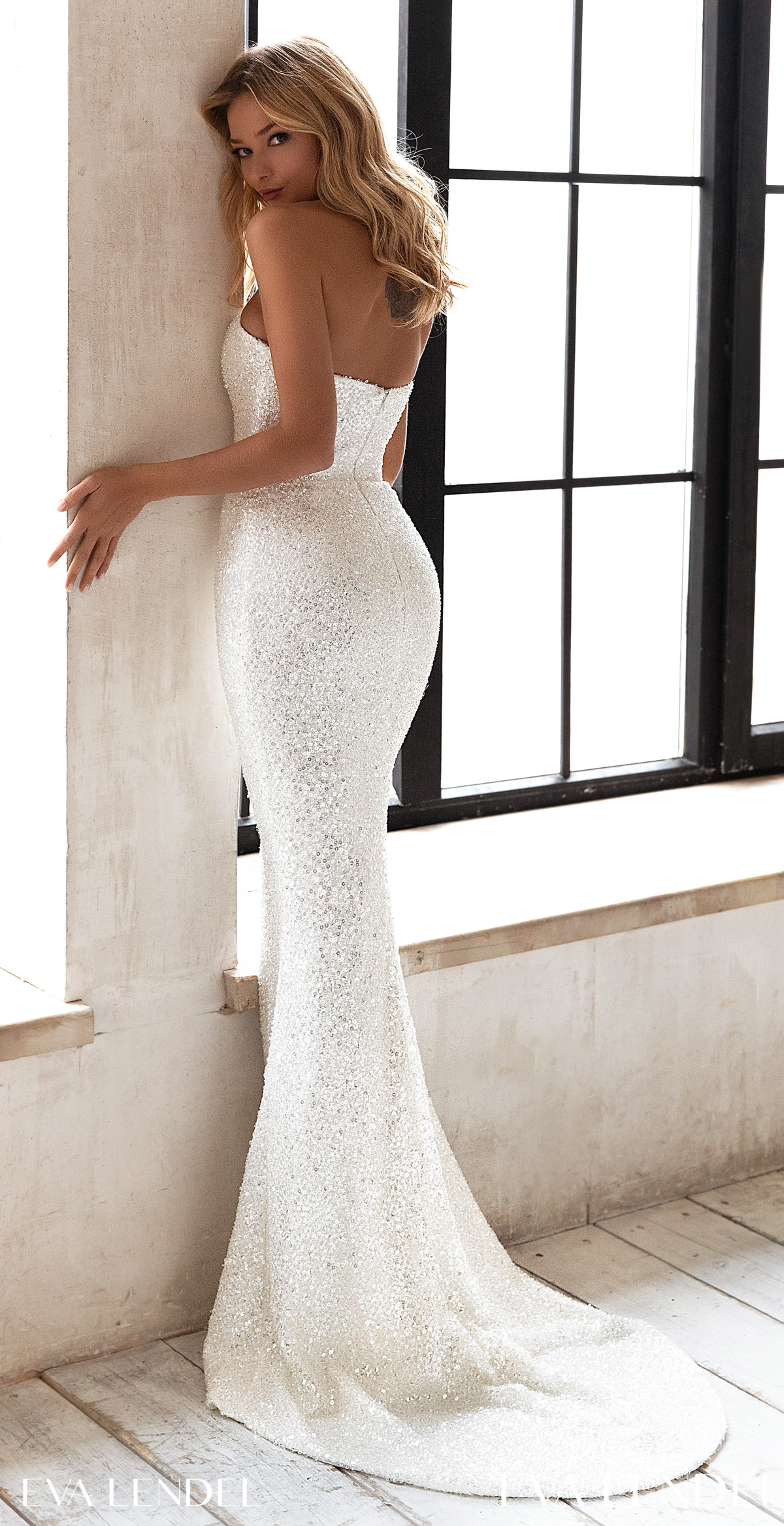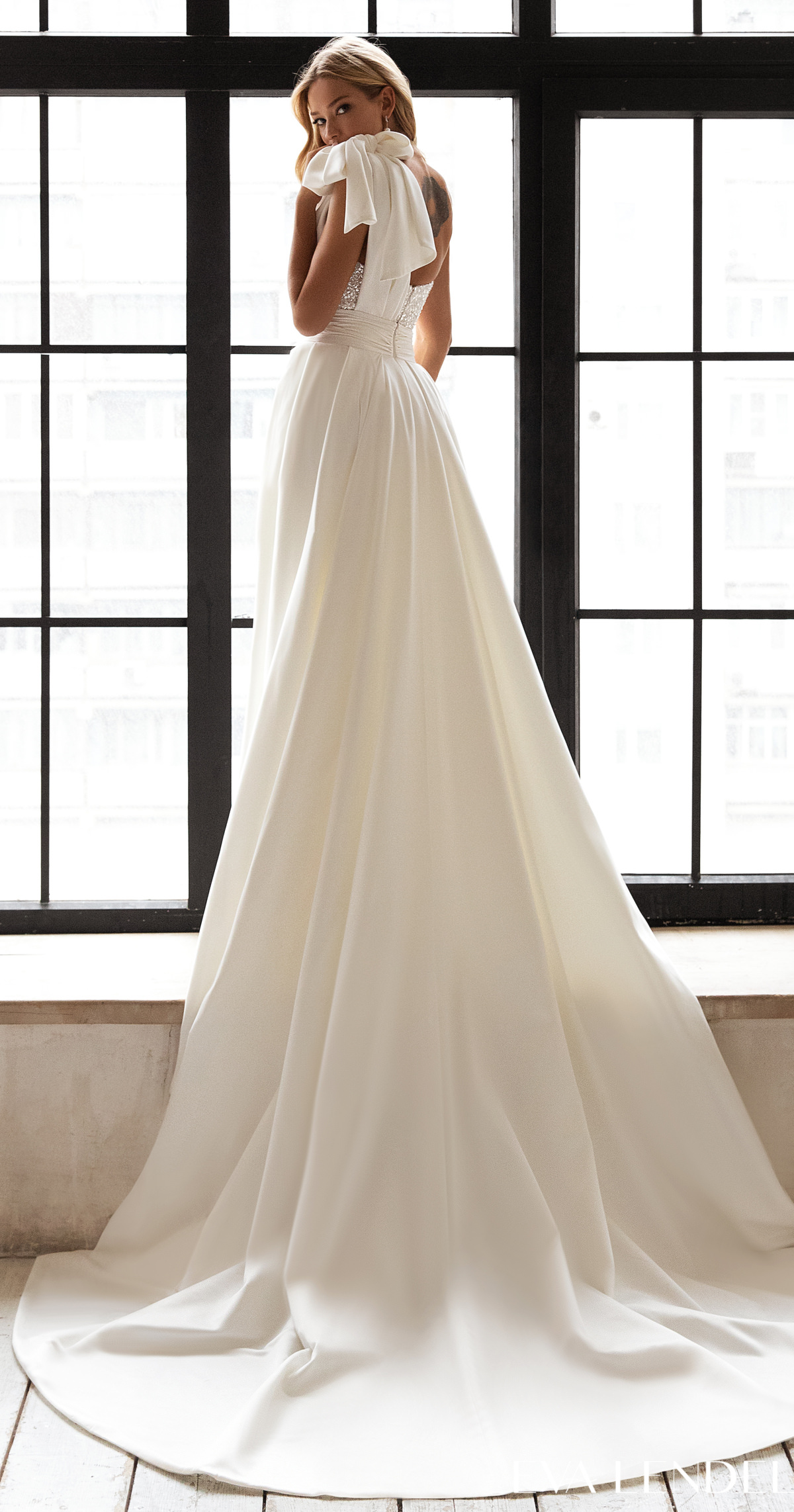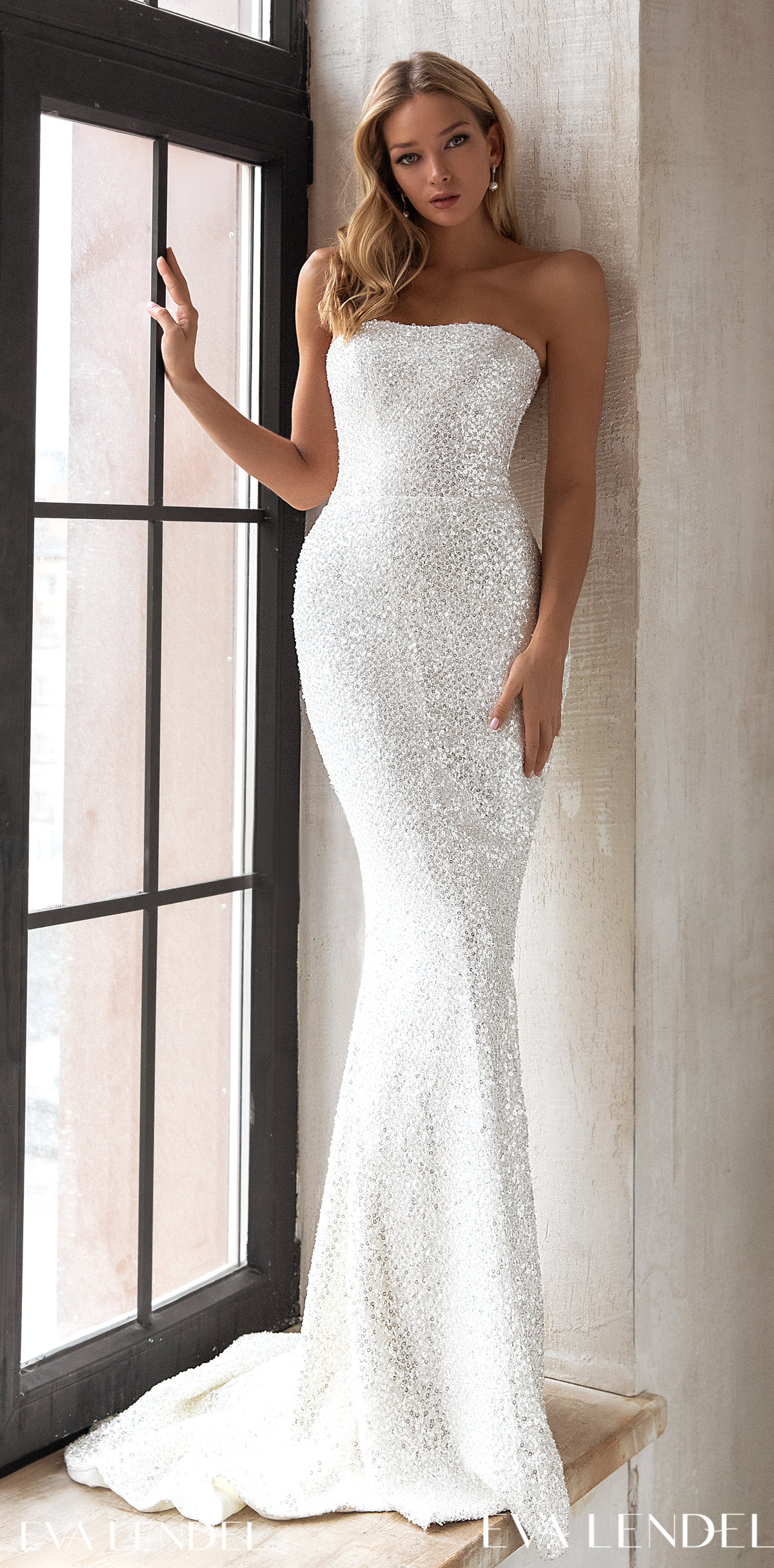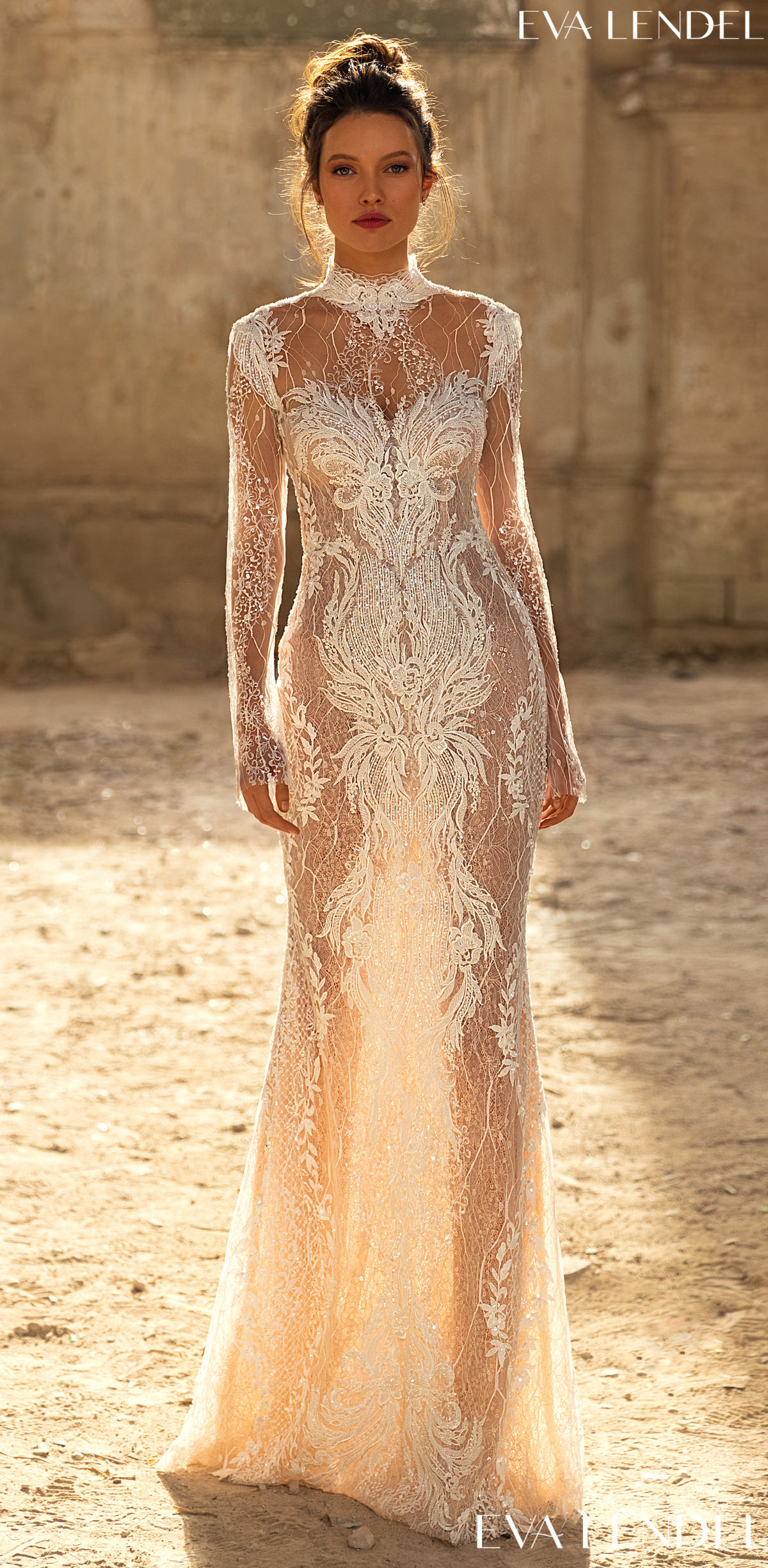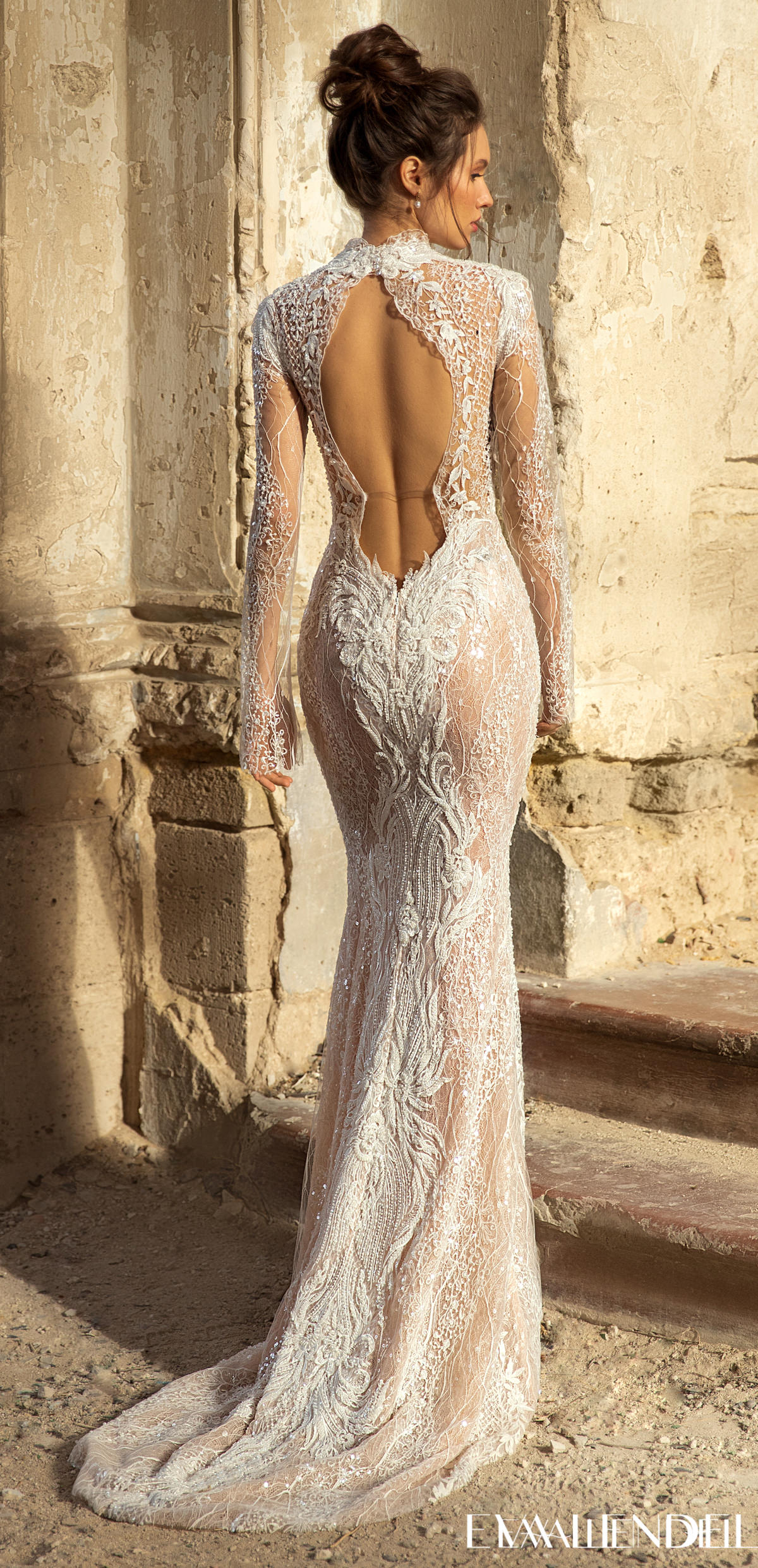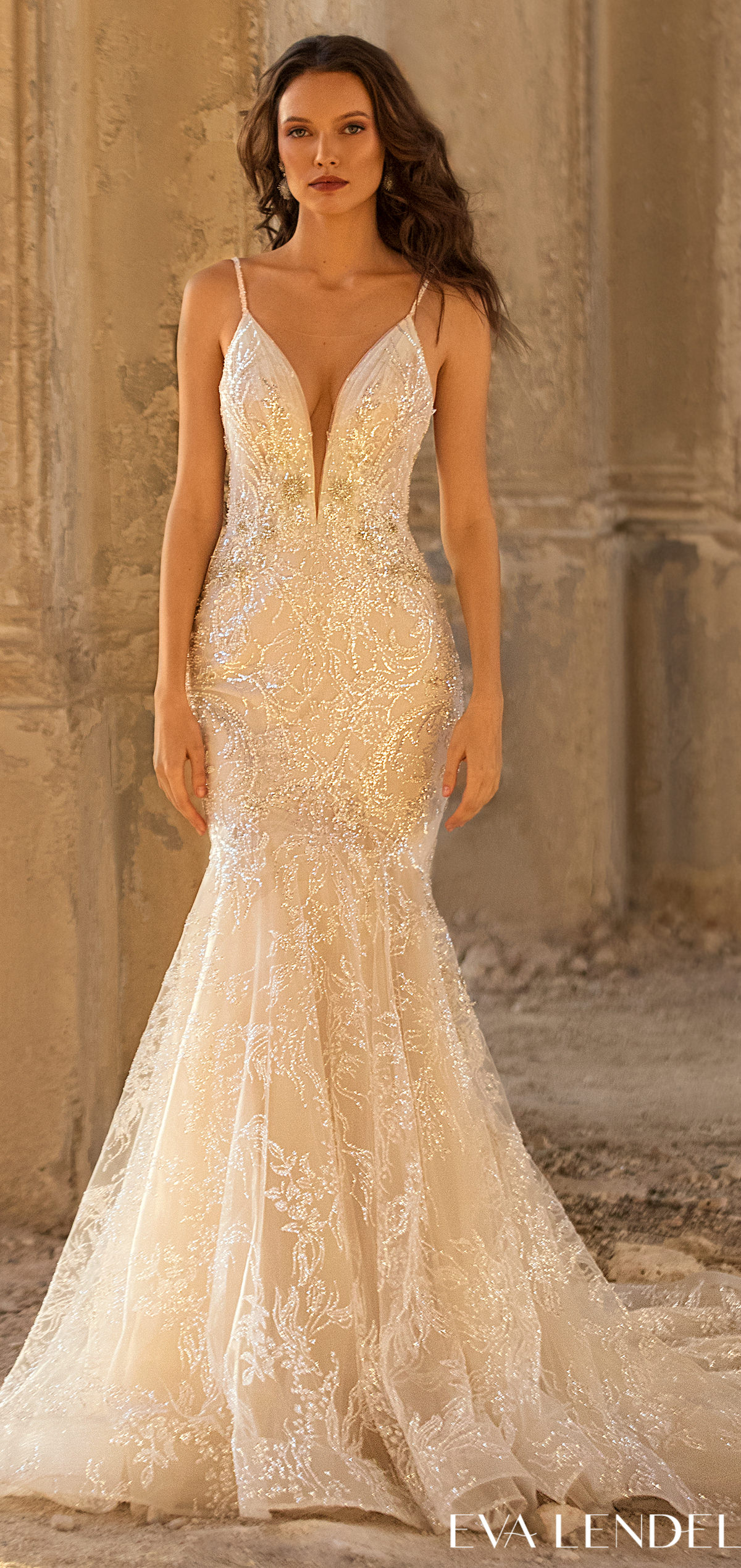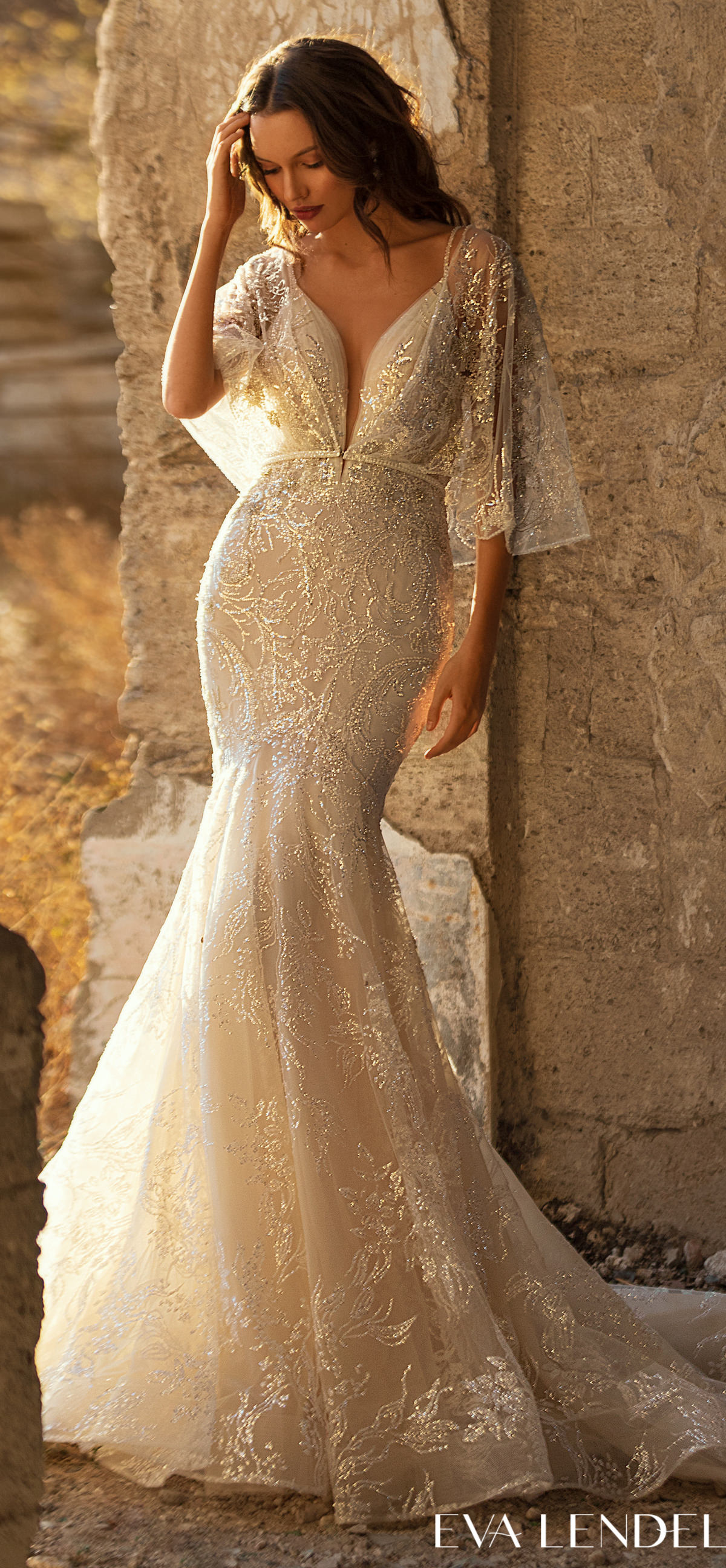 The Fashion-Forward Bride
No matter what your favorite bridal trends are this year, Eva Lendel has a gown for you. The Golden Hour Collection features unique lace-embellished and dramatic backs, capes for two looks in one, square necklines, corset bodices, and sleeves and straps of all different styles! If you're loving the statement sleeve trend, check out the Tayra or the Selest gowns from the Less is More Collection and the luxurious Lennox gown from the Golden Hour Collection 2022.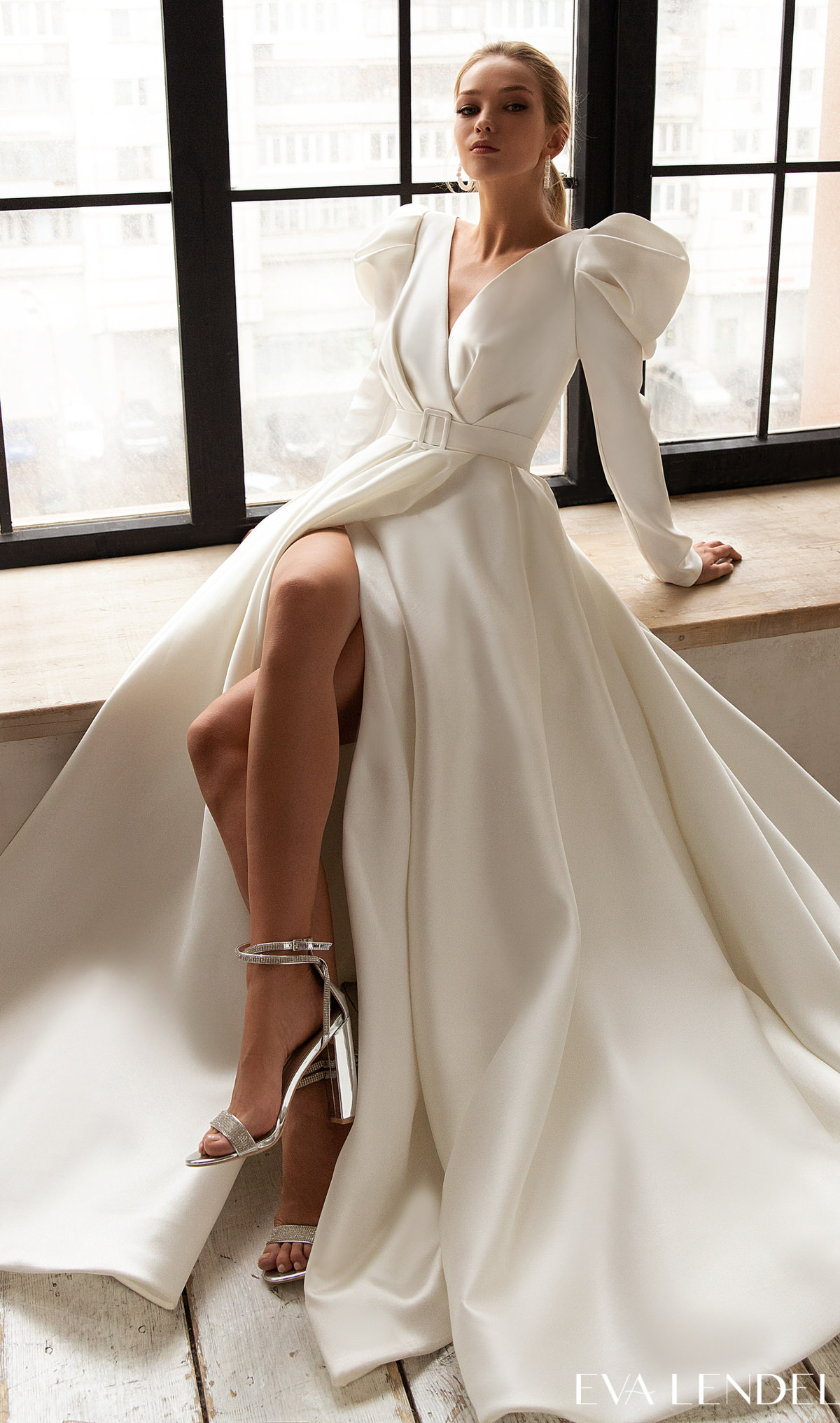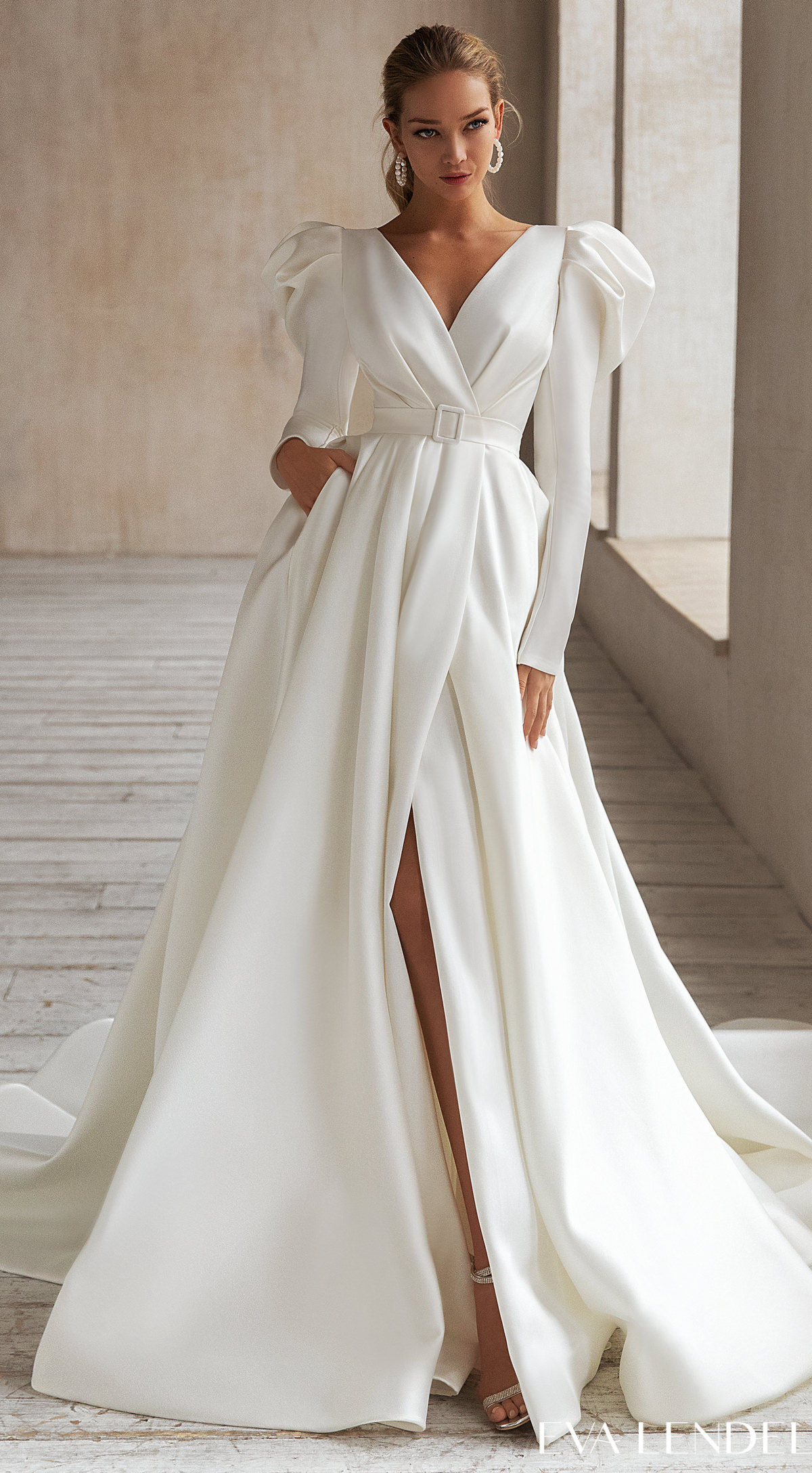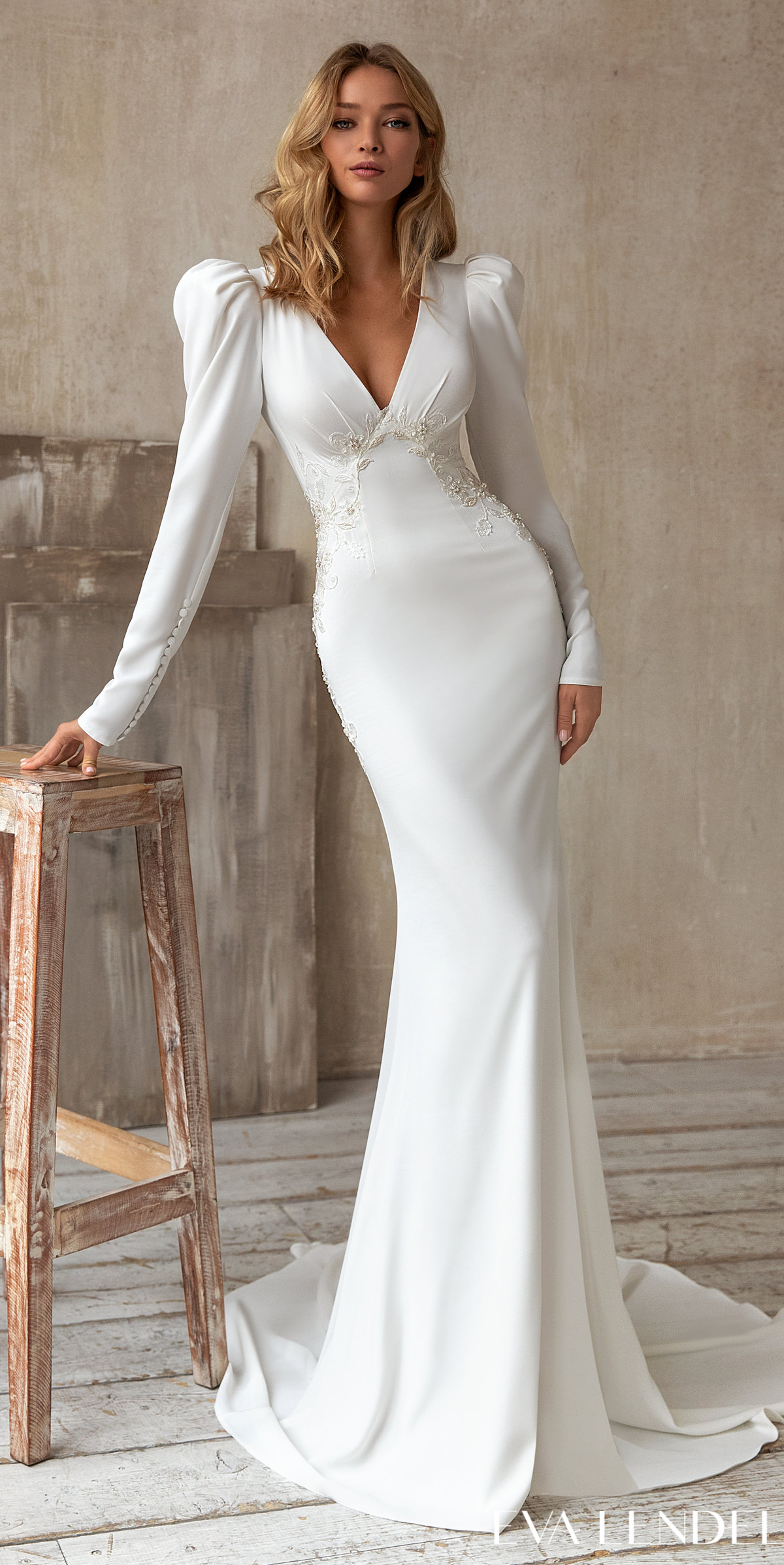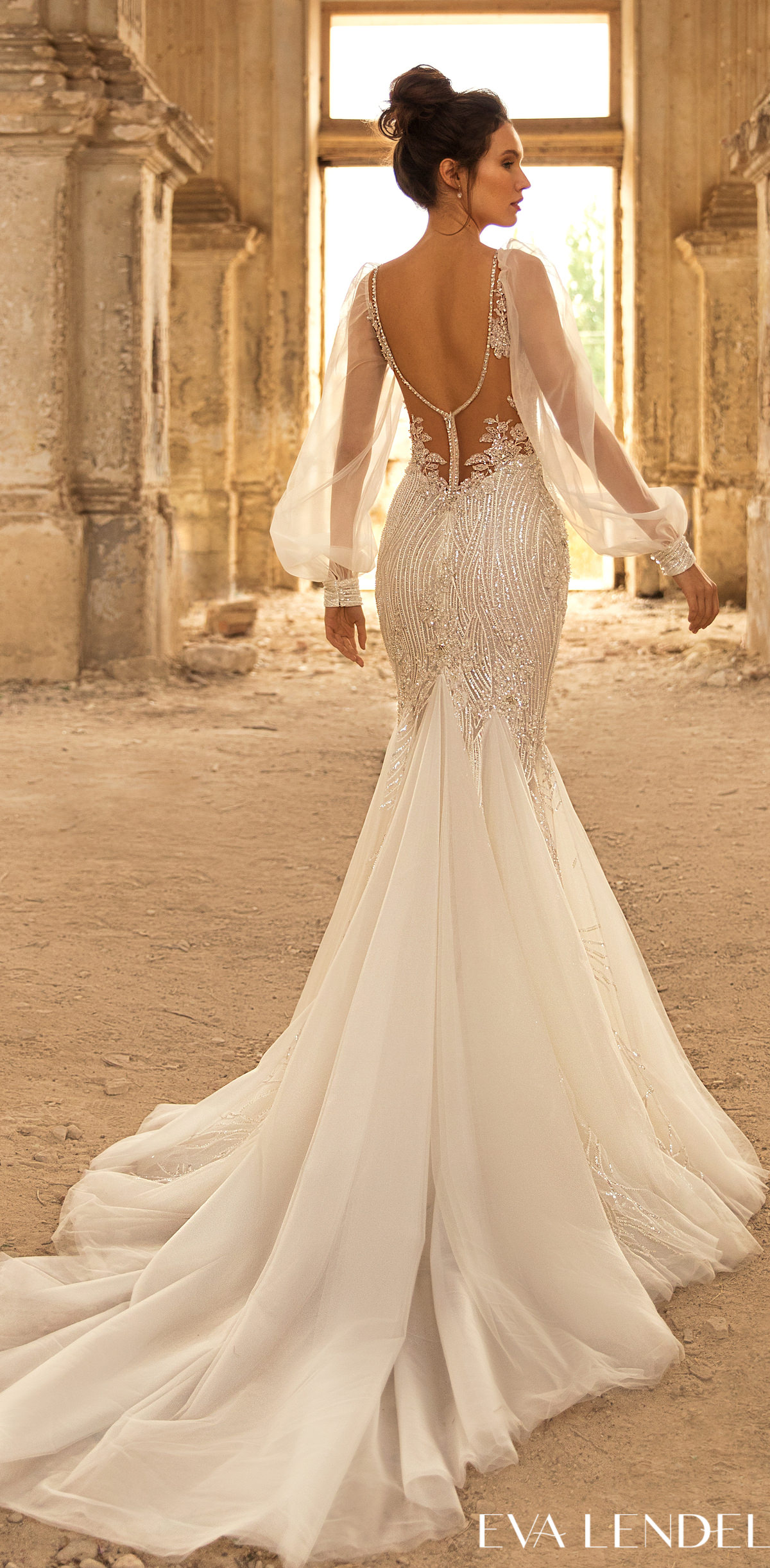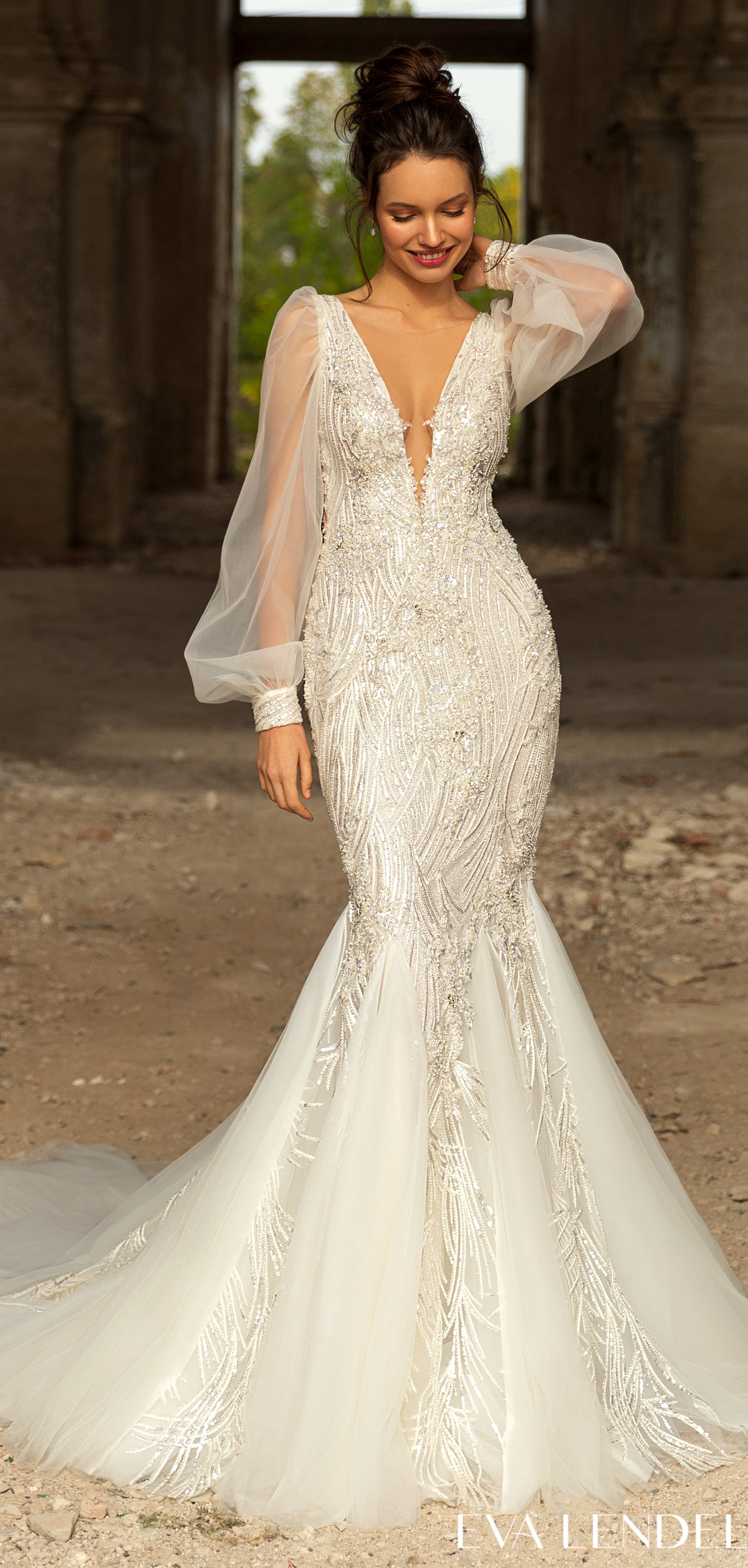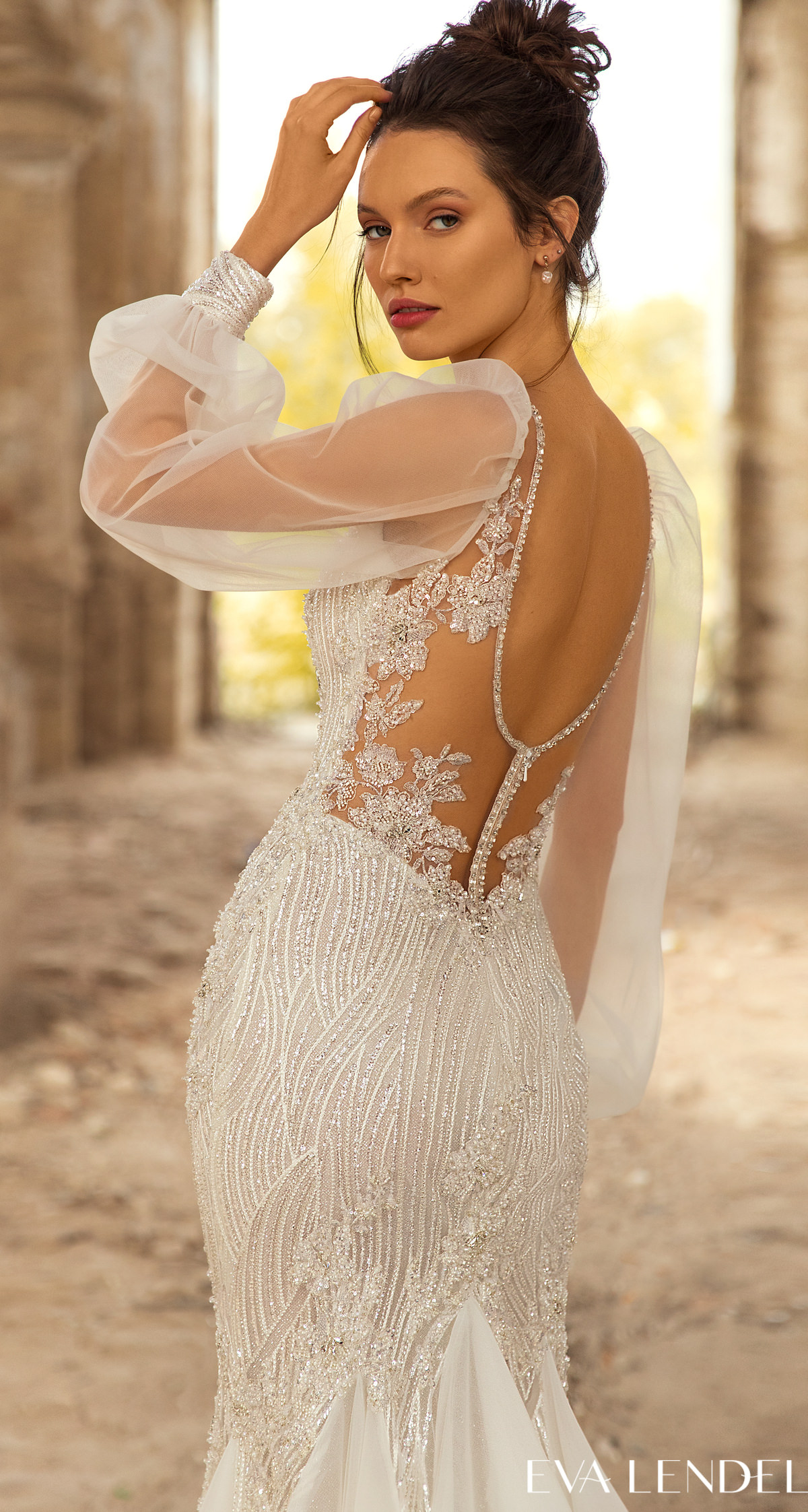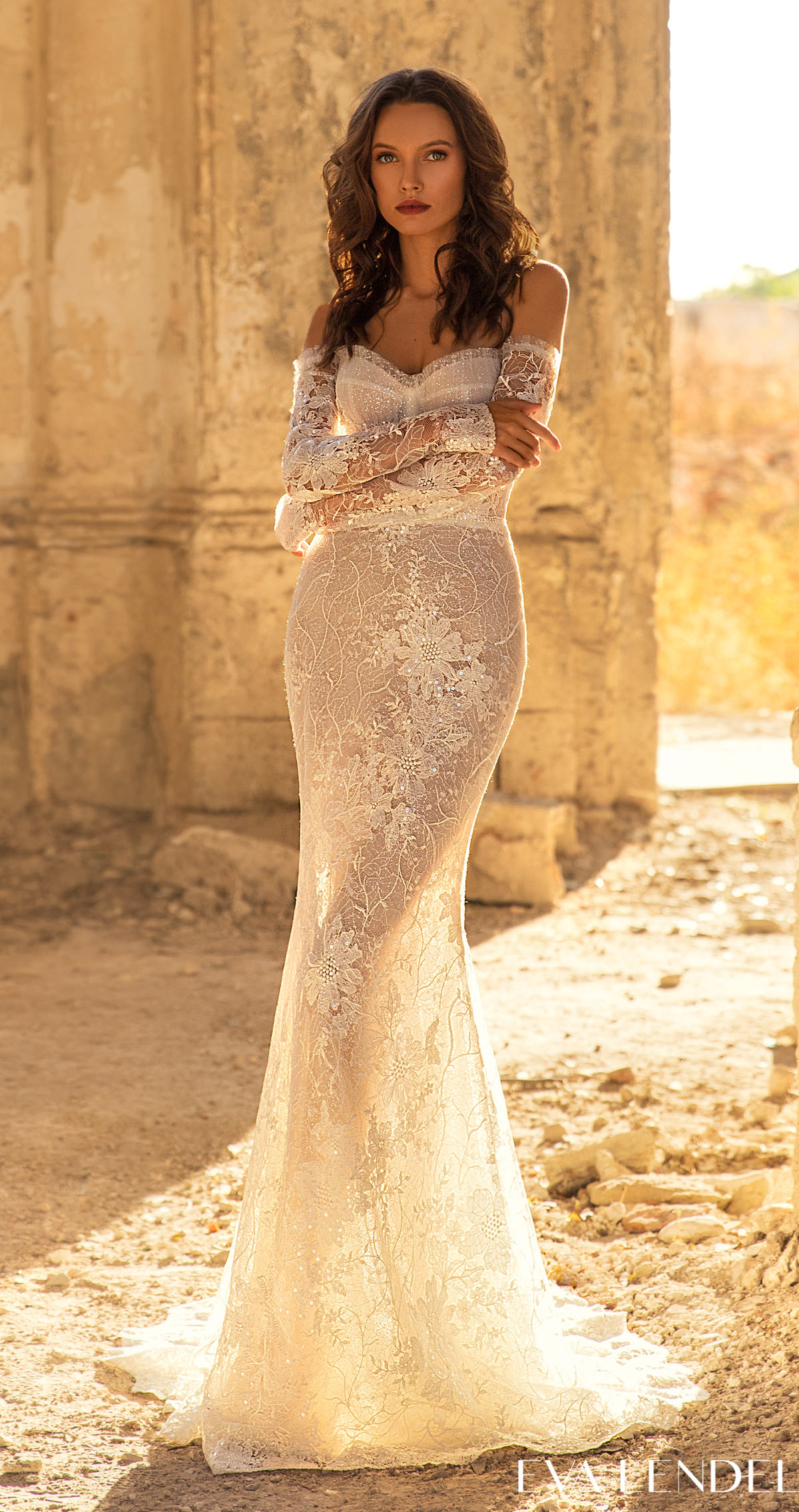 The Boho Bride
There's no doubt that bohemian style is not going anywhere! Some of our top picks from Eve Lendel include the Lesley gown with its eye-catching two-tone lace A-line skirt and pleated tulle bodice and the Enni gown with its chiffon skirt and draped chiffon and scalloped lace bodice. Just add some loose waves and a gorgeous flower crown to complete the look!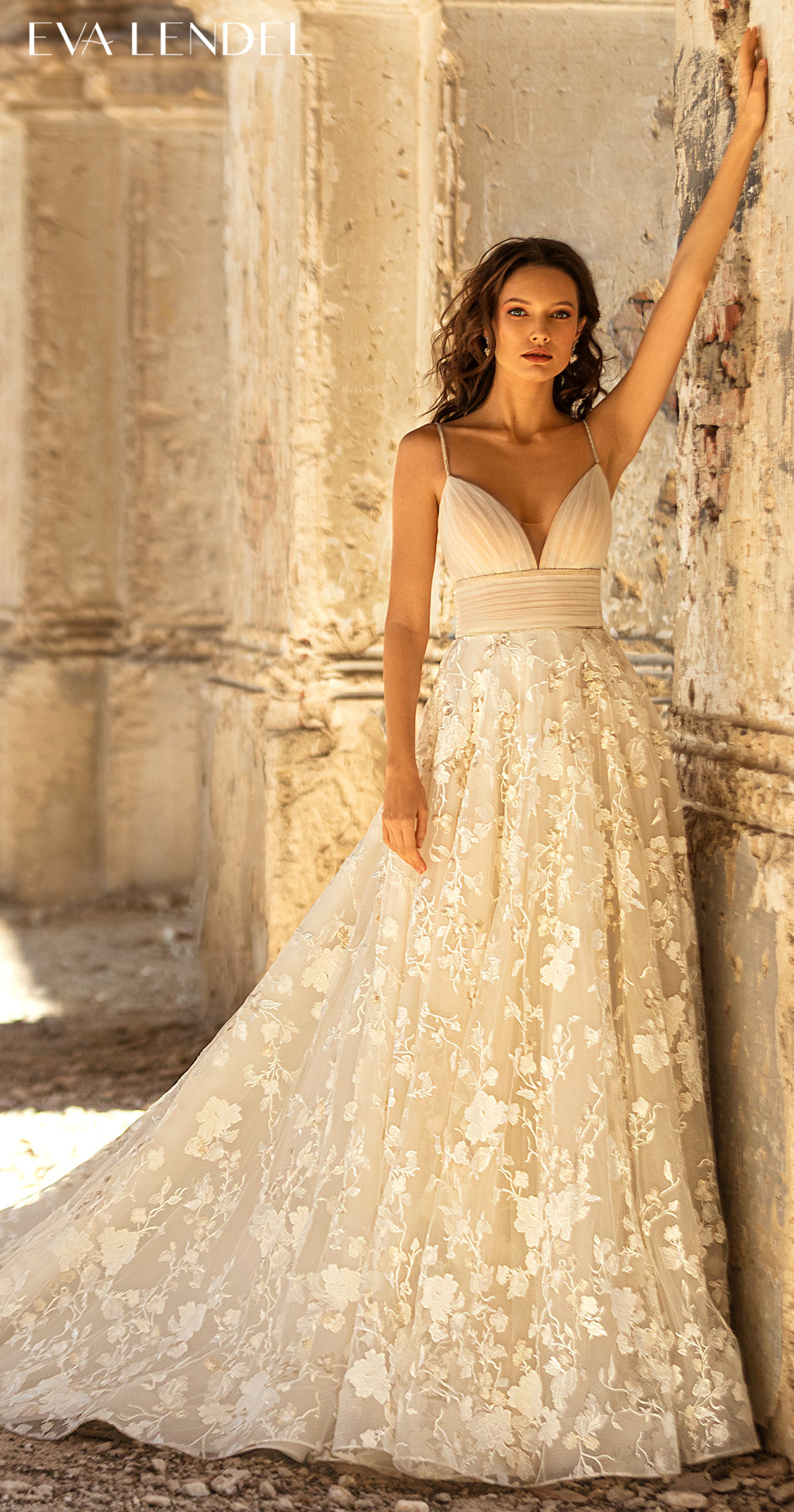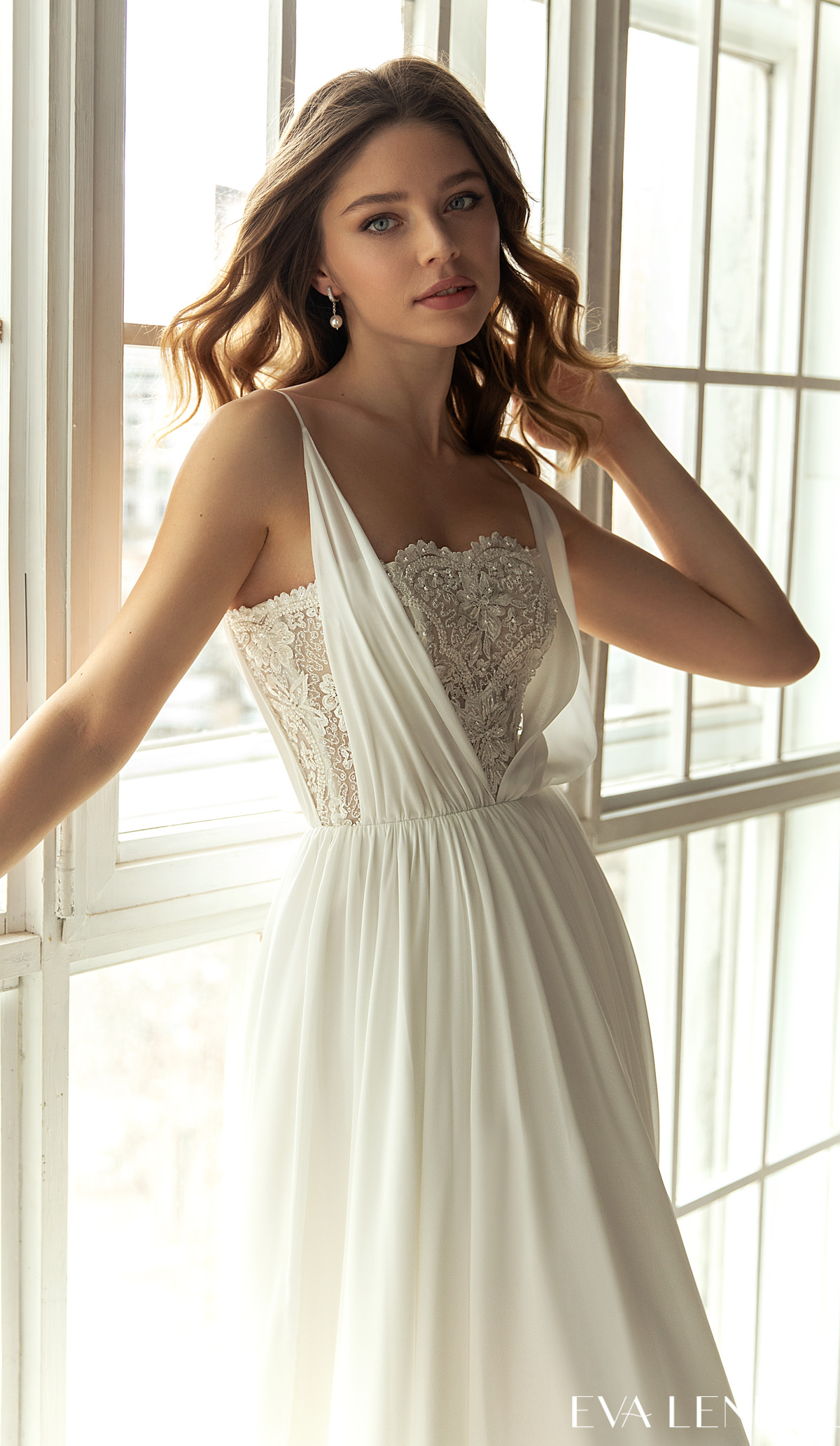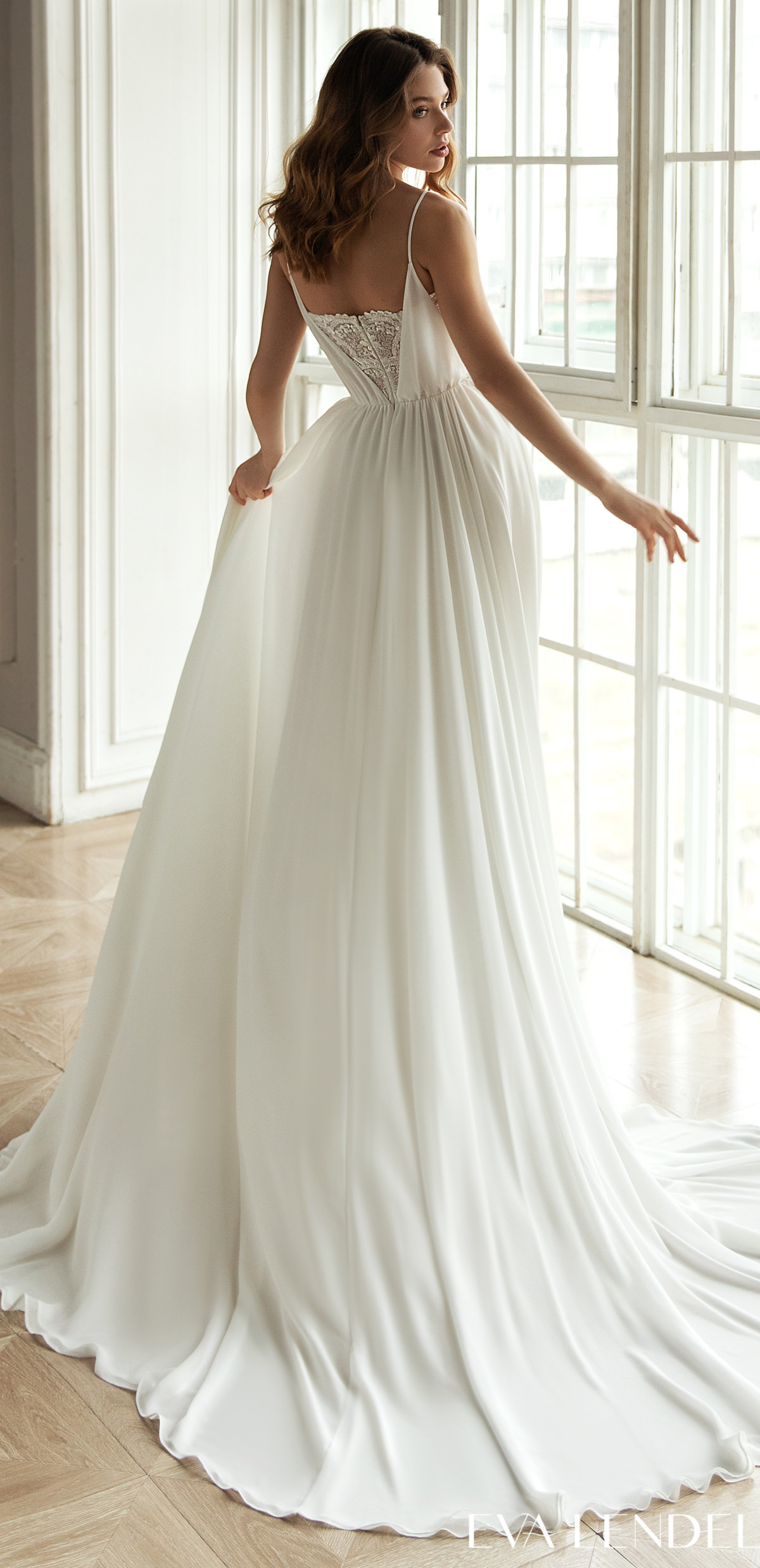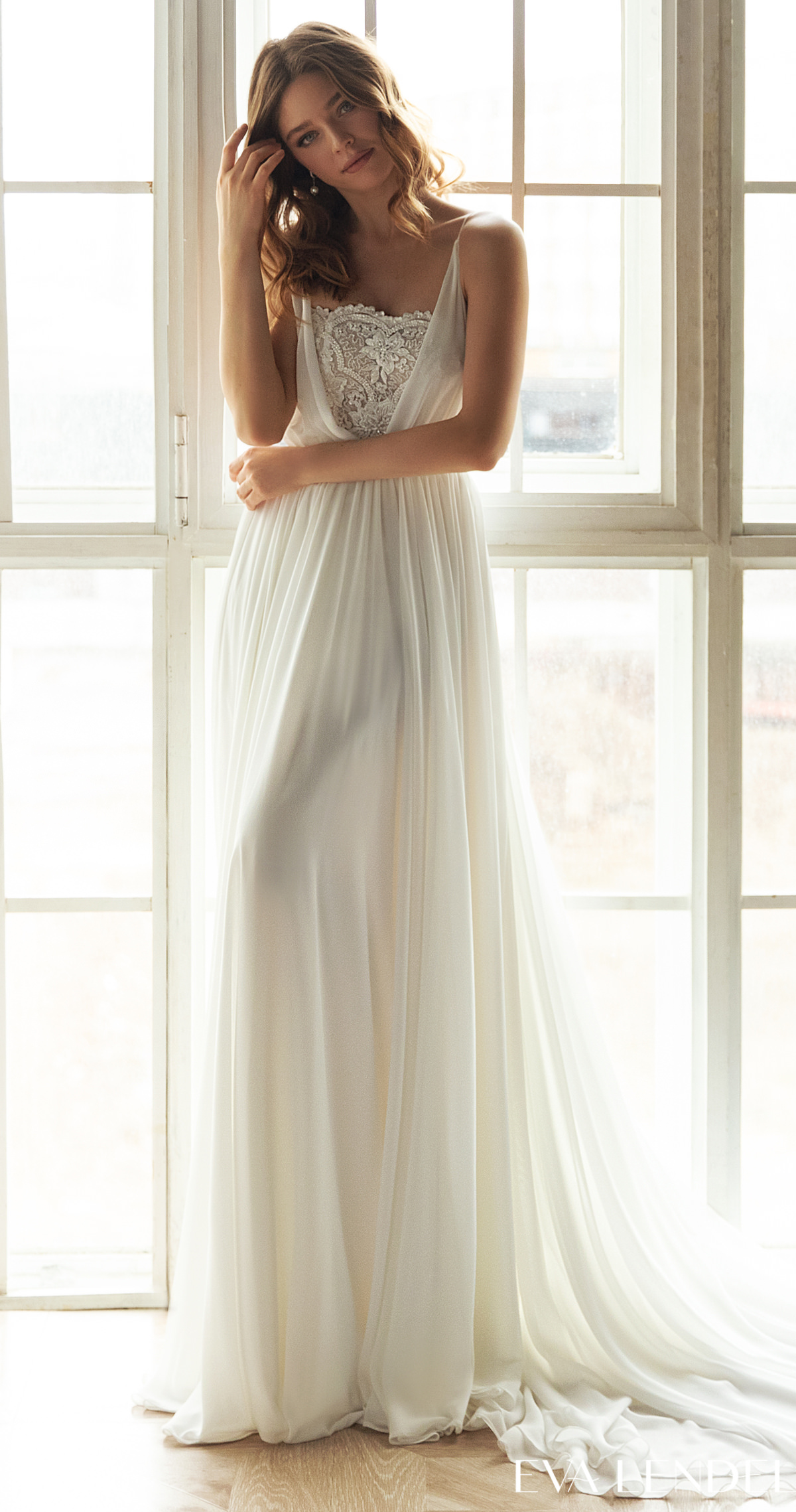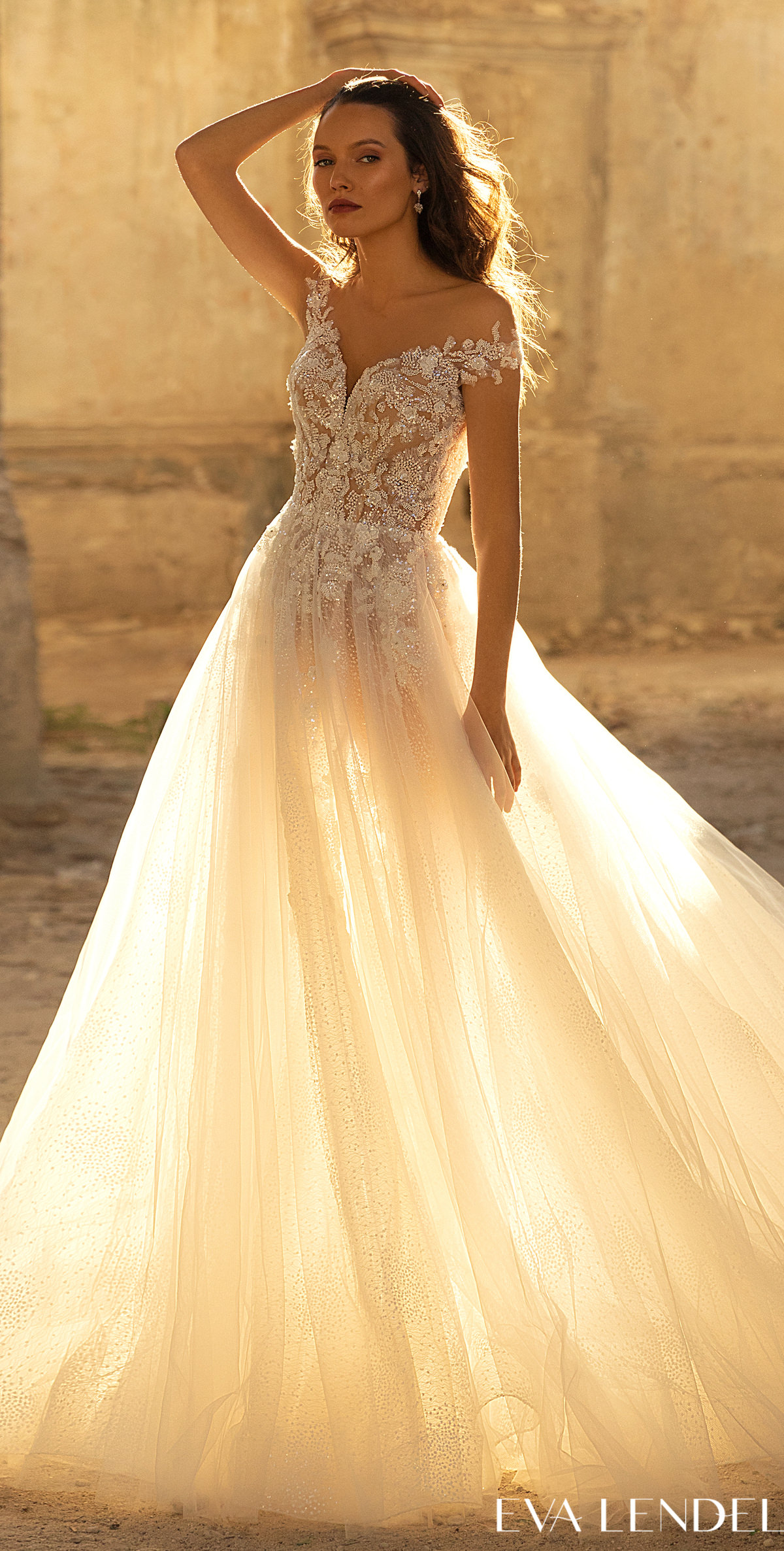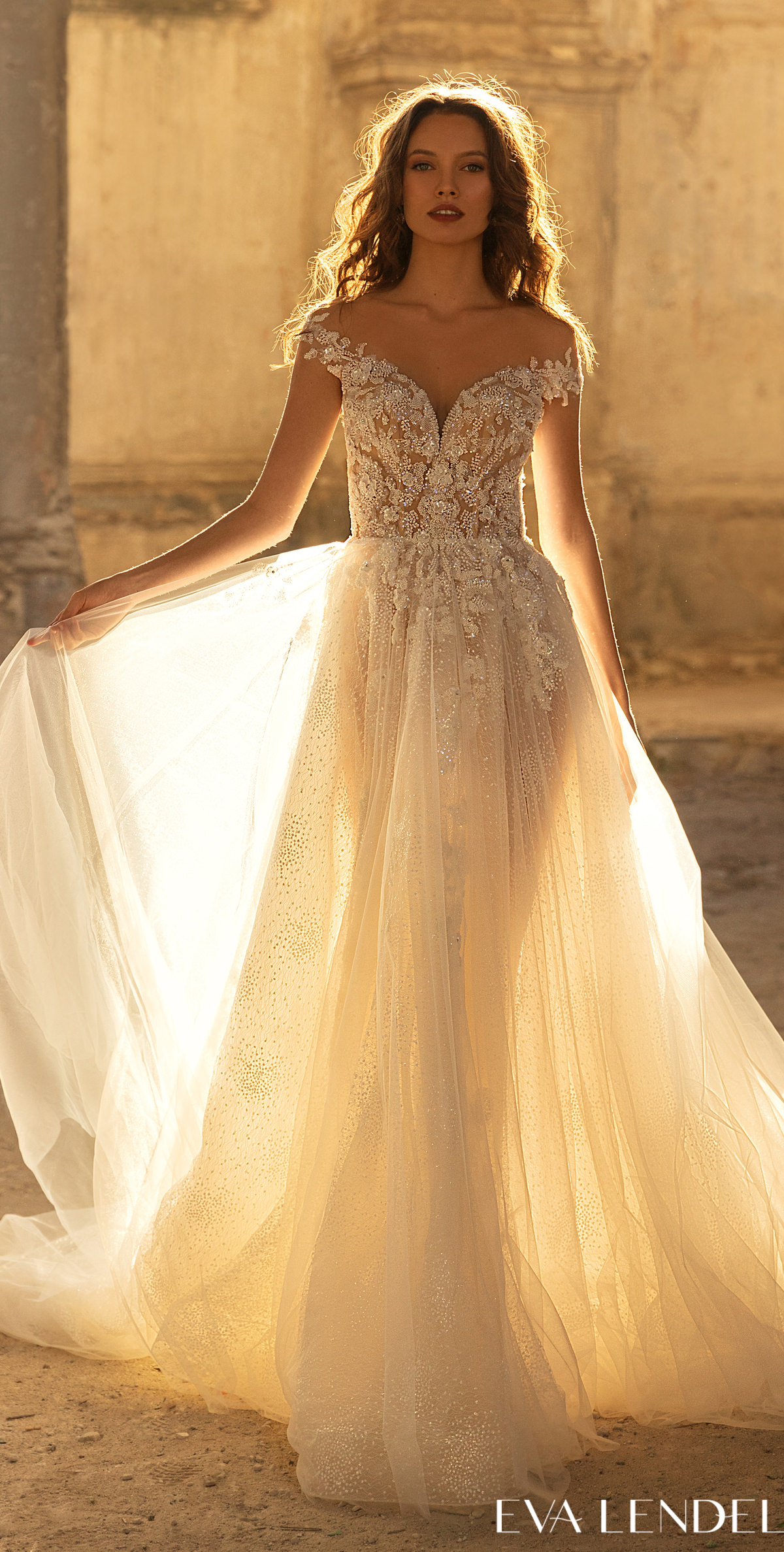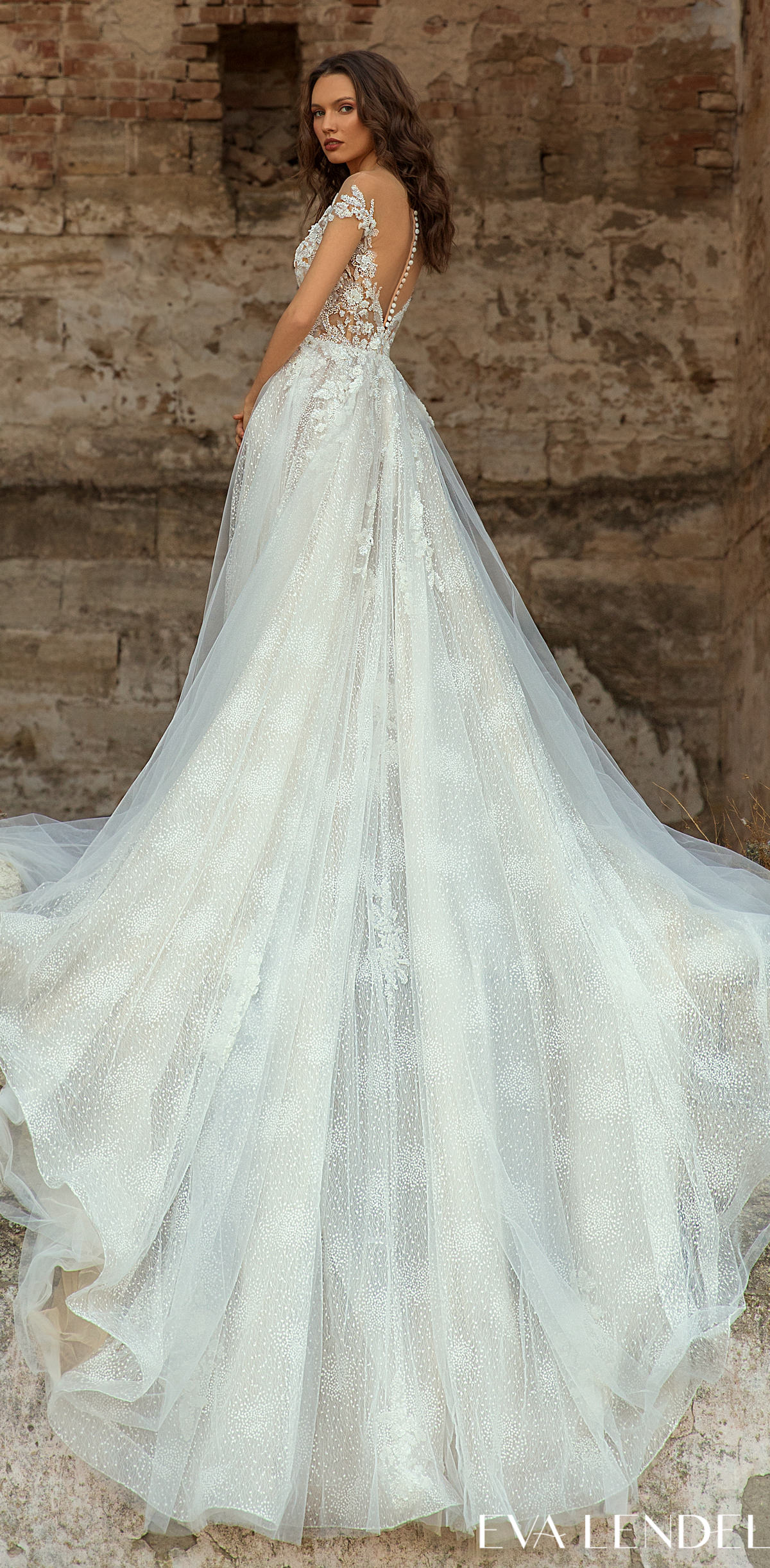 The Bride Who Doesn't Want to Wear a Gown
Today's brides love to break tradition and make their wedding day looks their own! The Allie romper from the Less is More Collection features puffy sleeves, a low back, and smart wide-leg trousers. For a fun fashion-forward look, the Lynn playsuit is a shimmering choice perfect for dancing the night away! Add on a detachable skirt for two looks in one. These styles are also great options for any of your bridal events, an elopement, or a minimony or micro-wedding.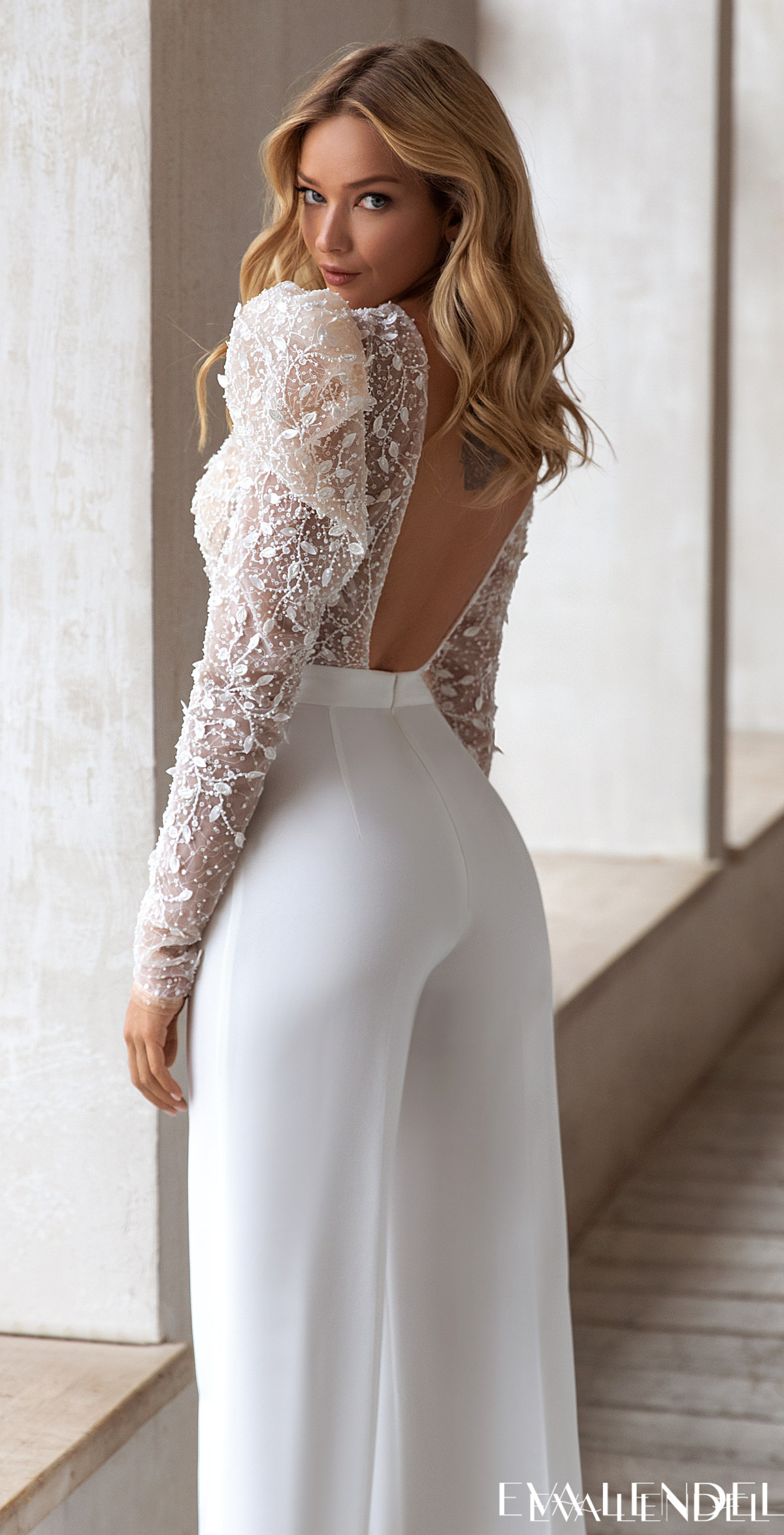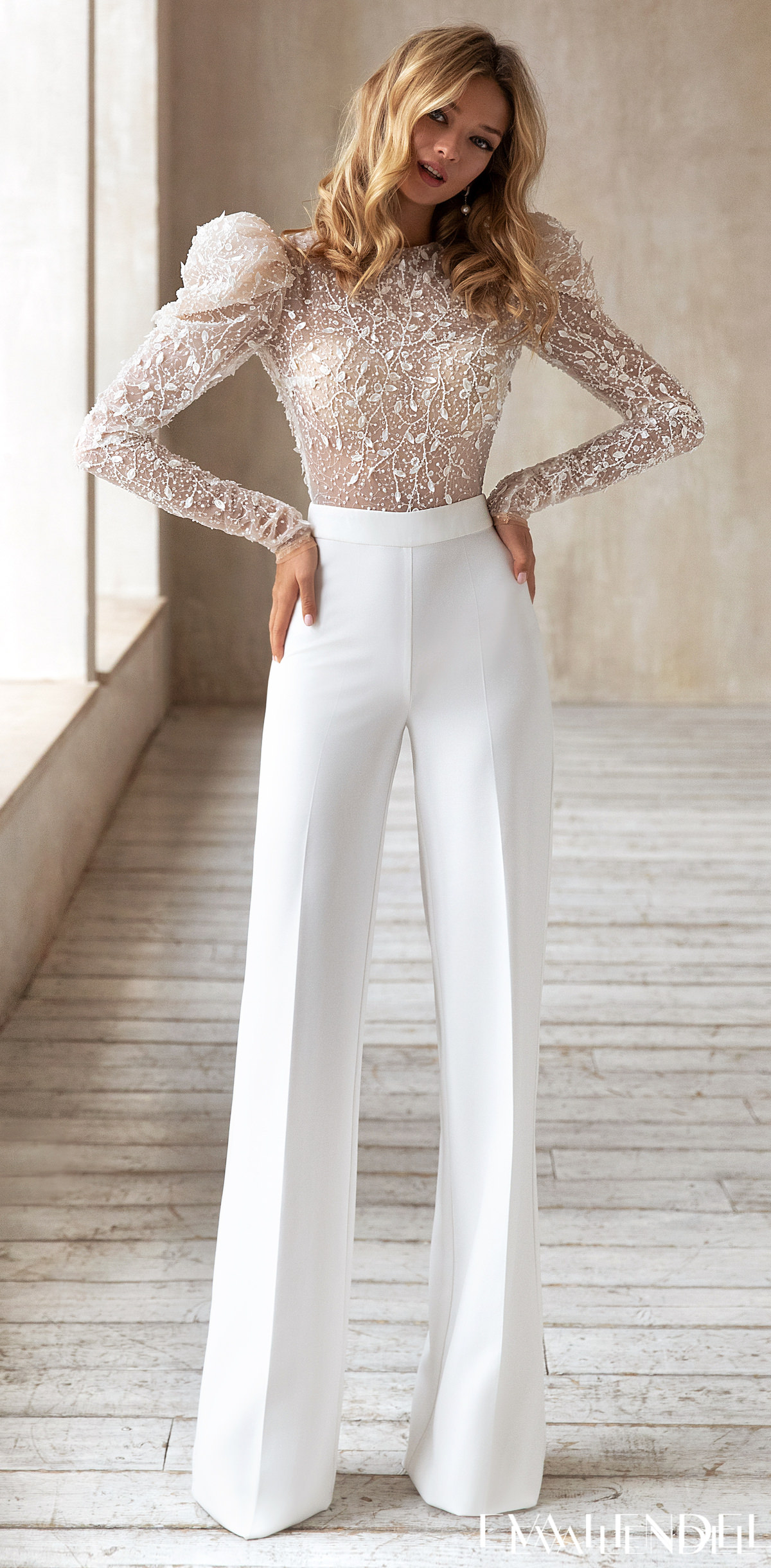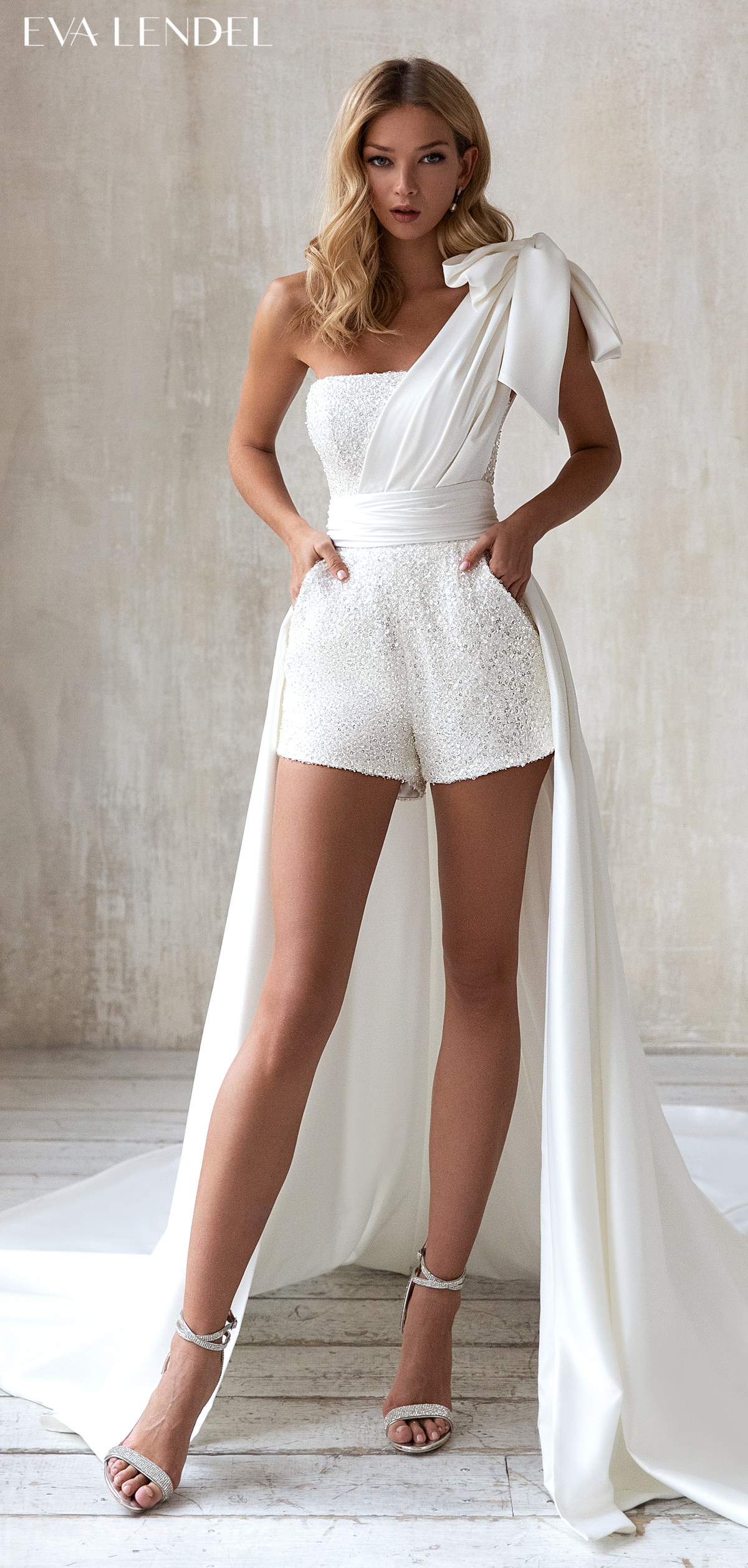 Loving these gorgeous gowns and want to see more? Visit evalendel.com, follow Eva Lendel on Instagram @evalendel and Pinterest, and check out their USA flagship store WONA Bridal.
This post is sponsored by Eva Lendel but concerns our own opinions