The New Eva Lendel 2022 "Less Is More" Bridal Collection
Calling all modern brides! The New 2022 "Less is More" bridal collection by Eva Lendel is the perfect mix of classic with a modern twist. This collection features sophisticated minimalist gowns with fashion-forward touches including 20 A-line gowns, 29 mermaid gowns, 7 lush ball gowns, 2 jumpsuits, and 5 midi-length dream wedding dresses. With detachable elements like capes, trains, overskirts, and boleros, you can wow your guests with two-looks-in-one that can take you from the ceremony to dancing the night away. Special details like lightweight fabrics and 3D elements make for dazzling gowns that bring the wow factor. Keep reading to see some of our favorite gowns from the Less is More Collection.
Elegant A-line Gowns
An A-line dress is always a good idea! This silhouette is flattering, easy to move in, works with a variety of bridal styles, and can be worn at any venue. For an ultra-romantic look, try an A-line with a puffy sleeve or off-the-shoulder neckline and a tulle or lace skirt like the Fabian, Flora, and Loretta gowns. If you prefer a more sultry and fashion-forward look, an A-line with a plunging V-neckline and a slit, like the Suzi gown, makes for a wow moment!
Stunning Mermaid Dresses
For the modern bride who wants the va-va-voom look, a mermaid gown is an excellent choice! If you love a red carpet look, the Calabria gown features a dazzling fabric that will allow you to shimmer and shine all night long. For the bride who loves a classic look, Delphi features an off-the-shoulder neckline and beautiful bow that adds a chic touch to the back of the gown. And for the girl with a beachy or boho style, the Ruth gown features a unique pearl-embellished fabric that is dimensional and perfect for the bride who loves detail. 
Lush Ball Gowns
A big beautiful ball gown is a regal choice for those contemporary brides who want to make a statement on their big day! Whether you want a traditional or modern look, you can't go wrong with any of Eva Lendel's dream wedding dresses! The Darling gown is a blend of classic and modern, with a beautiful draped off-the-shoulder neckline and exposed corset peaking out. For a traditional look, an all satin ball gown with a corset back is a must. Just check out the Mary gown! And for a mix of timeless and fashion-forward elements, the Rosie and Samanta gowns fit the bill. Rosie features a lovely shimmering fabric and trendy puffy sleeves, while the Samanta gown has a dramatic skirt, chic draped bodice, and statement puffy sleeves that add the wow factor.
DREAM WEDDING DRESSES BY EVA LENDEL
From the classic elegant a-line styles, stunning mermaid dresses, and regal ball gowns to modern designs such as jumpsuits, detachable skirts, and tea-length numbers, Eva Lendel's "Less is More" 2022 Bridal Collection has a dream wedding dress for every type of bride.
Modern Jumpsuits
Looking for a bridal outfit, second look, or a gown alternative? A jumpsuit is the perfect chic choice! The tailored pleated trouser on the Brooklyn jumpsuit gets a fun upgrade with a shimmering long sleeve top, a dramatic plunging neckline, and a belt to cinch the waist.
Vintage –Inspired Short Dresses
Short wedding dresses have been trending in recent years and are perfect for a minimony, micro-wedding, bridal shower, rehearsal, second look, and more! From the fashion-forward Asti gown with its statement sleeves to the sweet and romantic Ella and Molly dresses to the refined and sophisticated Werti gown, there is a style in this collection for every bride! Just add chic gloves, a birdcage veil, or a classic red lip for the ultimate vintage-inspired look. 
Two-Looks-In-One
If you want to wow your guests with not one look, but two, Eva Lendel has so many fabulous options! Whether it's an overskirt for the ceremony that you can remove to dance the night away or a regal cape that can take the place of a veil, there are so many ways to transform your look throughout the night in the "Less is More" Collection.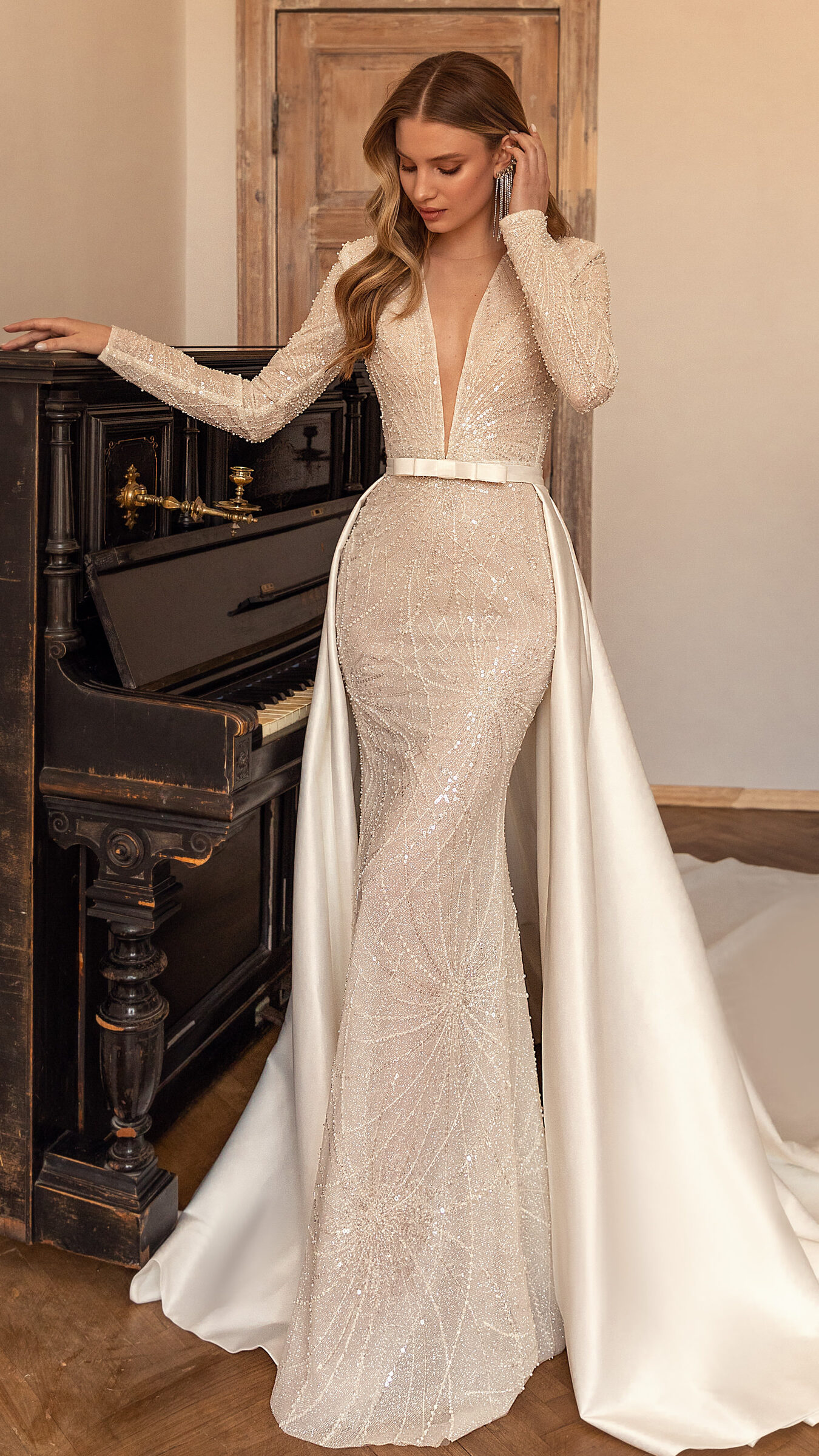 Are you loving these amazing gowns? There are even more stylish numbers in this beautiful 2022 collection available to view on Eva Lendel's website and Instagram page. We hope you find your dream wedding dress in this collection!
This post is sponsored by Eva Lendel but concerns our own opinions. Thank you for supporting our partners!
Featured Vendors
Wedding Pros Who Made It Happened