For the last few years, mismatch bridesmaid dresses have been one of the hottest trends in weddings. After all, I believe that allowing your tribe to choose their dresses according to their budget, taste, and body type is a fabulous idea.
If you are thinking about incorporating this trend into your wedding, just remember, the biggest secret of successful mismatching bridesmaids is to let your girls wear different dresses yet still look like your team… your bridal party! The second biggest secret is that bouquets and accessories are some of the elements that will help you achieve a chic mismatched-bridesmaids look. And now let's check some pretty looks and don't forget to enter to WIN A FREE BRIDESMAID DRESS!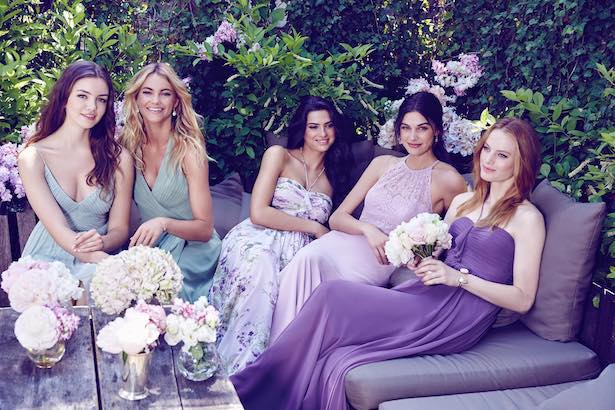 Option No. 1: Same Color, Different Shades, Different Styles.
If you are looking for your bridesmaids to match your wedding colors and not to worry so much about the exact swatch and fabric, these three looks give you perfect examples on how to mismatch your girls' dresses in the same family of color.
Neutrals are so hot right now, especially when it comes to bridesmaid dresses. Neutrals give mismatched dresses a more unified look than any other color. Try them all in a long length like LOOK A: All white, all night (Dessy 2987, Dessy 2991, Dessy T2982 with S2980, Social 8181, and After Six 6764) They are the best choice for a black-tie event or give it a boho touch with floral crowns.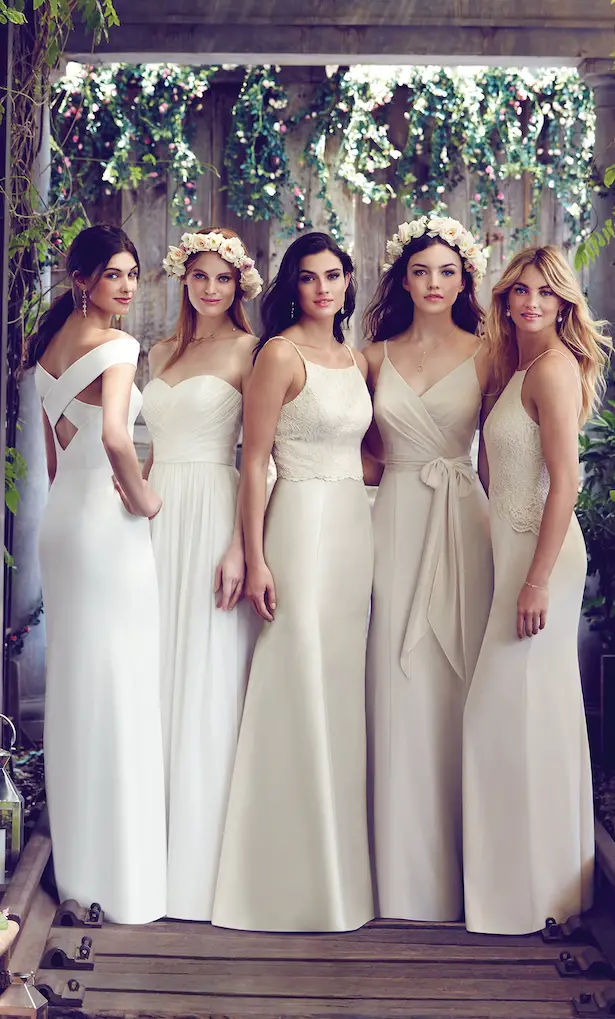 Another popular option to accomplish this look is darker shades. Maroon, black and emerald green and plum are popular options, but we simply love bridal parties in Navy Blue – besides fitting every skin tone, serve also as your Something Blue. Take for instance, LOOK B: Sleek and Sparkles (Dessy 2993, Alfred Sung D735, and After Six 6758) so chic and sleek!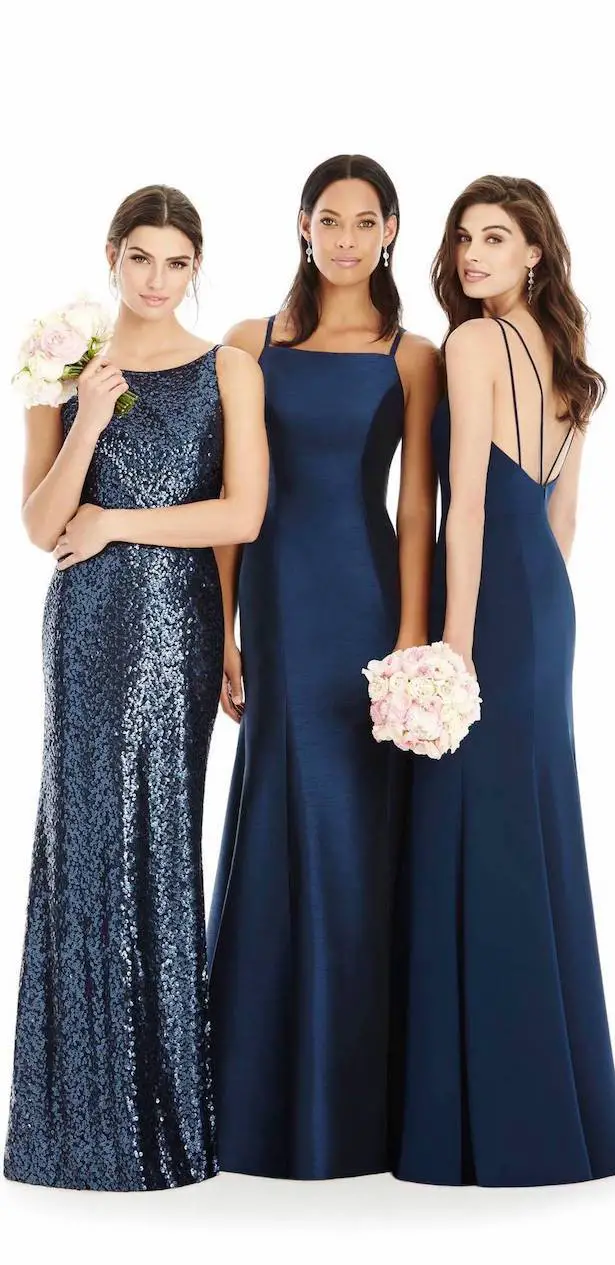 Mixing long and short styles LOOK C: Midnight Delight (Studio Design 4503, 2967, After Six 6750, 4509, and Alfred Sung D732) has it all— the romance of lace, the elegance of satin, the sparkle of sequins and the ethereal feel of organza). [BRIDESMAID TREND ALERT: Sequins and Lace]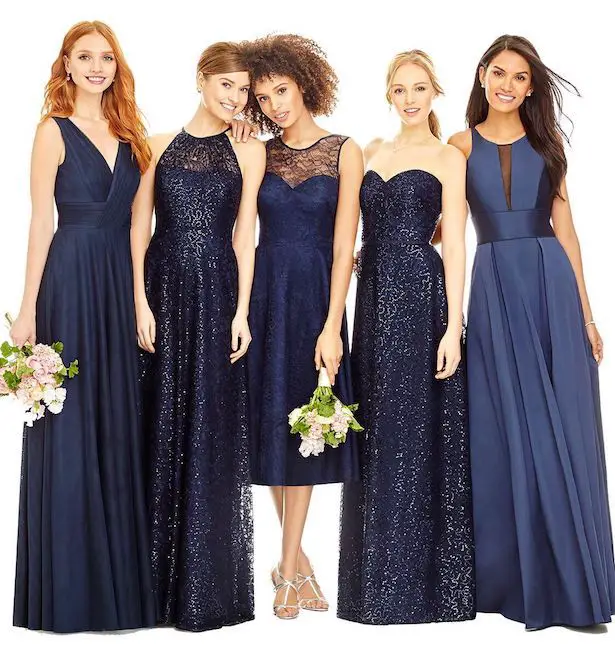 Option No. 2: Different Colors, Same Style.
Some brides would like to follow like to mix and match trend, but they still would like to choose their bridesmaids' dresses. Option number two is for them. Picking the exact same dress in the different tones of your wedding color palette looks amazing! Especially if you incorporate patterns like these two groups of pretty ladies, The Dessy Group carries plenty of fabrics in floral patterns that will allow you to give an unexpected touch to an otherwise uniform bridal party.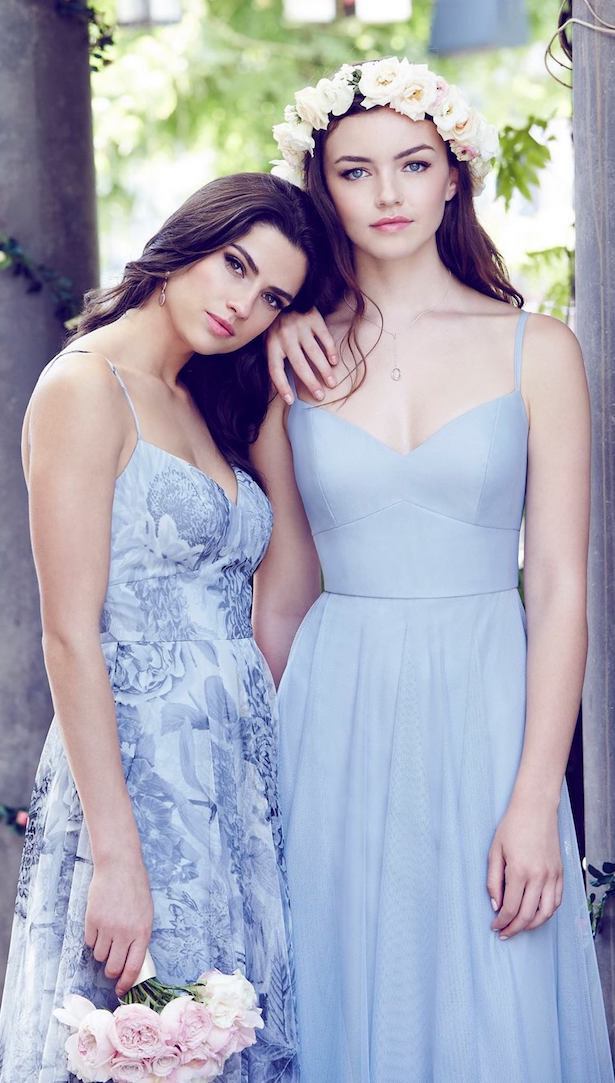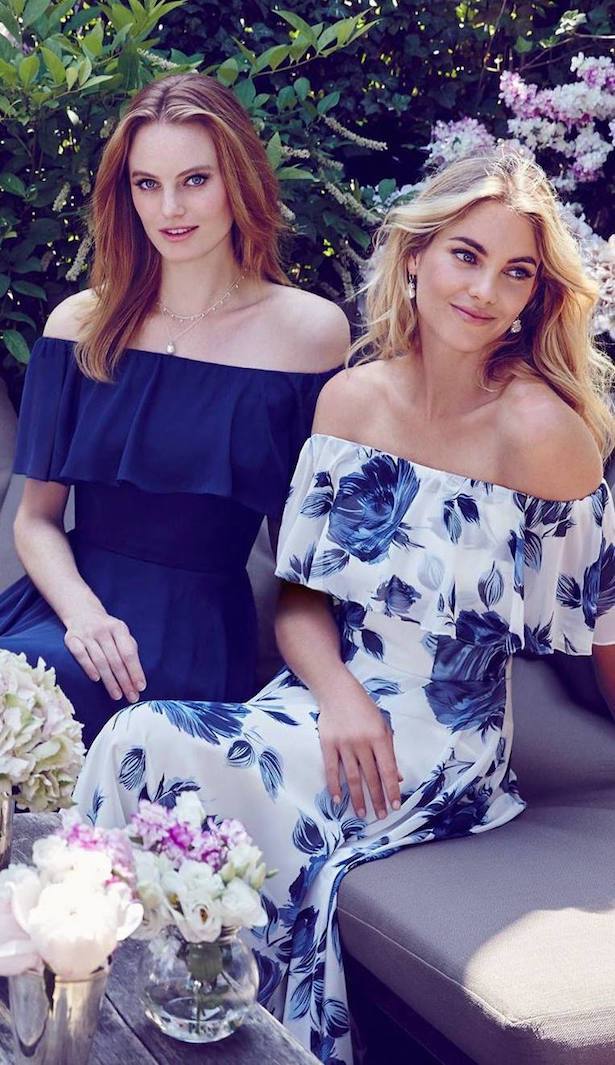 Option No. 3: Different Colors, Similar Style
This is basically an extension of Option number two, but in this case, the dress is ALMOST the same. If you can't decide on only one style for your bridesmaids, you may also choose one style with two or three different variations and colors and let your bridesmaids determine what fits them best. The variation on the neckline is the hottest trend right now. LOOK F: Summer Romance (Studio Design 4515 and 4507) showcases sleek bridesmaid gowns in the same color family —peach, pink and salmon. While LOOK G: Pretty Pastels (Lela Rose LR239, and 2988) gets us pastel hues in halter styles.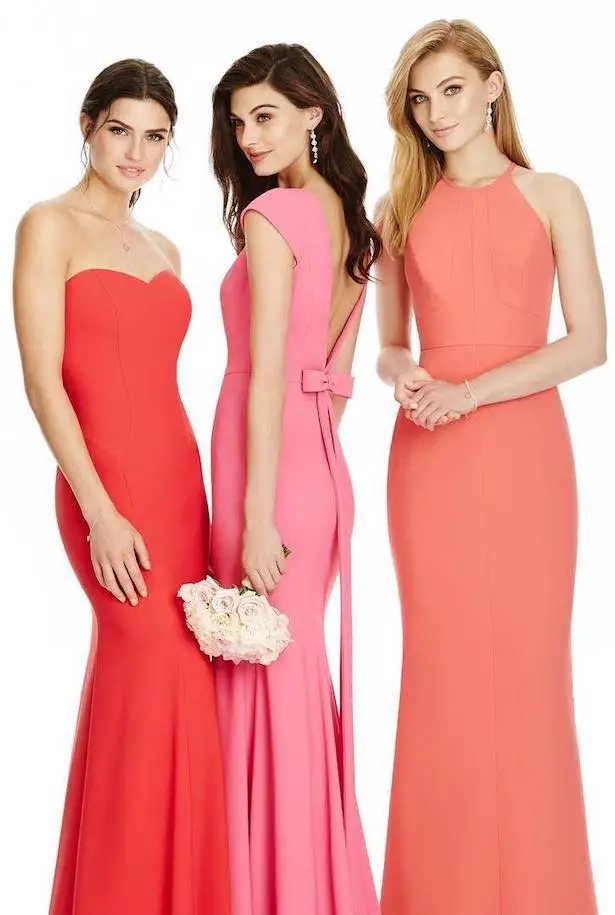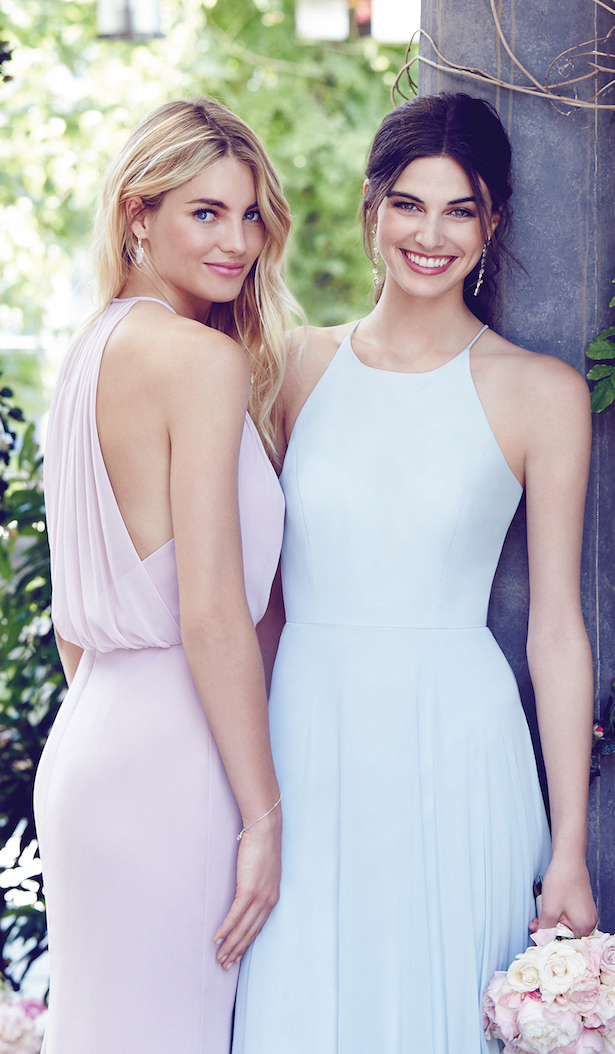 Option No.4: Different Color, Different Style
If you like to be in control of what your bridesmaids wear on your wedding day, but you can't decide on only one dress, or you simply want to provide your girls with very stylish options that suit their personalities, you are going to love option No. 4. The idea is to provide your bridesmaids with the exact swatches of your wedding color palette (usually two or three) and let them choose the dress that best suits their personality. They are allowed to incorporate anything they want from unique necklines and floral patterns to textures such as lace and sequins. The only requirement is that the colors match exactly your wedding color palette. Usually, the dresses are similar in length but not similar in style, in fact, they are totally different, but they still look amazing. LOOK H: Garden Soirée (2989, 2994, Jenny Yoo JY433, 2992, and Jenny Yoo JY433)  [BRIDESMAID TREND ALERT: Floral Bridesmaid Dresses]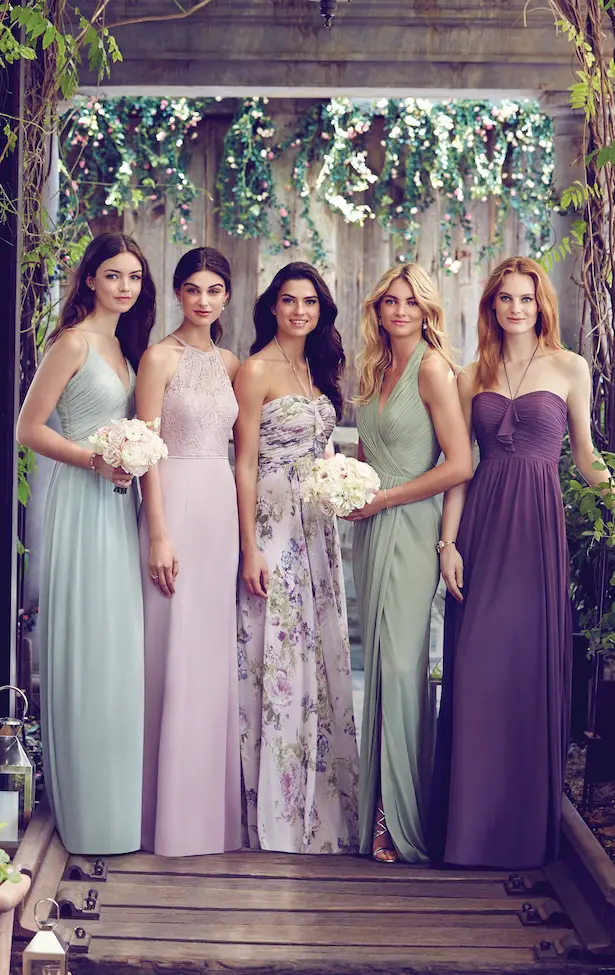 Option No. 5: Same Color, Different Style.
Give your bridesmaids the exact color you would like them to wear and let them came up with their own dress, similar to LOOK I: Something Blue (Alfred Sung D740, D738, D736, D737 and D739 in Sofia Blue).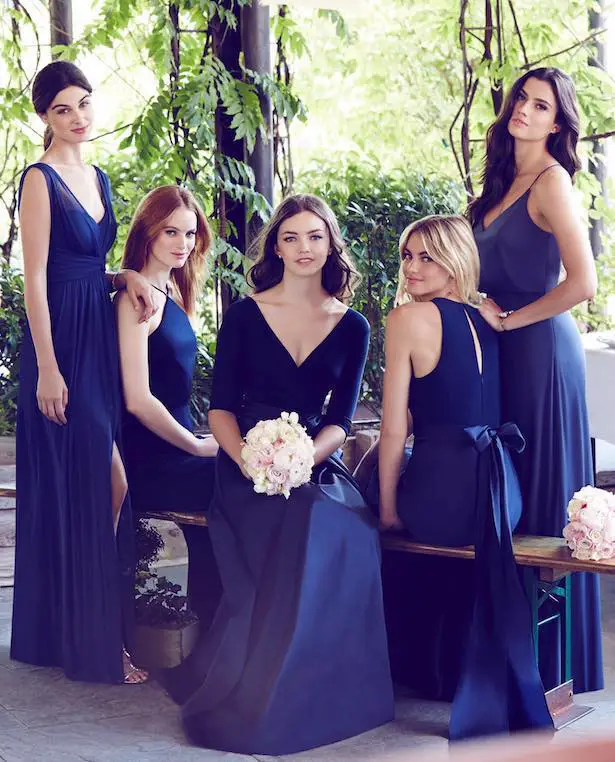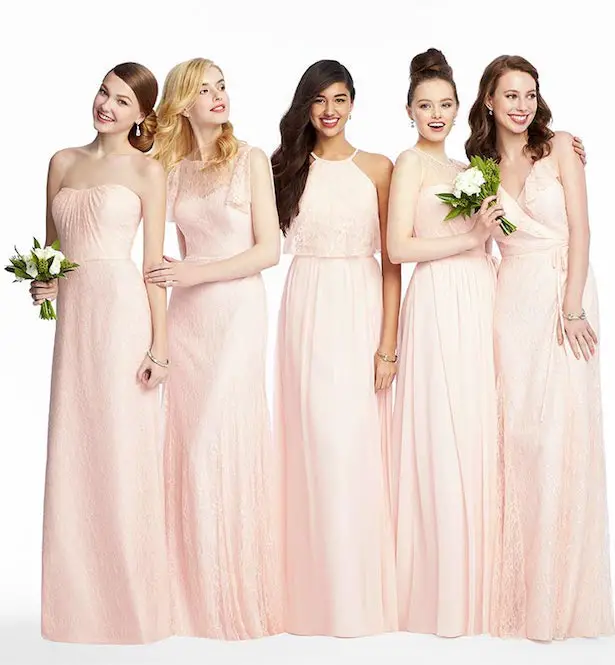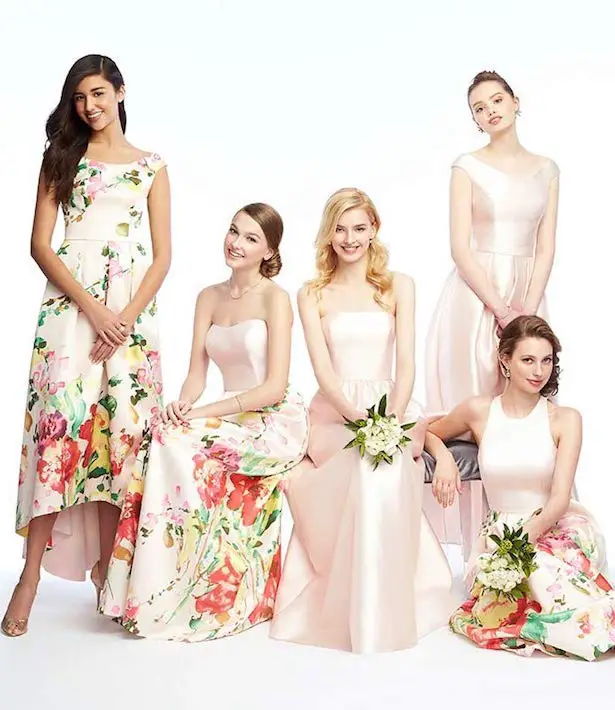 The Convertible Bridesmaid Dress is a fantastic option for traveling and destination weddings. Although each gal will be wearing the same dress in the same color, it will look so different in each bridesmaid. The Dessy Group's Twist and Wrap Dress in long and short is the way to go!

Win a Twist Wrap Short Dress by The Dessy Group valued at $129
Giveaway ends February 28, 2017. Winner announced March 2nd, 2016.