You've chosen the perfect bridesmaids; now find them the perfect gift for them! Your besties deserve much more than the usual key-chain or strand of faux pearls. Get creative and personal with these fab finds. There are memorable and meaningful bridesmaid gift ideas for every budget in these round-up… (image by Michelle Able Photography)
Personalized Jewelry
Although Jewelry is kind of a traditional bridesmaid gift – A piece of jewelry for them to wear on the big day and to keep as a memory for life – the right piece of Jewelry could be the perfect gift for your cool friends. Taking the bridesmaid jewelry gift idea to the next level is oNecklace with their 100% custom made items made to your request.
Each item is hand finished and individually checked over to ensure it's perfection before being shipped out. They have free worldwide shipping and gifting options available. I am personally obsessing over their name necklace below. (GET THEM HERE)
Bath Bombs
Get your gals in on the effervescent fun and relaxation with Nectar Bath Treats' bath bomb pack. Each of their fizzers is infused with stress relieving Epsom salts, detoxifying and soothing Kaolin clay, and fresh safflower seeds, and scented beautifully with Asian pear and fresh lily. Bye-bye bridesmaid stress!
Nectar's has two lovely and convenient Bridesmaid Gift Packages. "Wedding Bells" is a set of nine luxurious heart-shaped bath bombs, and "Mini Spa Day" comes with 4 foaming bath bombs and a fruit smoothie sugar body scrub. Give the gift of peace, relaxation and smooth, moisturized skin for a post-wedding day self-care session with Nectar Bath Treats! (GET THEM HERE)
Pijamas
The Bridal Cotton Shirts are the perfect gifts to give your bridal party for a fun slumber night. These cotton shirts are available in a variety of colors and have a printed bridal party title or "mrs" on the front pocket. Colors options include white, pink or black. (GET THEM HERE)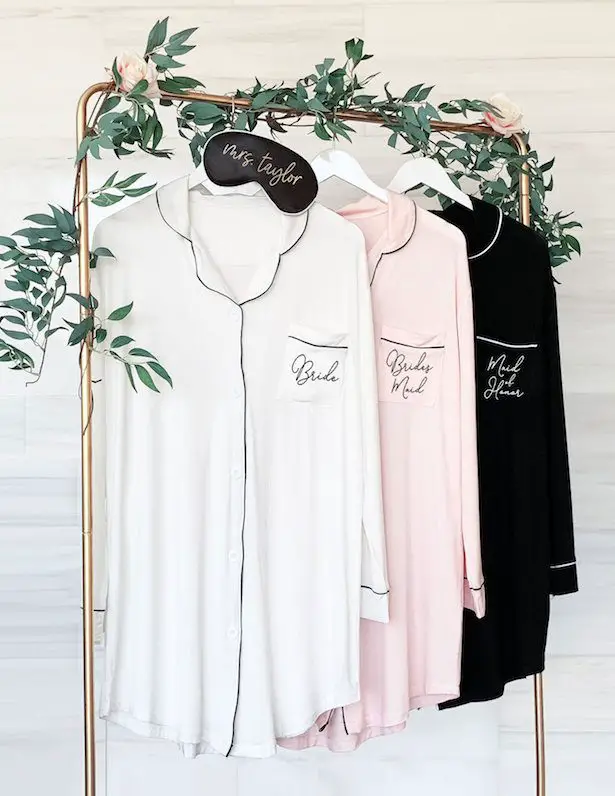 T-Shirts
This blush Bride's Babes Shirts make a cute gift for your bachelorette weekend! The peachy pink blush color looks great with the contrasting black text. Give them to your friends before a bachelorette party so the crew can travel in style! Each soft cotton jersey shirt has a cute crew neck and is printed with trendy black lettering. (GET THEM HERE)
Robes
What bridesmaid wouldn't love a soft robe to wear for lounging? Giving this cute bridesmaid gift tells your friends they deserve a little R & R. These high-end bridal and bridesmaid robes are made in kimono style using exclusive high quality super soft satin in a lovely floral pattern. They feature beautiful details including a waist tie and belt loops and they are available in 18 amazing colors. (GET THEM HERE) | Image: LeRoseGifts
Cosmetic Bags
Do you know what is a great idea? To give your tribe bridesmaid gifts they would use daily and be able to keep as a memento for years to come. Take for instance these beauty essentials. How beautiful are these personalized cosmetic bags? The gold name lettering in cursive font is just the glam touch your bestiess would appreciate. (GET THEM HERE)
Tumblers
Floral Tumblers make a great gift idea for any bridesmaid or maid of honor! Each acrylic water bottle comes with each girls name printed on floral print design. It is completed by a with a metallic gold lid and reusable straw. (GET THEM HERE)
Tote Bags
These stylish personalized tote bags are the ultimate practical bridesmaid gifts. I mean? Who doesn't need a tote bag at some point or another? We love this design because it looks much more expensive than it is thanks to the metallic personalization. (GET THEM HERE)
And now check out our:
SHOPPING GUIDE

This post has been sponsored and it contains affiliate links. As always, all opinions are my own. Thank you for supporting our partners.