Nothing says celebration like a glass of bubbly! But you can take the celebration spirit beyond your toast with champagne bridesmaid dresses. Champagne is the universal color for celebration and excitement alike. Perfect for a wedding, don't you think?
We know that choosing bridal party dresses can be a hard decision to make for any couple. After all, there are so many different color palettes, fabrics, and silhouettes to choose from. Plus, it can be tricky to land on a bridesmaid dress color that not only suits your wedding theme but pleases and complements other accessories such as your watch and bridal party, too. The solution? Champagne bridesmaid dresses. 
A color for all seasons, this elegant and pretty neutral hue goes pretty much with everything. It is flattering, fun, and easy to style. Ideal for several wedding styles, from minimalist to glam and boho, champagne is perfect for mixing and matching with other colors and comes in undertones of blush, beige, and gold to warm and cool wedding color palettes. Even better? Champagne bridal party gowns are versatile enough to work for every dress code, wedding venue, and season.
From shimmering dresses to classic evening gowns, find below our curated collection of the best champagne bridesmaid dresses for every style and budget.
Belle The Magazine's product collections are curated by the editorial team. If you buy something through our links, we may earn an affiliate commission, at no cost to you. If you would like to support BTM, please consider shopping through our links!
WHERE TO BUY CHAMPAGNE BRIDESMAID DRESSES
Champagne bridesmaid gowns are available in several unique silhouettes and sizes, making them accessible in a great selection of retailers and guaranteeing you'll find a design that would look great on everyone.
But where should you start looking for champagne styles? Well, one option will be your favorite department stores such as Macy's and Nordstrom. These retailers are often just as likely to carry chic dresses in a champagne colorway as are the wedding-attire specialty stores.
Keep in mind that champagne tends to be a seasonal color that's more often offered around the holiday season at the big ready-to-wear retailers. So perhaps you'll like to browse through some favorites like Lulu's, ASOS, BHLDN and Show Me Your Mumu.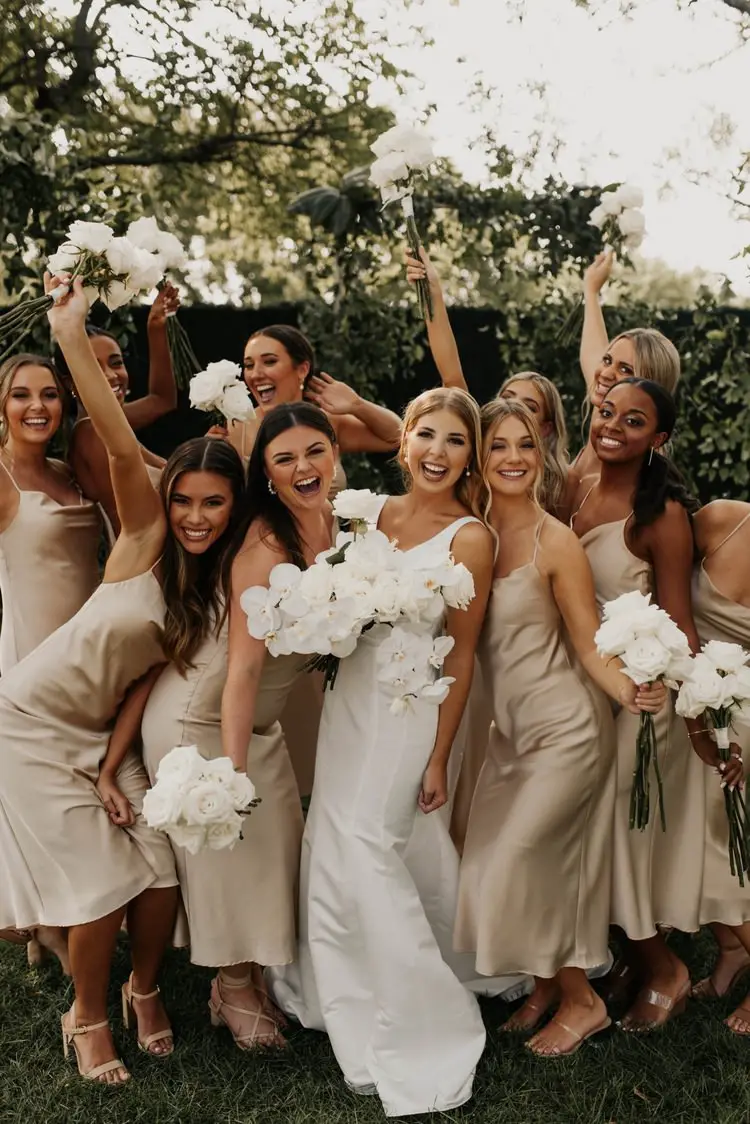 OUR FAVORITE CHAMPAGNE BRIDESMAID DRESSES
---
---
---
---
---
---
---
---
---
---
---
---
---
Campagne Bridesmaid Dresses Shopping Guide