When it comes to bridesmaid dress shopping, we know you want the best for your friends. You want them to feel like they've got the perfect look for their big day, and you want them to be comfortable and confident in their look.
But sometimes, finding that gown for your bridal party can be a little bit of a challenge. So we put together this guide full of tips and tricks for helping you choose the perfect bridesmaid dress for your big day! Read on for a few style tips about choosing flattering silhouettes and eye-catching colors, along with ideas for how to accessorize your look.
How to Find a Perfect Bridesmaid Dresses
When it comes to finding the perfect bridesmaid dress, every bride wants to make sure that she's going to get something that her bridesmaids will love. Here are some tips for finding the right bridesmaid dresses for your wedding day:
Bridesmaid Dresses in Every Style: 
Bridesmaid dresses come in a plethora of designs, you can find a range of styles from sleek and modern to classic and elegant. When choosing your style, think about your overall wedding day look as well as what kind of vibe you want your bridesmaids to give off.
Color Options: 
There are countless varieties accessible, so choose a color that matches your wedding palette or contrasts the look! If they want something more unusual or unique, try shopping online, where there are more options than at a store near you. Variations of rose gold color are trending this season. The rose gold dresses of ChicSew are a fantastic choice, but we also suggest taking a look at the champagne color dresses, which can be a good alternative too.
Price Range: 
Each season, new collections come out with an array of price ranges. There are many alternatives out there, and depending on how much you want to spend on each dress and how much your bridesmaids can afford, there are beautiful designs that won't break the bank.
Accessories: 
Accessories are the final touch that can make or break your bridesmaids' look. If you are going for a sleek, elegant look, have your besties wear a simple and elegant dress paired with understated jewelry. On the other hand, we recommend staying away from over-accessorizing since it could be distracting. 
Pick out jewelry or shoes that match their dresses so that everything looks cohesive together; this is especially important for the photos and portraits!
Bridesmaid Dresses to Flaunt this Season 
We've done all the hard work for you and rounded up some of our favorite bridesmaid dresses, so you can pick out something that will make your bridal party feel both beautiful and comfortable during the festivities. Your bridesmaids are sure to shine on your big day wearing one of these gorgeous ensembles!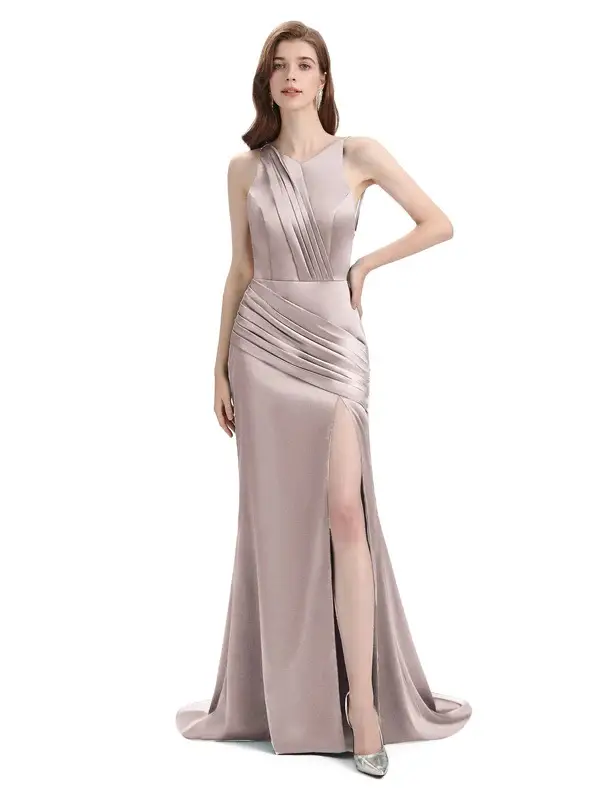 Backless Dress 
This gorgeous dress is expertly crafted with soft and luxuriously smooth satin fabric for a comfortable fit. Its floor-length design features a side slit to give your bridesmaids the chance to show off their shapely legs. A mermaid-style cut flatters the figure and makes your bridal party feel like a million bucks. The unique design will have everyone's head turning when the girls walk down the aisle at the ceremony.
Off-The-Shoulder Dress 
Make your bridesmaids look stunning in this sexy off-the-shoulder dress with a side slit. The mermaid silhouette and the flattering design its all body shapes, making them perfect for any type of wedding theme or season. The beautiful glossy silk fabric is delicate to the touch and remains comfortable throughout the day. Your bridal party will look absolutely breathtaking in these dresses, making your special day extra memorable.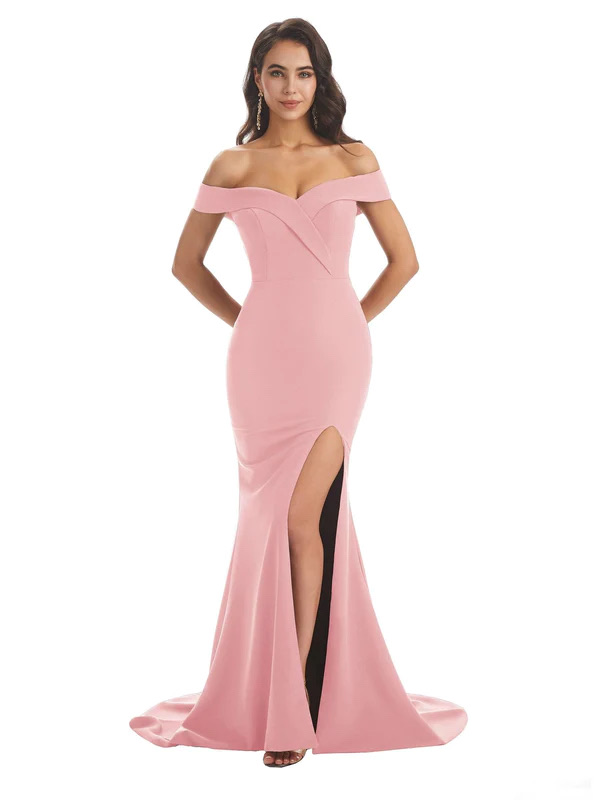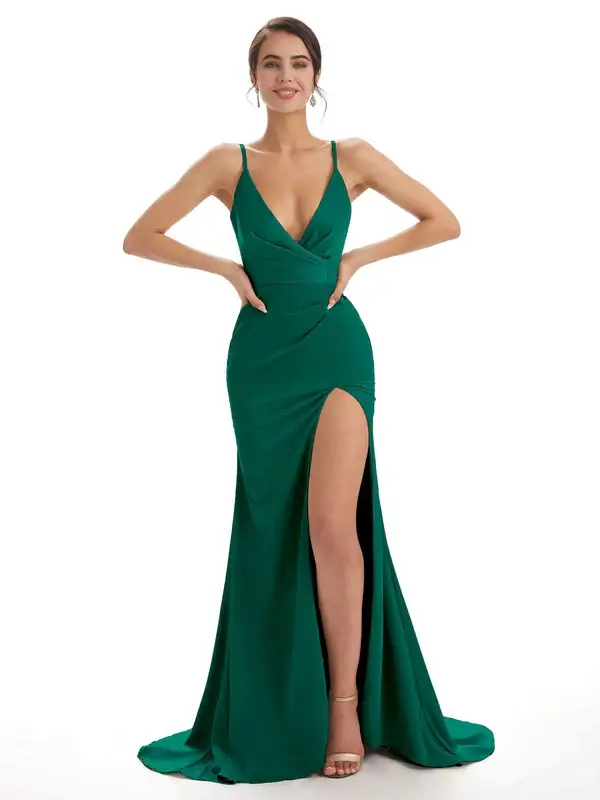 Side Slit Spaghetti Strap Dress
Are you ready to show off your figure in this season's must-have bridesmaid dress? This gorgeous dress will have all eyes on you, with its luxurious satin fabric that falls perfectly to the floor. The deep V-neck is totally flattering, while the spaghetti straps show off your décolletage and add a touch of glamour. The side slit goes all the way up to your hip, giving the look a bit of sex appeal without being too extreme. The perfect mix of sexy and sophisticated, look no further than this stunning mermaid silhouette style for an unforgettable evening!
Side Slit Dress
Make sure your ladies look remarkable with this side slit bridesmaid dress! Crafted of soft satin, the floor-length mermaid gown is romantic, unique, and absolutely stunning. The one shoulder strap hints at flirtation while remaining elegant. A plunging V-neck area further adds to the dress's allure and offers a sophisticated way to showcase your shoulders in style. The floor-length skirt flows gracefully around the hips in a wonderfully flattering A-line shape that will have admirers turning green with envy. Step out in this effortless yet captivating dress and show off your ladies as they accompany you down the aisle!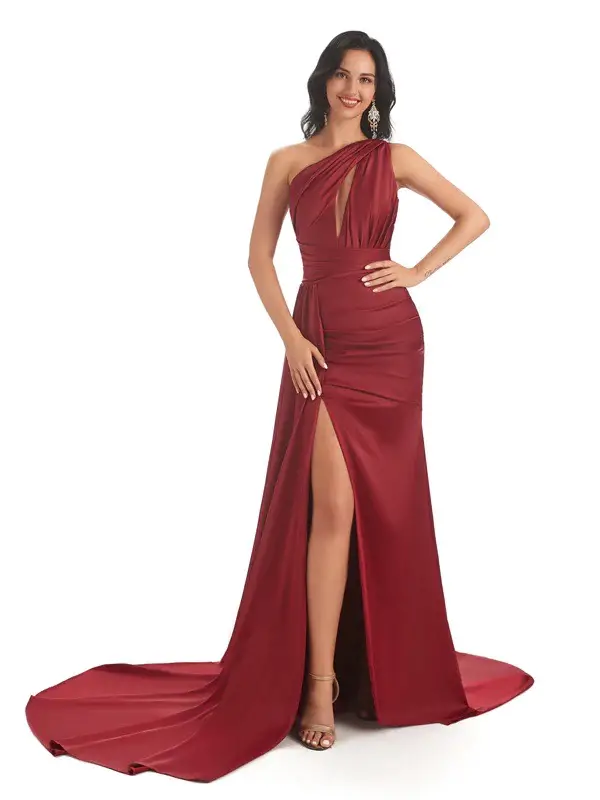 One Shoulders Dress 
This sexy long bridesmaid dress features a one-shoulder neckline and a ruching detail on the hips. It is made of soft, glamorous satin, with a fitted skirt displaying an elegant side slit that makes it easy to walk in. This dress comes in a variety of colors, including white, burgundy, black, and champagne.
Asymmetric Neckline Dress
The asymmetric neckline of the dress is a classic, flattering feature that creates a beautiful silhouette. The soft satin fabric makes it feel like you're wearing a cloud, but it also has enough structure to keep your silhouette looking great. The floor length is ideally suited for bridesmaids who need to ensure they put their best self forward in every picture! The side slit adds a little bit of sexy flair to the otherwise classic shape, and the floor-length hem adds an elegant touch.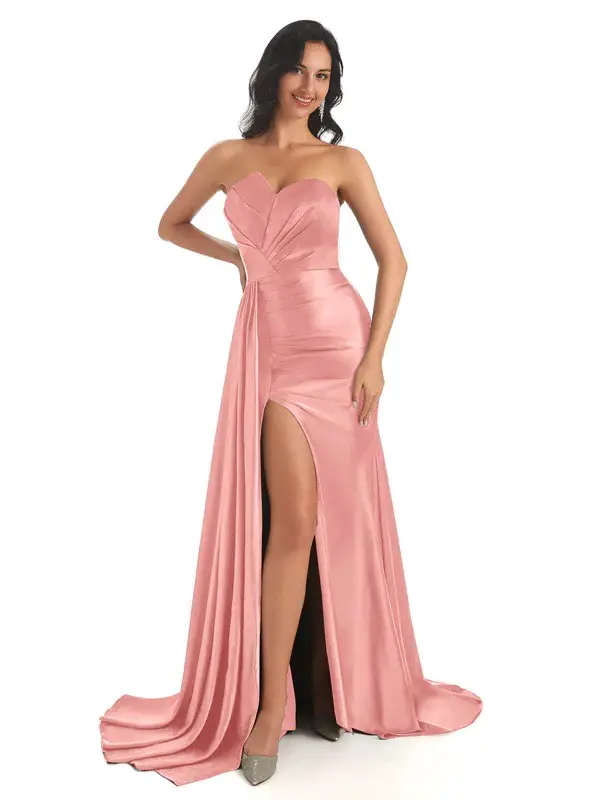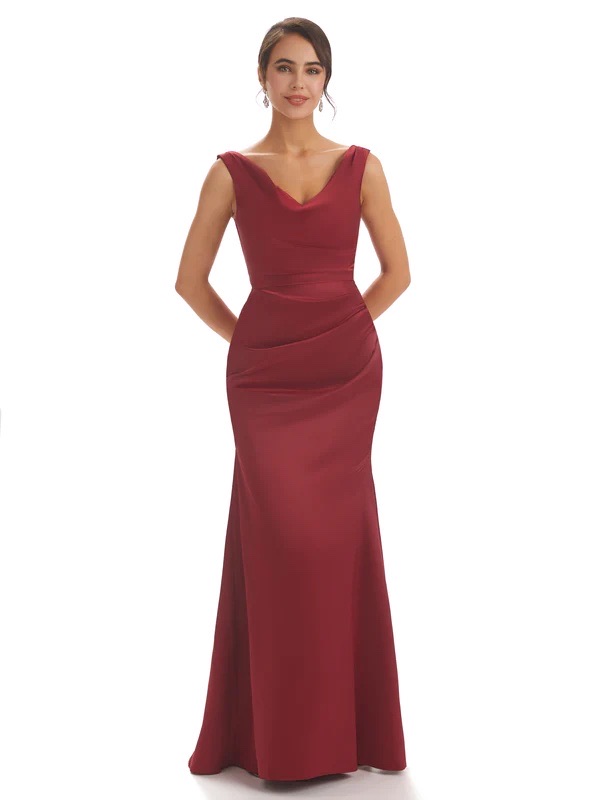 V-Neck Dress
This sexy and simple bridesmaid dress will make your bridal party look stunning on your important day. The dress is made of soft satin fabric, which makes the dress comfortable and smooth to the touch. The sleeveless V- neckline highlights your body curve, while the pleated bodice shows off your waistline. The floor-length skirt has a slit at the front, which can be used to show off your sexy legs or hide them if you want to.