That moment when Fall wedding styling is elevated by the hands of modern contemporary romance! Envision a beautiful medley of warm colors, weaving an art piece infused with marigold, salmon pink, and accented with foiled metallic… you can almost feel Fall in a tangible surreal way! This shoot was hosted in the Collector's Room in Charlotte, NC, and the artistry that was created was like the perfect masterpiece attached to the minimal clean beauty of this gallery-like venue.
As we feast our eyes on this modern wedding through the lens of Amy Kolodziej of Sunshower Photography; our senses are caressed by the ethereal moody colored elements. Like an elegy that poetically graces the décor, every single detail stood out in a perfect harmonious aesthetic and waited to be worshiped in this otherwise minimalistic space. We are swooning over the floral elements which exuberate with such lush presence, channeling the beauty of a tropical wedding. From the magnificent bouquet to the art of designing the bridal cake, this Fall wedding styling makes us utterly bewitched! Opulent gilded accessories awaken the bridal femininity and eloquence as she enchants the groom with her flawless beauty.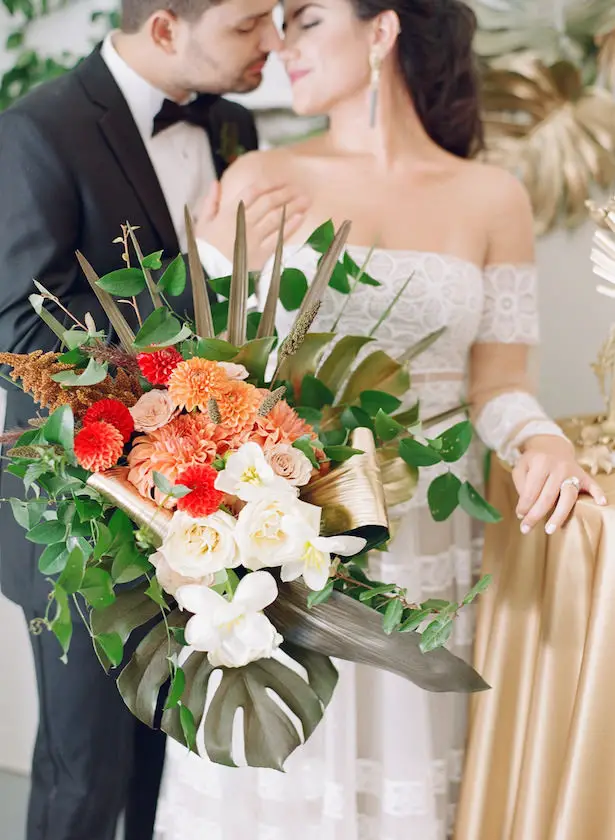 Let's take a moment to be awe-inspired by the Latinx flair of her dress! A modern take on the Hispanic charm, beautifully portrayed into this modern Latinx wedding. A black-tie refinement that gives a timeless presence, completing her bridal bliss while they are framed by dreamy floral foliages! We love how part of the elements are curated in the name of modern wedding minimalism and the others are just enough lavish to put them in the spotlight in the most delicate way. Using contemporary chairs to pair the romantic table setting is giving us all the feels! The palm leaves and exotic florals make us dream of a tropical wedding on a sun-kissed island!
Curious? Then make sure to visit our FULL GALLERY and have your breath taken away by this stylish and sophisticated Fall wedding styled shoot!
VENDOR
Venue: Collector's Room | Planning: Abby Henderson of 13 Cedar Events | Photography: Sunshower Photography | Hair & Makeup: Cali Stott Artistry  | Florals: Willow Floral Boutique | 
Cake: Celestial Cakery | Gown: Willowby by Watters | Bridal Salon: J. Major's Bridal Boutique | 
Shoes: Christian Louboutin | Jewelry: Kristin Hayes | Custom Backdrop: Lindale Studios | Stationery: Viri Lovely Designs | Catering: Roots Catering | Rentals: Cooke Rentals | Film processing: Richard Photo Lab