Celebrating LatinX Wedding Traditions And Hispanic Wedding Vendors – Part 3
Today is the last day of National Hispanic Heritage Month and we are bringing you one more installment of Latinx wedding vendors and Hispanic Wedding traditions to celebrate the accomplishments and contributions of Latinos and Latinas and our diverse and dynamic community. But don't worry, just because HHM is over we won't stop celebrating our beautiful culture with a mix of all things glamour weddings that you follow us for.
Our Favorite Latinx Wedding Traditions
Latin Wedding Tradition 1: "El Lazo"
One of my favorite traditions is " El Lazo." El Lazo is a unity ceremony performed after the exchange of vows. An important pair of people place a "lasso" around the couple in figure-eight symbolizing the unity between them.
Latin Wedding Tradition 2: "La Hora Loca"
My second favorite tradition is "La Hora Loca" (or the crazy hour). It's a party within a party in the late hours of the reception. Couples bring fun props to share with their guests and hire stilt walkers, samba dancers, drummers, and more.
Latin Wedding Tradition 3: "El Baile del Billete"
Another popular tradition is "El Baile del Bille
te" (or the money dance). During
the reception, money is 'pinned' on the newlyweds in order to get the chance to dance with them. 
LatinX Wedding Vendors We Love
Now that we got some facts out of the way, let's celebrate some LatinX Wedding Vendors we love.  
Married videography duo who creates timeless wedding films with heart and soul.

Wedding and lifestyle photographer based in NYC who specializes in graceful and timeless photography with a modern approach.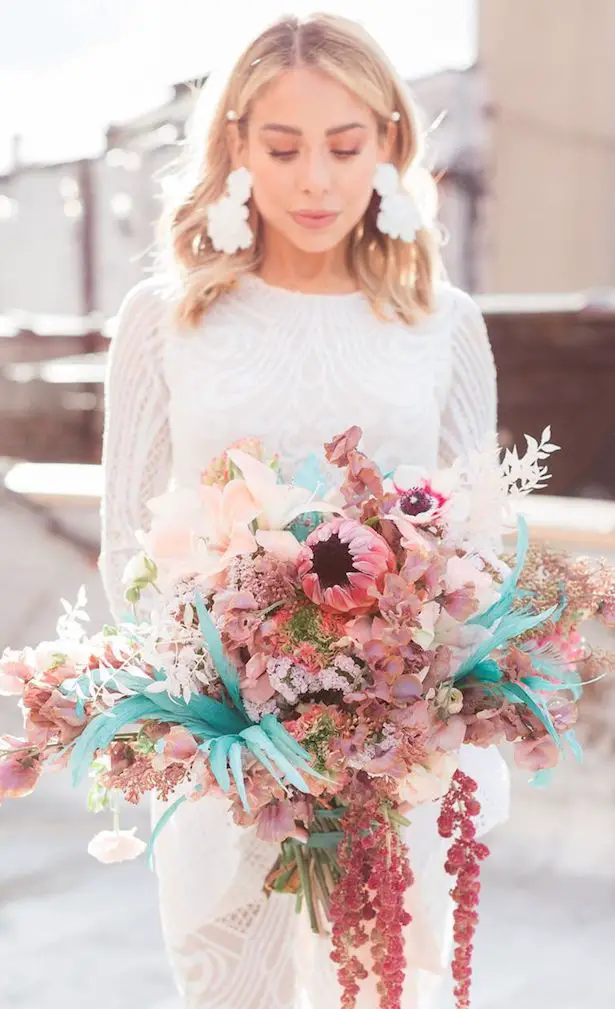 Mike Rodriguez, the lead designer, believes every event is special and unique, whether you want a bloom-filled wedding with suspended floral installations and candelabras, or an understated bouquet and boutonnière. His inspiration not only comes from being around beautiful flowers - but also from the people, the stories, and the spaces they work with. 
I believe in photographing the raw essence of a love story with the help of gorgeous natural light. I die for sweet and dreamy moments between my couples, especially during the golden hour, where the sun's ray gives a touch of romance to the photos and graces the unique location we shoot.
Based out of Maryland, Events by Yosira specializes in curating events for busy couples, entrepreneurs, influencers, and creators.
Designer Christopher Plaza created Bride Candy as the sweetest way to get fairytale flowers for storybook weddings.  
Vanessa is a lover of love, she documents destination weddings with passion and creativity. She covers the whole east coast, spending a lot of time in Miami, Puerto Rico, and New York Weddings. For her is not just about the beautiful images but about capturing the moments that truly matter and every detail in between.
Jess is a nature-driven Wedding & Elopement planner based but not limited to the Washington D.C. metropolitan area. She had traveled all over the world for love!
April De La Fuente is a portrait and wedding photographer based in El Paso, Texas but available to travel worldwide. She was born and raised in El Paso, Texas. Her weaknesses are sweet tea, spicy salsa, garlic fries, and Chipotle.
10. Nancy Lobo Designs
Both Nancy's parents worked the flower fields in Southern California when they first came to this country. Her parents successfully ran a floral wholesale business for 17 years and know the ins and outs of the floral industry. Having helped her parents in their business, she never thought designing would be the direction she would take. But here she is 6 years later, and she couldn't have asked for a better direction.
11. Rodri Studio
Angel Rodriguez, known by many as Rodri, is a Miami based floral designer and young entrepreneur. Born in Santiago de Cuba, he migrated at a very young age to Miami, a city that has made his home since then.