Summer Boho Vibes Meet Caribbean Elegance
Since summer is almost here, we have a little editorial piece that will put you in the mood for a beach wedding in no time. Think the calm waters of the Caribbean Sea paired with pastel blues and gold details and featuring a lovely bride barefooted on the white sandy beaches of my beautiful Mexico.
The pictures by Isabella Rodríguez Photography are gorgeous, and the stationery is the epitome of fine art, but the start of this styled shoot is the divine bridal look. The model/bride is wearing a beautiful wedding dress that is equal parts modest, feminine, and bohemian. The gown is paired with an oversized bridal bouquet with colorful flowers, greenery, and pampas grass to elevate the boho vibes to a new level of beauty. But perhaps my favorite part is the oh-so-stunning tiara showcasing a vine and floral design in shades of gold and silver. The headpiece was perfectly complemented by pretty leafy earrings and a gold-threatened veil that makes an appearance in a few of the images. 
We are especially obsessed with the sunset shots showcasing Isla Blanca, a gorgeous and tranquil spot outside Cancun. Find a curated collection of our favorite beach wedding photos below, and then jump into the gallery to catch more beauty from this magical bridal editorial.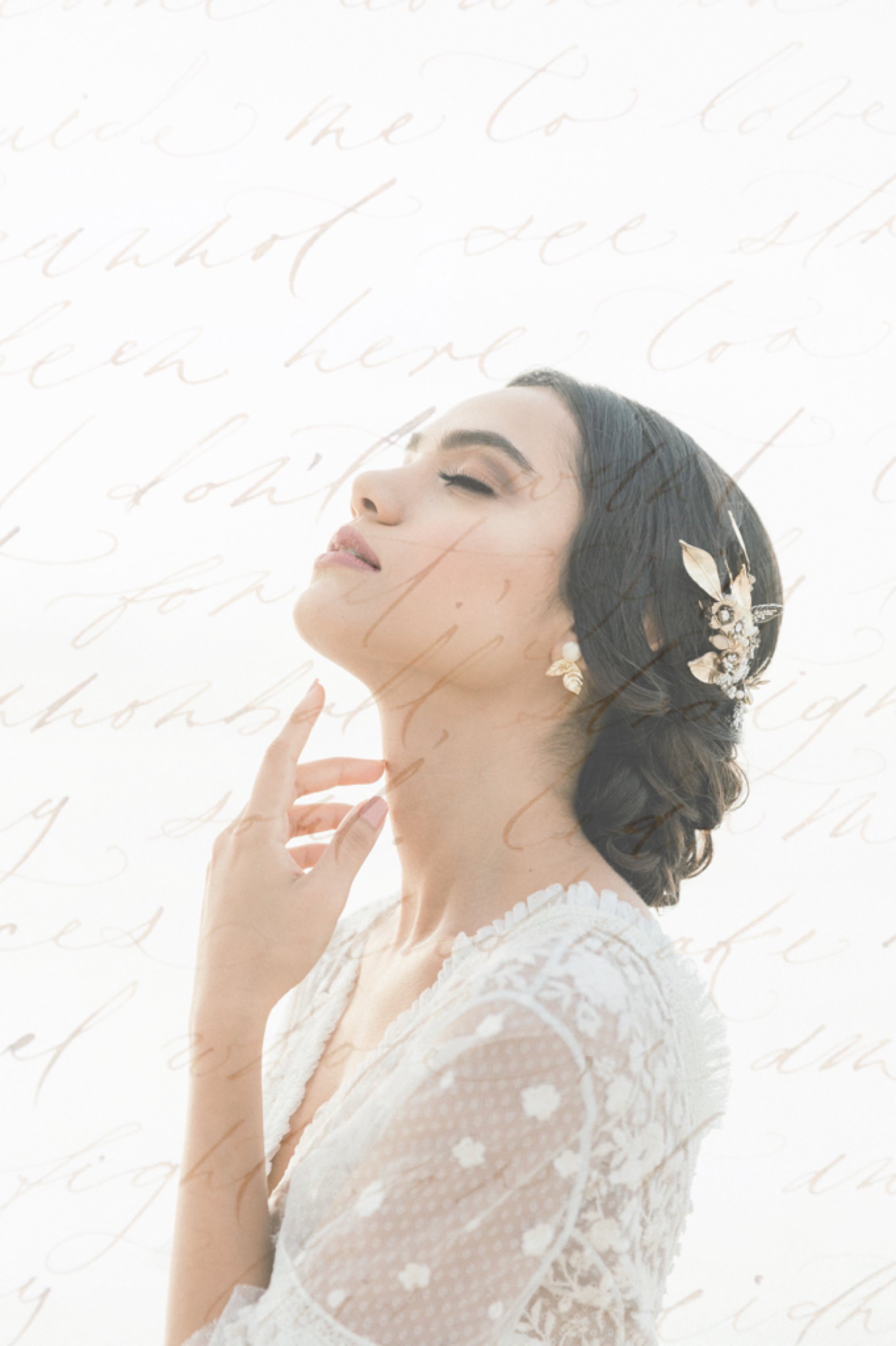 From the Photographer…
Isla Blanca is a little piece of heaven located in the outskirts of Cancún, México. Walking into this fairytale-like place was a definitely a jaw-dropping moment for me. I collaborated with an incredible team to create a beach wedding editorial that would reflect the magic of the Caribbean Sea. Sunsets in Cancún are always stunning, but I could tell this was going to be an unforgettable day. We got the most beautiful light! The water reflected the sky almost perfectly, making our bride look as if she was almost flying.

Our bride has a nostalgic and romantic mind; she treasures everything reminiscent of eras once lived. She is wearing a Needle & Thread lace gown, beautifully designed with floral motifs and tulle, and a delicate Twigs & Honey mantilla with a soft gold edge. Brides Cancún created an elegant updo and kept our bride's makeup light and natural. Her breathtaking headpiece by El Taller is a paradox. Though it's composed of small leaves and flowers, it's inspired by ancient goddesses and nature. Just like our bride, delicate yet strong.
Wedding calligrapher María, from Esperanza Atelier, created a stunning calligraphy set titled "Bleu Ocean" for our bride. With gray-blue and off white shades, the gold ink used for our bride's special day was the perfect touch for her wedding details. From her gorgeous ring by Olive Alons, to her exotic bouquet by Pure Love Floral Design, to her eye-catching earrings by Kate Spade, every detail was perfect for this ethereal and dreamlike moment.

The person who made everything come together was Denisse Cámara, our videographer. She created a beautiful short film that exuded tenderness and emotion. Alongside a sweet piano melody, Denisse's shots gave life to our romantic bride.

I was born in Cancún, and even though I've lived in other places throughout my life, there's just something so magical about this place. Whether you enter the depths of the Mayan jungle or take a walk through its white-sand beaches, everything about Cancún exudes beauty and adventure. This bridal editorial is very dear to me. When a place means so much to you, it becomes part of your soul. And that's what I'd like to share with you, a little piece of my heart.

– Isabella Rodriguez Photography
Featured Vendors
Wedding Pros Who Made It Happened