For Weddings, Engagement Parties or Bridal Showers
Some of the most memorable takeaways from any wedding are the photos, especially nowadays when sharing special moments on social media is just inevitable. Also, couples will be flipping through their album long after the big day has passed, and guests will love to remember what a great time they had. If you want to ensure that everyone leaves with plenty to look back on, it's important to create opportunities for taking beautiful and memorable pictures. One of the easiest ways to get your wedding guests in front of the camera is to provide a photo booth or selfie station. And it's easier to pose when you're prompted to do so by an inviting, exciting photo booth background. Photo booths are a fun way to keep everybody entertained, and they're also a genius option when it comes to personalizing your wedding. It's hard not to remember a custom backdrop, after all!
PRO TIP: Be sure to consult your wedding planner for photo booth tips and tricks. They'll be able to help you decide where to put your booth, and they may have suggestions for props and other add-ins. They'll also need to be kept in the loop to handle all of the logistics.
Photo Booth Backgrounds
Custom Background
Have your very own unique backdrop, completely personalized and ready to create memories for your dream celebration. These types of backdrops are printed on high-quality fabric so they are perfect for reused over and over again. Take them from the engagement party and the bridal shower, the rehearsal dinner, and the wedding. The best part is that they are machine washable and wrinkle-free.  
Round Background
For a creative focal point, choose a fabric printed cover round backdrop. It is a fun and easy to upgrade decorative piece that you can dress up with flowers and/or balloons.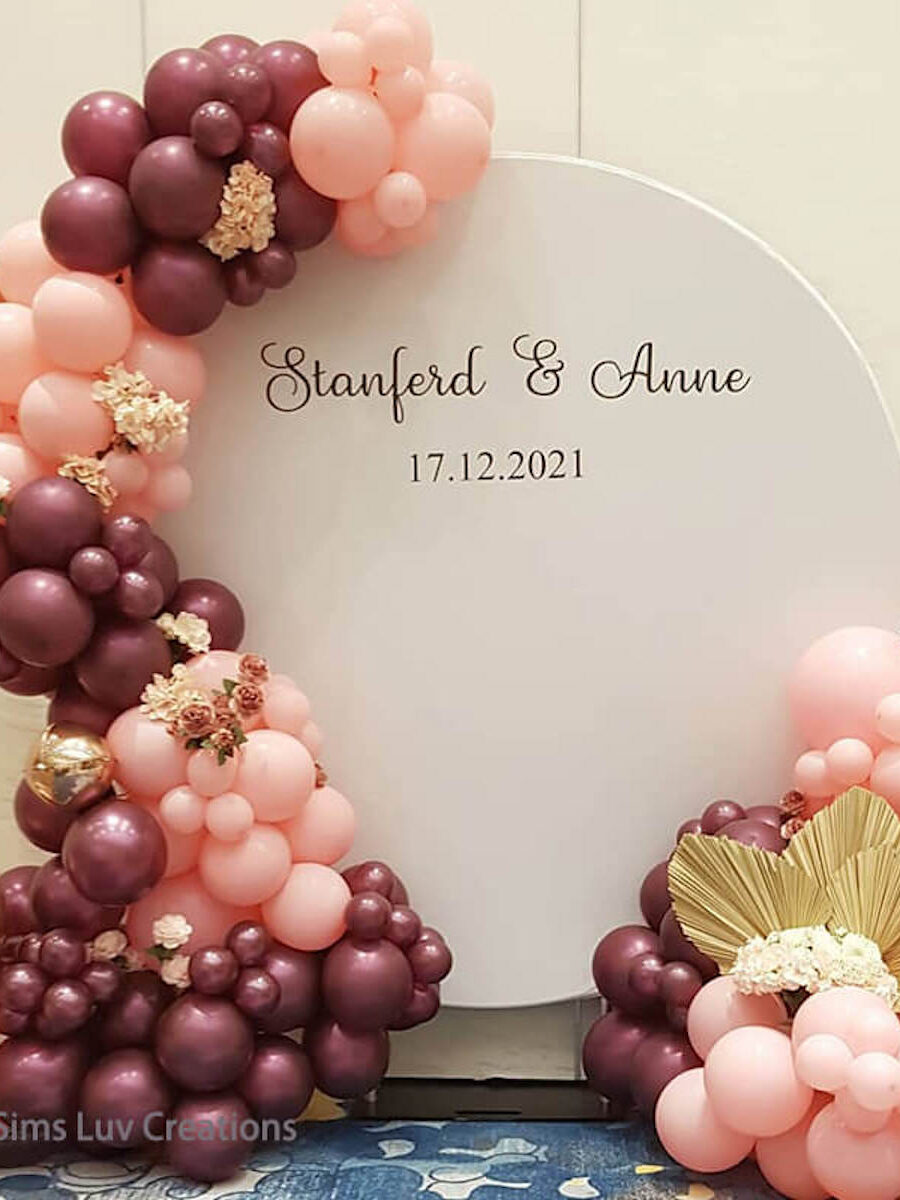 Arched Wall Backdrop
Docaret your next wedding-related event with a custom Arched Wall Backdrop. An ultra-modern and sleek option to create a photo booth station. We are loving the look of grouping three panels on a set like a vignette in this photo. Paired with a statement couch and order the panels on your main color palette, plus one accent hue.
Shimmer Wall Backdrop
Shift the spotlight to your guests with a lustrous photo-booth backdrop. A sequin shimmer wall backdrop will bring glitz and glamour to your celebration.