The man of your dreams popped the question. You said yes. Hooray! You're engaged! Once you finally peel your eyes away from that stunning sparkler on your finger, reality will seep in and decision making time will commence! Fear not! To assist you in some of that heap of stress, we put together some guidelines to kick off your wedding planning process.
Here is Vol. 1, but stay tuned for more tips coming up next week. UPDATE: Vol. 2 and Vol. 3 are now live.
Resize and Insure your Engagement Ring
Believe me darlings, I know that sparkling ring is perfect in every way possible. But are you sure there isn't a little bit of wiggle room — or maybe it's just a little tight? If that be the case, get it resized as soon as possible so you can flaunt it without the fear of losing it. Trust me! The last thing you want is to drop the thing an hour after slipping it on! I promise you, nothing will replace the sentimental value of your ring. So always be prepared, just in case something does happen to that precious rock, and insure it so at least you can get your (or his) money back.
Set a Date, Even If It's Not the Date
Once the "Congratulations!" and the "Let me see your ring," subside for a bit, the first thing your family and friends will ask is "When's the wedding?" Try to come up with an estimated answer, such as "We're thinking next summer" or "We like the idea of early 2016." Your loved ones will appreciate feeling like they're in the loop (key word being "feeling"!), but this will also help you when looking for a venue. Keep in mind how much time you feel comfortable giving yourself to plan your nuptials, and consider avoiding major holidays or family events to avoid conflicting dates.
Let's Talk Numbers
Sit down with both families and decide how much everyone is contributing. I know this is a difficult conversation, but it's better to figure out the budget as soon as possible. This number will affect all wedding decisions and purchases you will be making, so be sure to work out a budget before you start planning. Opening a savings account is a smart idea and an easy way to keep cash accumulating for the big day – Deposit a set amount every paycheck and use the money for wedding-related expenses only.
Dream Up Your Style
Enough numbers talk! Let's move on to the fun part: your wedding style! Before you try on dresses, seek a florist, or sample cakes, look at the big picture and define what kind of atmosphere you want for your big day—classic, romantic, vintage, botanical, rustic, modern or all-out glam. Do you want your celebration to be formal, casual or somewhere in between? My personal favorite weddings are those that combine two or more styles. For instance, a glamorous affair with a touch of rustic charm, or a modern chic soireé with a hint of romance. The sky's the limit! To help you get a better idea of what type of wedding you want, spend some time gathering inspiration. Check out wedding blogs, magazines and events like Your Wedding Experince. Definitely open a Pinterest account and start pinning away, my friend!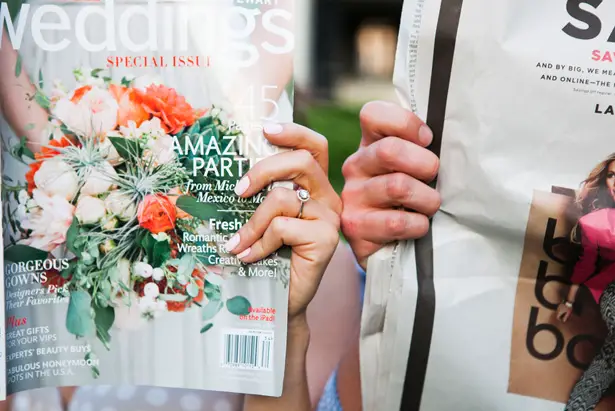 CREDITS
Photographer: Caitlinn Mahar-Daniels Photography // Tuxedo and Mens Attire: Banana Republic // Dress Store: BCBG // Jewelry: Blue Nile // Makeup Artist: Bridget VanderWerff – MUA // Jewelry: Carolee // Dress Designer: Express // Tuxedo and Mens Attire: J. Crew // Jewelry: J.Crew // Shoes: J.Crew // Event Venue: locust grove // Heirlooms and extras: Royal Copenhagen // Hair Stylist: Salon 52 Hair Studio// Other: Trek // Specialty Foods: Veuve Clicquot Champagne // Submitted via Two Bright Lights