There are just some moments you and your fiancé will never forget. Your first date, when he popped the question, your wedding day, your first home together and many more. These special moments will forever be linked to your mind and your heart to the places you experience them. So that is why I think it is oh-so worthy to memorialize these occasion in a very special way!
That is where Mapiful comes in. Mapiful are the creators of beautiful and unique map-themed posters that celebrate the special places in your life, customizable from the location, down to the text and style.
I love the idea of turning your honeymoon location into an elegant art piece to display at your new home together. However, I think you can take this memento to a new level of personalization by using the map of your proposal location or your wedding venue as a guest book to sign on the big day.
4 #CouplesGoals occasions we think are worth memorialize with Mapiful:
Where You Met: For a little reminder of where all started, get a map of the first day you laid eyes on each other. Perhaps it was love at first sight (it was for me) or maybe you went to college together and didn't notice each other until after two semesters.
Your Engagement: Forever remember the day he popped the question and you said yes. Perhaps it was during a trip together or perhaps it was at your favorite restaurant on New Year's Eve.
Your Wedding Day: This is a no brainer. Besides your wedding album and your wedding day pics, a custom map from Mapiful would make for a chic memento of the day you became one.

Your Honeymoon:

Are you visiting an exotic local around the world after the wedding? Mark the occasion with a personalized map of your dream vacay together.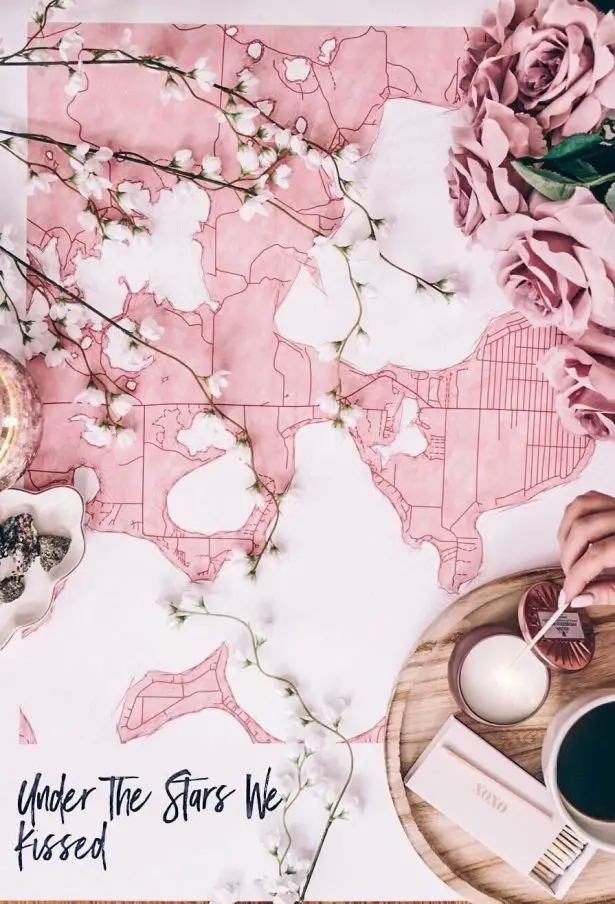 The best part? Mapiful allows you to customize the labels and coordinates to say anything you want!  – A city, a country, a special date or specific coordinates. Play around with the different styles and themes to find the perfect match with your interior. Mapiful is a sleek meet between trendy Scandinavian decor and a design that is unique and 100% you.
Use promo code BELLE10 at checkout and get 10% discount. Head to Mapiful.com and check out all their designs
This post has been sponsored by Mapiful, but concerns our own opinion. Thank you for supporting our partners.