The next few months are the most popular for couples to get engaged, so I know there will be quite a few of you lucky lovelies shopping for the perfect engagement ring soon!
Shopping for a ring, while fun and exciting, can be a little overwhelming for your future husband. After all, your engagement ring is the most important piece of jewelry you will own and wear every day for the rest of your life. Me? I couldn't stop staring at my ring for a month after getting engaged!
So, if you want to help your guy pick a ring that reflects who you are and your personal style, I have the perfect solution. We teamed up with the e-ring experts at Angara to bring you the latest Engagement Ring Trends.
In recent years, modern brides-to-be have been throwing old rules out the window when it comes to engagement rings. They seem to be more fascinated by statement-making pieces — unique shapes, colored gems, unusual styles, and so forth. The classics will always be the classics, but what about girls who wish to keep it unique.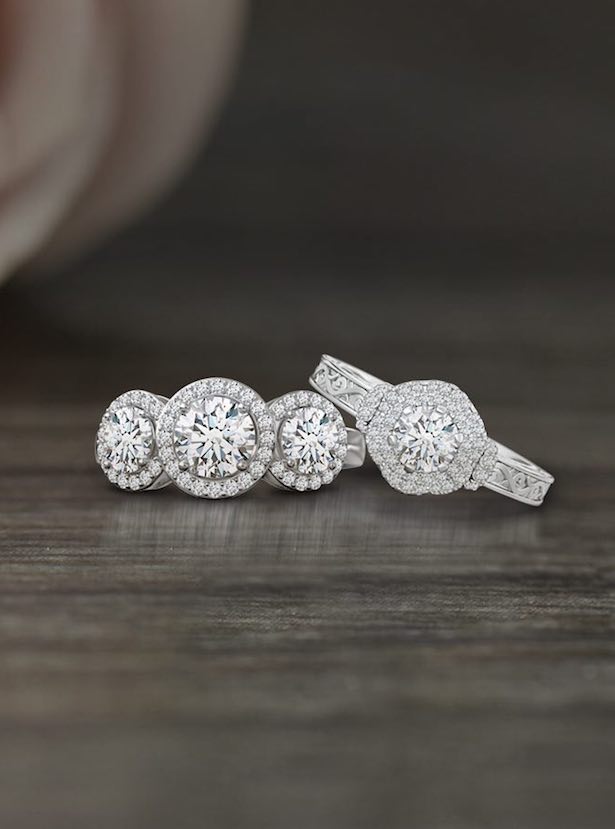 Colored Gems
Colored gems continue to be popular as couples move away from the tradition of white diamond engagement rings. Whether your personal taste leans towards sapphire, emerald, ruby or diamond, there is no better way to make a style statement than with a 'pop' of color.
Angara has the most impressive variety of colored gemstones. In fact, think of any color or gemstone… Angara has it! Hi there, pretty Morganite!
Now if you are not set on a particular color, no worries, we have the perfect solution: Opals. You might not think "engagement ring" when you think of an opal, but more and more brides are turning to this lovely multicolored stone for their ring. This relatively rare stone is experiencing a major resurgence and Angara has a plethora of Opal rings available for you.
East-West Style
Probably my favorite trend right now! East-west engagement rings are the perfect way to put a distinctive spin (literally) on a traditional engagement ring setting. These horizontal styles have been very popular because they're actually more comfortable to wear than traditional north-south settings. Keep it subtly unique and timeless in essence with an oval or emerald cut diamond. Or take it up a notch in the unconventional department with a marquise or pear-shaped diamond.
Rose Gold Metal
Rose gold has been loved by brides-to-be in recent years. And there are many reasons to be drawn to the blush-hued metal. For starters, we just love the way these rings give a bling look with a soft and delicate touch. It also mixes flawlessly with other metal types and its pinkish undertone flatters any skin tone.
Pear and Oval Gems
These modern shapes look elegant and sleek at the same time and they are the ideal choice for the fashion-forward lady. Carrie Bradshaw might have hated the pear-shaped ring that Aidan bought her, but pear and oval cut stones are coming back into fashion in a big way. Pair yours with a curved wedding band for maximum impact.
Three Stone
Without a doubt, the royal wedding brought us so many trends this year. And engagement rings are no exception. Inspired by Meghan Markle's own engagement ring, three-stone settings are back in fashion — and better than ever. They'll be the perfect statement piece for any classic bride-to-be.
Split Shank
Split shank engagement rings are characterized by a band that divides into two (or even three) as it approaches the center stone. The perfect trend for the glamorous bride-to-be, the split shank can have the effect of making the ring appear larger and more ornate.
Halo Designs
Halo designs featuring classic round and cushion-shaped diamonds have been very popular for the past few years, perhaps because of their romantic vintage-inspired look, or because of the way a halo of accent diamonds makes a center diamond appear larger. This is a trend that is here to stay. So if you are searching for a ring that will stand the test of time, the halo trend is for you.
Nature-Inspired Designs
The obvious choice for the boho bride is a trendy engagement ring with a nature-inspired approach. Sprinkled with laid-back elegance and bohemian charm, this trend features floral design elements and vine details. Think rings that feel organic and feminine and that will complement your floral crown to perfection.
Vintage-Inspired Styles
Take a cue from vintage-inspired trends and consider a ring with Victorian or art deco flair. You can't go wrong with a vintage style engagement ring — it's both glamorous and timeless.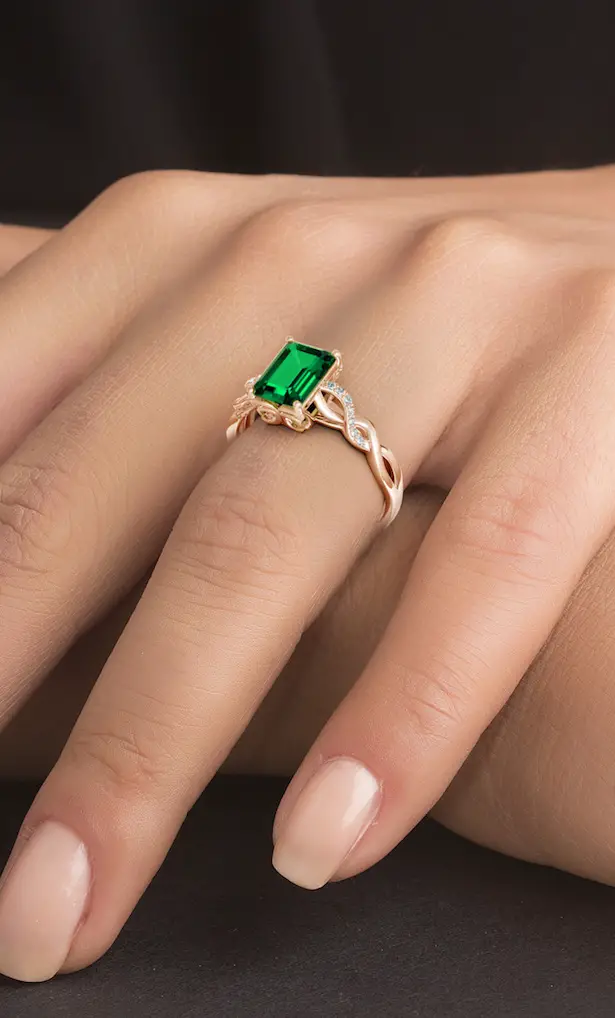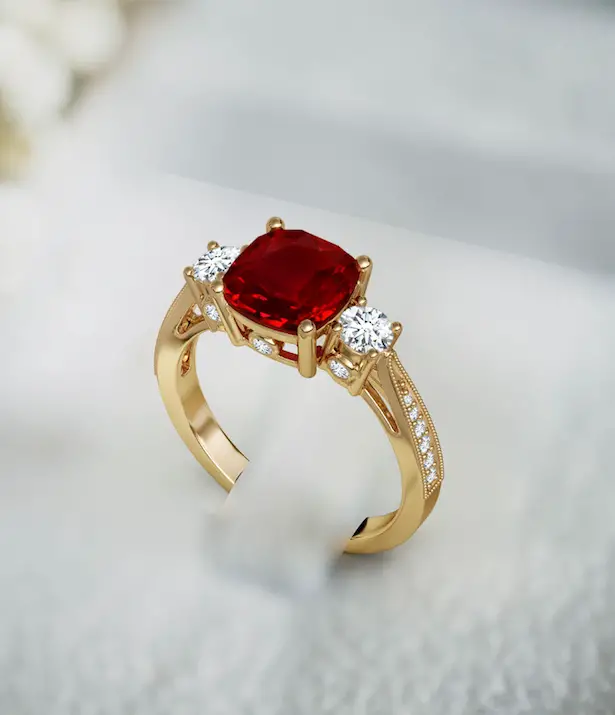 A TRENDY RING JUST FOR YOU
And now that you are familiar with what is currently on trend, are you ready to find the engagement ring of your dreams? Head to Angara.com, they have one of the widest varieties of metals, gemstone quality, and carat weight options – this makes it easy for couples to choose the ring that fits their STYLE and BUDGET. Apart from featuring the latest trends, they also specialize in precious and semi-precious stones — from rubies and diamonds to morganite and opal.
The best part? Every Angara engagement ring can be customized according to your requirements.
Plus, they offer free shipping, 30-day return policy and 30-day money back guarantee. So you will be 100% happy with your ring!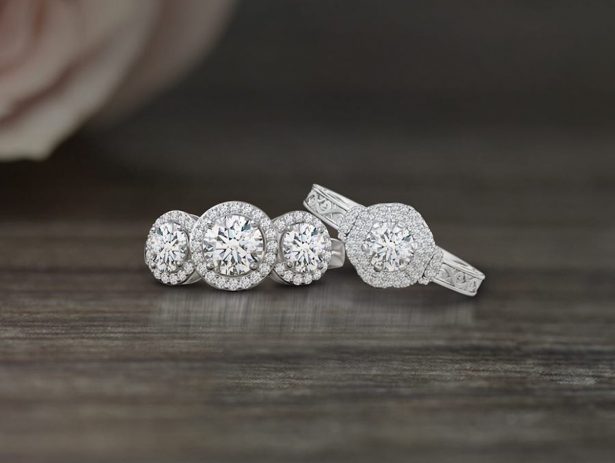 This post has been sponsored by Angara, but concerns our own opinion. Thank you for supporting our partners.