Friend, let's talk diamond rings, shall we?! Shopping for an engagement ring, while fun and exciting, can be a little overwhelming for you and your beau. After all, your engagement ring is one of the most important pieces of jewelry you will ever own… until your wedding band joins the stack! Just like purchasing an engagement ring, choosing a wedding band that complements your ring perfectly can be stressful.  So, we got together with our friends at Platinum Guild International to bring you the best tips to ensure you are choosing the right wedding band for your engagement ring.
Ready? Let's start!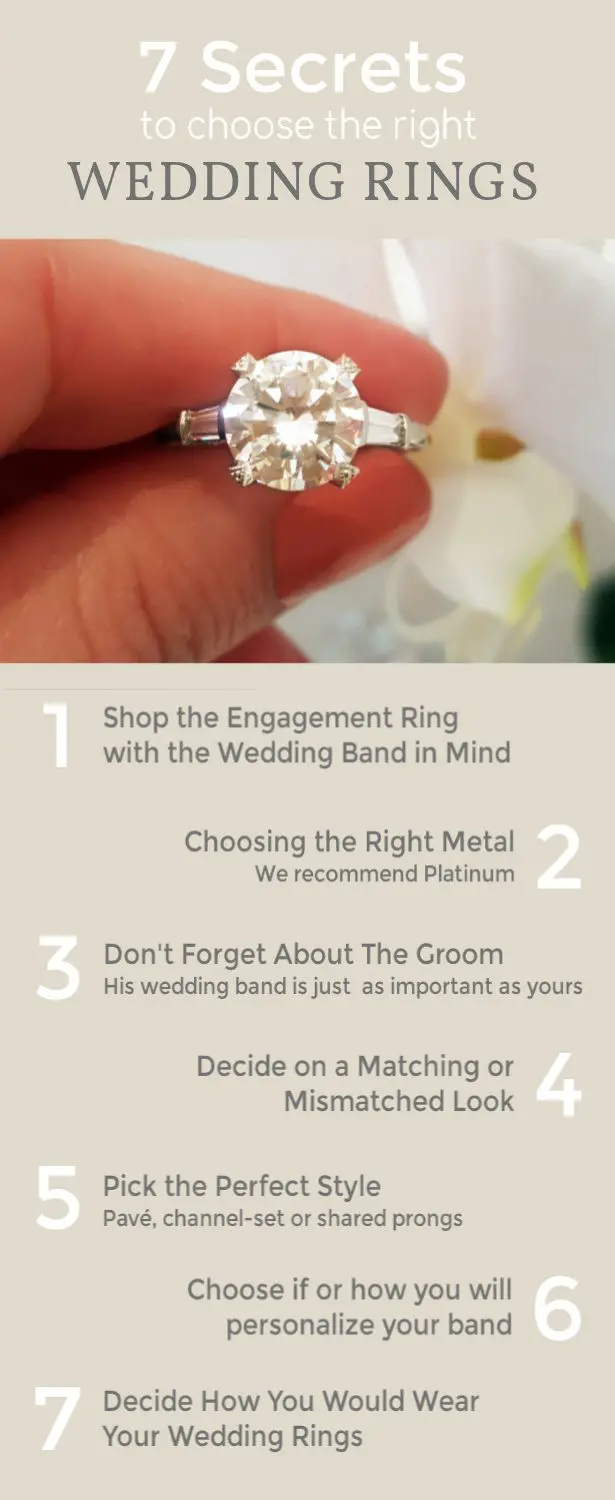 No. 1 – Shop the Engagement Ring with the Wedding Band in Mind
While shopping for your engagement ring, consider the type of wedding band you want as well. Imagine the full look of both rings stacked together. Think about whether or not you want the wedding band to sit flush with your engagement ring and how they will complement one another.
No. 2 – Choosing the Right Metal
Buying your engagement ring and wedding band is a big investment. So, make sure you are choosing pieces that will withstand the test of time. Platinum is the industry standard for wedding jewelry and is the rarest precious metal. Unlike other metals, platinum is durable and naturally white, allowing diamonds and other gemstones to appear even more brilliant.
No. 3 – Don't Forget About the Groom
Girl… Your guy will spend a lot of time and effort researching, selecting or even customizing the engagement ring in preparation for the proposal, so don't forget that his wedding band is also very important. When it comes to the material, you know we are going to recommend Platinum for its durability. As for style, there are so many options available for guys nowadays. You can select from a high polish, matte, or textured finish, and don't be afraid to add gemstones, milgrain or other details. Help him choose a wedding band that not only reflects his personality but is also timeless in style. And, if your man prefers comfort over style, then you might want to consider an easy-to-wear piece, like the classic comfort fit of a wedding band with curved inner edges.
No. 4 – Deciding on a Matching or Mismatched Look
Who says your wedding band needs to match your engagement ring?! The beauty of your wedding day and bridal jewelry is it's entirely up to you! Let your style and personality guide your choices, and don't be afraid to mix it up. Try pairing a curved or notched wedding band with an oval-shaped engagement ring!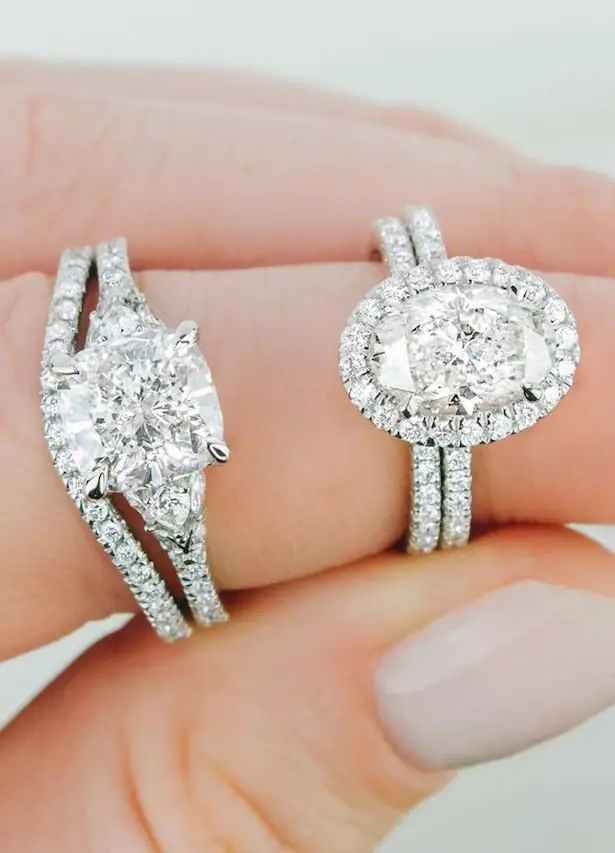 No. 5 – Picking Out the Perfect Wedding Band Style
Whether you're looking for a classic wedding band that matches your engagement ring or something more glamorous to elevate your look, here are 3 staple wedding band styles to consider:
1. PAVÈ BANDS
Classic brides, this one is for you! Pavé style wedding bands are probably the most popular choice because they are easiest to pair with almost any engagement ring style, including solitaire and halo. In a pavé setting, small diamonds line the band, offering extra sparkle and elegance.
2. CHANNEL-SET BANDS
A channel setting is a type of mounting in which gemstones are set into a channel made from two metal strips. They're an excellent pairing for engagement rings that feature a simple band because they add extra flair.
3. SHARED PRONG OR FOUR PRONG BANDS
What we love most about shared prong settings is they're designed to leave as much of the diamond exposed as possible. This allows for more light to pass through the diamond, making it radiate and appear larger.
No. 6 – Consider: A Personal Touch
Looking for a way to make your wedding band a little more "you"? A personal engraving on the inside of the ring is always a sweet touch. But, have you considered incorporating colorful precious gems like sapphire, emerald or ruby for a piece as vibrant as you? These colored gemstones also symbolize your birthstones or wedding month (ex: blue sapphire is a great choice for brides getting married in September), and gems set in platinum appear even more brilliant because of the metal's natural white color.
No. 7 – Wearing On The Opposite Hand
You'll notice that some brides might choose to wear their wedding bands on their left hand and their engagement rings on their right, and some might choose to wear the rings on different fingers on the same hand. It's completely a matter of preference and what feels right to you. Choosing to wear the wedding band apart from the engagement ring may allow for more freedom when selecting the style or number of rings. For example, you can select a thicker, more distinct wedding band, or even a stack of multiple bands for a dramatic look. LOVE IT!
Your engagement ring and wedding band will serve as a constant reminder of your special day and the beautiful life you've built together. Select the perfect style with care and remember to choose Platinum, so you can cherish your special baubles for decades to come!
This post has been sponsored by Platinum Guild International, but concerns our own opinion. Thank you for supporting our partners.