I'll said it before and I'll say it again. Second to cake tasting, registering for your wedding is one of the best perks of your engagement. And although the process is a very fun and exciting experience, picking and choosing items for your newlywed nest as a couple could also be a bit overwhelming. But fear not, we teamed up with the registry experts at Crate and Barrel to bring you the hottest, must-have products of the season for your to include on your wedding wish-list. Following the current interior design trends we put together a collection that will inspire your ultimate wedding registry.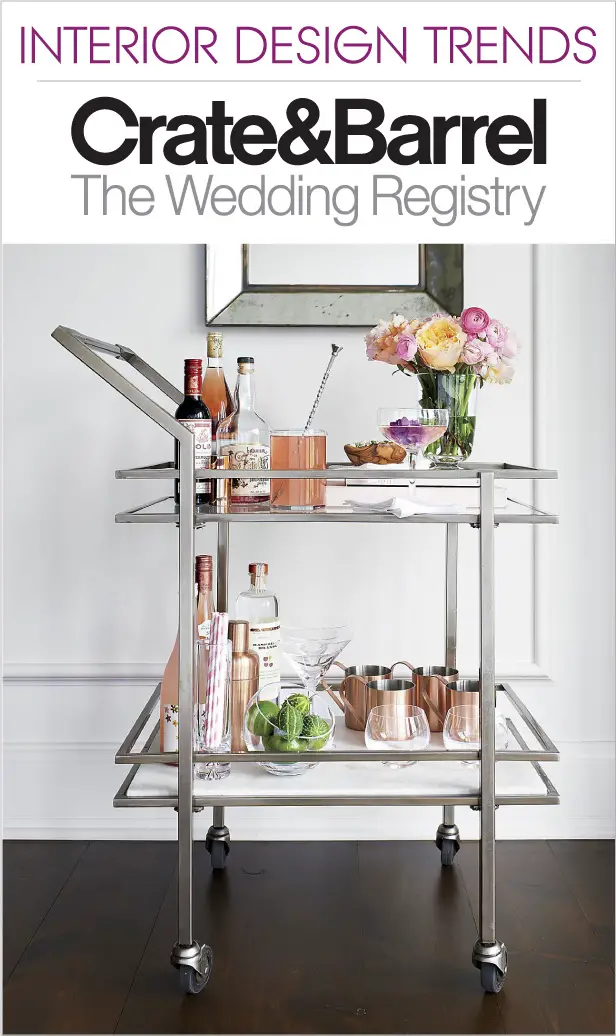 Marble
Marble is one of the best ways to inject major luxe into your new home, as well as one of the most on-trend. Try hints of marble in kitchenware, and other small accessories such as accent tables and bathroom accessories. If you're also in the process of remodeling or building a newlywed patch, marble countertops in both the kitchen and bathroom are predicted to be one of hottest trends for years to come. Looking for an alternative to countertops? What about a marble tabletop?
Brass
While 2015 was the year copper became 'the metal of the moment', copper is starting to wane and brass is taking over as the interior designers' chosen metallic. The golden hues on brass warm up a space and bounce light around the room in a fabulous way. Using a few well-chosen brass pieces as accents will create a glamorous and affluent look no matter what your individual style. Consider bringing in a few brass metal decor accents, gold brush hardware  or a contemporary brass light fitting – Crate and Barrel has a great selection!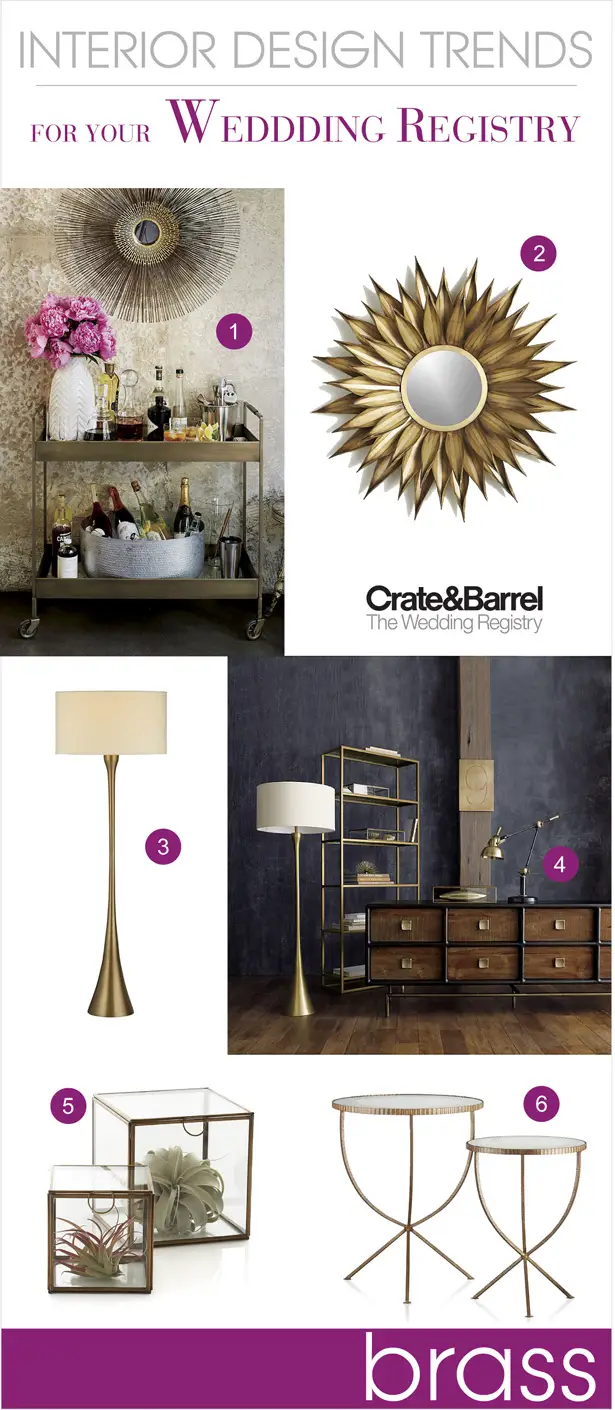 Rose Quartz and Serenity
Next up in our roundup on the hottest  interior design trends for your wedding registry is a color trend—the Pantone colors of the year, Rose Quartz and Serenity. The combination of these pastel pink and blue shades offers a harmonious blend of warm and cool, as well as an alternative to incorporate "his" (serenity) and "hers" (rose quartz) items through your new home in the form of color. The key thing to consider in adopting this trend is to take a playful approach to decorating: accent shares, bathroom towels, mixers, etc. Rose Quartz and Serenity can add some unexpected freshness to a simple grey or white space, or act as soft and refreshing alternatives to more conventional neutrals.  Here are some of our fave pink and blue picks from Crate and Barrel:
Now that you know what trendy items to include on your wedding wish list are you ready for more registry fun? Crate and Barrel is taking wedding registry to a whole level of fun by throwing a party for engaged couples, a Private Registry Event near you. Have the store all to yourself as you get inside tips from Crate and Barrel registry experts, create your dream registry, mingle with other couples and celebrate with food, drinks and fun. RSVP today make your dream wedding registry a fun beautiful reality.
Are you ready to get your very own Crate and Barrel wedding registry? Take advantage of 10% off for 6 months after your wedding, free shipping on registry gift purchases over $99 and a special gift bag that includes two stemless wine glasses in a linen congrats bag to thank you for registering at Crate and Barrel. It doesn't get much better than that! Head over to CrateandBarrel.com and register today!
Happy registering!
xoxo
This post has been sponsored by Crate and Barrel in partnership with BrideClick, but concerns our own opinion. Thank you for supporting our partners.