Brides-to-be, rejoice! Simon G. is serving up a heaping dose of gorgeous gifts for the most important person in your wedding day… YOU, the bride! And trust me, you'll want to bookmark this page and share it with everyone because it is filled with drool-worthy baubles for every type of girl. Whether you are a glamorous lady who loves a statement piece or a boho type of gal who loves a nature inspired bauble, our friends at Simon G. got you covered. Their gorgeous jewelry pieces are made to perfection for you on your wedding day and every day. And they are all guaranteed to become an instant heirloom for years to come. So, take a look at our guide to the perfect jewelry gift for every type of bride and let the pin-fest begin.
For the Glamorous Bride we have a fabulous roundup of bold, yet elegant pieces that are sure to wow everyone. Think sophisticated meets glam with a touch of color and whole lot of bling.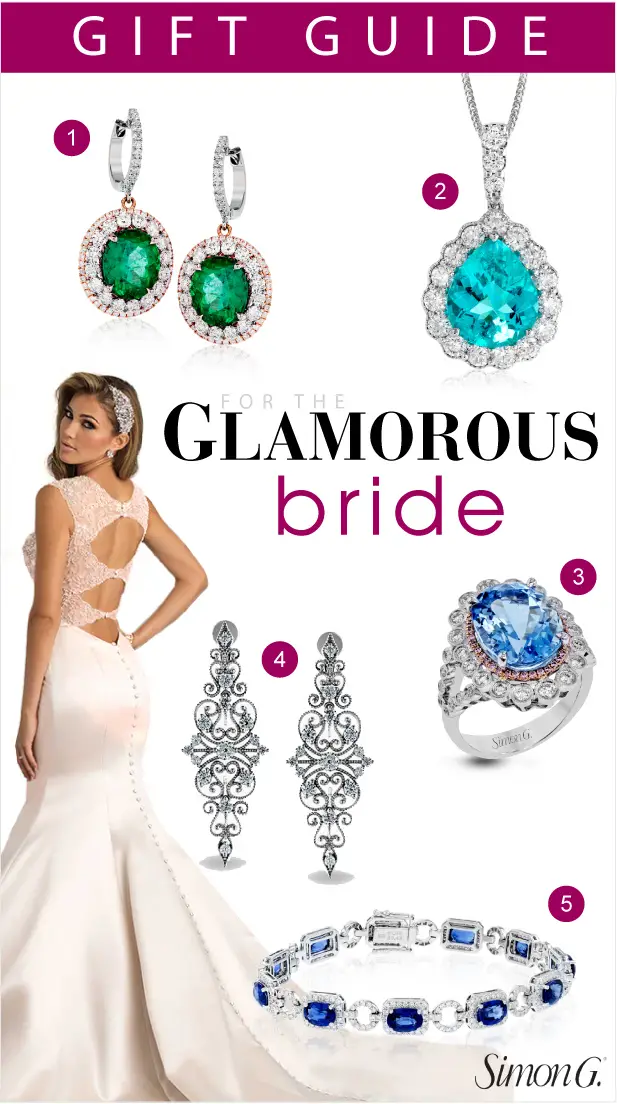 For the Modern Bride who has a flair for the fashion-forward, we a got chic collection of cool jewelry pieces that are trendy by design, but timeless in essence. Filled with clean lines and a contemporary feel, these cool baubles will look equally great with your wedding dress or your leather jacket.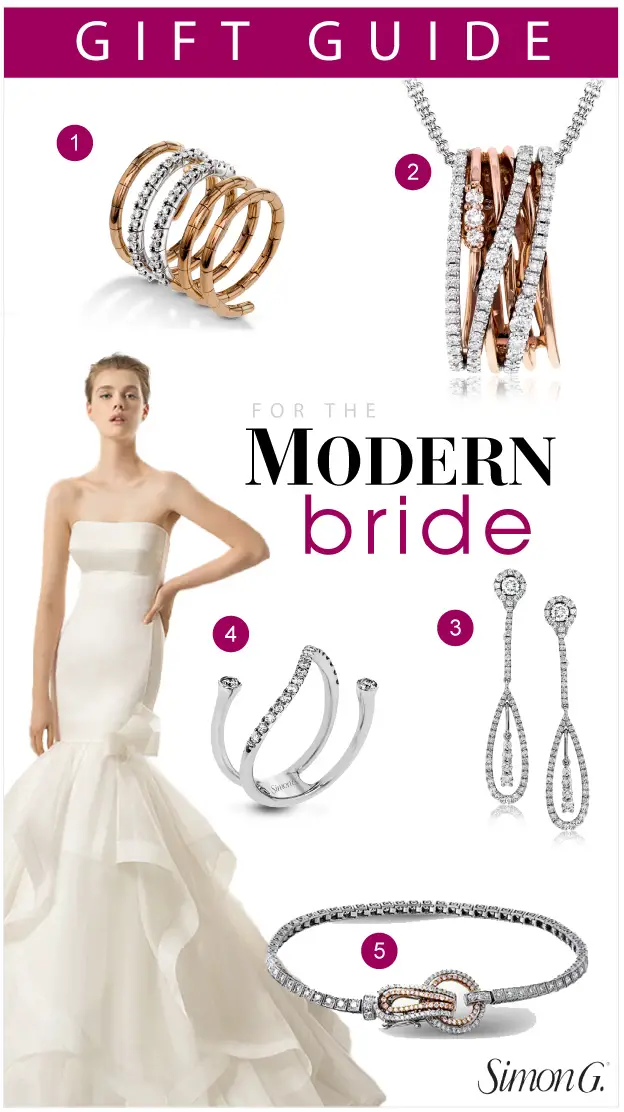 For the Boho Bride we layered a round-up of one-of-a-kind, organic baubles with a heaping dose of nature inspired approach, sprinkle with effortless elegance and bohemian charm.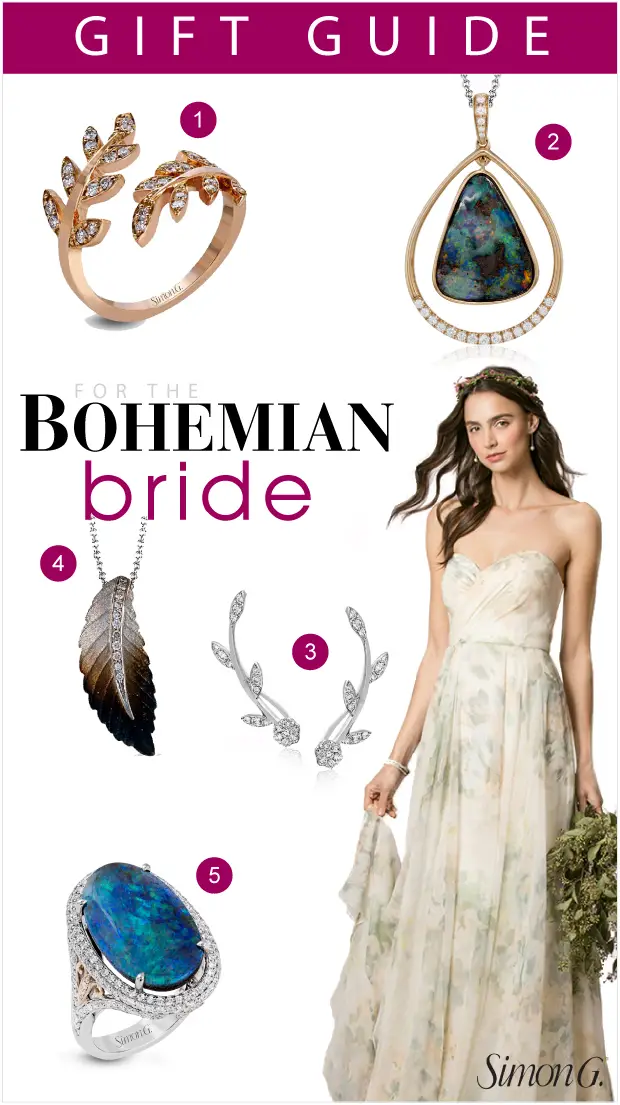 For a Romantic Bride, we are bringing you classic, feminine pieces that will bring romance and elegance to your special day. Jewelry that will make you feel like a princess, even after the wedding.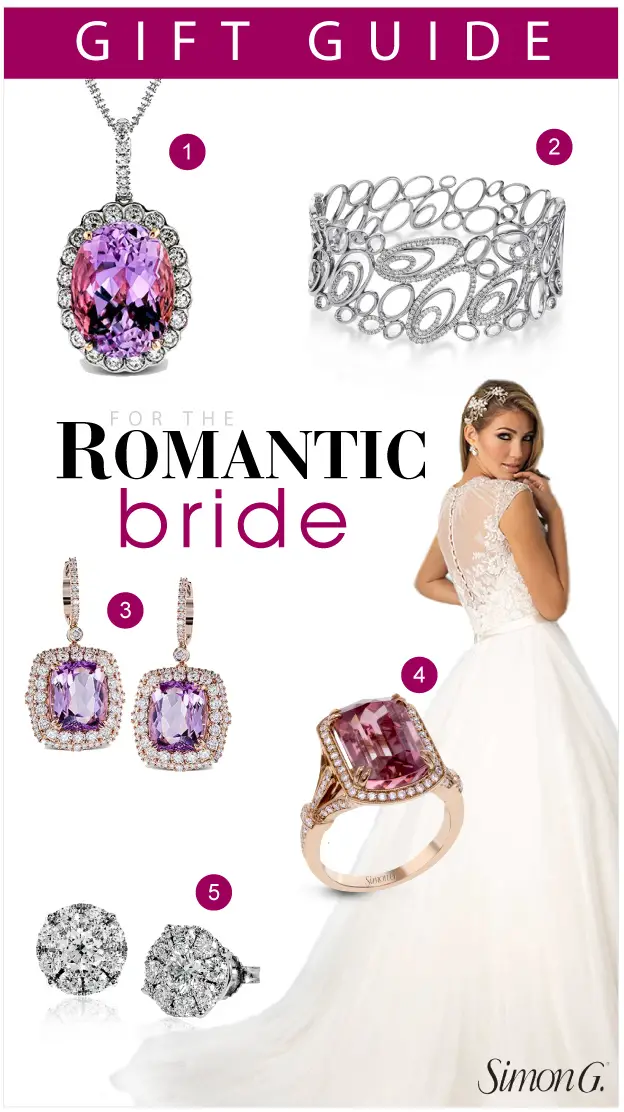 Why Simon G.?
When it comes to a life-lasting gifts that will create fabulous memories for years to come, there is no better choice than high quality jewelry by Simon G. They understand the significance of jewelry in such an important moment of life, so they made their mission to preserve the skills and knowledge of artisanal jewelry-making and marry them to modern jewelry technology and design. Bottom line, drop-dead gorgeous pieces made to perfection… it doesn't get much better!
The Gifters
And now that you know why you need one of this gorgeous pieces of jewelry in your life, let's move on to the potential gifters and the very important reasons for them to get you a bauble from Simon G. on your big day:
• A gift exchange between the bride and groom can be a wonderful moment to share a few minutes between the newlyweds or to remind each other of their love while getting ready for the big day apart. Make sure your groom makes this precious moment even more special with a design from Simon G.
• Your honey's parents may want to welcome their fabulous new daughter-in-law into the family. And what a better way to do so than with earrings or a pendant that fits your personality and matches your style.
• And since your mom and dad may want to give you something really special for your wedding day, what about introducing something blue through precious bracelet or a fashion ring?!
So, whether you drop a hint for your parents to gift you a pair of earrings for your wedding day or your fiancé to buy you a pendant that matches your ring, make sure they all turn to Simon G. to do so. They won't regret it!
This post has been sponsored by Simon G. in partnership with BrideClick, but concerns our own opinion. Thank you for supporting our partners.