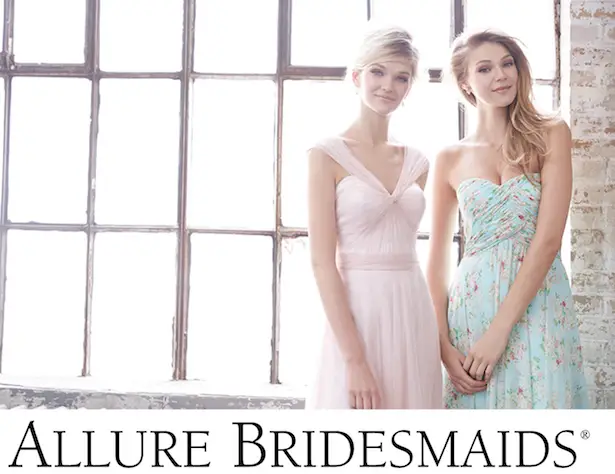 Get ready to glam up your gals, Ladies! Whether you want to mix & match or coordinate, the new Allure's Bridesmaid Collection gives us so much to swoon over. And we've got the goods to show you the latest styles and how your besties can wear them. Choose from a plethora of the most stylish fabrics in a variety of pretty colors and lengths to make your besties look (and feel!) their best. Allure's stunning designs and effortlessly elegant style make the options for brides and her maids, and even the groom easy to fall in love with!
And today we are bringing you 3 drop-dead gorgeous Bridesmaid looks you and your besties will adore! So, sit back, relax and get ready to indulge in some fabulous style ideas.
In Full Bloom
Allure Bridals knows a thing or two about perfecting bridesmaid dresses and they also know that it is not always the easiest of tasks on your list of bridal duties. So they invite you to take a deep breath and smell the roses… Floral prints are always, always a staple for weddings and we do mean always. While some people believe floral prints are a thing for Spring, we believe there really is no better time to take advantage of this wedding trend, than… well, year round! Floral Bridesmaid dresses are classic meets boho-chic and they are perfect for any fabulous wedding – whether it's May, August or January.
Timeless Romance
If you look through your mother's wedding photo album all the way down to your grandmother's or even great grandmother's, you will surely find traces of LACE. And that is because lace has become one of the most timeless pieces that translates through any theme. So it's only natural to incorporate this sophisticated, classic, and yes, even edgy element, into your wedding day. While there are so many traditional ways to bring this feminine fabric into your nuptials, we would like to see you incorporating lace in an unexpected way. How you may ask? Through your bridal party, of course! Featuring the intricate and delicate beauty of lace, Allure Bridesmaids has some gorgeous designs perfect for your favorite girls to don on your big day. Just take a look below!
The Glitz and Glam
If you follow this blog, you probably already know that we are beyond-obsessed with glamorous details. So it comes as no surprise that we're completely head over heels with Allure's shimmery bridesmaid numbers. From dazzling metallic threading to glamorous sequins you really can't go wrong with any of these elegant frocks. They could bring the perfect amount of bling to a garden soirée or be the ideal complement to a black-tie affair. Your bridal squad is sure to look perfect standing by your side in these luxe dresses!
No matter what your color palette, these 3 gorgeous bridesmaids' looks are sure to get your friends' stamp of approval. Ready to get started? Head to AllureBridals.com to find an authorized retailer in your area and let the bridesmaids dress shopping extravaganza begin. xoxo
This post has been
sponsored

by Allure Bridals in partnership with BrideClick, but concerns our own opinion. Thank you for supporting our partners.