Holiday Gift Guide for the Diamond Lover Girl
The holidays are seriously just around the corner!  Wondering what to get your favorite gal?  Whether you are on the hunt for just the right bauble for that leading lady (ladies) in your life who is the true definition of glam or you're looking for the finishing piece to your own Christmas list (guilty as charged), have a look at these stylish pieces by Simon G. Jewelry that we have curated just for you.
We even have some amazing engagement rings! So, if you are still waiting for the question to be popped, make sure you bookmark this page and share with the boyfriend 一 he'll get the hint! 😉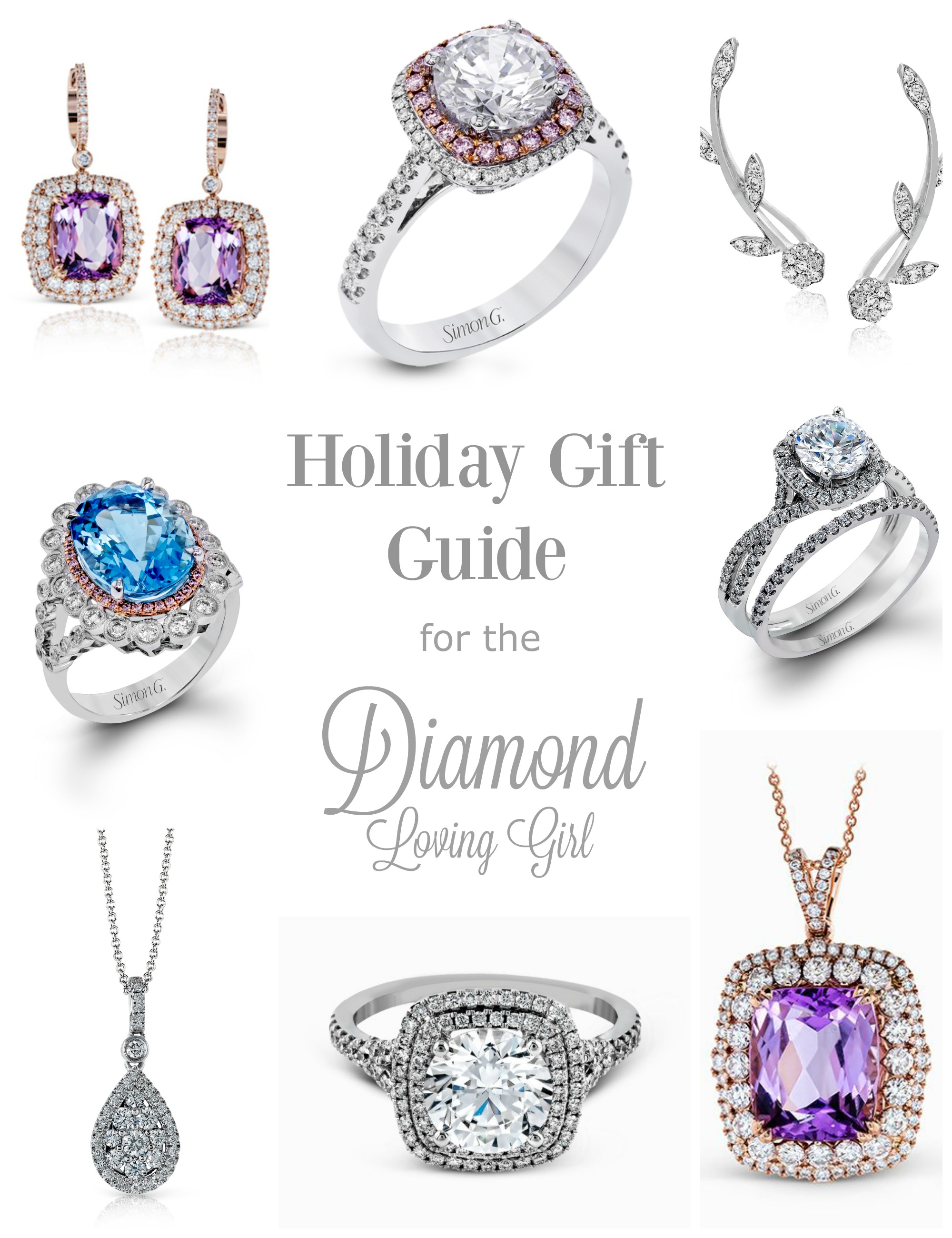 Diamonds for Everyday:
There is really nothing better than a present that you can wear forever. And when it comes to timeless gifts, you can't go wrong with a simple and elegant piece of diamond jewelry like earrings or a pendant.
OH-SO STYLISH EARRINGS
These climber earrings extend up the ear with a floral-inspired 18k white gold design containing .37 ctw of round brilliant white diamonds. They are modern, yet delicate enough to be the perfect complement to any outfit today or in 10 years.
PERFECTLY ELEGANT PENDANT
This glimmering teardrop shaped pendant is set with .47 ctw of round white diamonds and suspended from a diamond encrusted bail. Perfectly chic, perfectly classic! It's a piece that can easily be worn to the office during the week or accentuate a pretty outfit for Sunday brunch.
Statement Pieces:
For the lovers of fabulous, nothing better than a statement piece of jewelry. Who doesn't like getting something sparkly for the season? A large cocktail ring or old-Hollywood inspired earrings + pendant set are sure to be a hit and become an instant heirloom to be celebrated for generations. Our friends at Simon G. travel the world to find the best quality colored gemstones and crafts many of their statement pieces around singular gemstones so that the entire piece is completely unique.
"SOMETHING BLUE" STATEMENT RING
This 18k white gold setting is a wonderful way to add some color to an engagement ring and bring that "something blue" to a bride's wedding day look. A halo of .15 ctw of pink diamonds encircle the center aquamarine of this beauty, while .52 ctw white diamonds add sparkle to the sides of the ring.
GLAMOUR IN COLOR: EARRINGS AND PENDANT
You know we love a touch of purple! These dazzling geometric-shaped earrings in rose gold are accentuated by the presence of 12.36 ctw kunzite stones and 2.32 round cut white diamonds. They are oh-so glamorous!
Complement your glammy earrings with this matching pendant. Featuring the same eye-catching geometric shape, this elegant white and rose gold contemporary pendant is also set with a sparkling center 19.47 ctw kunzite surrounded by 1.52 ctw white diamonds. These two are definitely going on my list.
Engagement Rings:
Are you ready to take the relationship to the next level? The holidays are the most popular time to propose and that means plenty of little sparkly left hands to admire. But the question begs, how did the Groom decide on which piece of pretty to pick?  From pave bands to cushion cut stones, the options when shopping for an engagement ring are seemingly endless. But luckily for you, our friends are Simon G. have some of the prettiest engagement rings in the market, so you can start your online ring shopping right now.
Head over to Simon G's website and choose the engagement ring of your dreams today or look at some of my own picks below. Go ahead and forward on to your beau, we won't tell!
A SUBTLE POP OF COLOR
This classic style ring is the perfect fit for a princess. Formed from 18k white and rose gold, the halo design is set with .25 ctw of white diamonds as well as .18 ctw of pink diamonds 一 a super romantic touch!
Get your engagement ring with the matching wedding band! Presenting a lovely twisted shank design, this contemporary white gold engagement ring and wedding band set is accentuated with .44 ctw round cut white diamonds.
This fabulous white gold engagement ring features a contemporary setting with an eye-catching double halo highlighted by .67 ctw of round cut white diamonds. Can you say stunning?! It also comes with a matching wedding band to perfect your sophisticated look.
I don't know about you, my dears, but this post has me ready for some serious bling shopping! So what are you waiting for? Shop the best things that come in small packages over at SimonGjewelry.com xo
This post has been sponsored by Simon G. Jewelry in partnership with
BrideClick
, but concerns our own opinion. Thank you for supporting our partners.