There are so many marvelous ways to celebrate your love abroad and of course, I have a brilliant one for you today. Why not get hitched poolside on a faraway locale? Organize a classy poolside soireé that combines glamour and romance for your destination wedding reception. The blues of the pool and the bright (or pastel) hues of flowers and wedding decor make for a contrasting beauty that will WOW every one of your guests. There is just something really sophisticated, yet approachable about celebrating your wedding surrounded by flowers and water, don't you think?!
Overflowing with pretty styles, from chic and contemporary to classic and traditional, one peek at the gorgeous gallery of pool wedding receptions on our Destination Wedding and Honeymoon Pinterest board and you'll packing your bags for paradise! See it all here!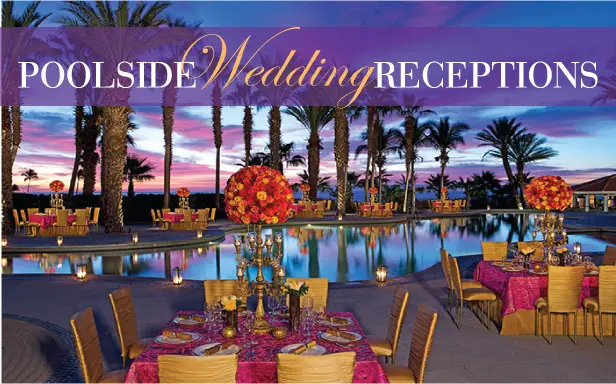 And while on Pinterest, explore the rest of our Destination Wedding and Honeymoon dedicated board is filled with ideas to celebrate the two of you coastal style… all courtesy of our friends at Apple Vacations!