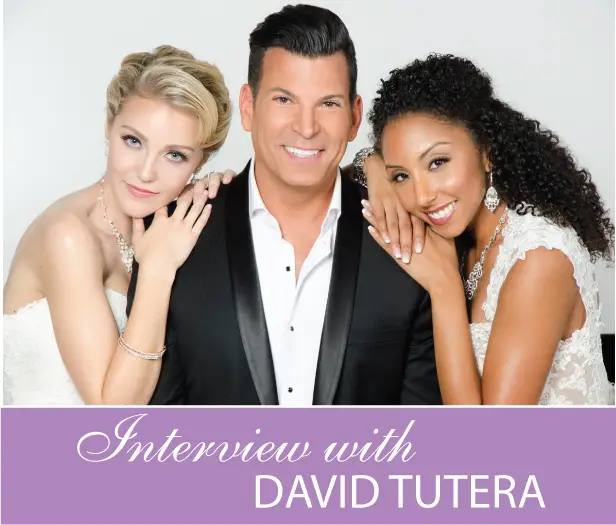 Greetings, Ladies! We have a special and very intimate Q&A with the uber talented, David Tutera! We dove deep into his brain and talked about his company and what makes him so successful. Get a sense of what a true wedding expert has to say and learn some insider news on his upcoming "Your Wedding Experience" bridal show, which we are more than honored to be participating in!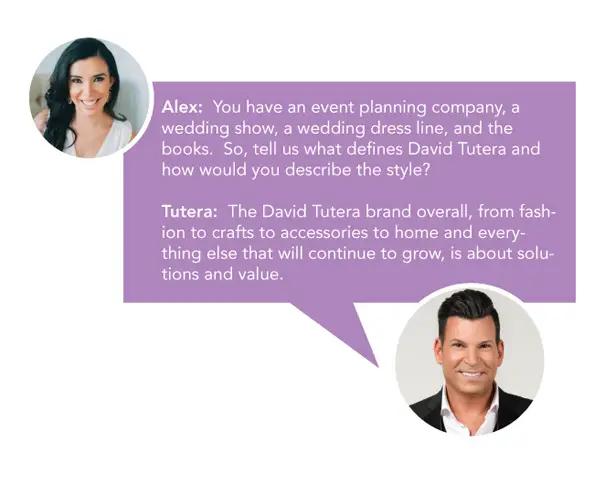 Alex:  You have an event planning company, a wedding show, a wedding dress line, and the books.  So, tell us what defines David Tutera and how would you describe the style?
Tutera:  The David Tutera brand overall, from fashion to crafts to accessories to home and everything else that will continue to grow, is about solutions and value. It's also about quality and about making women feel as if they have the ability to purchase something that is affordable.  And they're not feeling that they have to, you know, reach deeper into their pockets to come up with the funds to purchase something that has a David Tutera label on it.  What I love about that is that I spent a lot of time trying to find the right manufactures and the right detailers to be able to begin this plan which has been doing quite well and continues to grow.
Alex:   And, what makes Your Wedding Experience, the bridal show, David Tutera standard?
Tutera:  Well the third word in the description of it, "Your Wedding EXPERIENCE," is exactly the reason why I've been working on this.  I find that there is not a lack of bridal shows, but there is a lack of experience from going to these shows.  The experience we're going to be giving and creating…is about letting the brides and the families and the grooms, and whoever they choose to bring as their entourage to come and to learn, but also to experience the joy of wanting to plan a wedding, and not leaving overwhelmed, which I think is primarily what happens when brides go to Bridal Expos. We do not refer to this as a Bridal Expo, at all. There's something for everyone. There is high-end fashion shows, there's my friend Buddy Valastro, The Cake Boss, speaking, there's going to be a groom's lounge, there's gonna be demonstrations, you name it!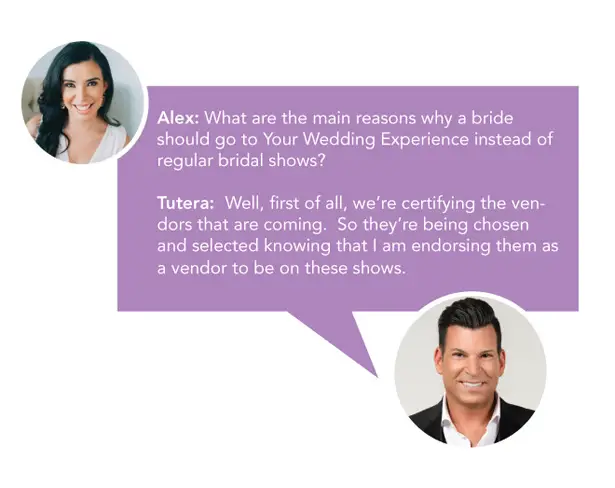 Alex:  Fantastic!  Well, in your opinion, what are the main reasons why a bride should go to Your Wedding Experience instead of regular bridal shows?
Tutera:  Well, first of all, we're certifying the vendors that are coming.  So they're being chosen and selected knowing that I am endorsing them as a vendor to be on these shows.  So we're already beginning the process by getting the vendor out before the consumer gets to the shows. With that being said, that's the main reason why a consumer should show up, because they know they're looking and visiting quality vendors.  Secondly, they're getting a chance to have a more one on one experience with them instead of just walking the trade show floor, and just seeing a little bit of the product and maybe getting a glimpse of who they are and spending more time with them.  And again, back to the word experience, there will be experiences just throughout the show.  The catwalks, which is the fashion show, the demonstrations, the tabletop experiences, I mean none of these bridal expos have tabletop experiences.  There'll also be people in the industry getting a chance to meet with the consumer.  So they're going and leaving with so much more real knowledge than a typical show.
Alex: How are you selecting vendors, is there a criteria you are using to select them?
Tutera:  The vendors are, I should say, preselected, they actually are going through a process online where they gotta submit their information which goes to our production company, and they will get them out. That step is first. Then I will take a look at the vendors to see if they are of the value of what we want our consumers to see. We're not going to have 50 photographers and two florists.  We're gonna have the equal amount of vendors per category because a lot of these shows, what they do is take the vendors in and just create a source of income. We're gonna make sure there's enough of everything.
Alex:  What is the number one feature of the show that if you had to compromise everything, for whatever reason, the number one thing you would say, "I will never let go of this."
Tutera:  At Your Wedding Experience? The one thing that we're doing and I know it will never go away?
Alex:  Yes.  Or that you love.
Tutera:  It's fashion. I mean. I've been in this business a long time.  And I get more and more fascinated at the fact that women getting married know nothing about fashion for bridal. They don't know the silhouette to address that's right for their body type.  So the fashion show is going to provide diversity of style, diversity of  silhouettes for body types.  And that's something they'll never get rid of and what's most important is, it would be a high end fashion show because it would be entertaining.
Alex: Well, in 2015, you're going to have the show in the three major cities:  Houston, Atlanta, Philadelphia.  What do you expect for the next years?
Tutera:  Well, we're going to be doing the three cities, as you mentioned, for 2015.  We're going to either be doing 6-7 cities in total for 2017 and hoping that Houston, Atlanta, and Philadelphia go well, we're offering those cities a chance to, you know, rebook us back to come as a second appearance in 2016.  And come up with 4 new cities to build the brand, to build the wedding experience, beyond just those three cities.  Every year we'll be adding new cities.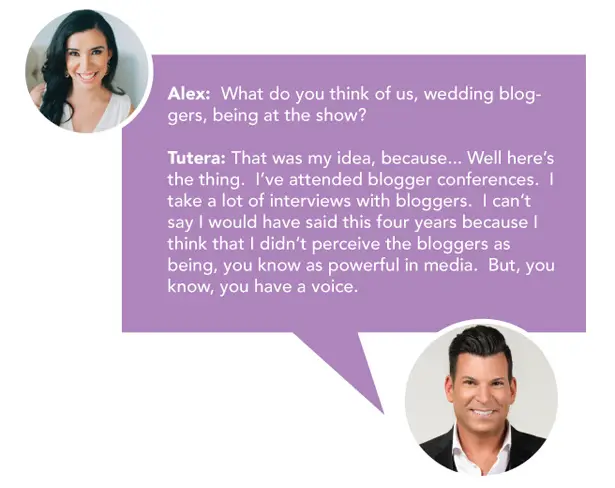 Alex:  What do you think of us, wedding bloggers, being at the show?
Tutera:  That was my idea, because…haha!
Alex:  Haha!  Thank you!  I'll be eternally grateful!
Tutera:  Well here's the thing.  I've attended blogger conferences.  I take a lot of interviews with bloggers.  I can't say I would have said this four years ago because I think that I didn't perceive the bloggers as being, you know as powerful in media.  But, you know, you have a voice, and there are bloggers that have great voices and there are bloggers, unfortunately, who don't have great voices and they approach it in a negative way.  But the reality of it is I wanted to bring people such as you and other wedding bloggers, to be a part of the experience, because it connects the experience to the consumer even if they can't go immediately.  And I think that that's fascinating.  And hopefully the bloggers will realize we want them to be actively be part of the experience. We also want to create panels for the bloggers to be part of developing the information to your readers. So we're hoping that this interactive experience, there goes that word again! The interactive experience, extends the story beyond just the show in the city on the date.
Alex: And what do you think about wedding bloggers in general?  Do you follow any?
Tutera:  I won't name the ones that I know and follow.  I will be as politically correct as possible.  Bloggers have a voice.  They sometimes abuse their voice, and they sometimes, specifically in the wedding arena, just because they're classified with a title doesn't necessarily mean they have the expertise of what they're speaking about.  I know wedding bloggers that are fantastic.  And I know wedding bloggers that are actually harmful to the business.  I have made it very clear to people running my show that we're gonna bring those bloggers in that are positive influences on the consumer and also on the industry.
Alex:  Thank you!  Thank you because I'm going.  So that means a lot to me!  What is the number one thing that you would give a couple planning their wedding. If they're attending the show, what is the number one advice?…
Stay tuned for David's answer to this question and many more tomorrow. We will reveal the ending to the interview. So don't miss out as we get up and personal with our wedding guru to learn about where he gets his motivation and what makes him and his brand so special!