The New Mysterious Bosphorus Bridal Collection
Calling all brides-to-be! Daria Karlozi just launched their brand new Mysterious Bosphorus Bridal Collection for 2022! These fairytale gowns are both romantic and magical with soft flowing fabrics, beautiful hemlines, ruffles, fabulous skirts, and pieces that allow you to customize your gown and have two wedding day looks instead of just one! Including all of the hottest and up-and-coming bridal trends, the Mysterious Bosphorus Collection has a gown for every type of bride, from the minimalist to the daring fashionista. Keep reading for our top 6 bridal trends for 2022 and to see all of the amazing Daria Karlozi Wedding Dresses.
Bridal Trends 2022 + Daria Karlozi Wedding Dresses
MINIMALISM 
Minimalism was big in the bridal world this past year, and this trend isn't going anywhere! You can go super simple with a style like the Alysee gown, which features clean lines and modern cut-outs or choose a gown with some extra detail, like the Callisto, Chesella, or Maraya gowns. If you like two-looks-one and want to add some drama to your minimalistic look, a detachable skirt like the organza one that fastens onto the Khalilah gown or a dramatic sheer organza bolero with statement sleeves like the one styled with the Sahana gown are perfect!
RUFFLES
Ruffles are all the rage this season and come in a variety of shapes and sizes! Go for a fashion-forward look like the Ambrosia, Paloma, or Lamima gowns, which feature dramatic silhouettes and multiple styles and placements of ruffles, or select a gown where the ruffles are just an accent. We love the ruffled sleeves on the Monara gown for a touch of texture and detail. Depending on their application, ruffles can add drama or even a bit of whimsy to your wedding day look, so this trend can be incorporated into gowns of a variety of styles!
CORSETS 
Corsets have been trending since last year and for a good reason! Not only do they bring us back to times long gone, but they also provide excellent structure and touches of sexiness and romance to your wedding day look. You can go for a sheer style like the Eleni or Naia gowns, or go subtle with a style like the Hana gown, which still has the structure but is a more modest look. A traditional lace-up back is super romantic (see the La Pellegrina gown), while buttons are classic.
FLORAL ELEMENTS
From dimensional flowers to floral and vine motifs on laces and embroidery, bridal designers are including these nature-inspired elements in their designs this season. We love the Sarastar gown, which features not only a corset and statement sleeves, but also incredible dimensional flowers on the sleeves, skirt, and train. For the bride who wants a fairy tale dress perfect for a garden wedding, the Panakeia gown also features dimensional flowers but has a beautiful A-line skirt. For a more subtle take, a gown that utilizes a floral or vine lace only on a portion of the gown, like the Sycara or Edesia gowns, is perfect.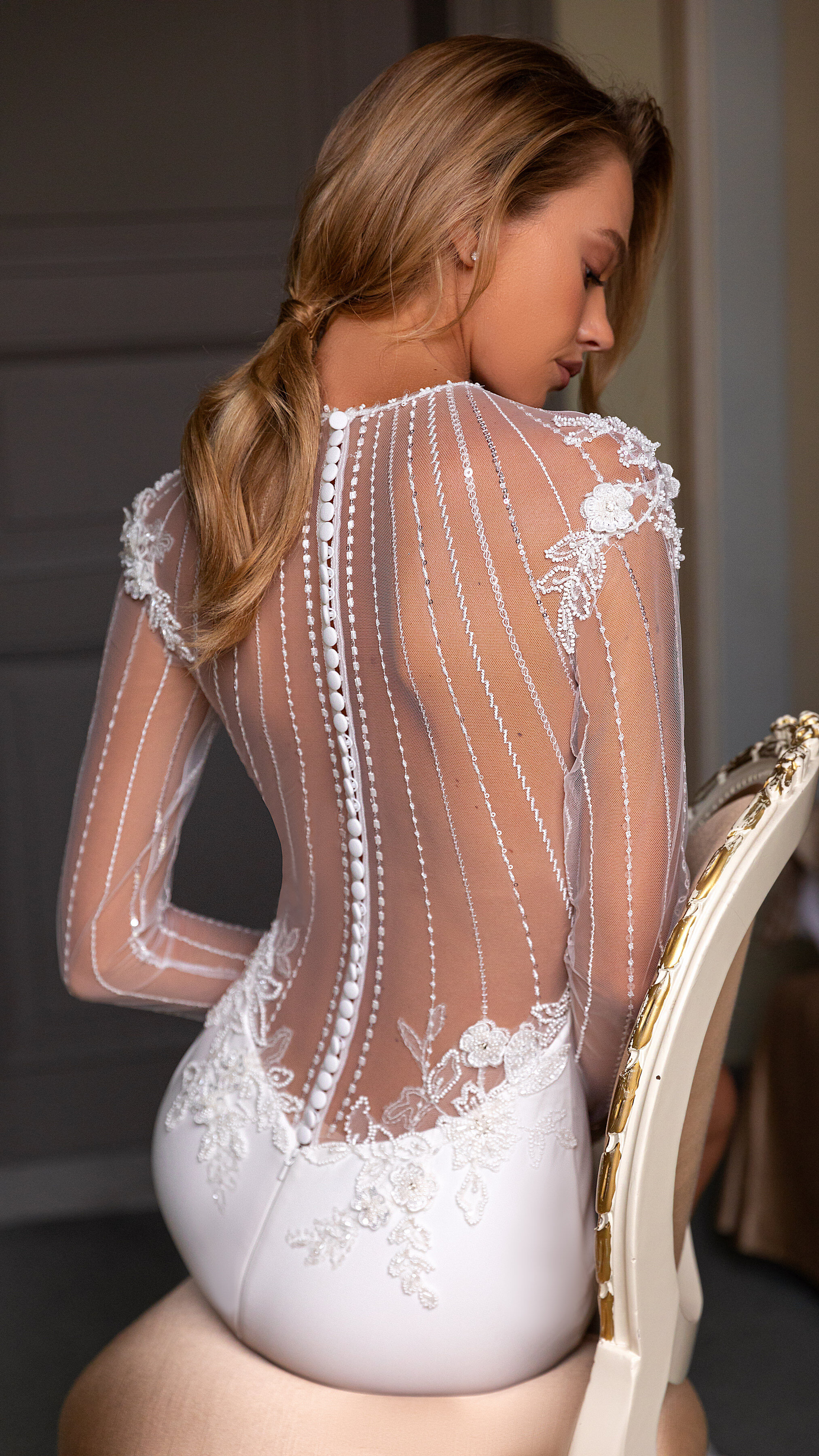 TWO LOOKS IN ONE 
Lately, brides are loving a fashion transformation from the ceremony to reception. Whether that means a detachable sleeve, skirt, cape, or train, we are all about this trend! Even a more simple dress, like Parsifal, can get a dramatic upgrade with a tulle bolero with a long lace embellished train, which also is a great veil alternative.
STATEMENT SLEEVES
Statement sleeves are here to stay! From sheer lace-embellished bishop sleeves like those on the Basmalina gown (which are detachable!) to delicate beaded cap sleeves like those on the Concordia gown, you can't go wrong with this trend. Sleeves are no longer just for the cooler months. You can truly wear them all year round!
Did these magical and mesmerizing gowns from the Mysterious Bosphorus Collection take your breath away? You can see even more of these bridal beauties and additional styles on Daria Karlozi's website, Instagram, Facebook, and Pinterest pages. Don't forget to save your favorites!
This post is sponsored by Daria Karlozi but concerns our own opinions. Thank you for supporting our partners!