Are you looking for a stylish way to pop the question to your bridal party? Well, today is your lucky day my friend, because I am bringing you a fabulous way to ask your besties to be a part of your special day —Bridesmaid Proposal Boxes. Your squad is going to have to put up with your every demand for the future months, so show them you how much they mean to you with a pack of personalized little details they'll love.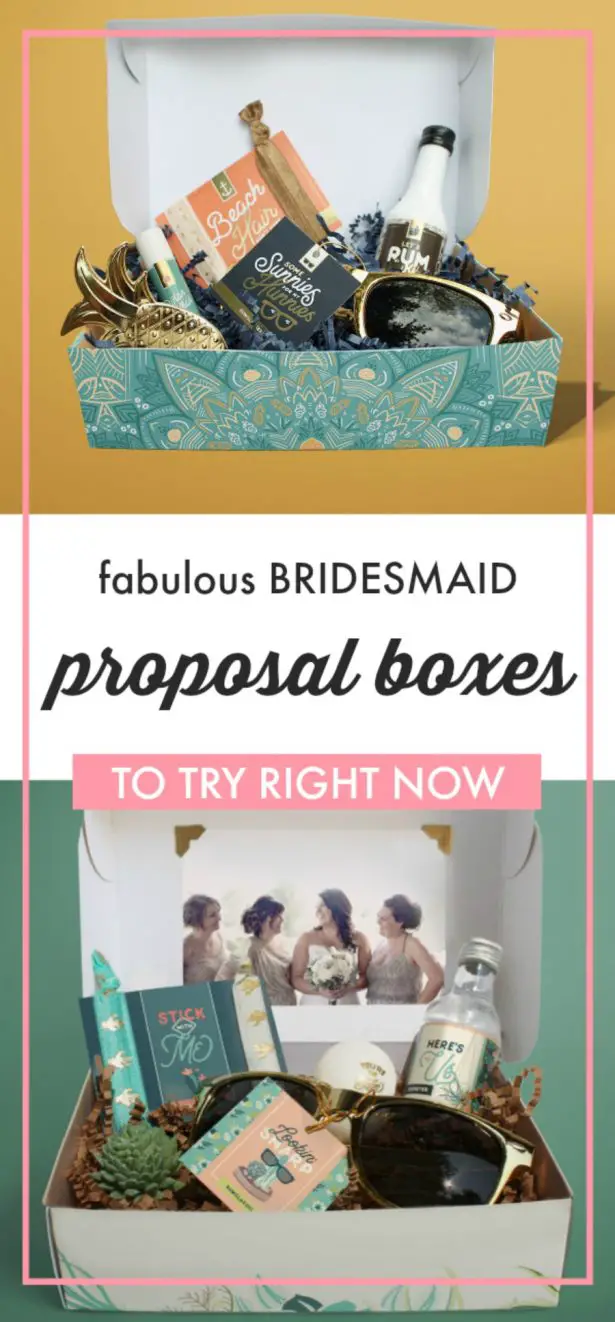 In the last few year brides have been creating their very own bridesmaid proposal boxes, but nowadays there is a better solution — made to order packages. That is where Mailbox Melodies comes in. They are the creators of 3 of my favorite box-designs to ask your besties "WIll you be my bridesmaid"?! Picture your future bridesmaids names displayed on gold foil on a stylish box filled with a bunch of everyday goodies they will adore. Every detail is handmade and themed out in fabulous and modern designs. Check the stylish packages below and click on the images to shop!
The perfect choice for the modern bride.This design feels current and organic with a touch of boho vibes. Find items such as proposal card, lip balm, shooter, sunglasses, cactus hair elastics and even a little succulent, all inside the prettiest of boxes. My favorite feature? The photo corners inside the box that will hold your favorite picture of you and your girls. [SHOP HERE]
Classic and vintage brides, this one is for you! Featuring peonies and gold sparkles, the design is as timeless as it is beautiful. It includes everything the previous box has, plus a beautiful floral bottle opener (and minus the succulent, of course). My favorite feature? The "Help Me Tie the Knot" hair elastics… so thoughtful! [SHOP HERE]
If you are planning a beach or destination wedding, you'll love this box. It is fun, it is pretty, and it is filled with pineapple inspired goodies your maids will love. It is the perfect way to pop the questions to your besties during the summer or to get them ready for your seaside nuptials. My favorite item? The pineapple lip balm, such a fresh scent. [SHOP HERE]
From the creator… "I try to inject a little humor into each of my pieces and make them original and fun for the girls that receive them. They're useful as favors for bachelorette parties and make the girls feel special! It takes all the effort out of making something yourself, but it still feels unique and original. The gold foil customization of the boxes adds a lot and gives it some serious flare!" – Kaylee Conrad of Mailbox Melodies
But if you are still looking into making your own Bridesmaid Proposal Boxes, fear not, the pretty items inside Mailbox Melodies are also available for individual purchase.

Visit Mailbox Melodies Shop and check out their collection of boxes and unique products to give your bridal tribe the fun and memorable gift they deserve.
This post has been sponsored by Mailbox Melodies, but concerns our own opinion. Thank you for supporting our partners.