Happy Wedding Wednesday! If you are visiting the lovely pages of Belle The Magazine today, chances are you are in the throws of wedding planning (yipee!). And in our book there is nothing more fun in the wedding planning process (other than cake tasting) than registering! Strolling down the aisles with that scanner, choosing all the pretty home décor and kitchenware for your newlywed nest… Too much fun!
So during the month of January we've been cozying up with our friends at Crate and Barrel and showing you some of our favorite, swoon-worthy items from their huge selection of housewares. Yep, we sharing with you our very own dream Crate and Barrel wedding registry. And guess what? Since this is The Blog for the Sophisticated Bride, our registry is pretty sophisticated, as well.
So today I'm excited to bring you my third installment in the series, our dream living room items. All of these recommendations will be items that I wish we would have included on our registry or that actually fit perfectly in my home. We incorporated one of the hottest trends on interior decor — brass, and some pretty chic items that will have you scanning your heart out. Just take a look!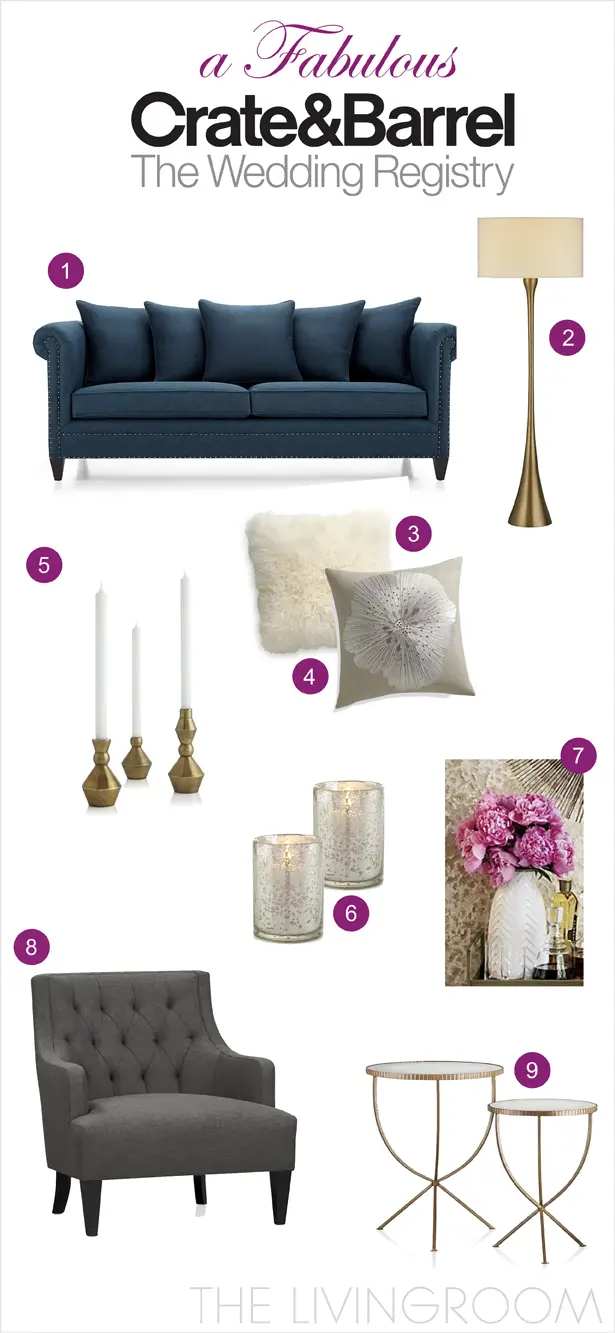 1: Durham Sofa. 2: Melrose Brass Floor Lamp. 3: Pelliccia Ivory 23″ Mongolian Lamb Fur Pillow with Feather-Down Insert. 4: Bloom Frost 20′ Pillow with Feather-Down Insert. 5: Denby Antique Brass Taper Candle Holders. 6: Bubbled Silver Glass Votive Candle Holder. 7: Pink Peony Artificial Flower Stem. 8: Tess Chair. 9: Set of 2 Jules Accent Tables
We're super excited about the fact that Crate and Barrel not only has fabulous items for your registry, but they are also putting the fun back into registering! They have created some fab Private Registry Events that feature yummy food, delicious drinks, and industry experts that will help answer all those questions that have been floating around in your head. And, for two hours, you'll have the entire store all to you and your fiancé! Totally amazing, right?! Find a Crate and Barrel Private Registry Event near you, right here.
Sound fabulous? We think so too! Head over to Crate and Barrel and create your dream wedding registry today. You will also get 10% off for a full 6 months after your event for any unfulfilled items on your list – and off your list, too – even furniture! It doesn't get any better!
Stay tuned for next Wednesday's post where we will bring you some fantastic suggestions for a sophisticated outdoor space. But, for now head over to our Wedding Registry Pinterest Board where you would find additional must-have living room décor items and furniture for your future home together!
This post has been sponsored by
Crate

and

Barrel

in partnership with BrideClick, but concerns our own opinion. Thank you for supporting our partners.