While this was a sponsored opportunity from Bed Bath & Beyond, all content and opinions expressed here are my own. Thank you for supporting our partners!
Registering for your big day? So. Much. Fun. It's your big chance to shop with other people's money while you style and shape your picture-perfect life together. There's something so fun and romantic about dreaming of your future weekend brunches and all the little moments that make up your real-life love story, don't you think?
And although the process of creating your wedding registry is a very fun and exciting experience, it could also be a bit overwhelming. But fear not, we teamed up with the registry experts at Bed Bath & Beyond to help you get the most out of your wedding registry and help you fuse your styles and personalities into one beautiful reality.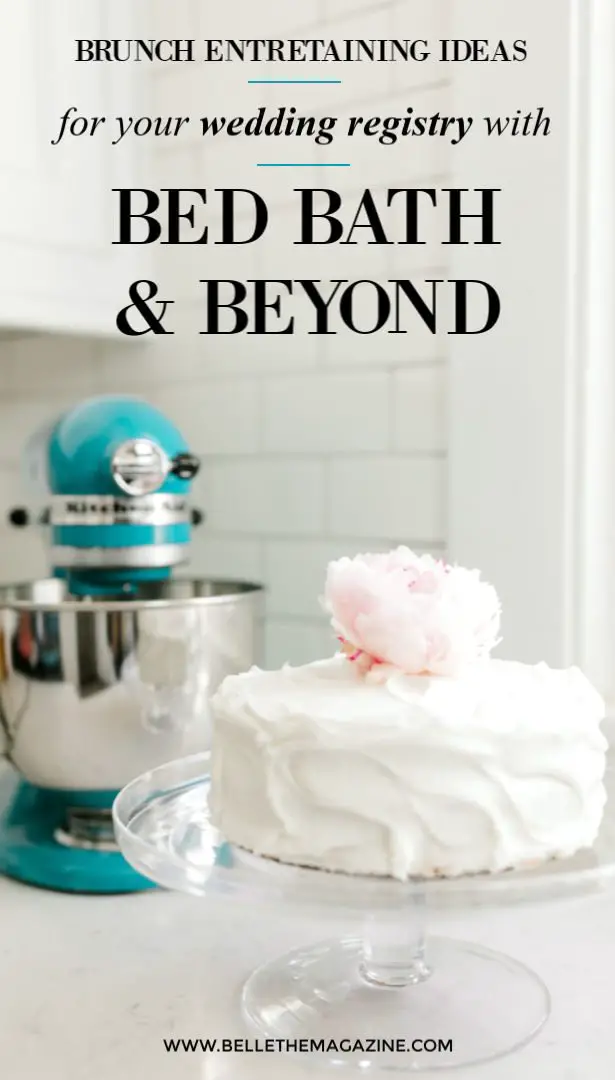 Bed Bath & Beyond is not only the mecca for stocking your home with great kitchen, bath, houseware essentials and everything in between, but they also have amazing features that make them the most popular wedding registry store. From fabulous incentives for you and your wedding guests to their super useful registry checklist — they are truly the best choice!
You can start a registry online in their easy to use website, but I highly recommend you to make an appointment in store and meet with one of their expert registry consultants. If you're like me, you're probably wondering how much help do you really need from a consultant. Well, during my visit I found that there were quite a few questions I had — Non-stick cookware or stainless? Which KitchenAid mixer is the right one for me? — Registry consultants have heard these questions hundreds of times and they are able to answer them on the spot, this is SO appreciated!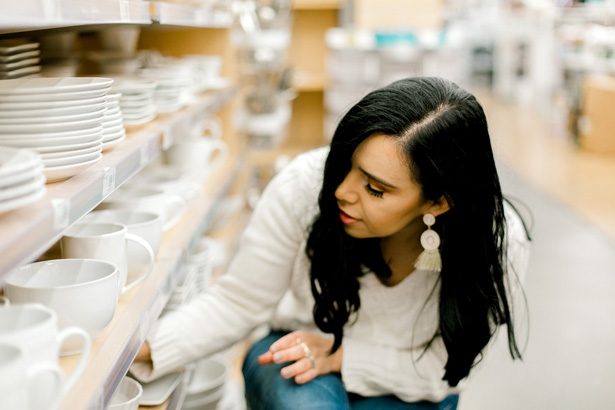 So, yes! I love the fact that Bed Bath & Beyond offers a personal experience with product experts in-store, as well as a fantastic online registry process. I highly recommend you starting by booking an appointment in-store with an expert registry consultant and then you can always add later to your registry online. While meeting with a consultant, they are able to answer all your questions, help you learn more about yourselves and she will make educated recommendations based on what has worked or not for many couples that came before you. Trust me… Bed Bath & Beyond understands married life!
Catch the video to learn more about the BBBY registry experience
Another reason why I love their registry? Bed Bath & Beyond has some exclusive brands that are simply a great fit for all wedding registries (Olivia & Oliver, Artisanal Kitchen Supply and Wamsutta). I included many of them in my registry picks. Do you want to see them?
Da da da!
My Registry Picks
I confess that we didn't register for a KitchenAid Stand Mixer when we were engaged. Big mistake. I had no idea that I'd be using as often as I am, now that I have one. I now understand why it is a popular registry favorite — It is something you may not buy for yourself because it has a higher price tag and it will last for years to come. I LOVE all the colors currently available.  The "Ocean Drive" hue is STUNNING in person, and besides being useful, it really makes for a gorgeous piece to display in your kitchen.
Love to cook and looking for some great pans? I recommend a set — you have everything you need to prepare your favorite meals and it gives your stove a cohesive look. But definitely chat with the consultant to find out which cookware set is best for YOU. I went with this Rachael Ray Cookware Set, it matches the mixer and gives a splash of color to the kitchen.
Cookware and Appliances
For your just-the-two-of-you moments, Bed Bath & Beyond has some very cute "Mr" and Mrs" pieces that are just a great addition to any registry, especially for coffee (and cake) lovers.
Mr and Mrs Pieces
One of my favorite things to register for (and the thing I most often recommend) is a great set of plates. I chose these Organic Shape Gold Appetizer Plates because can be used easily every day, or you can pair them up with some serving pieces like a vegetable bowl or a cake stand for a fancier meal.
A great set of flatware is another must. This is your chance to register for that gold flatware you've been wanting!
Dinnerware
Serveware
Table Setup
I love putting together cheese boards, so this Marble Paddle Board is a great piece to style a gorgeous display of cheese and fruits for snacking. Artisanal Kitchen Supply has the cutest marble cereal bowls that could be also used for snacks and match the board to perfection.
When setting up a table for your brunch don't forget about the details: napkin rings and placemats. I adore the Blue Agate Napkin Rings because they are an easy way to dress up a simple white napkin + they feature the turquoise tone of the mixer and cookware set for a cohesive look from kitchen to table. To continue the glammy theme on the place settings, I added some round gold placemats that fit the flatware and plates to perfection. But, do you want to know what is the secret to set a beautiful table? Smaller plates on top of larger ones create an elevated look! Feel free to mix and match, a large black plate with a small speckled gold — it looks fantastic, especially when you mix in pops of color with flowers
We hope this post helps inspire those of you starting to think about your wedding registry! And check out Bed Bath & Beyond website for Rock Your Registry events near you. At this special evening event, you can get expert registry assistance while you enjoy free food, drinks, and gifts!
Thanks so much to the following pros who make this gorgeousness possible:
Photography: Coffee Creative by Yasmin Marquez
Video: Alex Vivian Photography
Hair and Makeup: Samantha Nicole | Ur New Image
Styling: Alejandra Baca (me) for Belle The Magazine