Registering for your Big Day? So. Much. Fun. It's the big chance to fill your newlywed pad with all the fabulous things you guys need to start your lives together. And while everyone you know is giving you some well-meaning advice on what you need for your future home, I thought I'd turn to the experts at Crate and Barrel to help you build the dreamiest wish-list imaginable with all the fun things you need for the parties and get-togethers you'll host after your wedding day.
Here is our list of the wedding registry items you need to be the best host ever curated from Crate and Barrel's huge collection of trendy housewares. Why Crate and Barrel? Well, accomplishing a modern look in your house is super easy with Crate and Barrel's collection of housewares and furniture. They collaborate with talented artists, designers and artisan communities around the world to bring you authentic pieces for your newlywed nest. They're gorgeous, chic and you can't find anywhere else… Just one of the reasons why you should register at Crate and Barrel!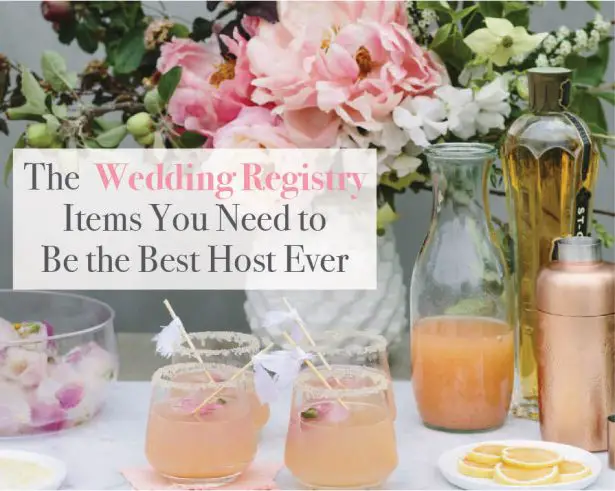 And with the warm weather making its way back into our lives, I thought I would bring inspiration to host some charming "alfresco get-togethers" with a dose of "Happy Hour". From Sunday brunch to Friday barbecues, be the perfect host with these fabulous collections.
Well, let's begin the bridal registry parade with my pretty and practical suggestions for outdoor entertaining. This Oasis inspired space will be the perfect cozy spot to throw an epic backyard bash on the weekend or to catch up with the girls during the week over some refreshing mojitos (Cuban Cocktails Book, below). Get the look with these decor pieces and serveware picks and inject major laid-back elegance into your outdoor space.
Fancy a glass of wine with your friends before heading to the dinner party or have the coworkers over to celebrate the success of your new project over some cocktails. We are showing you below how to accomplish the ultimate "Happy Hour" experience at home with prettiest essentials from Crate and Barrel. This collage includes lovely home décor pieces that you can use indoors and outdoors, some slay worthy bar accessories and a marble gaming board of Chinese Checkers that will play the role of statement/conversation piece + fun time.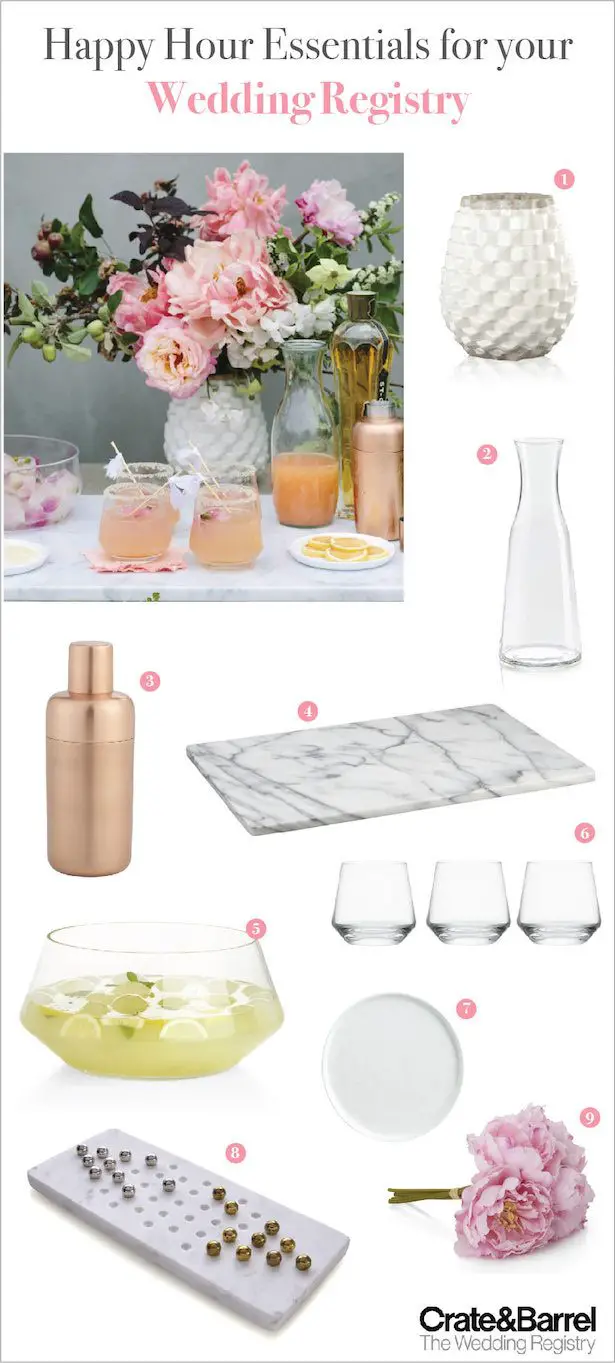 And speaking about fun moments, did you know that Crate and Barrel not only has fabulous items for your registry, but they are also putting the fun back into registering?! Yep, they have created some fab Private Registry Events that feature yummy food, delicious drinks, and industry experts that will help answer all those questions that have been floating around in your head. And, for two hours, you'll have the entire store all to you and your fiancé! Totally amazing, right?! Find a Crate and Barrel Private Registry Event near you, right here.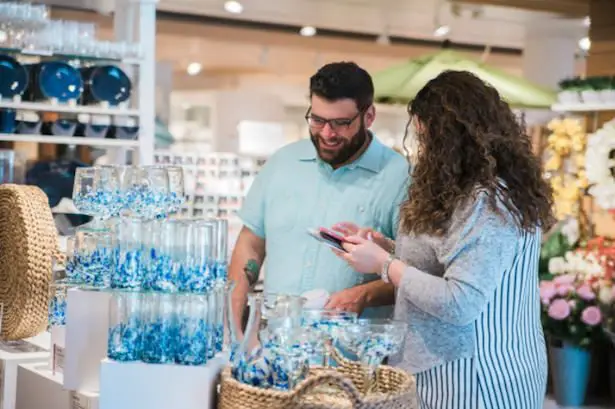 Are you ready to get your very own Crate and Barrel wedding registry? Take advantage of 10% off for 6 months after your wedding, free shipping on registry gift purchases over $99 and a special gift bag that includes two stemless wine glasses in a linen congrats bag to thank you for registering at Crate and Barrel. It doesn't get much better than that!
Head over to CrateandBarrel.com and register today!
Happy registering!
This post has been sponsored by Crate and Barrel in partnership with BrideClick, but concerns our own opinion. Thank you for supporting our partners.