Celebrity Style Destination Weddings
The perfect cure for a chilly Fall day?  Some "I do's" from Apple Vacations, a company that knows a thing or two about destination weddings. Think breathtaking ocean views, sandy beaches and a collection of tropical locales that will turn your nuptials into the best vacation you ever had. And today our good friends at Apple Vacations are introducing us to their latest and most fascinating feature yet, created by celebrity event designer Colin Cowie exclusively for their all- inclusive Hard Rock Hotels in Mexico and the Dominican Republic.
Yes my friend, now thanks to Apple Vacations you could escape to the front row of paradise and start your life together at an all-inclusive Hard Rock Hotel with decor and details hand picked by Colin Cowie – the event designer of choice for celebrities like Jennifer Aniston, Tom Cruise, Jennifer Lopez, Oprah Winfrey, and Kim Kardashian. It cannot possibly get any better!
Choose between nine unique wedding collections at an unbelievable all-inclusive price.
Complimentary Collection: Simple and elegant, the clean lines and understated grace of this package showcasing white details and settle touches of gold are the perfect complement to any destination wedding.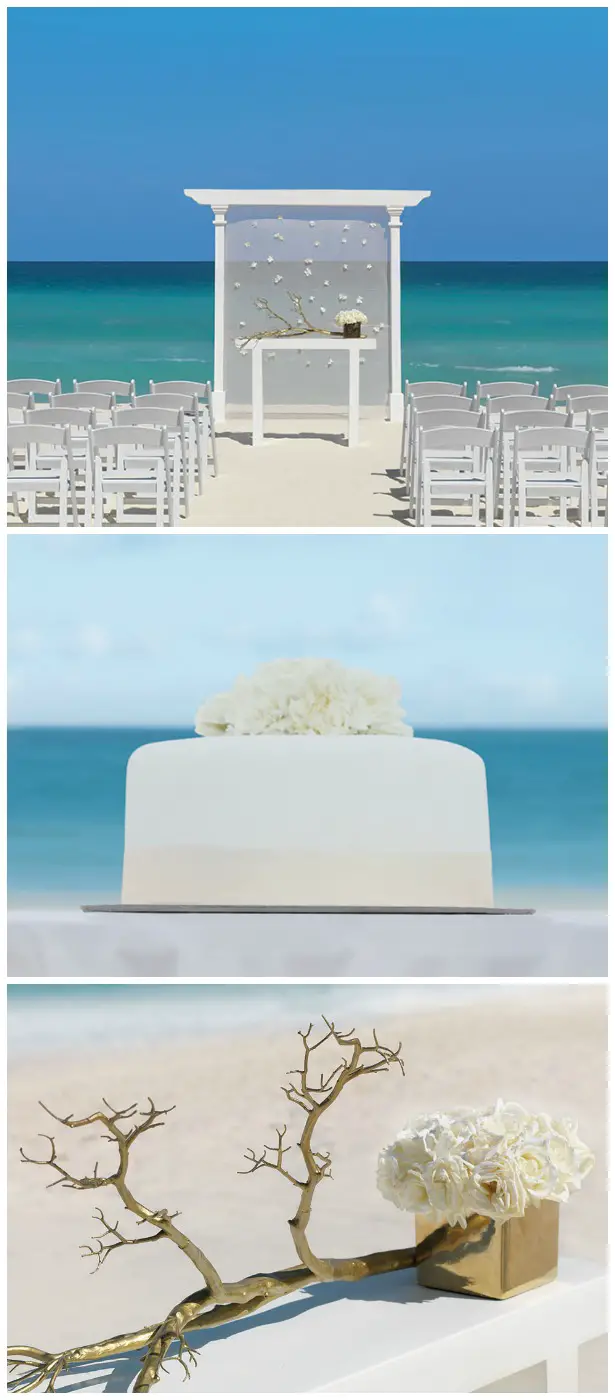 El Sol Collection: the perfect package for the bride and groom who want to make a statement. A natural sand aisle is lined with floating flowers leading to the tiki torch-lit gazebo. Bold colors sizzle in the sunset and indelibly ink your destination wedding into bright, happy memories.
Elegant Ivory Collection: Oh so elegant! This destination wedding collection surrounds you and your guests in varying shades of white, off-white, ivory, and everything in between. Subtle floral hues and a shimmering translucent background add the finishing touches to your flawless beach ceremony.
Insignia Collection: Are you into contemporary? Find your perfect match in this package. As deep and rich as the big blue sea just beyond the gentle crash of the waves, this collection features navy highlights with a sophisticated white finish. A blue and white floral arrangement hangs from the arch — a picture-perfect end to your destination wedding in Mexico or the Dominican Republic.
Metallic Dunes Collection: Golden tones line the aisle that leads to the classic seashell draped gazebo. Statuesque decorative pillars flank your entrance and draw the eye to your big walk down the sandy aisle.
Purple Shimmer: Silver seating and dangling flowers bank the purple aisle that leads to your future wedded bliss. A glistening cascade of beads ensconces you as you exchange vows and begin your new life together.
Rocker Chic: This destination wedding collection plays with expectations in black and white patterned accents, and just a hint of color that makes the whole setting pop. Your hip look just met its match.
Seaglass Collection: Unique patterned seating follows the undulating path to the gazebo where you will take center stage. Geometric vases hang from newel posts and the archway, setting a lively tone to your destination wedding in Mexico or the Dominican Republic.
White Rosette Collection: You will feel like a fairy tale couple surrounded by the stately pedestals and white floral arrangements. The hush of the ocean is the perfect, pure soundtrack for this pristine, floral destination wedding celebration.

So what are you waiting for?!  Turn your special day into a lavish ultra-stylish event for all your guests to enjoy. Head to Apple Vacations website, your one-stop shop for planning the wedding of your dreams! Whether you choose Cancun or Punta Cana, Apple Vacations will take care of your travel arrangements, and will put you in touch with an experienced wedding planner to coordinate the day of your dreams. From legal requirements, to great ways to save and even a bridal registry, they take care of it all!
And if none of these 9 packages from the all-inclusive Hard Rock Hotels aren't for you, don't worry about it. Apple Vacations has a marvelous collection of the most romantic hotels for weddings throughout Mexico, the Caribbean and Central America, plus affordable weddings on beautiful beach settings throughout the Hawaiian Islands. With Apple Vacation's Group-Ease program you could enjoy great discounts for groups as small as ten guests! And if you book 10 or more rooms you'll get airfare credits on exclusive vacation flights and a free hotel stay. Yes, please!
So say goodbye to that pumpkin spice latte, loves… and hello to a tall glass of lemonade with your toes in the sand. And Say "I do" in style with the ultimate destination wedding trio (Apple Vacations, all-inclusiveHard Rock Hotels and Colin Cowie) that will turn your big day into a fabulous seaside affair!
This post has been sponsored by Apple Vacations in partnership with BrideClick, but concerns our own opinion. Thank you for supporting our partners.