Pretty doesn't even begin to describe what you're about to feast your eyes on, my dears. When we talk about weddings being all about the details here at Belle The Magazine, we mean it wholeheartedly! From the dresses to the flowers to the paper goods, you simply don't want to miss a thing. Whether they're Save-the-Dates or matching address labels to get your guest excited about your big day…nothing feels sweeter than finding designs that you absolutely love! So we've teamed up with an awesome group of vendors to create an inspiration shoot to show you how the right combination of pretty paper details and decor elements can help you make your wedding your own. And oh-boy did we deliver!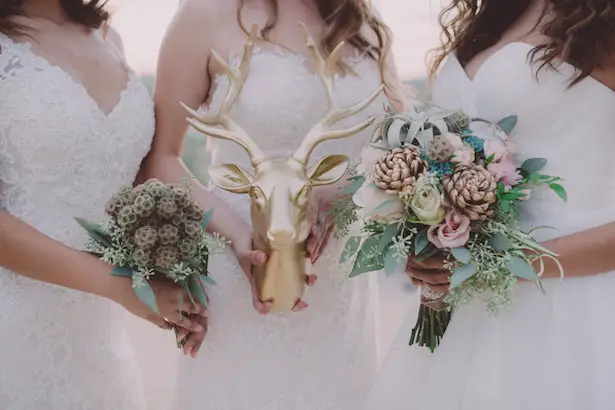 With beautiful blooms, and a tabletop design that will surely make you swoon, this styled soiree truly has it all! With photography by Cristina Navarro and design by Belle The Magazine, it's a the perfect mix of woodsy romance, and boho-chic styling—and the floral design by Fiori The Flower Studio is absolutely inspiring.
For your wedding, it's important that you choose stationery that you absolutely love! Still on the hunt for the perfect wedding invitations? Please tell me that you've heard of my friends over at Shutterfly. With a countless range of design choices that are super easy to personalize and an easy-to-use creation path, you're sure to fulfill all your wedding stationery needs in one place with Shutterfly. See how we paired up with Shutterfly and thanks to their lovely designs this styled photo shoot was taken to whole new level of beauty.
For the photo shoot I wanted to create something with a bohemian feeling, yet showcase our signature hint of glamour; so I went with the breath-taking Forever In Love suite from Shutterfly. The watercolor effect in tones of teal, turquoise and green match greenery and soft rustic elements in a beautiful and organic way, while the gold hues on the lettering allow for a modern touch of elegance and a more upscale vibe. Like every suite from Shutterfly, Forever In Love is a really comprehensive collection of gorgeous paper elements that will help couples carry their design and colors across every detail of their wedding day; from your Wedding Invite and RSVP cards to your 'Thank You' cards.
The result blew my mind! Everything, and I mean EVERYTHING, turned out perfectly. Fiori the Flower Studio blew it out of the water (as always) with the most perfect centerpieces, stunning bouquets and darling floral crowns. We borrowed a few gorgeous gowns and bridal accessories from Ella Blu and headed over to the picturesque Ardovino's Desert Crossing in Sunland Park, New Mexico.  My friend Anna Cecchi Smith helped us out with great hair and make-up for our 3 brides. And lastly, Cristina Navarro just did such an amazing job capturing the beauty from every element… I'm so proud of having this group of talented local vendors as part of this experience.
Since the gorgeous Forever In Love  invites from Shutterfly served as the main inspiration for these pics, allow me to suggest that if you are still on the hunt for the perfect wedding stationery, Shutterfly has a collection that is sure to impress. Ordering the paper products for this styled shoot was as easy as personalizing them. And I love their competitive prices and complementary designs on the back of the card.
And for those of you who would like to send out wedding invites that are extra personal, Shutterfly has so many creative options and ways to use your photos and show you off as a couple, in a style that speaks to who you are. I never knew that you could use Shutterfly to celebrate the big day in such a special way.  Would you like to see and feel a few wedding invite options before jumping into full shopping mode? Shutterfly gives you up to 5 free totally custom samples (use promo code 5WEDINVITES) to compare against your decorative elements and make sure every detail is the perfect fit.
I hope you all enjoy this Bohemian-Chic Wedding Shoot as much as we all enjoyed putting it together and seeing it come to life. Hope it inspires you today! And don't forget to head to Shutterfly's website to find the style for your wedding story come to life.
VENDORS
Photography: Cristina Navarro // Paper Goods:  Forever In Love Suite // Location: Ardovino's Desert Crossing // Event Design: Fiori the Flower Studio // Wedding Dress: Ella Blu // Hair + Make-up: Anna Cecchi Smith // Models: Kendra Vigil, Crystal Puebla  and Iliana Curiel // Concept + Creative Direction: Alejandra Baca – Belle The Magazine
This post has been sponsored by
Shutterfly
in partnership with BrideClick, but concerns our own opinion. Thank you for supporting our partners.