If you're getting married soon and still on the hunt for the perfect dress, why not wear a timeless and beautiful dress? Floral dresses are a popular choice among brides for their feminine charm and playful elegance. They're perfect for outdoor, garden, or beach weddings. Whether your style is bohemian, vintage, or modern, you can never go wrong with a floral dress. In this blog post, we'll explore the different types of floral dresses, styling tips, and where to find them. So, let's get started!
Different Types of Floral Dresses
Floral dresses come in different styles and designs, so you can easily find one that suits your taste and body type. Some of the most popular types of floral dresses are: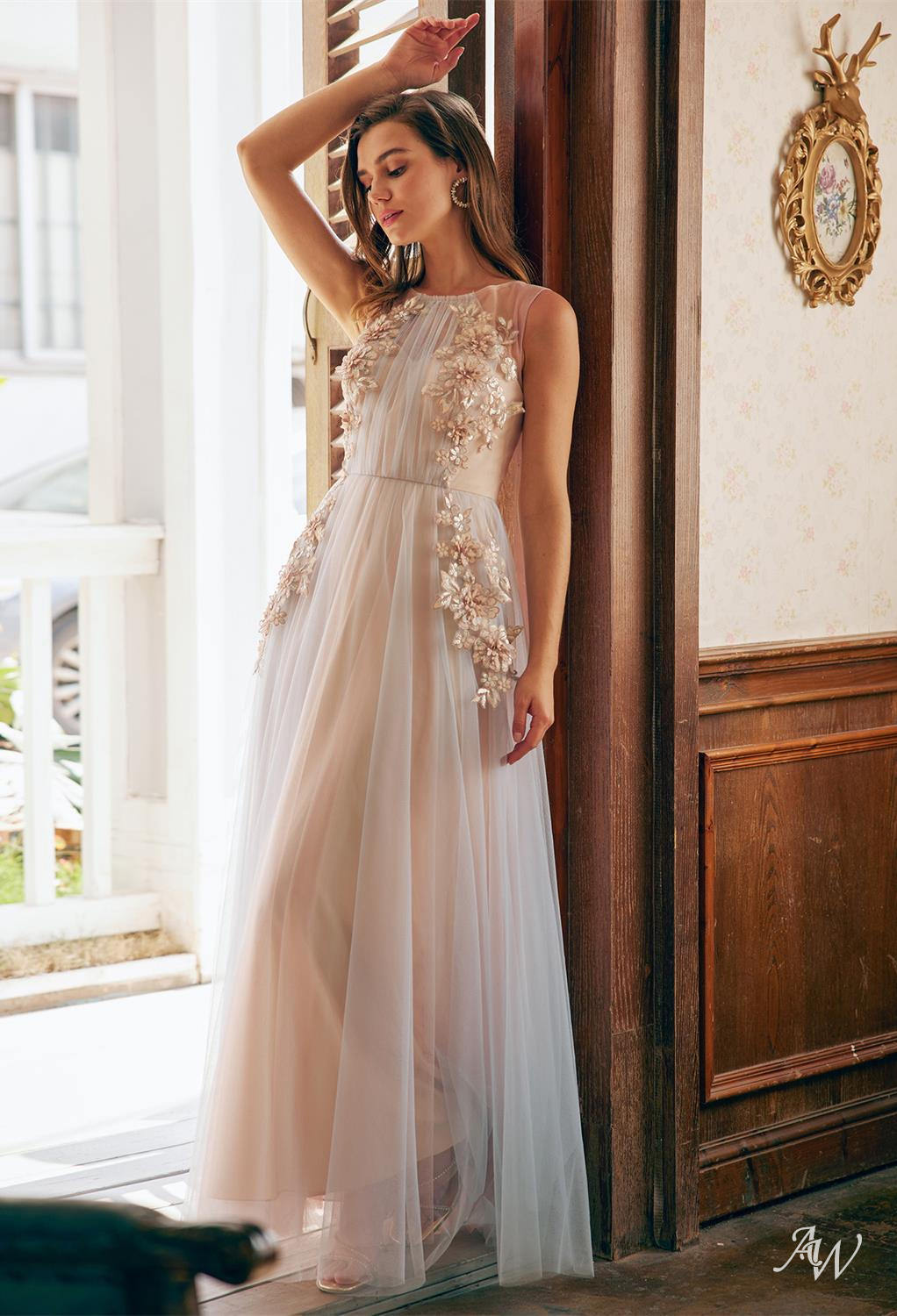 MAXI DRESSES
Flowy and long, these dresses are perfect for outdoor weddings. They're comfortable and elegant and look great with sandals or flats.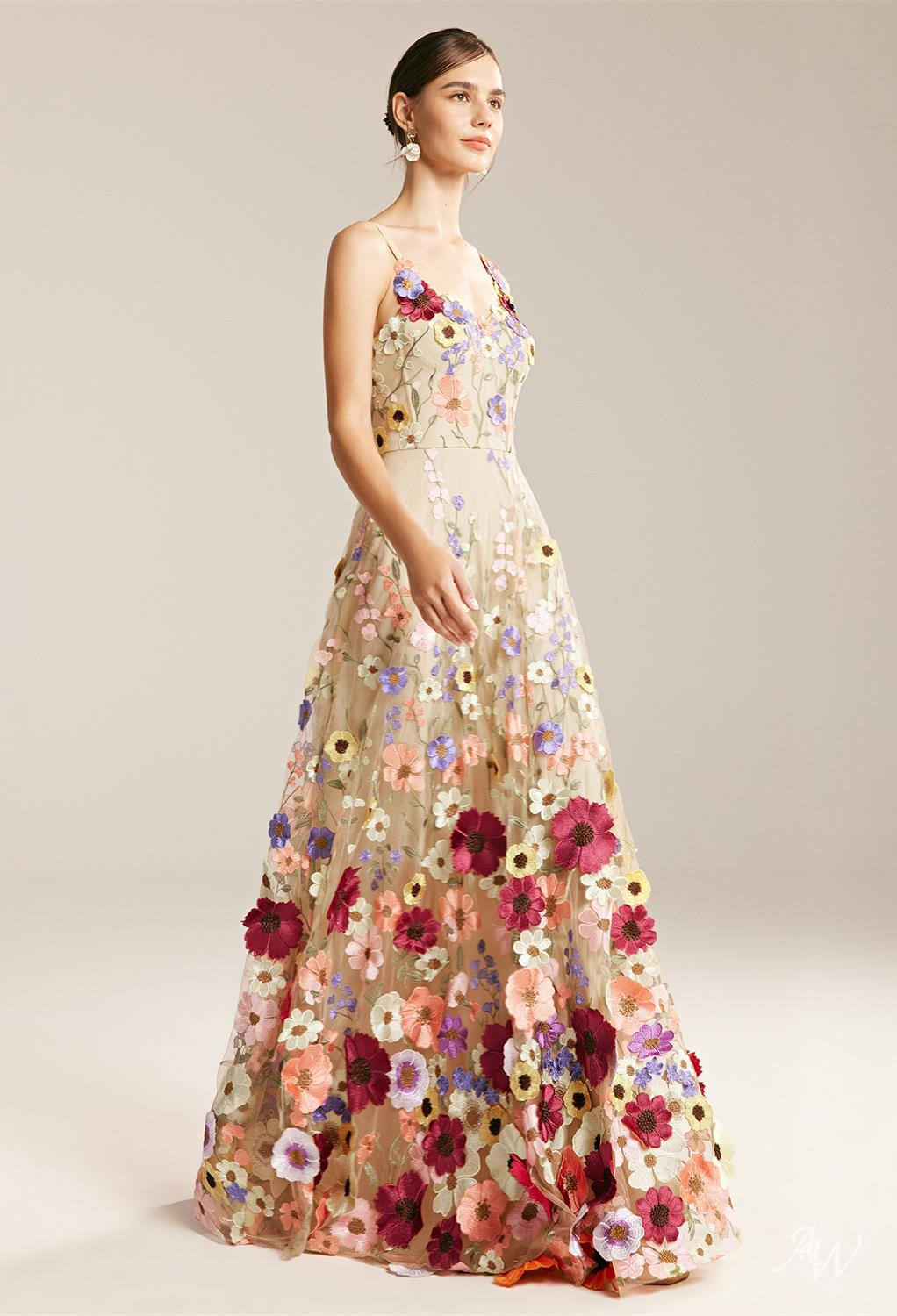 A-LINE DRESSES
These dresses are fitted at the waist and flare out gradually to the hemline. They're a classic silhouette that flatters most body types.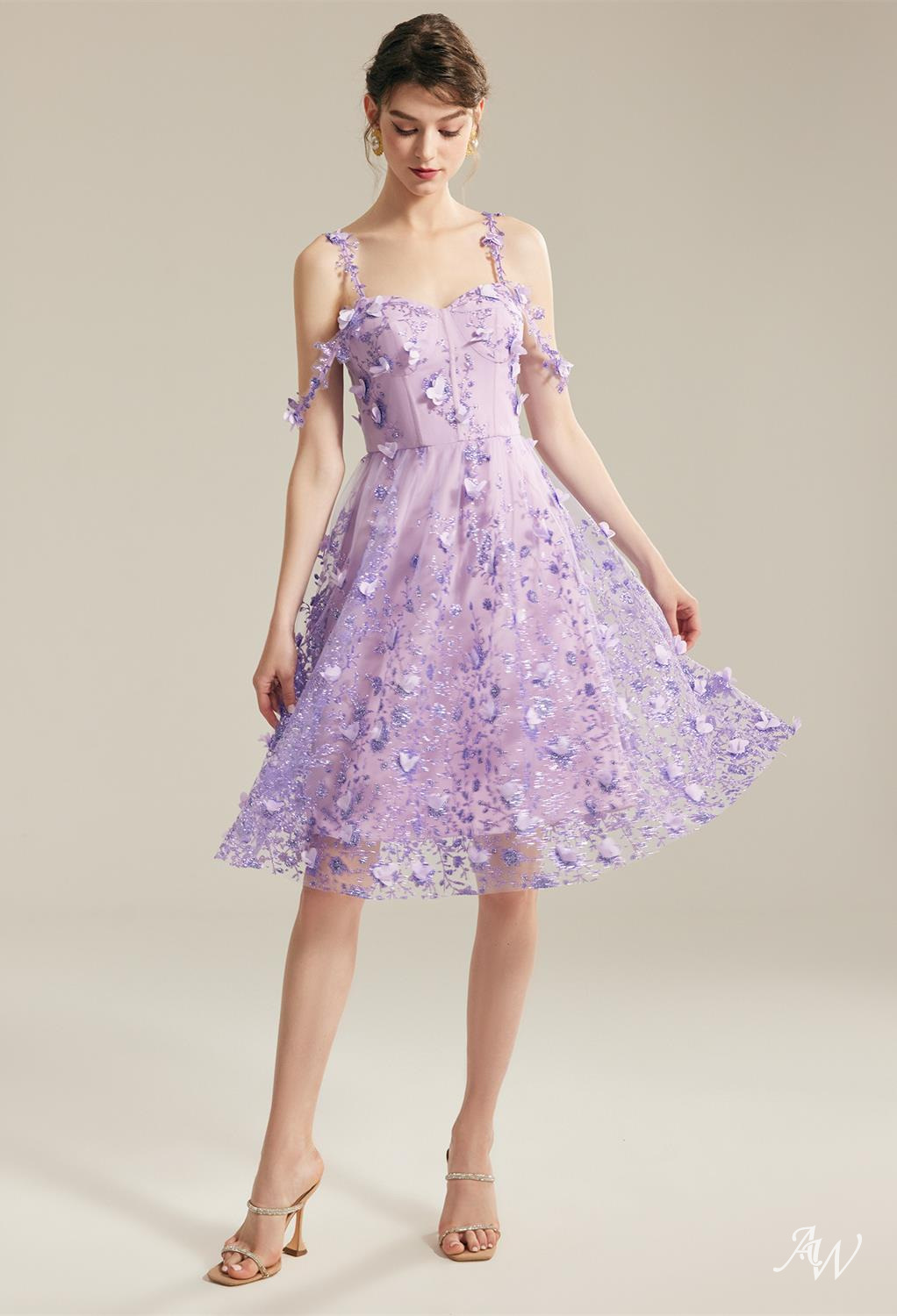 SHORT DRESSES
Short dresses are perfect for more formal or indoor weddings. They're flirty, fun and can be easily accessorized with a pair of heels or boots.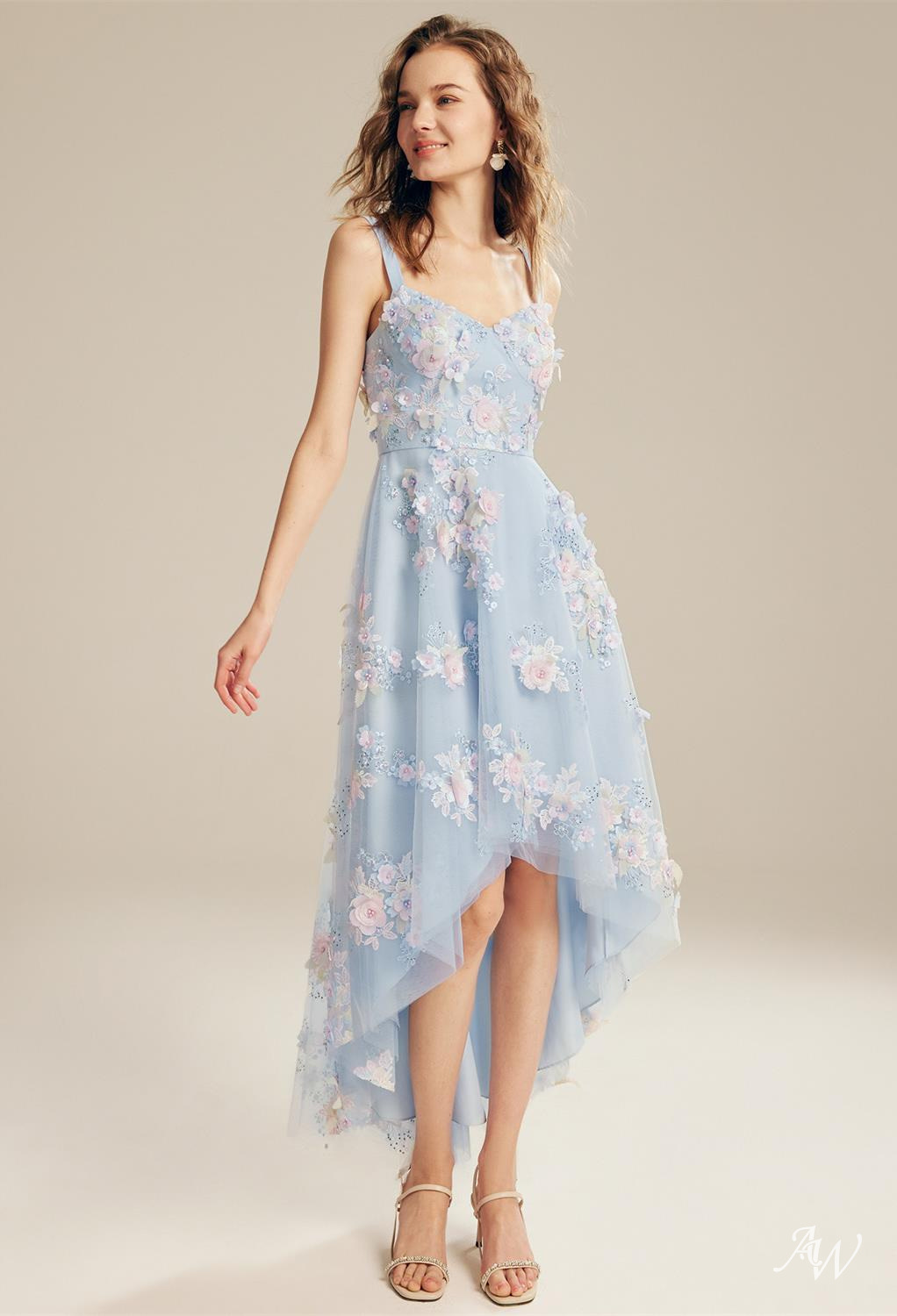 HIGH-LOW DRESSES
These dresses have a shorter front hemline and a longer back hemline, giving them a playful and romantic look. They're perfect for beach weddings and outdoor receptions.
Why You Should Wear a Floral Dress
Floral dresses are great for many occasions surrounding your wedding day, from your engagement party and bridal showers to your wedding day and after parties. They are a great alternative for a wedding day second look and make a gorgeous option for bridesmaid dresses.
Floral dresses can add that pop of color you were looking for on your bridal enable and are a perfect fit for spring celebrations. From black dresses with colorful flowers to monochromatic pastel choices, there is a dress for you at AW Bridal.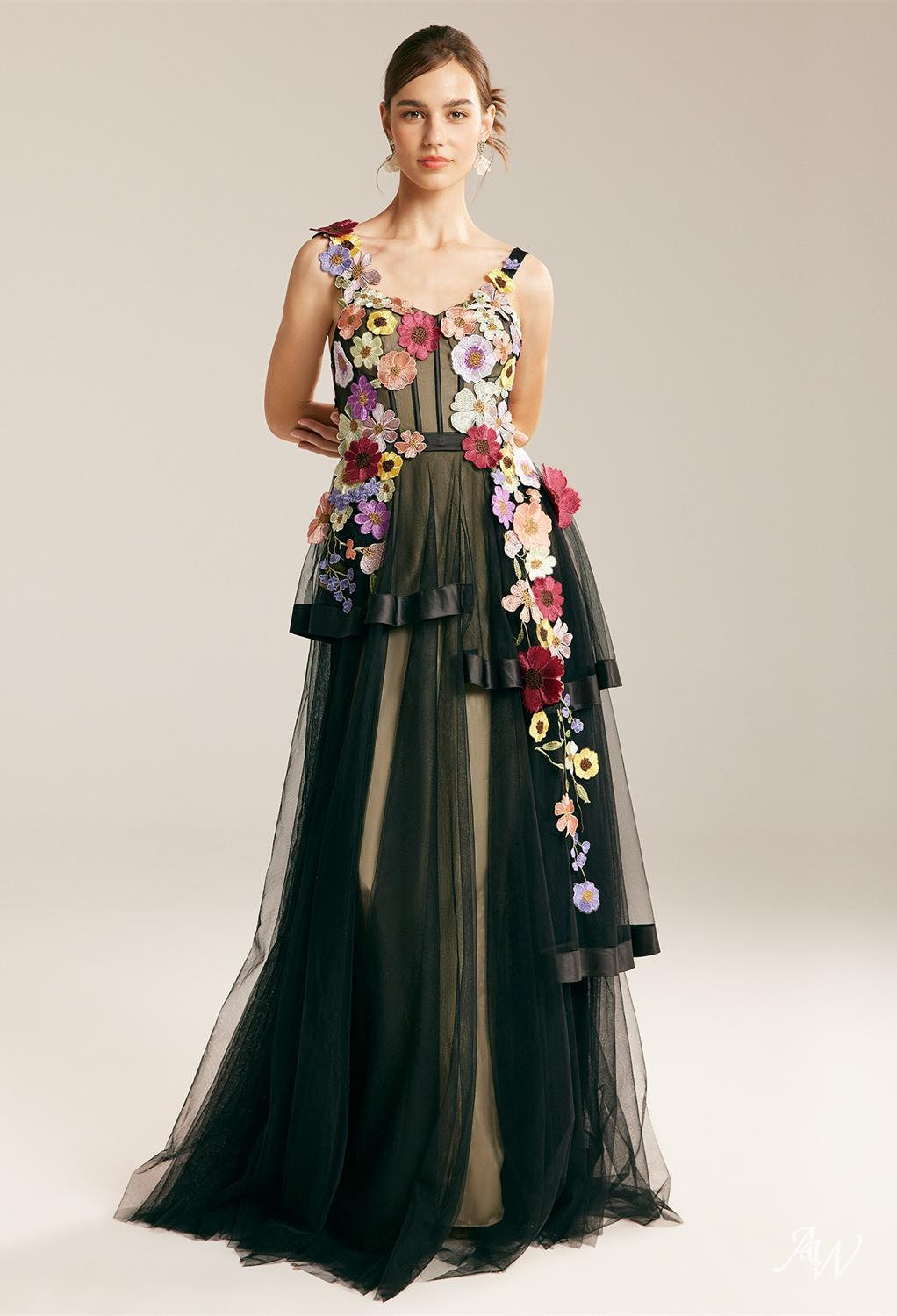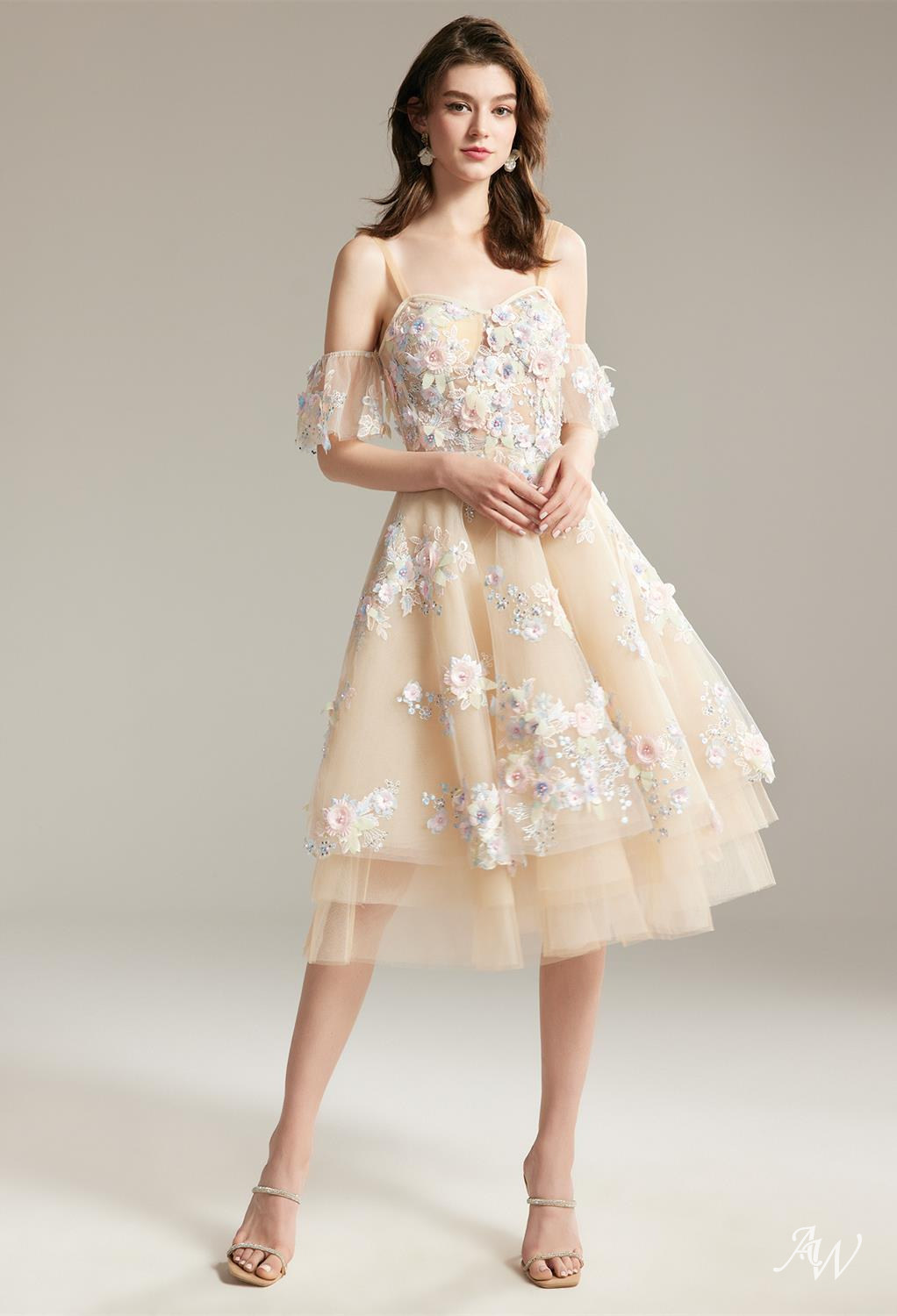 Styling Tips for Floral Dresses
When it comes to accessorizing floral dresses, less is more. Let the dress be the main focus of your outfit, and keep the accessories simple and delicate. Some styling tips to keep in mind are:
Choose delicate jewelry that complements the dress, such as stud earrings, a thin necklace, or a bracelet.
Avoid chunky or statement pieces that can overwhelm the dress and make the outfit look too busy.
Opt for shoes that are comfortable and stylish, such as straps sandals or low-heeled pumps. If you're having an outdoor wedding, consider wearing flats or wedges to prevent sinking in the grass.
Add a simple clutch or handbag that complements the dress's color and design. You don't want to carry something that clashes with your outfit.
In conclusion, floral dresses are a timeless and beautiful choice for brides who want to look feminine and elegant on their wedding day. Whether your style is bohemian, vintage, or modern, you can easily find a floral dress that suits your taste and body type. Remember to keep the accessories simple and let the dress be the main focus of your outfit.
Check out AW Bridal to find your dream floral dress and embrace the beauty and romance of nature on your special day!
This post is sponsored by AW Bridal but concerns our own opinions. Thank you for supporting our partners!