Glamorous and Dramatic Bridal Looks
Let's take a look at a hot topic sparkle wedding dresses, created with love and inspired by brides themselves; Olivia Bottega is here at your service. These girls create miracles with their fashionable designs, best quality fabrics and a true inspiration from love. Here you will find affordable dresses, made by leading fabric producers in the world, bridesmaid dresses options, formal dresses, even flower girl dresses and wedding accessories, as well as detachable parts for different dresses to your party look. 
These amazingly sparkling bridal gowns will make your heart tremble with romantic vibes and will take you on a very beautiful journey where all the dreams come true. Thi fresh collection of never-out-of-style classics is going to be a great choice to celebrate your love story. Customize the dress of your dreams, or get the one that's already perfect. Get the plus-size version of any dress and do not pay extra for it. Sounds amazing, doesn't it? 
Below you will find the most ravishing and inspiring, sexy and daring bridal looks for your special day. Do you love sparkles through every circumstance possible? Then, tese marvelously glamorous and truly charming dresses are for you. Sit back and relax as you take a walk on the most beautiful side of sparkle wedding dresses. 
A sparkling wedding dress on spaghetti straps will brighten up your wedding gathering to a new level, gently accentuating your feminine figure and that fire in your eyes. A tulle skirt and a skin-tight top will make it hard to get anyone's eyes off you.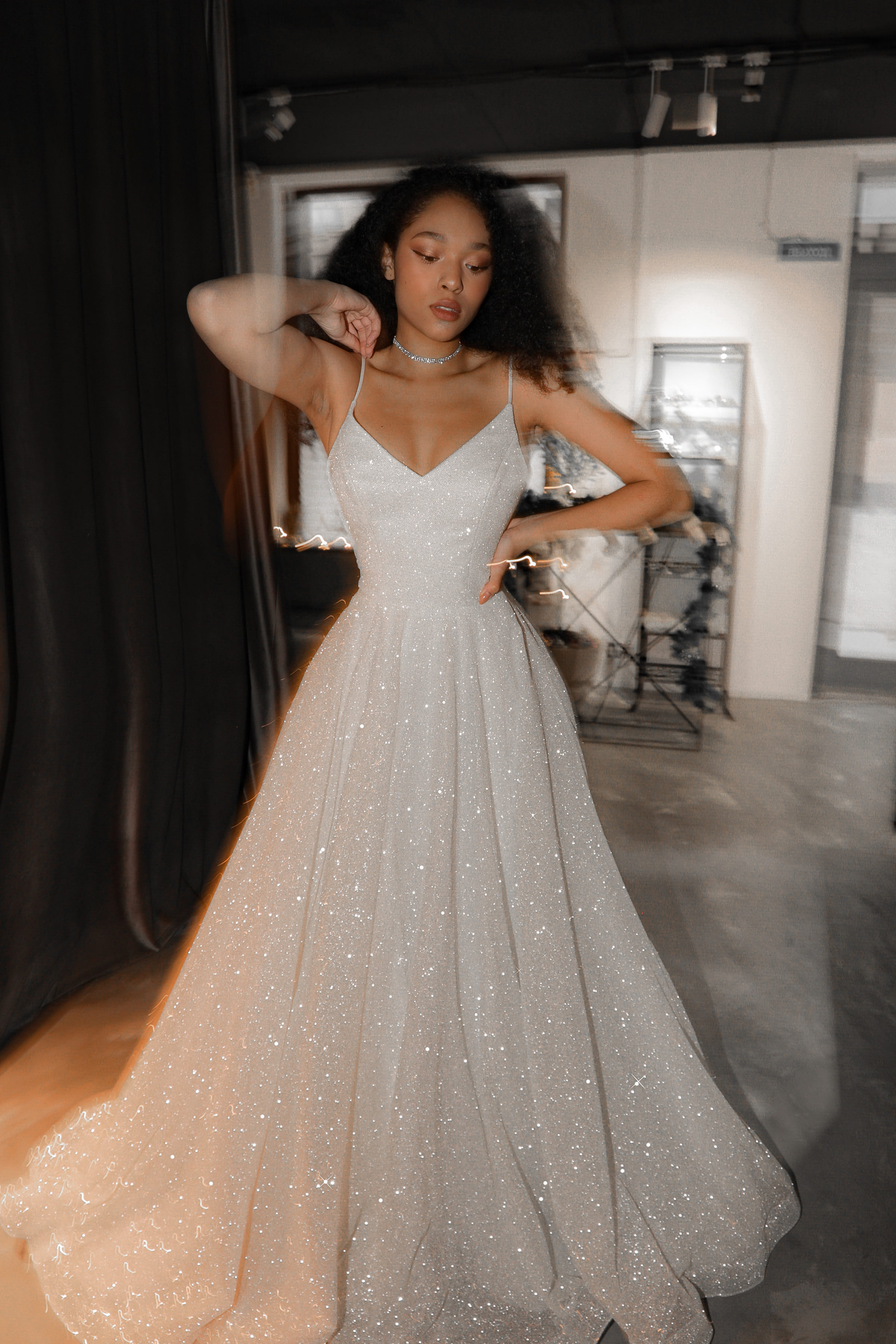 The Meryem dress looks truly royal and is worthy of being worn by the most glorious bride there is. An off-the-shoulder neckline, an ultra lush skirt, an extra long train and sparkly 3d applique of beads and sequins will make you shine during your ceremony and reception. 
Charming and elegant, sheath midi dress for the silver screen queen will definitely find its owner among luxurious and brave brides. Off-the-shoulder straps, straight across the top with draped layout, sexy front leg slit and the cutest bow on the back ever, is there anything you have seen more sophisticated in this life?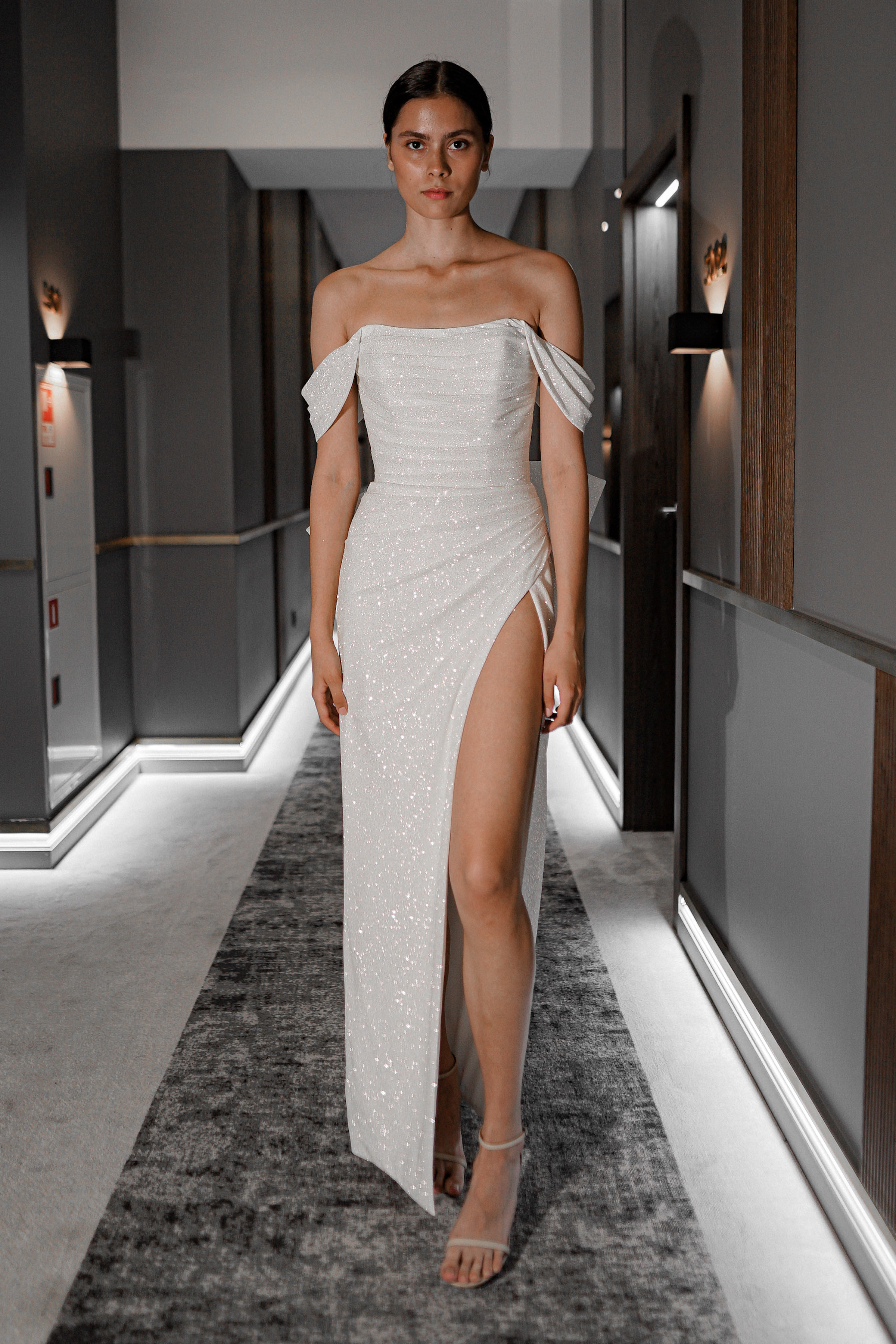 Wedding dress Enn is made for the modest and stylish bride! A sleeveless, plunging neckline is met by flowery lace applique all over the waistline and the chest area that gently cascades into a glittery soft shade skirt. A pleated skirt and an open back with illusion tulle and a button line bring the wow -factor to this perfectly romantic gown.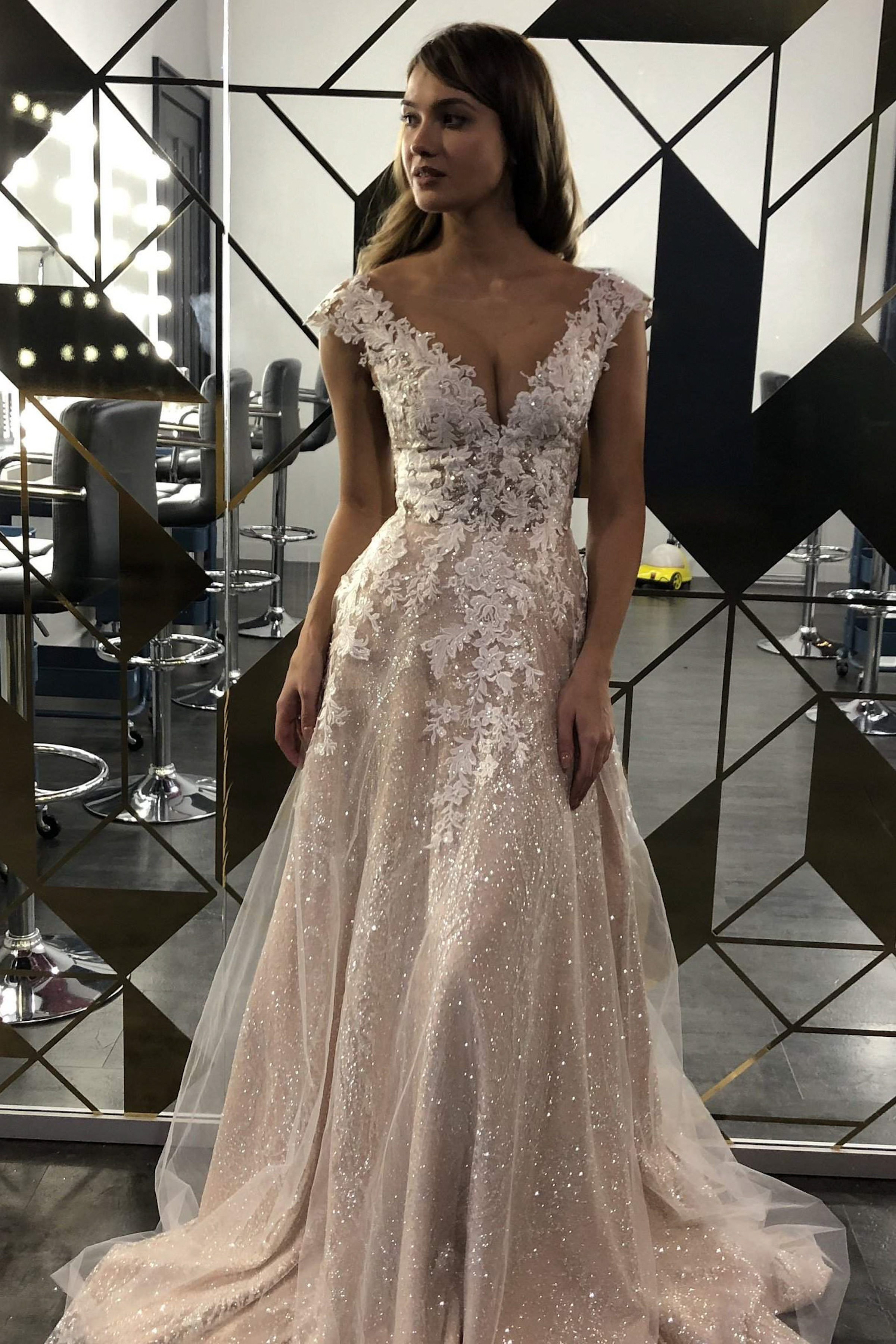 A shimmering dress that was made to impress! Melanie will be a great choice for every season. The off-the-shoulder neckline, twisted around the waist, charming and elegant a-line silhouette and of course, marvelous sparkling from a dip into pixie dust. This dress isn't made to impress, no, this dress is made to take it all and conquer the world. 
Front leg slits are always a great idea to make your wedding look unforgettable; Bree dress will do this job in the easiest way! Spaghetti straps give the v-neck cutout look a sexy touch, revealing the shoulders and collarbones. The sparkling fabric is very comfortable and nice to your body… so stunning!
The Miranda dress by Olivia Bottega dress is for brides who appreciate romantic vibes and wish to enter the realm of eternal love. It features long sleeves made of see-through sparkly tulle, a V-neckline and a dense sparkly corset. With an airy skirt with a front leg slit and a charming beady silver waistline belt, this dress is so beautiful that it will turn heads at every pass.
As we mentioned above, plus-size dresses are always an option at Olivia Bottega. The Elise dress will charm you with its flowery lace all over the bodice, its off-the-shoulder straps, and a sparkly skirt in midi length. This dress will transform you into a beautiful swan and will make you feel like you're on cloud nine once you put it on and feel the luxurious touch of the softest fabric. 
A bride wearing the Ella dress is definitely deserving to be put on every fashion magazine cover. Long bishop transparent sleeves, sexy plunging neckline, open back and fully sparkly are just a few of the features of this fashion-forward style. Add a long train to the look, and voila, you look gorgeous!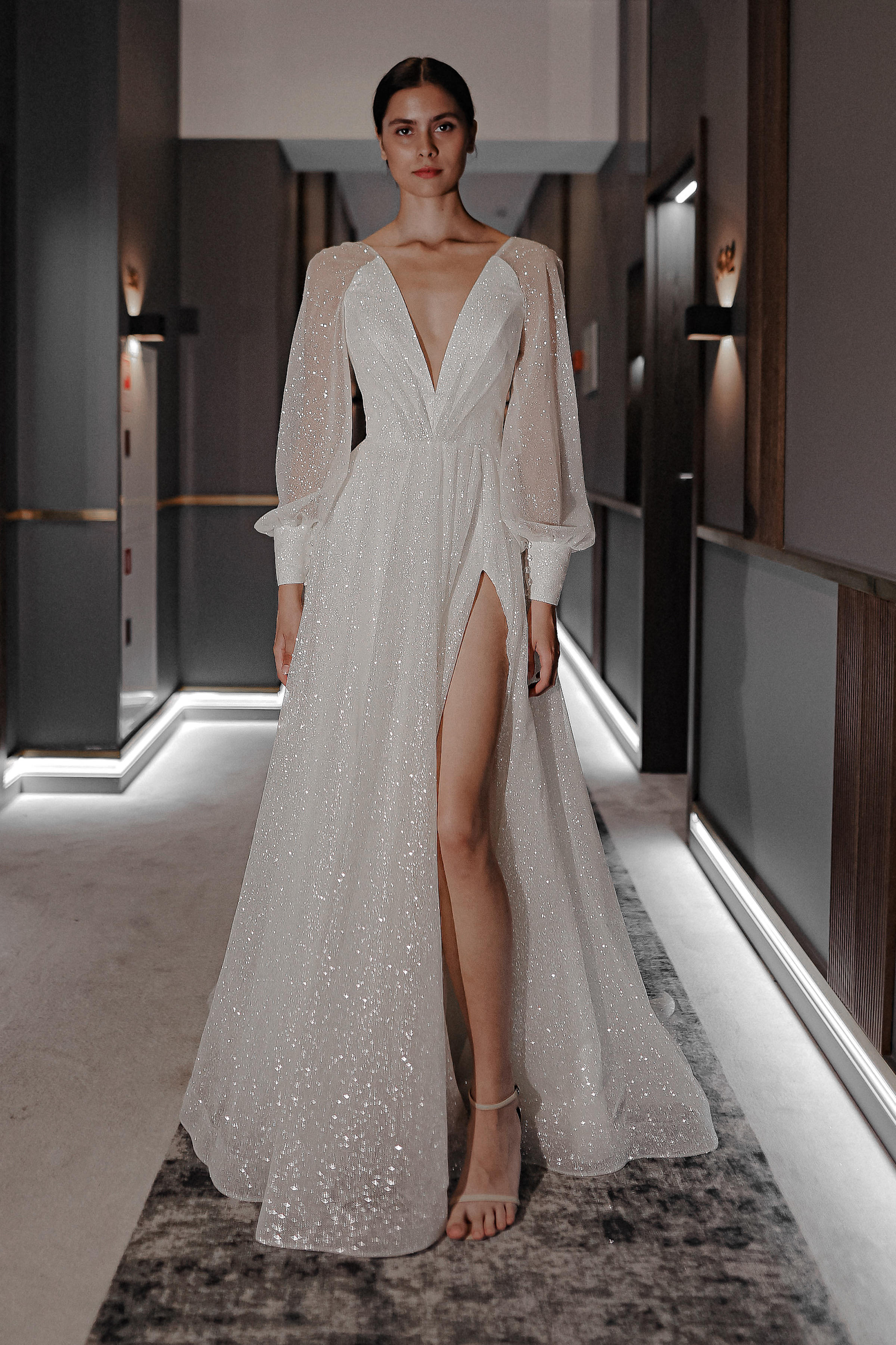 A sparkly midi dress that will definitely make you look cute and super feminine on your wedding day. Showcasing a plunging neckline, diamond crust glitters all over, long sleeves and a puffy skirt, this dress can't get any better!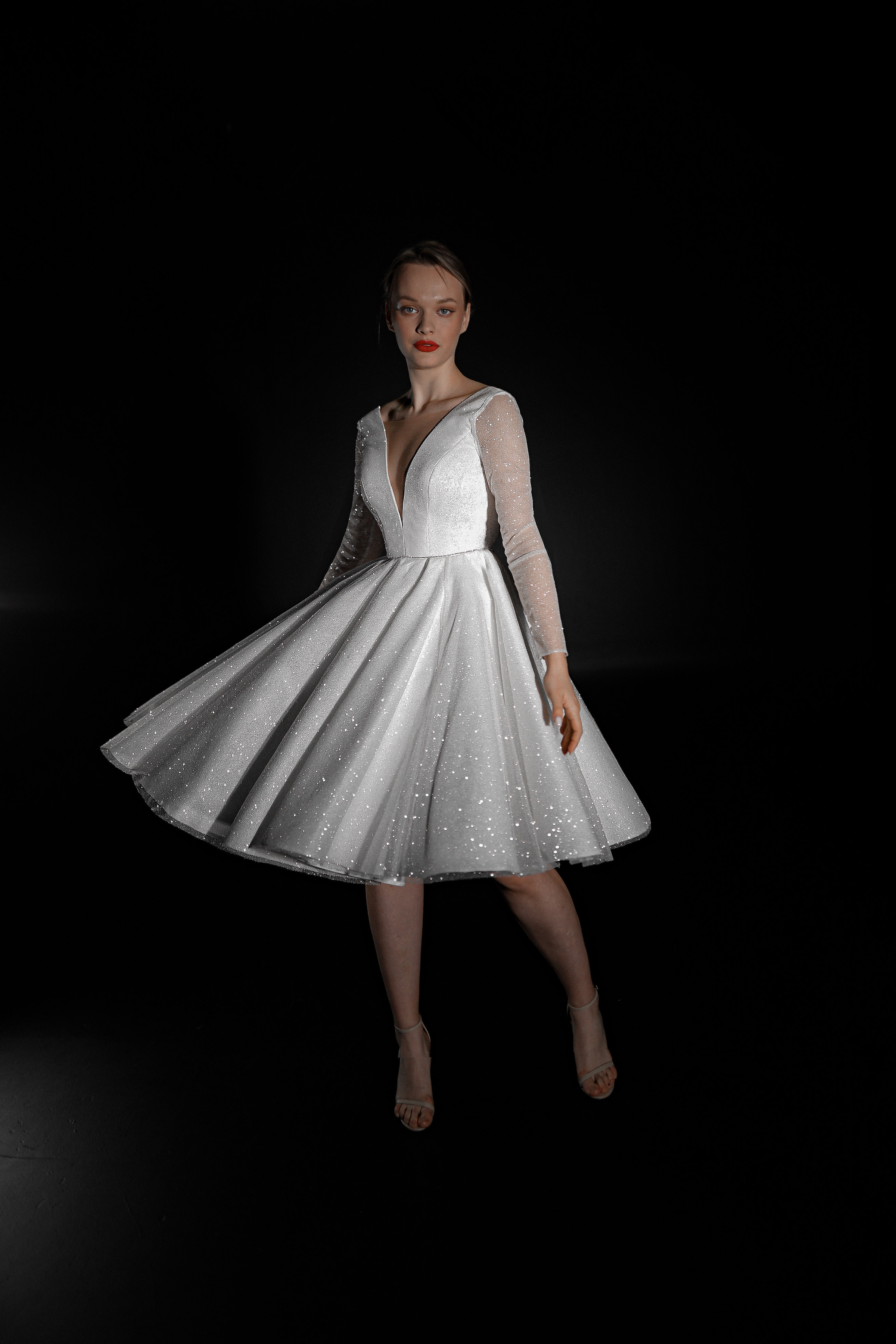 Coral is a charming, unique and inspiring wedding dress for the out-of-the-box bride. The corset is reminiscent of a sea siren motif, and it gently cascades into a floor-length sparkly skirt. This dress will charm you and everyone around you with its beauty.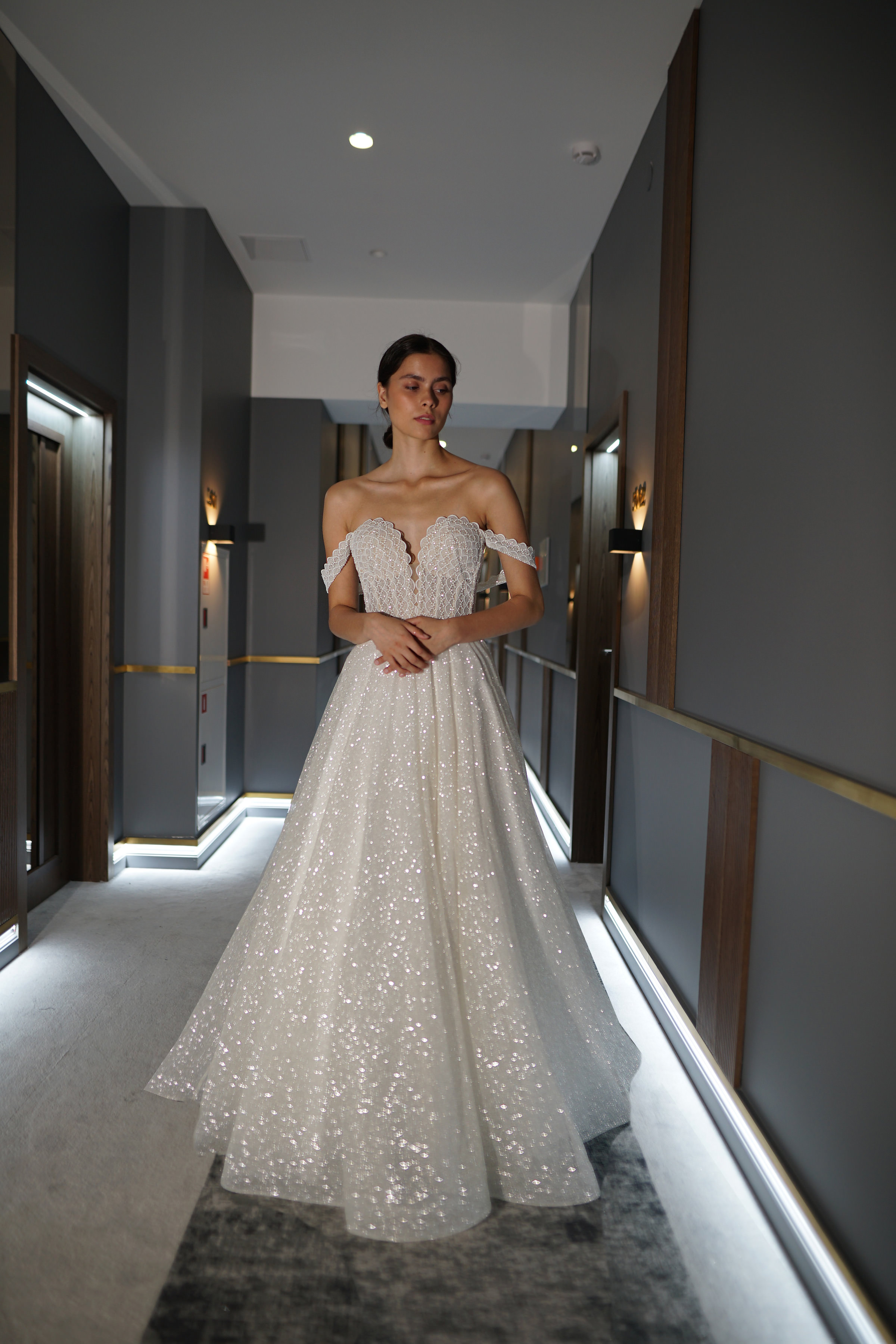 Mini dresses are a unique work of art when it comes to bridal gowns. Milana with thick off-the-shoulder straps and puffy skirt will stun you with the way it shines under the flashlights, while it adds cheeky vibes to your wedding with its semi-sweetheart corset and a square cutout on the back.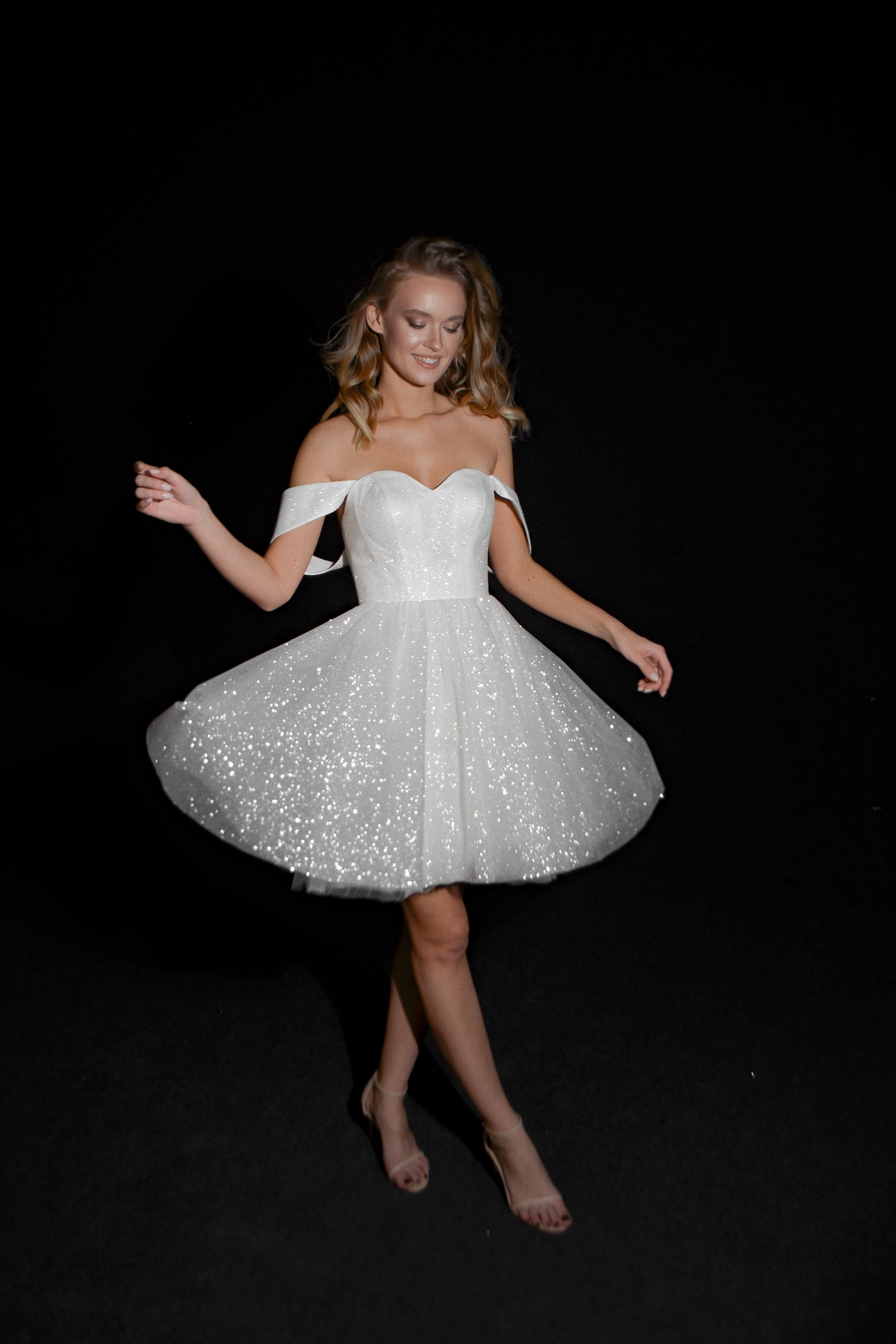 Royally gorgeous, Batist is an elegant wedding dress with long sleeves and sparkly murals all around. A mosaic is placed into an illusion tulle corset and sleeves, creating a bare-skin effect with light-reflecting beads and beautiful 3d applique. This regal ball gown will absolutely sparkle up even the darkest corner of any room you walk into.
When it comes to sparkle wedding dresses, choosing a sheath silhouette will create the most perfect body line, and it will bring all the attention to your hourglass shape. This dress leaves no choice but to be worn with your head held high! An off-the-shoulder top and a very beautiful and subtle train are dancing magically with the sparkly fabric for an uber-romantic feel.  
A beautiful and unique way to celebrate your love story is with a stunning and sexy mini-wedding dress like Rakel. The corset with transparent decoration around ther waist, spaghetti straps and playful skirt will absolutely make you wanna dance all night long. And, of course, it will make your beloved feel proud of what kind of a rare gem they have chosen to be by their side forever and ever.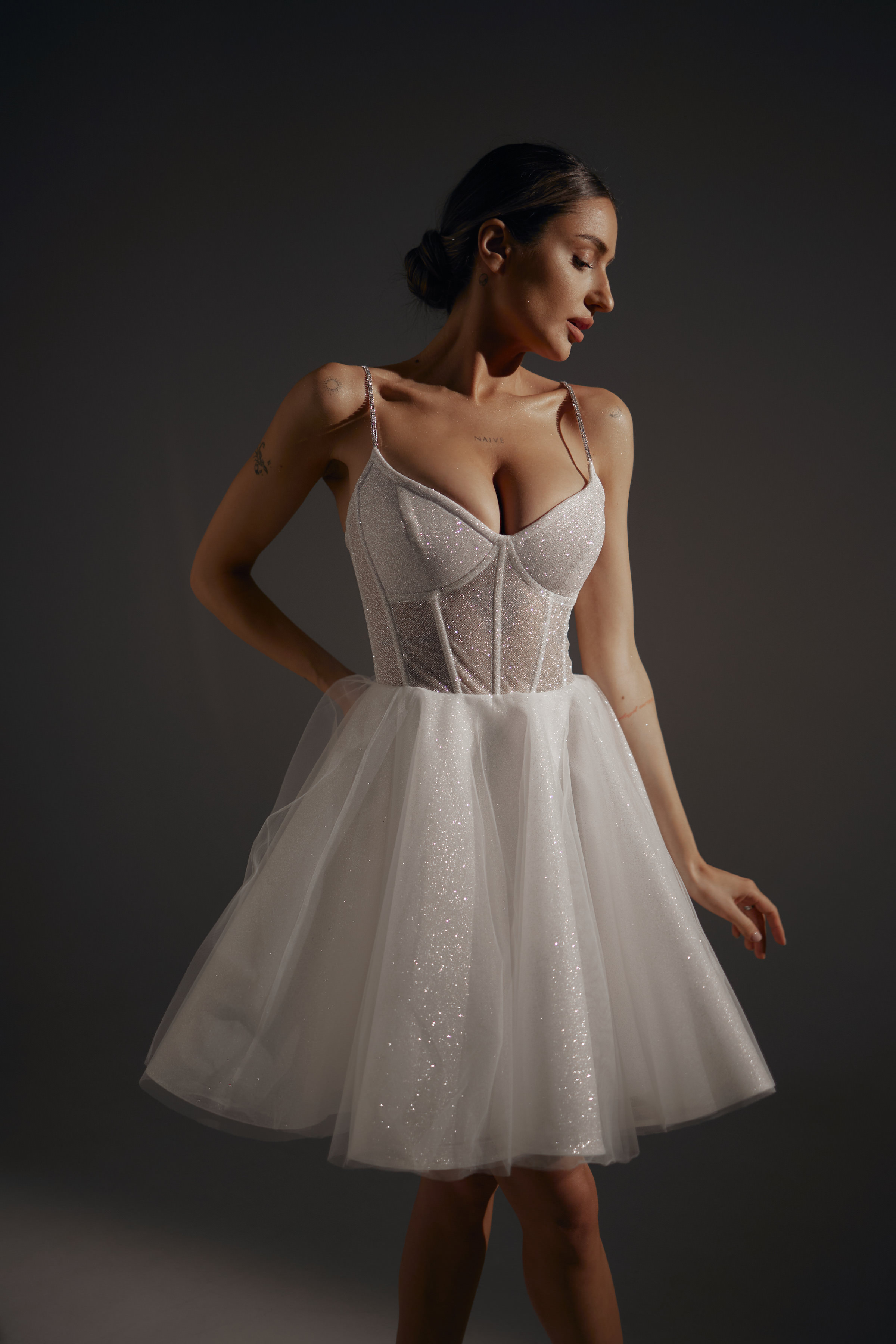 We hope you find some inspiration for your wedding day look in this gorgeous collection of sparkle wedding dresses by Olivia Bottega!
This post is sponsored by Olivia Bottega but concerns our own opinions. Thank you for supporting our partners!