As much as I love a pretty bridal gown, I have to admit getting married wearing a white lace dress isn't for everyone. Nowadays, brides are looking for a unique wedding day outfit that truly reflects their personalities and sense of style. That is why I am super excited about the partnership of two of our favorite brands, The Black Tux and BHLDN, who got together to create the chicest of women's tuxedos specially designed for fashion-forward brides to tie the knot.
Why did The Black Tux partner with BHLDN?
The Black Tux and BHLDN are two companies who share a mission: bringing modern, personal, and out-of-the-box garments for your life's biggest events. BHLDN strives to dress every bride—especially those looking for something a bit different, while The Black Tux believes well-made, carefully designed tuxedos should be accessible to everyone. So it comes as no surprise that these two wedding fashion gurus wanted to collaborate on a cool alternative for the unconventional bride.
Drawing from their expertise in menswear, The Black Tux designed a modern, feminine tuxedo inspired by the classic black tie style that brides can now purchase exclusively at BHLDN.
The Perfect Women's Tux!
To provide a flexible fit that adjusts to a woman's body, The Black Tux tweaked their fine wool to achieve the perfect amount of stretch in the fabric. In design, they restructured the jacket to soften the shoulder and silhouette, and simplify the interior. To give the pant its cozy, yet silken feel, they introduced full lining. The result is a classically-styled tuxedo that will look and feel great.
Styling Choices for Life
From Marlene Dietrich to Ellen DeGeneres, there is a long history of fabulous women in tuxedos—some simple and chic, some glamorous and sophisticated, all owning it.
So my favorite part of The Black Tux x BHLDN Women's Tuxedo is the endless styling choices. Throw on a pair of loafers, a bow tie and a white collar shirt for dapper fashion statements. Or get a lace crop top and a fabulous pair of heels for a feminine approach. Looking for a glamorous look? A red lip and a pair of statement earrings may do the trick. Should I keep on going?! I am telling you… the brand new women's tux is like a blank canvas to create a wedding day look that fits your style and fashion fix. Get ready to own it!
And with the best of high-quality materials, the women's tux is designed to last. So you can wear it again for other special occasions in your future. How's that for fabulous?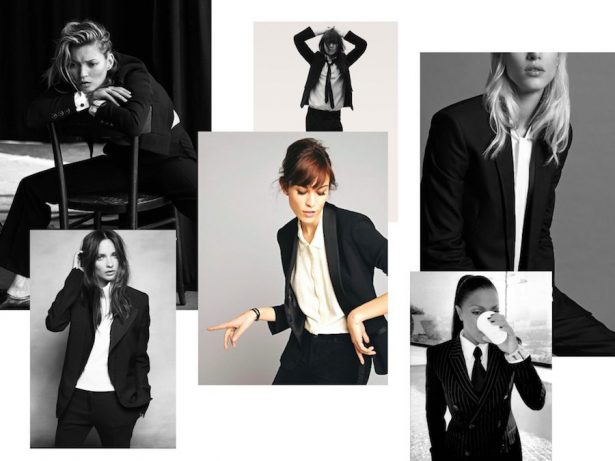 Something for Him
But, whether you go for the women's tux or a wedding dress, remember that The Black Tux has something for the man in your life. Your groom + groomsmen will surely be in good hands once you lead them to The Black Tux. Not only do they offer modern, high-end tuxedos and suits that are ordered online and delivered right to his door, but their process is super easy and completely stress-free. From black tie and traditional to destination and rustic, The Black Tux has something for every guy in your wedding party.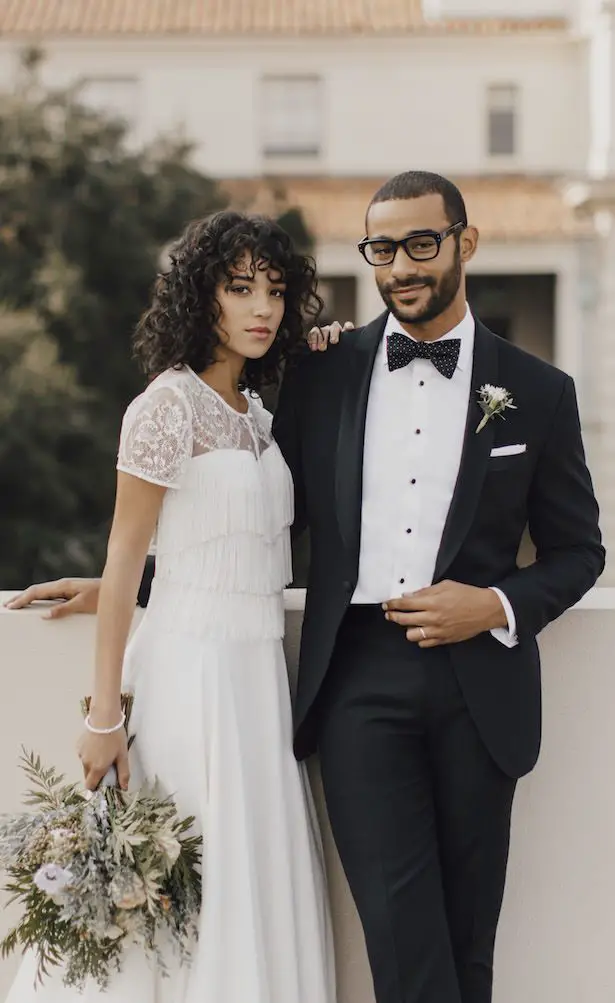 Even though I am not a bride to be, I am seriously obsessed with The Black Tux x BHLDN Women's Tuxedo. I want one so badly! I mean, you can wear it for so many different occasions.
So whether you want a tux for your wedding day or want one hanging in your closet (like me) just awaiting for the right occasion, head over to The Black Tux to learn more about this new piece of fashion or start shopping today at BHLDN.
Oh! And don't forget to shop their men's suit and tuxedo rental collection at theblacktux.com.
This post has been sponsored by The Black Tux, but concerns our own opinion. Thank you for supporting our partners.