Add a designer edge to plain fabric with this easy dip-dying technique to create a stunning tablescape. We partner up with our friends at Rit Dye to create this pretty ombre tablecloth in shades of magenta that combined with crisp white and gold hues made for a gorgeous contrast that mixes classic elegance with organic touches. The eye-catching effect of graduated layers brings a subtle sense of drama and style to any table. I think it would make for some pretty reception or dessert tablecloths, or even a photo booth backdrop! Here's how to make one yourself…
SUPPLIES & TOOLS:
White

cotton

king-size

sheet

3-gallon plastic bin

M

easuring cup

M

easuring spoon

s

L

arge metal spoon

Salt

Liquid dish detergent

P

aper towels

R

ubber gloves

M

ild detergent

P

lastic table cover

Rit ColorStay Dye Fixative (recommended)
DIRECTIONS:
1. Cover table with plastic. Gather your supplies.
2. Launder cotton sheet to remove any finishes that may prevent absorption of dyes. Set aside wet.
3. To prepare dyebath: Fill large 3-gallon plastic bin or container with 2 gallons very hot tap water (140F). If water is not hot enough, heat water in a cook pot or teapot. Shake liquid dye bottles before pouring. Wearing rubber gloves, add 1 cup (1 bottle) Wine dye and ½ cup Tan liquid dye to water; stir well.
4. Add 1 cup salt to dyebath; stir well. This helps to intensify the color.
5. Add a squirt of liquid dish detergent. Stir well.
6. Test dye color by dipping a paper towel into the dyebath. If color is too light, add more dye; if it is too dark, add more water. The formula of our color, Sangria calls for 1/2 Tbsp of tan for every 1 Tbsp of wine.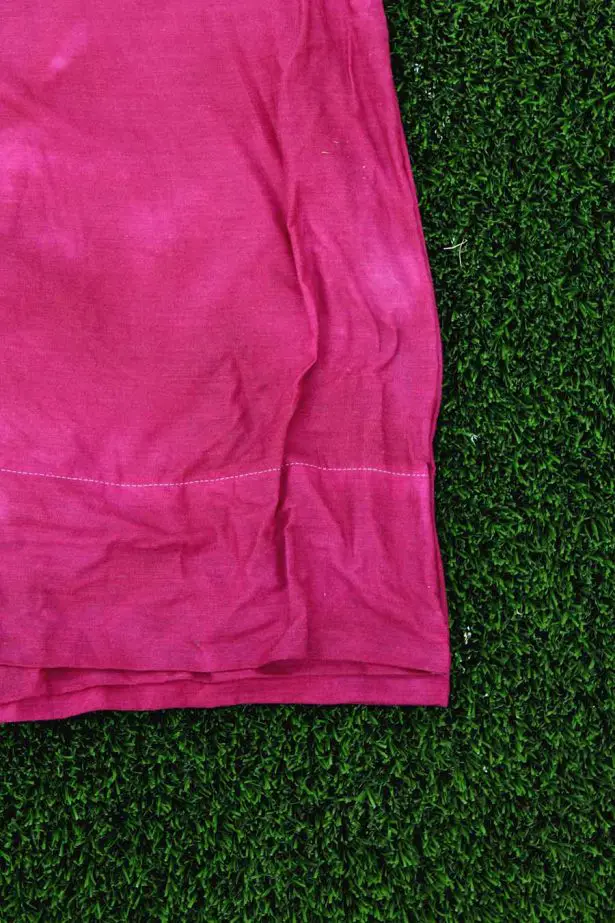 6. Fold the wet sheet lengthwise in 3 parts. Immerse bottom one-third third of the sheet in dyebath for 10 minutes, gently moving it back and forth and up and down. I also used a spoon to push the fabric down and get rid of the air bubbles.
7. Then dip middle section of the sheet in dyebath for 10 minutes, gently lifting and lowering it to create lighter and darker shades or until desired shade is achieved.
8. Wearing rubber gloves, remove fabric sheet from dyebath and wring out excess dye.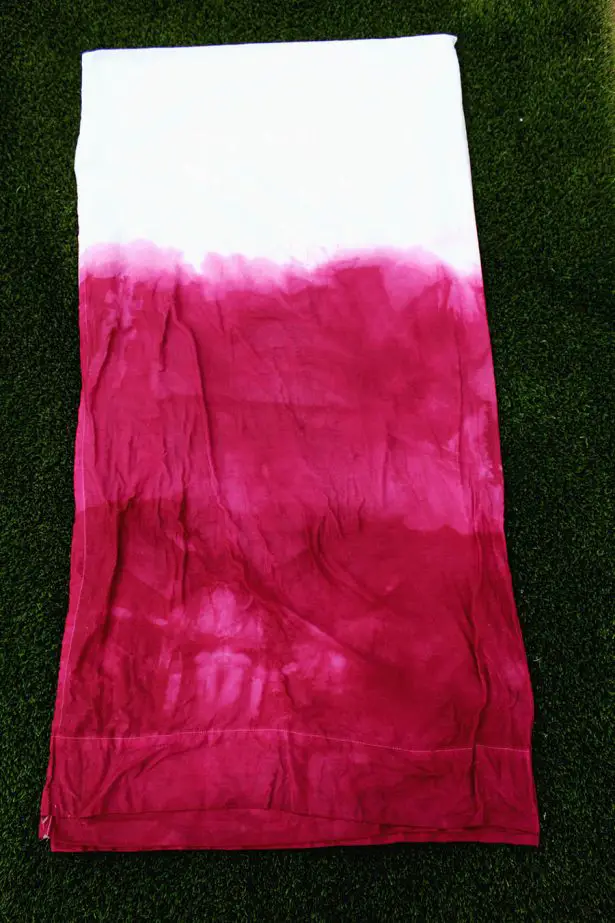 9. Recommended: To enhance the color and reduce color bleeding, immerse dyed section of the sheet in Rit ColorStay Dye Fixative immediately after dyeing and before washing for 20 minutes, following directions on the bottle.
10 Rinse sheet under cool running water until water begins to run clear. Hold the white part at the top. This allows the dye to flow through to the darkest area.
11. Wash sheet in warm water with detergent. Rinse thoroughly and wring out excess water. Machine dry or hang to dry.
And that's it! You're all done!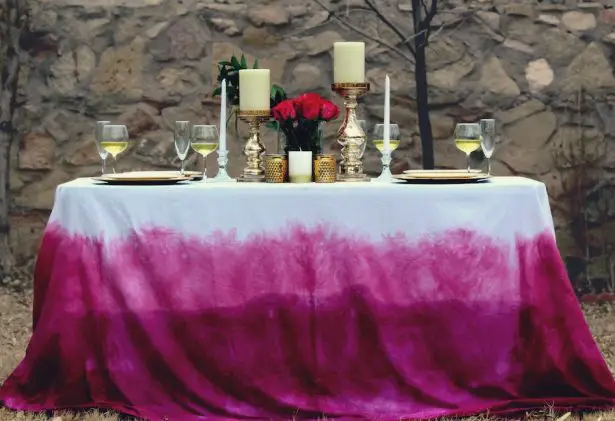 Rit The Perfect Way to Customize Your Wedding
When planning a wedding, color becomes an important factor as you set the ambiance for the day/evening. Rit provides you with the perfect solution to add pops of color throughout your wedding ceremony and reception. Rit can be used to dye wedding napkins, tablecloths, table runners, ribbons on floral arrangements, bridal dresses, bridesmaid dresses and so much more. It can be used on white fabric or in conjunction with Rit Color Remover to remove the existing color of any natural fabric, bringing it to back to white.
Rit is available in two lines. Rit All-Purpose Dye will dye washable fabrics containing natural fibers, like cotton, linen, wool, silk and ramie. It can also dye nylon, rayon and even paper or wood. Rit DyeMore for Synthetic Fibers will dye washable fabrics made of synthetic fibers, like polyester, polyester cotton blends, nylon, acrylic or acetate. It can even be used on faux fur.
Rit is available in 50 shades. If you can't find a color that suits you, you can also leverage of their color library, which includes color formulas to create over 500 additional colors (including Pantone on-trend colors by season). They can also create a custom color formula to match whichever color you want.
So, what are you waiting for? Get yourself some Rit Dye on all shades of your wedding color palette and start customizing your big day.
This is a sponsored conversation written by me on behalf of Rit Dye. The opinions and text are all mine.