Meet The Potential Designer for Meghan Markle's Wedding Dress, Inbal Dror
Everything you need to know about the Israeli designer who submitted Wedding Dress sketches for the royal bride-to-be
Since Prince Harry and Meghan Markle announced their engagement at the end of November, the world (we included, of course) has been hit with a serious case of Royal Wedding Fever. Since then, the rise to find out who will design Meghan Markle's Wedding Dress began. But the royal-gown rise may be over! Last week one of our favorite bridal designers, Inbal Dror announced she was contacted by Kensington Palace to sketch a few options of bridal gowns the former 'Suits' actress to consider when she ties the knot to fiancé Prince Harry next year.
So if you aren't familiar with this Israeli-based designer, allow us to introduce you to Inbal Dror...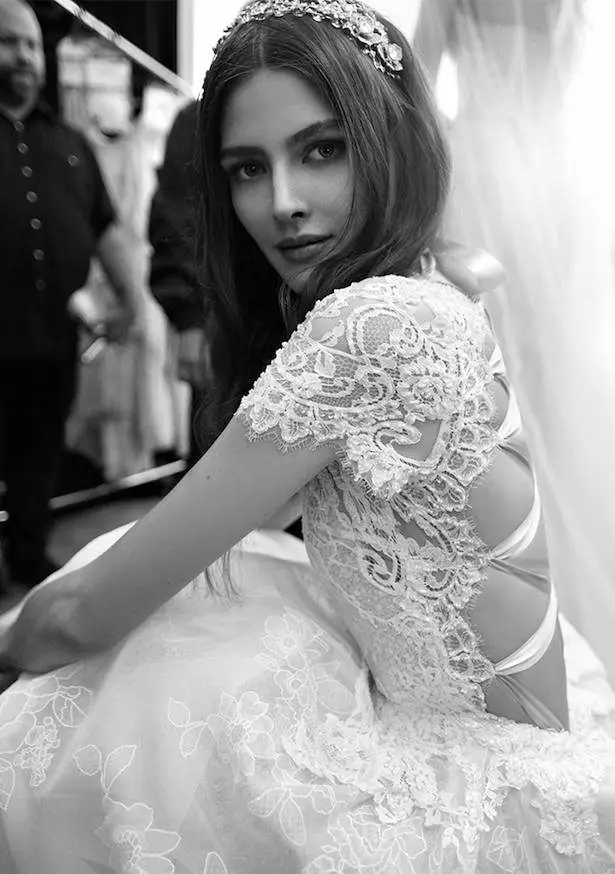 Here at Belle The Magazine we are no strangers to Inbal Dror. Her designs have always blown us away and we have been featuring her collections since 2012 (Inbal Dror 2012, Collection 2013, Inbal 2014, Collection 2015 and Inbal 2016)  and attended a few of her runway shows. So we are beyond excited that one of our favorite bridal designers may be the creator of Meghan Markle's wedding dress.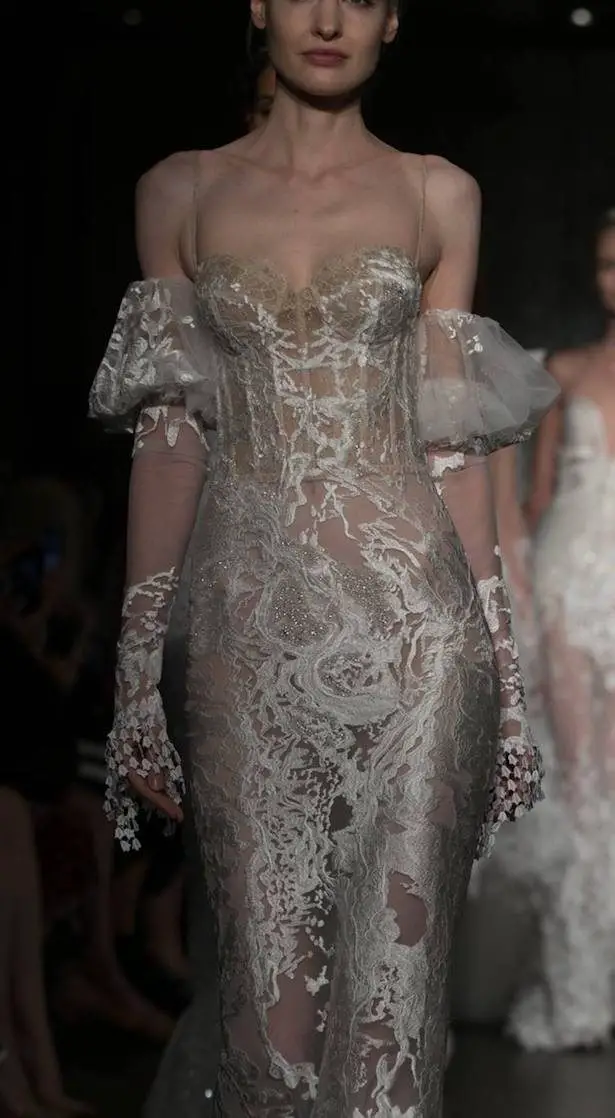 Here is your guide into the world of Inbal Dror...
Her Background
She graduated from The Shenkar Fashion Art Academy, one of the leading colleges in Israel, and has plenty of fond memories of her time there.  After completing her studies in Israel Inbal worked for several years in Milan, Italy where she worked side by side with masters of the trade.
It is clear that four years in Italy working with some of the world's top designers influenced her sense of style. Upon returning to Israel, about 10 years ago, she opened a Bridal salon, bestowing personal attention to the brides and their families, harmoniously adjusting the desired design to each bride. "I loved how a gown could make a bride feel so special and add to such an important day of their life."
Her Inspiration
"All women are my inspiration. My passion was always to design feminine, figure-flattering dresses. I studied the woman's body and figure; I am always inspired by the woman's body. It is perfect! It doesn't matter what the specific size or measurement is. It is always perfect for me to design and fit the right dress to the right bride"
So in other words, you can expect that the inspiration for Meghan Markle's dress sketched is Meghan herself.
And while nobody is completely sure what Markle will actually choose to wear down the aisle in 2018, according to Elle.com she hinted to Glamour magazine about what her wedding style will probably entail. "I personally prefer wedding dresses that are whimsical or subtly romantic," she told the magazine when her Suits character got married on the show. The actress notes that while she helped pick the dress, it's not indicative of her personal taste. When it comes to her style, Markle says that "classic and simple is the name of the game, perhaps with a modern twist," as she "personally prefer wedding dresses that are whimsical or subtly romantic."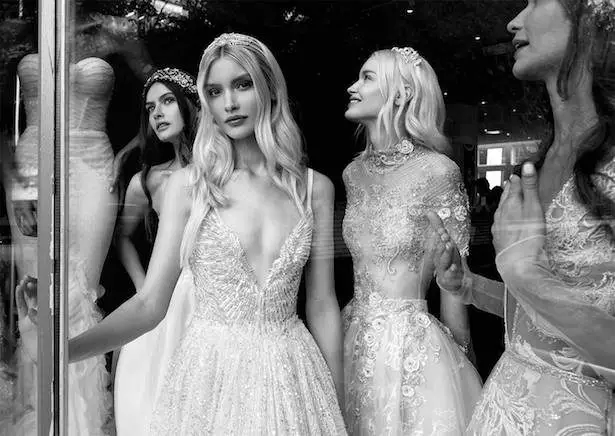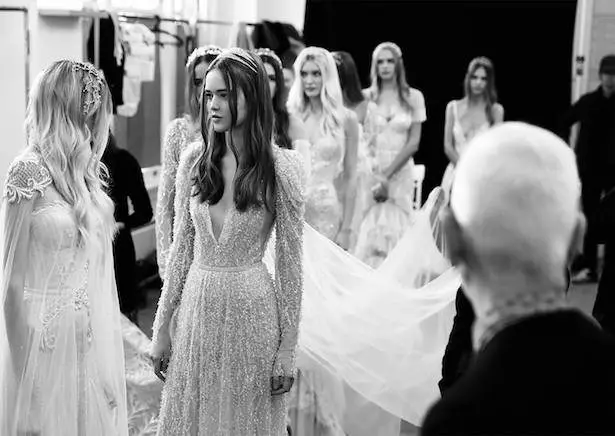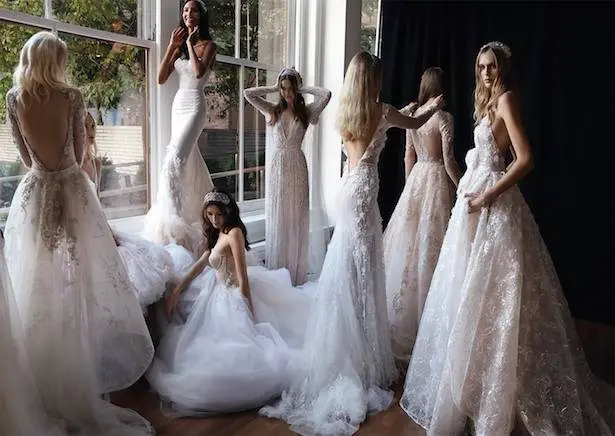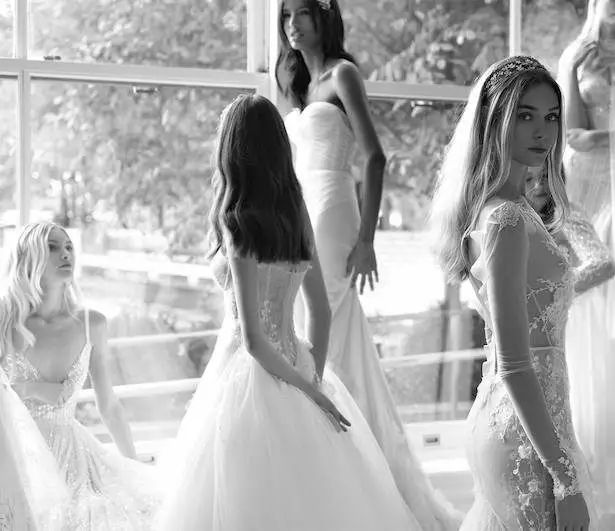 Her Designs
Inbal Dror passion for the female form and Italian couture sense of style are seen in abundance across all her collections (below), "when I saw the reaction to the ones with very long dramatic trains, lower backs and romantic looks the style developed and is now a part of my signature style."
As you can see through the years, Dror's designs are known to be ornately designed and regularly feature embellishment, as well as sheer panel detail and plunge necklines.
Her best moments, in my opinion, are her runway show at the Carnegie Hall during New York Bridal week in 2016 (Instagram picture above). I loved every number she sent down the runway — you can read more about it in my post What Really Happens At Bridal Fashion Week + My Recap. Inbal has also shined outside the bridal world by designing gowns for celebrities, including Beyonce and actress Naomi Watts.
During the past few years, Inbal Dror established her presence around the world, with salons in the United State, Canada, London, Amsterdam, Italy, Hong Kong, Poland, Ireland, Russia Taiwan, and Australia. So if you want to get yourself an Inbal Dror gown it is likely you will find it in a bridal salon near you, just make sure you are Ok with the price tag — between $8,000 and $10,000 USD.
Find some of our favorite dresses from Inbal Dror below.
  SEE MORE OF INBAL DROR