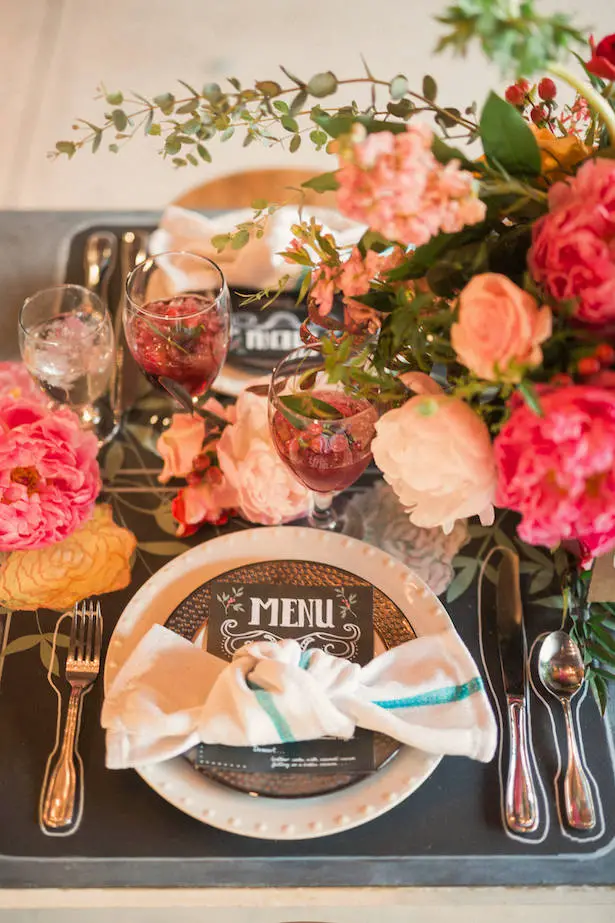 Happy Friday! Summer is almost here and I couldn't be happier. The hottest months of the year mean that colorful weddings and bright little details will soon be invading the pages of BTM. Yay!
Take for instance this gorgeous Peonies and Chalkboard Wedding Inspiration that perfectly mixes rustic elements with that hint of glamour we adore.
On one hand, you have chalkboards which are massive right now and have such a beautiful soft textural quality. It is a great basic theme to build on and can be really elegant and personal.
And on the other hand, you have the massive beauty of the peonies. Aka, the fluffiest blooms you ever did see and it made for some incredible photos by Gideon Photography. Snag a closer look at this styled wedding photoshoot with more in the FULL GALLERY.
Now if only I could have some of this blooms at my desk.
From the Photographer…"Chalkboards and art have become a big part of weddings over the years. This shoot fully embraces all of the artistic possibilities of having a chalkboard wedding. Set in a 150-year-old brick building, one instantly is brought to the feel of a fun and artistic wedding. With a table set up on a chalkboard full of artistic hand drawn elements such as table settings, and a table runner of both living and hand-drawn flowers. The fresh floral and hand drawn floral perfectly mesh together to give the perfect fusion of real and surreal. The Cake made with a chalkboard finish sits atop a butcher paper backdrop with more hand-drawn elements. The ingredients of the cake are artistically drawn on the backdrop as it drops to the floor over the table. This was such an enjoyable shoot that I hope will inspire brides to go beyond the typical chalkboard sign and take their artistic vision to the next level!"
VENDORS
Photographer: Gideon Photography // Dress Designer: BHLDN // Floral Designer: Bloomers flowers & decor // Hair Stylist: Blow Beauty // Event Designer: Forevermore Events // Hair Stylist: Julie Thomas Style // Cake Designer: Sweet Cakes by Karen