Well ladies, your wedding is all about you… & your beau! But there is one other special person who is always there to help us, especially when the big day is approaching! Our moms deserve to look just as spectacular as you and your bridesmaids, so rally her up and sit her down to view these amazing collections for Mother of the Bride by Mon Cheri. Whether her style is traditional or more modern, Mon Cheri has many fashion-forward options for our Mommas!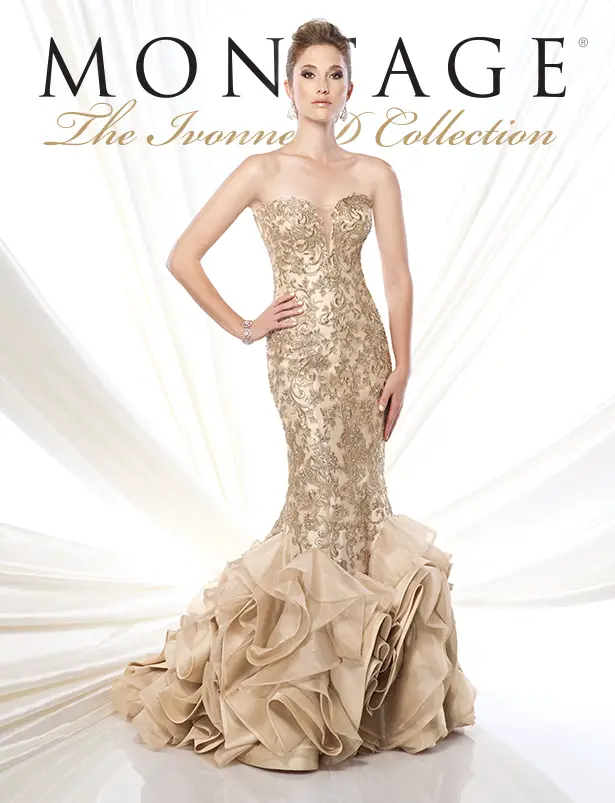 High necklines are in high demand, especially when done to perfection! Sheer fabrics embellished with sparkles will make your MOB looking downright fabulous! The Montage collection is by far the one to look at when searching for the best mix of modern and formal! For the mother who loves couture, Ivonne D is definitely the way to go! Flattering gowns in the chicest fabrics will have her looking smashingly radiant! Let's not forget Cameron Blake for the modest lady, who likes to cover up with style! Shawls, sheer fabrics, embellishments- the works! Mon Cheri for Mother of the brides has everything our mothers want and need to look absolutely stunning for our big day!
With a wide selection of full-length, elegant ball gowns and chic formal dresses for both informal and formal affairs. Its expansive variety, becoming fit and stylish design deem Montage the leader in Mother of the Bride and Mother of the Groom dress collections. Dome adds, "There's something about wearing a gorgeous social occasion gown or suit that allows a woman to live out her most glamorous fantasies.
Couture mother of the bride dresses and formal social occasion gowns for the upscale, high fashion woman, The Ivonne D Collection of evening gowns and formal dresses is adorned with plush details. Formal ball gowns, mermaid dresses and slim sheaths in an array of colors allow The Ivonne D Collection to be worn for a variety of special occasions.
Cameron Blake by Mon Cheri is a classic, refined collection of mother of the bride dresses that make sure maturity does not compromise one's panache. Flattering, graceful silhouettes are created through the use of illusion necklines and sleeves, thick shoulder straps and softly shaped skirts. And, similar to the Montage collection, most Cameron Blake styles include matching jackets or shawls. Distinguished elegance sets Cameron Blake apart from other mother of the bride dress collections. Cameron Blake by Mon Cheri is designed for women of a mature age who still demand style and grace in their wardrobes.
With lots of styles and colors to choose from, there is sure to be something to please every mother and bride. Go check out more of Mon Cheri's Mother of The Bride Collections on their website. Happy shopping!
This post has been sponsored by Mon Cheri Bridals, but concerns our own opinion. Thank you for supporting our partners.