Here at BTM we know how important a wedding announcement is, as its main purpose is to prepare your loved ones for your BIG day. But with life happening so quickly, your guests may lose track of where they placed their announcement so why not turn to the cutest & most practical Save-the-Date announcements…Magnets!
When it comes to announcing one of the most significant days in your life, Wedding Paper Divas is your best ally with their  beautiful magnet Save the Date ideas…. Oh so pretty!
Wedding Paper Divas offers a wide and beautiful variety of stationery for your nuptials, including save-the-date announcements that you can mix and match with different invitation suites for a more personalized look. Steal your wedding guests hearts with Glimmering Hearts: Save The Dates (1st Pic) announcements or bring a touch of glitter with Fanciful Sprinkle (2nd pic) or Sprinkled In Love Magnets (3rd Photo). But if you're looking for a more sleek and sophisticated feel, Simply Shimmering (4th pic) and Enchanted Embrace: Save the Date (5th photo) will be perfect for you. Bold Date (6th pic) and Romantic Affair Save The Date Magnets will bring a touch of romance to your celebration, while the save the date magnets calledTrendy Engagement that are accompanied by #Engaged will highlight the you & your beau's fun, contemporary spirits.
[Enjoy 30% off during the Sitewide Sale valid through January 26! with promo-codeWINTERSALE]
Our lovely friends at Minted have a wonderful selection that will have you swooning in no time…
If your little heart is set on a utterly-romantic look Minted offers three stunning designs to choose from:. Some of our favorites include Modern Romance (1st pic), Genteel (2nd pic), Prescott (3rd Photo) and Lovely Brush Save The Date Magnets (last pic). Charm your loved ons' hearts with these sweet and charming announcements. It doesn't get better than that lovelies!
[Starting this Saturday January 23 all Minted Wedding orders will be up to 15% OFF with promotion code BOUQUET16]
With all these  gorgeous options to choose from, we know you may have a difficult time deciding which Save the Date design is right for you. So drop by Wedding Paper Divas  and Minted  to be blown away —we absolutely guarantee that you will love them all!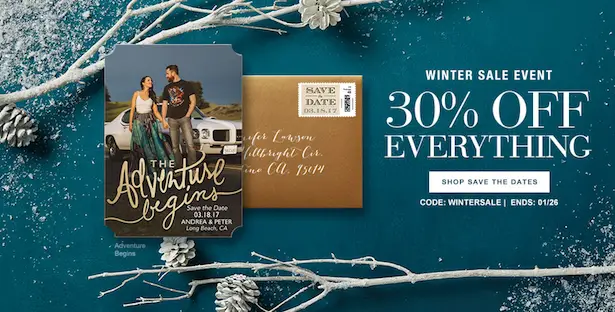 This post contains affiliate links. Belle The Magazine earns a small referral commission from the retailer, at no cost to the purchaser, if a qualified sale is made.