Victoria KyriaKides Wedding Dresses Spring 2020
IRIDESCENT Couture Bridal Collection
Are you ready for something totally uh-ma-zing? Victoria KyriaKides Wedding Dresses for Spring 2020 are so insanely beautiful, they are going to blow you away! In her newest Bridal Collection "Iridescent", Victoria brings a flirtatious femininity to her work, featuring lavish layering, a styling trick taken to new heights with the introduction of the dress-on-dress look. If you are looking for something dramatic and out-of-the-charts gorgeous for your wedding day look, you came to the right place my friend. because Victoria KyriaKides Wedding Dresses Spring 2020 is all that and more. Spend some time drooling over these fashion-forward creations in THE FULL GALLERY— we know we did!
"My spring 2020 collection pays tribute to the seductive elements of music, cinema and style.  Glam rock fuses with timeless cinema glamour to offer today's modern bride the multitude of style options she seeks for her big dress day."
-Victoria KyriaKides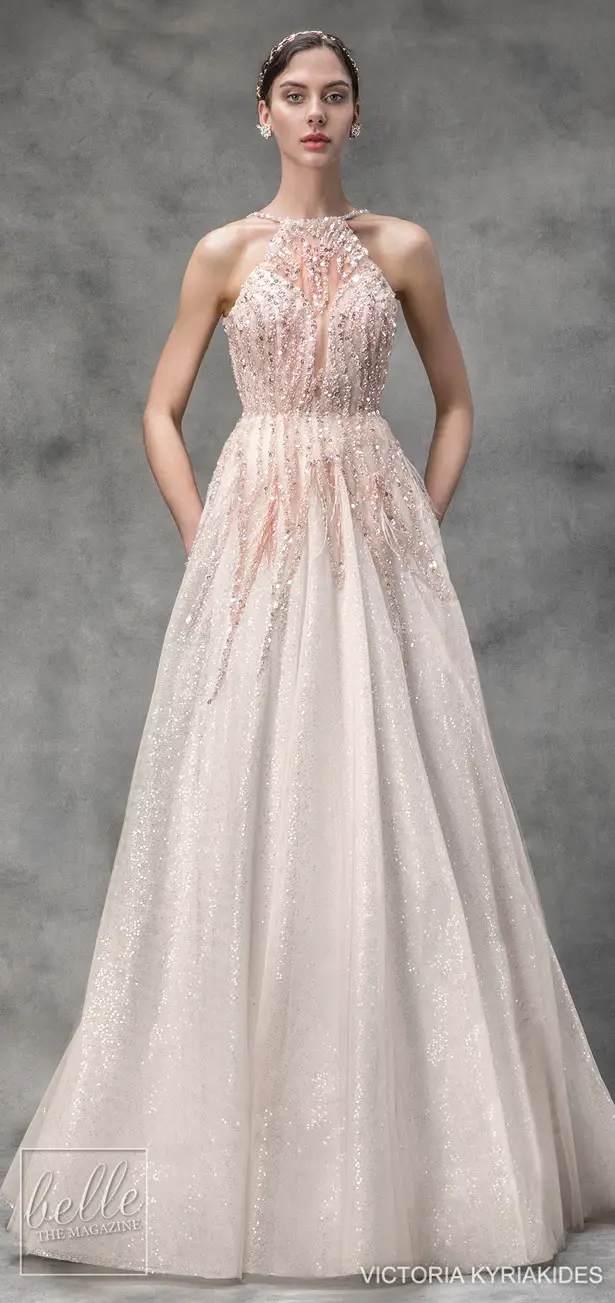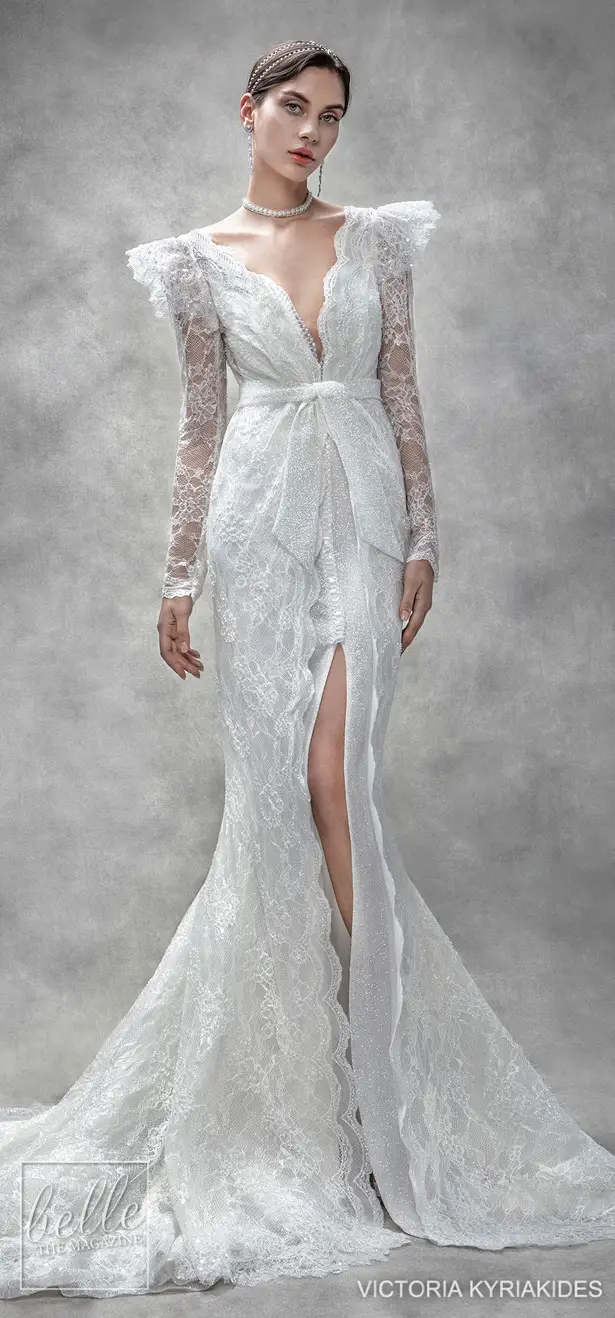 "Lavish layering is this collection's styling trick and taken to new heights with the introduction of the dress-on-dress look.  A romantic ivory Chantilly robe chemisier -shirt dress with fluttering epaulet shoulders and dainty crystal belt envelops a sleek shimmering sequin party gown with a high front slit and crystal trim detail up the middle. A multitude of silhouettes and overlay options offer the VKK bride seamless transitions revealing different looks throughout her big dress(es) day. An ivory diaphanous ultra-soft tulle polyangular cape is shown over a glimmering sequin A-line silhouette.
Details and adornments lean toward edgy yet remain elegant and timeless.  Silver curb chains in layers lend a glam rock appeal to graceful silhouettes.  Metal details appear in geometrical sequin-covered jewel adornments and old-world snap closures. Covered buttons reach new couture heights with the use of fine sequin fabric; a highly difficult process to perfect.
Plunging V-necklines are structured and elegantly sexy.  Shoulders become a focal point with abstract volume of weightless tulle, hand-pleated satin flowers or soft butterfly sleeves of exquisite French lace.
Meticulous construction built from inside out and impeccable fit remain of paramount importance to Victoria.  Ostrich feathers floating on a silvery intricately beaded mermaid dress evoke a fairy tale. Cascading layered ruffles of white twinkling crystals make a halter neck A-line gown the ultimate fun dress.  A soft blush exquisitely embroidered sequin mermaid gown flairs to reveal a magnificent beaded train.  A matching blush sumptuous mini cape with rows of sequin and ostrich feathers adds attitude to this stately look.
For a completely fresh grand couture look, a shimmering mermaid dress is adorned by an oversized white satin organza back bow resembling butterfly wings.
As the landscape of bridal continues to change, Victoria designs for today's modern bride who views bridal more like fashion, yet still wants to look and feel her most beautiful on her wedding day."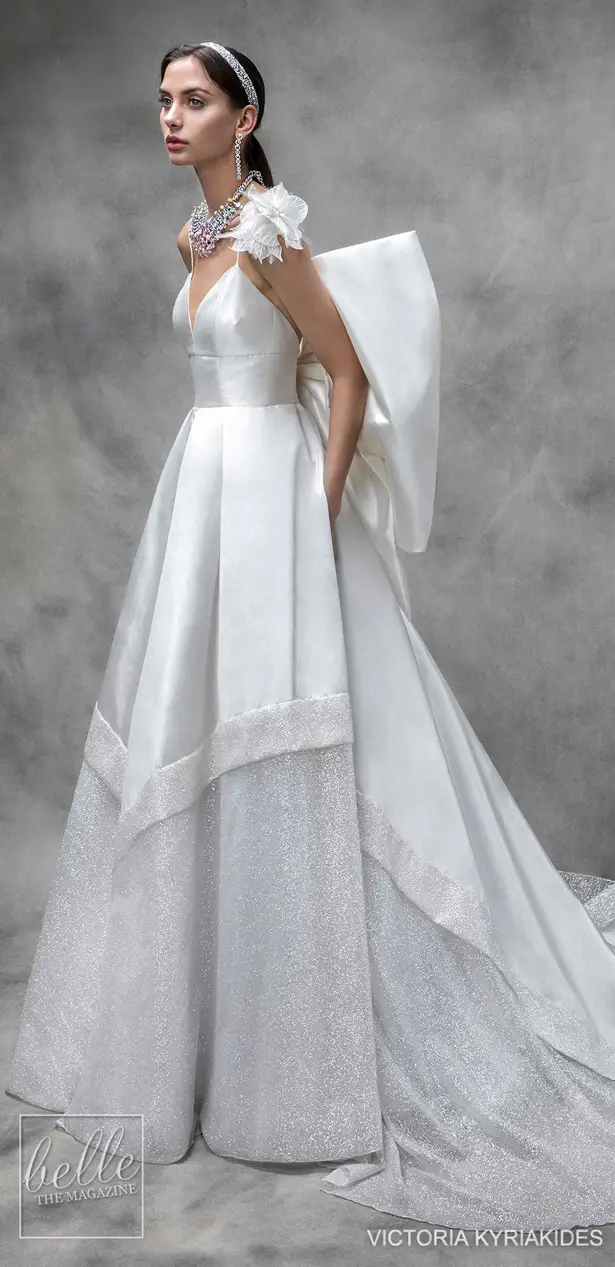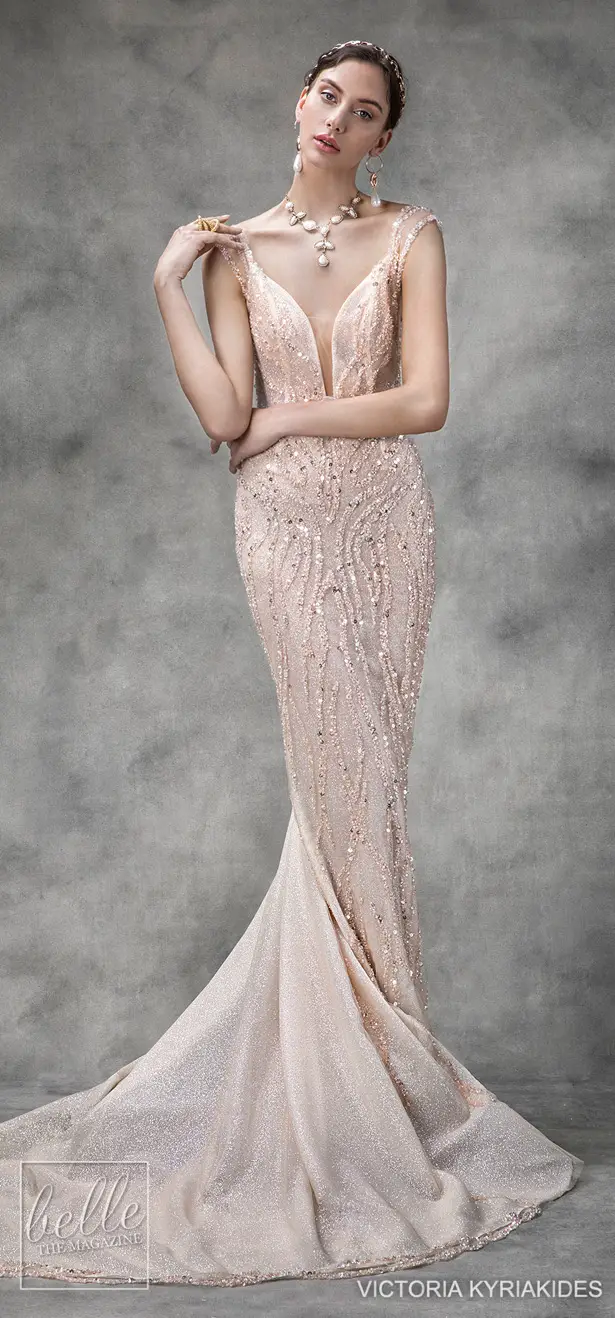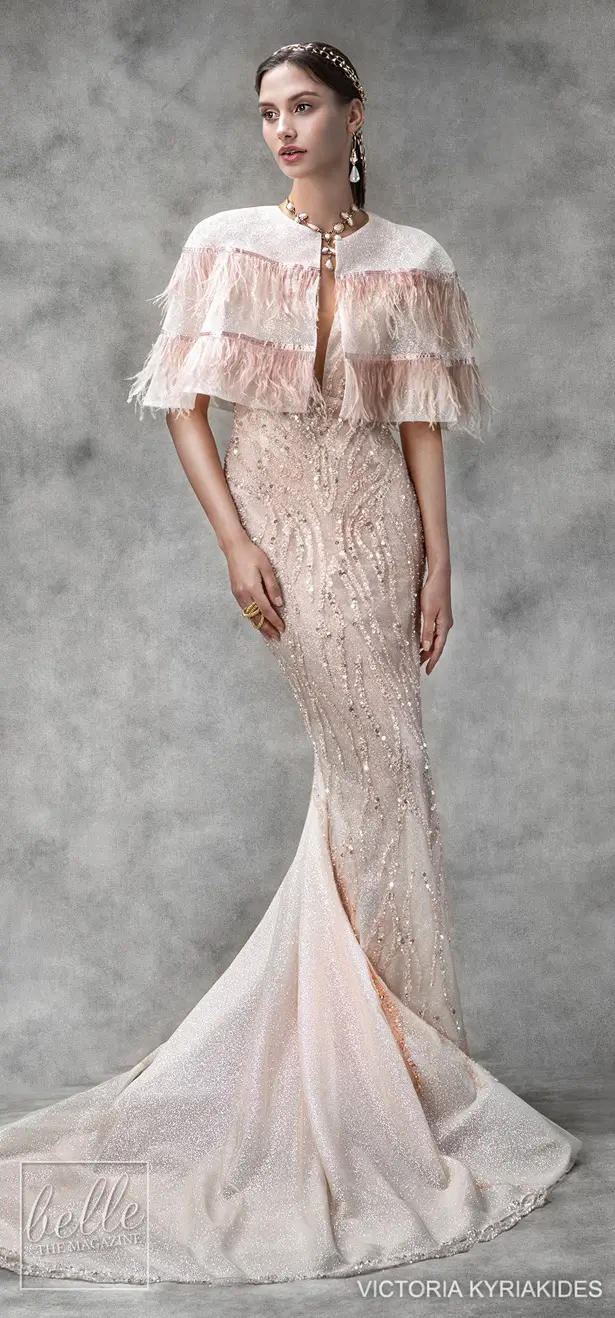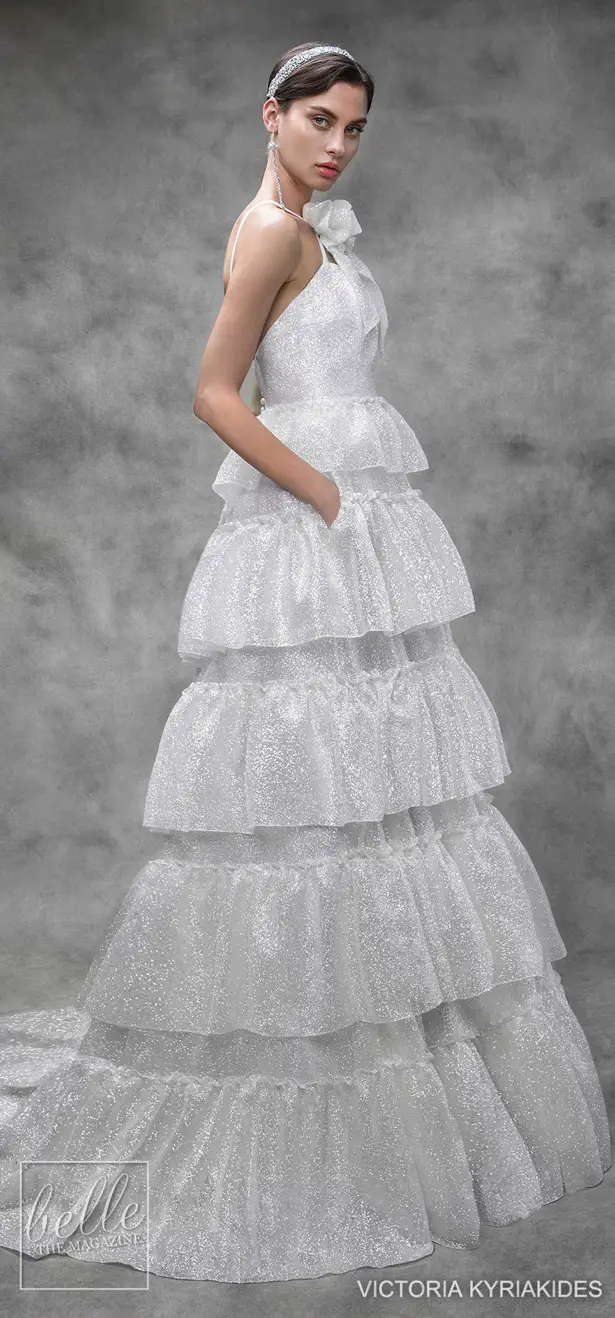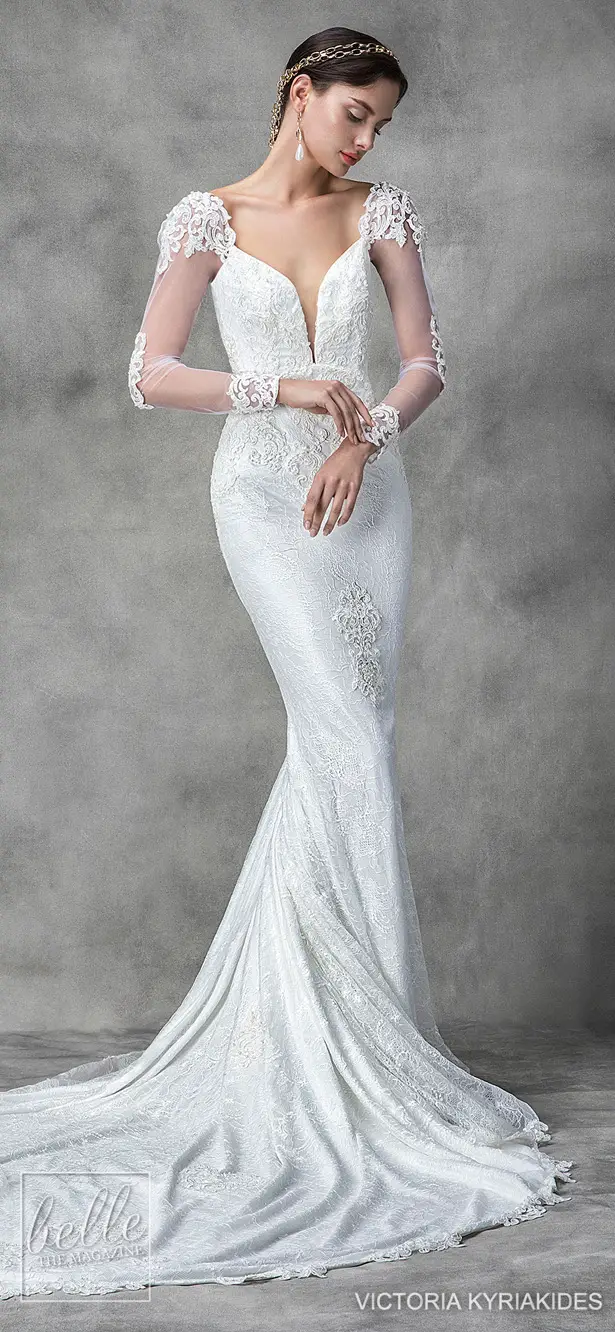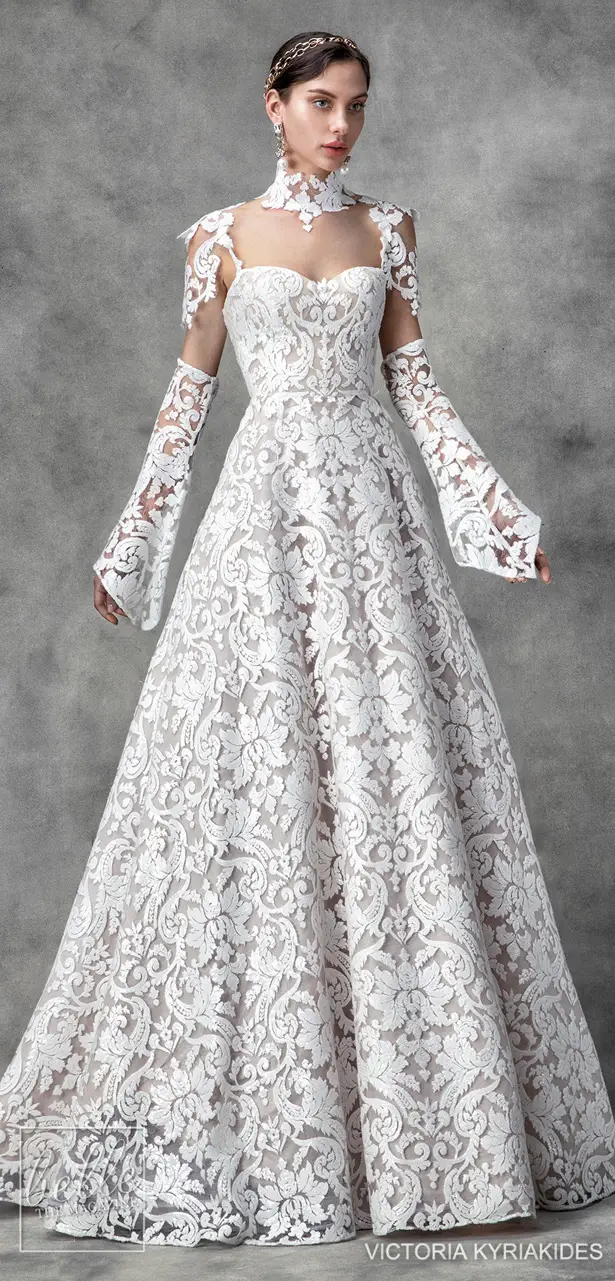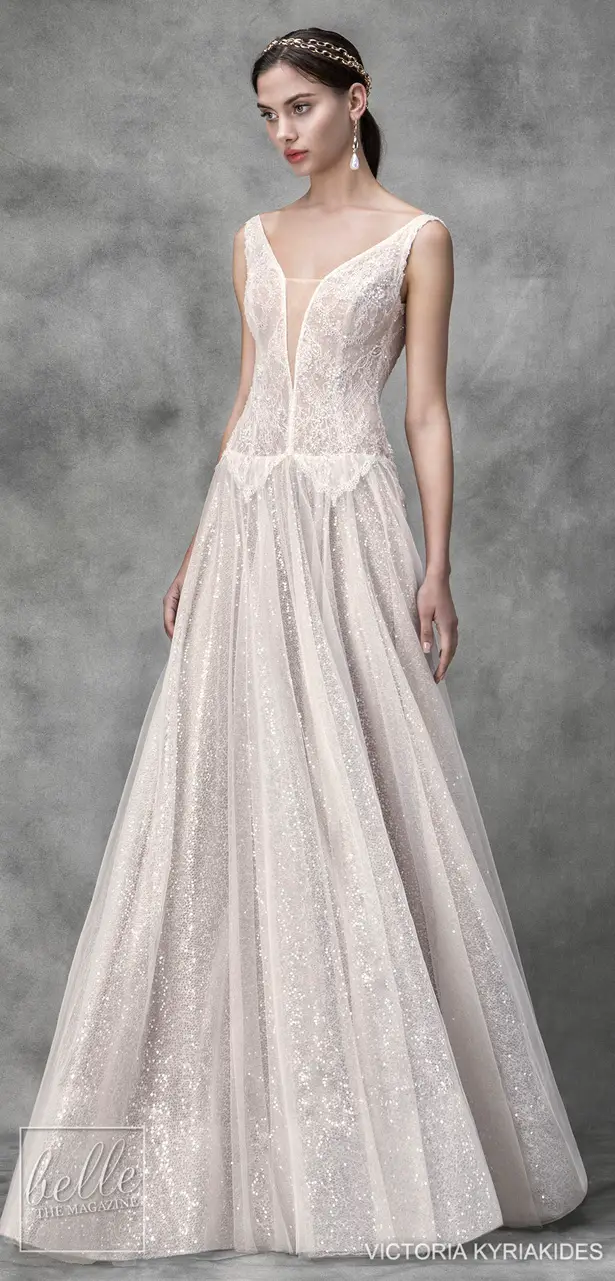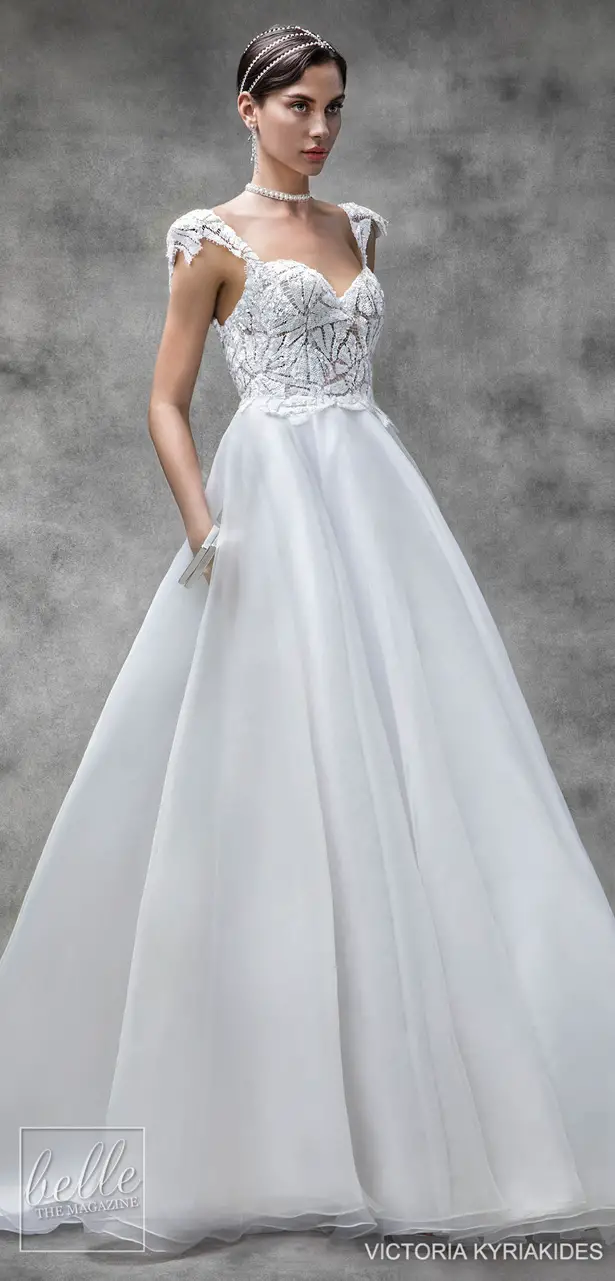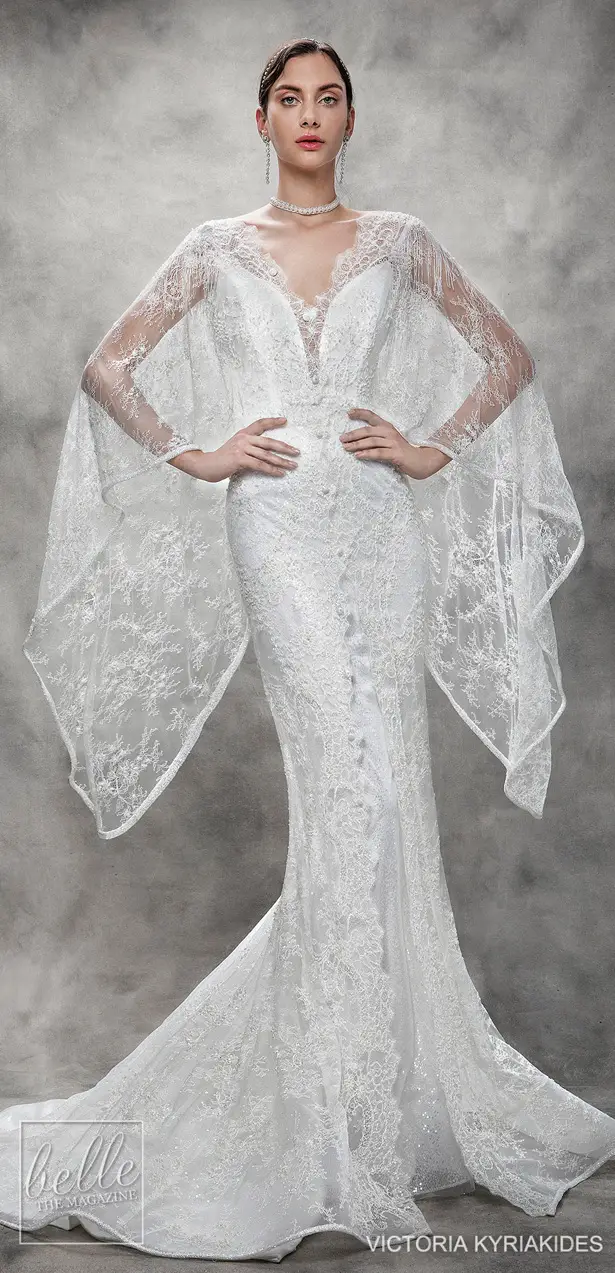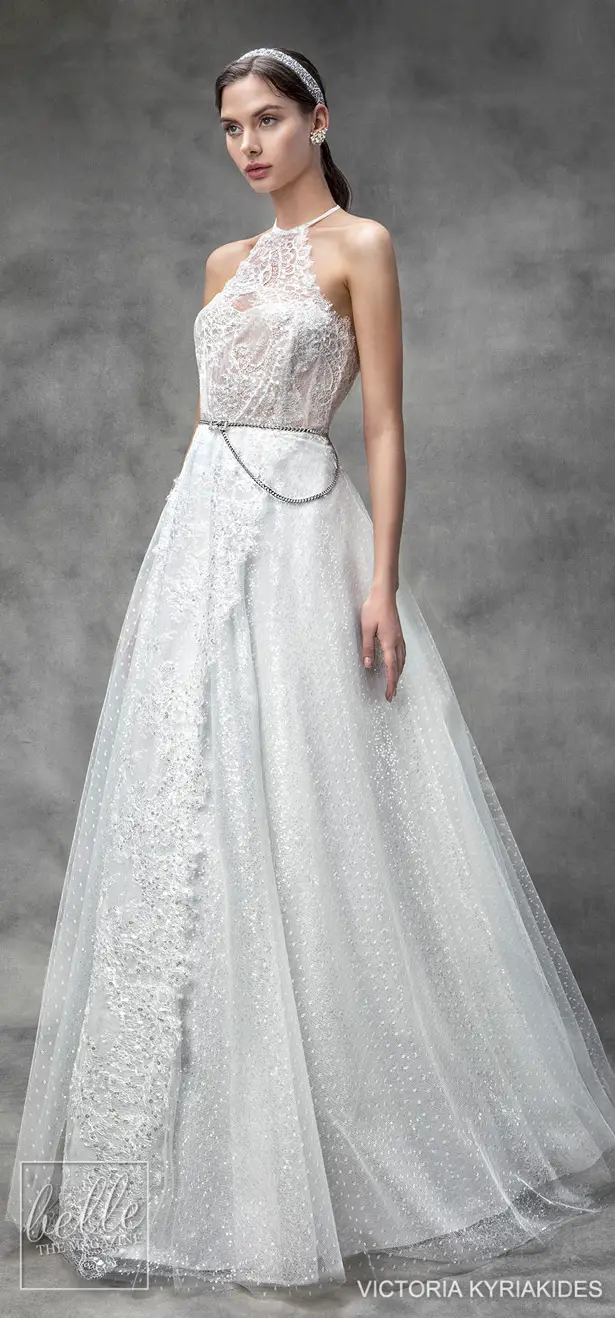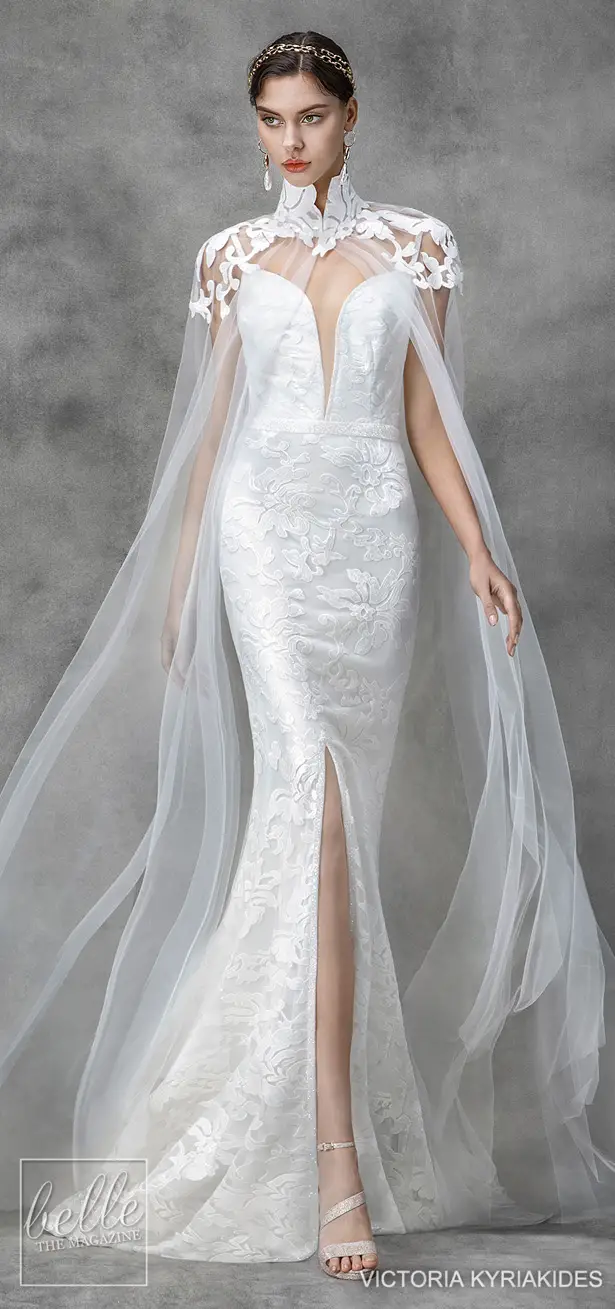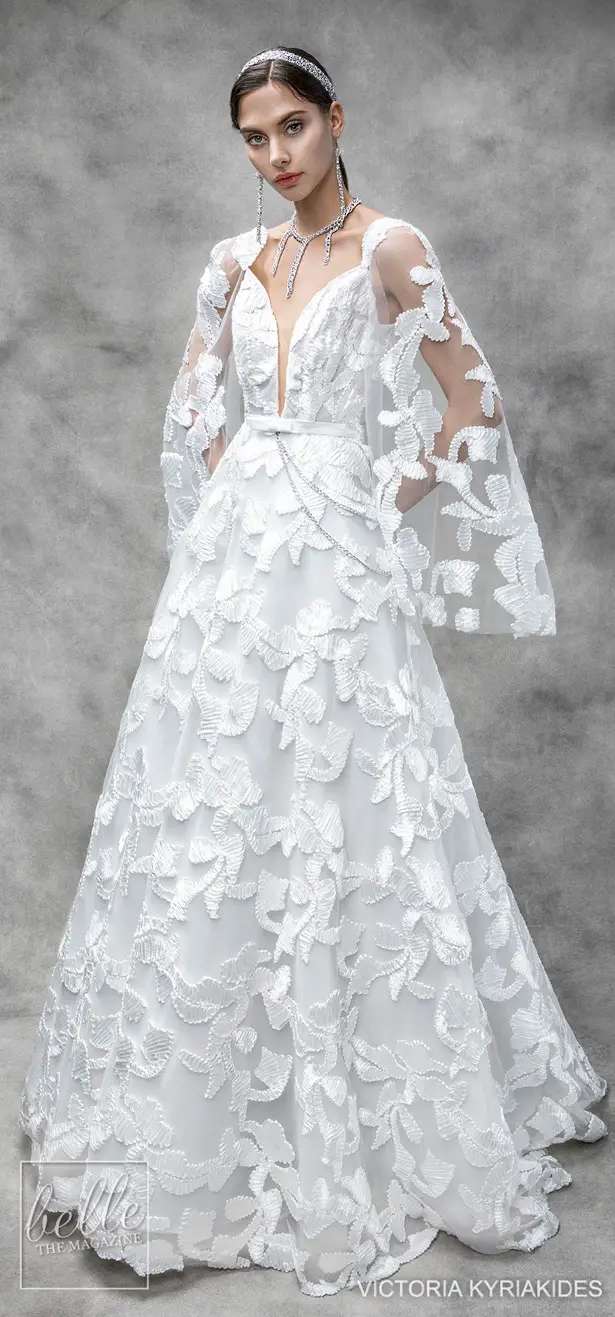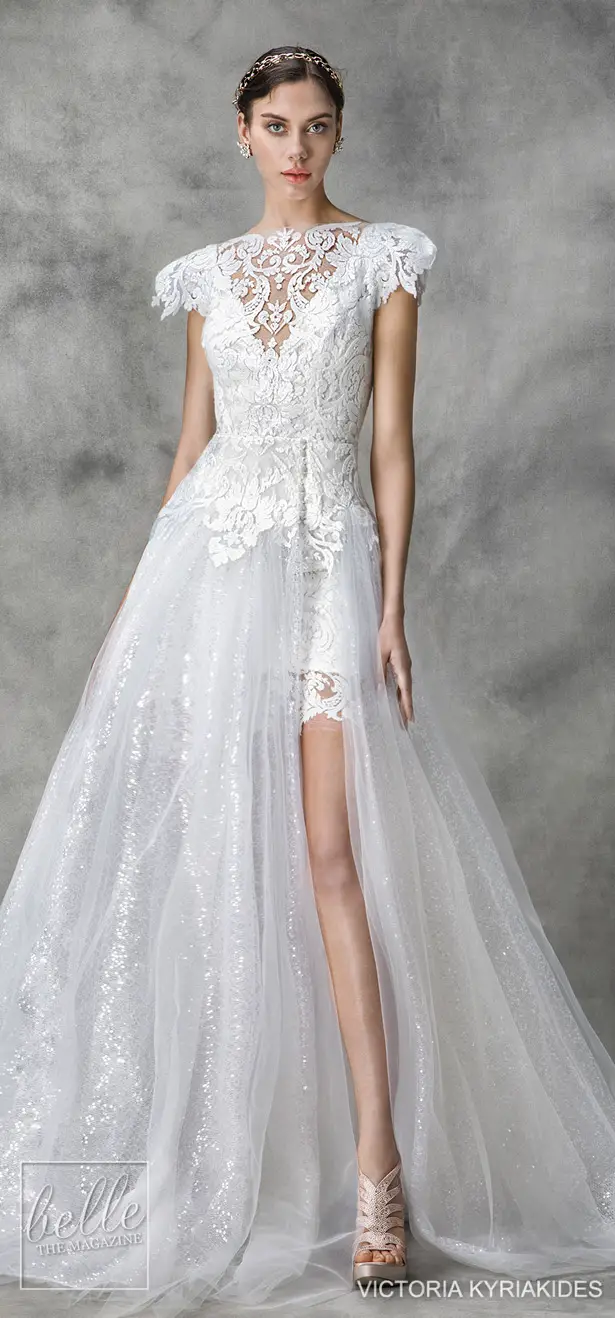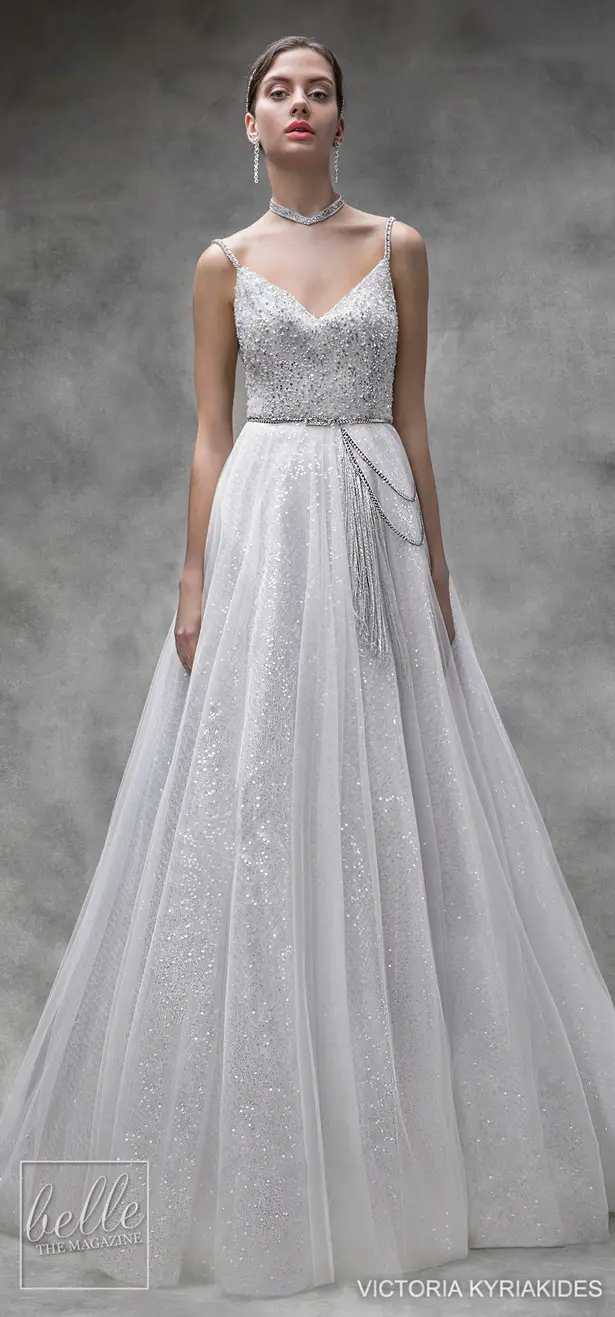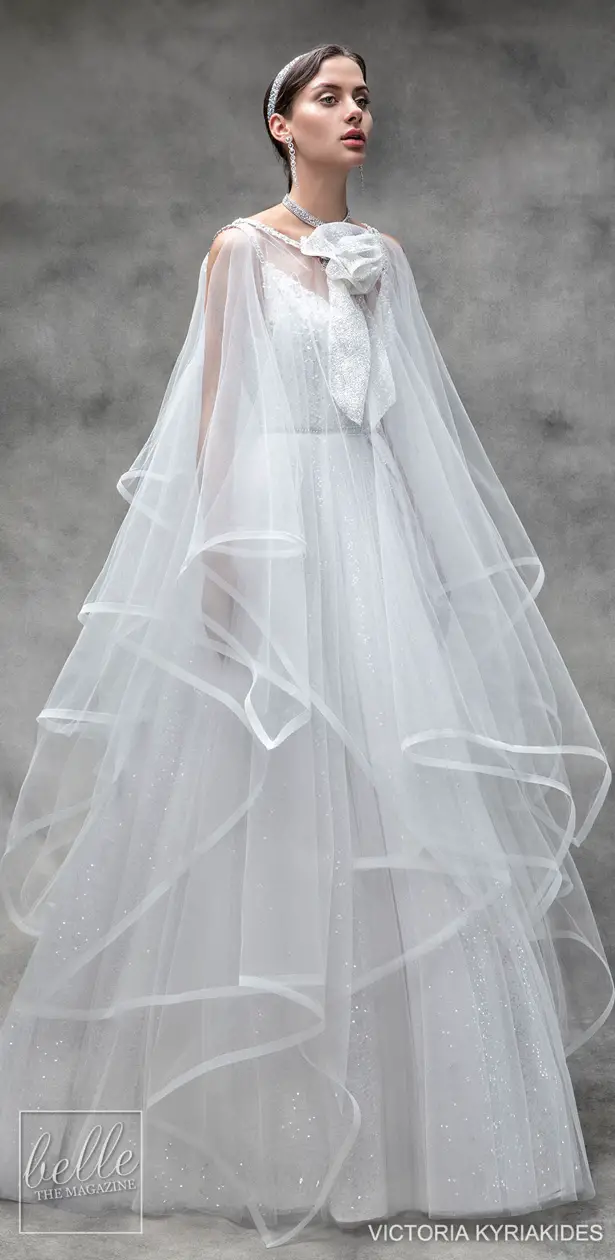 Please, contact
Victoria KyriaKides
 for authorized retailers and pricing information.  
Hey, friend, I want to help you find the wedding dress of your dreams, so I had put together an edit of the best bridal gowns out there. Visit my Wedding Dress Gallery, right here.