Despite the fact that Dana Harel is relatively 'new' to the bridal gown fashion scene, she is rapidly building a name as one of the world's bridal designers on the rise, and is today one of Israel's most coveted bridal designers. This is why Dana Harel has been commissioned to dress various A-listers like supermodel Bar Rafeli, Quentin Tarantino's fiancée Daniella Pick to Whitney Tingle (co-founder of Sakara Life). Below, an inside look into this rising bridal dress designer as well as a sneak peak into her most recent collection Day Dream. See FULL GALLERY.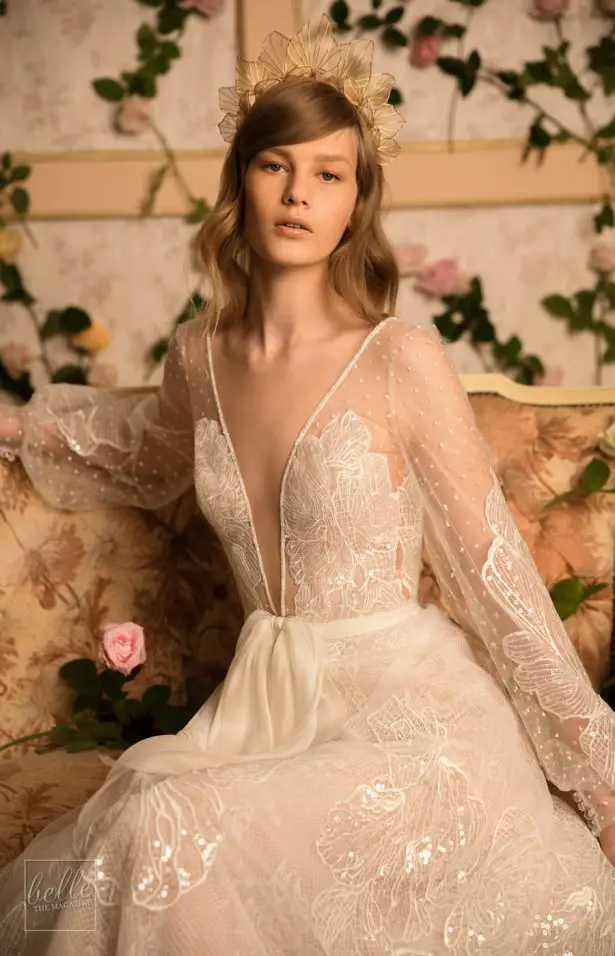 Dana Harel Design & Style
Dana Harel's has separated herself from other bridal designers by meticulously blending modern and feminine features like flowing-cuts, silks, custom-made embroidery and other gorgeous fabrics.
Moreover, she is celebrated for 'breathing fresh air' into the traditional wedding gown by experimenting with a variety of unconventional materials varying from crystal beads to leather flower appliqués; all while working only with the finest materials and fabrics. 
The Gowns
Dana Harel has the unique ability to tailor a wedding gown that will meet your needs and style. Each Dana Harel gown is completely custom-made (you can rest assured that no two dresses are alike) and requires many hours of work.
The Day Dream Collection
The 'Day Dream' collection plays with different dress styles, textures and materials specifically crystal beads, flower-like designs made out of leather, and other custom-made materials. Fun fact: the fabrics used in this collection are procured from the leading fashion trade show in the world, Première Vision Paris, and the crystal beads used in this collection are sourced from the same supplier that world-class fashion designer Naeem Khan uses.
The inspiration for the 'Day Dream' collection was highly influenced by exotic Middle Eastern fashion – the 'caftan' or 'gallabia' dress.
Written by Gabrielle Abraham
Please contact Dana Hareli for authorized retailers and pricing information.
Hey, friend, I want to help you find the wedding dress of your dreams, so I had put together an edit of the best bridal gowns out there. Visit my Wedding Dress Gallery, right here.