This Denver couple dodge the Colorado scenes and flew — along with their photographer, Tina Joiner Photography, to the beautiful city of San Francisco, California for their e-session. And who could blame them? The weather, the architecture, the bay views… what is not to love in this gorg place?! With not one, but three glamorous outfits the stunning bride-to-be and her handsome beau take us on a tour through the most iconic spots in the Bay Area for a photo session filled with love, laughter and a touch of sparkle. Spend the rest of your weekend enjoying every pretty pic of this Luxe San Francisco Engagement shoot in the FULL GALLERY.
Oh and if you fall in love with Nicole's and Josh's style as much as we did, scroll down for the scoop on their outfits and how to accomplish their look!
THE LOVE STORY
How did you meet?
Dating website, but the first time they say others faces was my Nicole was on an international business trip and they FaceTimed and chatted for an hour, realizing that it was even hard to get off the phone!
What is your proposal story?
The day was spent having a beautiful hike with another couple in Estes Park.  Then the four of us made plans to go to dinner that evening.   We ended up going to the four seasons restaurant and as we were leaving the other couple asked if it was possible to go check out the pool, and after that one of the rooms —which was the room that Josh had set up with flowers chocolate covered strawberries.  Josh got down on one knee opened the box and said: "will you marry me?" And my response was "right now ?!! "Ultimately I said yes when I realized what was going on!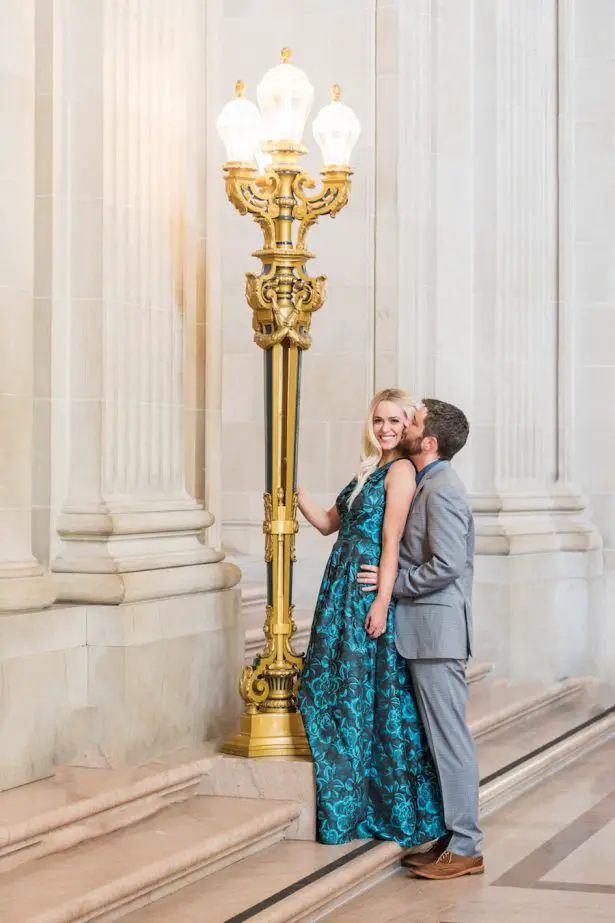 THE FASHION
Tell us about the ring/band. 
The engagement ring is a 1920s ballerina style marquis diamond in the center platinum band ring – there are a total of 35 diamonds on the ring!
Tell us about your engagement shoot outfits and accessories.
My sparkly gold dress is Badgley Mischka. The blue one-shoulder dress was Slate and Willow, and the black and gold long-sleeves gown was Marquesa. The earrings are from forever 21, and the shoes are from Jimmy Choo and Charlotte Russe.
Josh wore a Hugo Boss light blue suit and shirts from Nordstrom and Forever 21. His socks are Bugatti and the dark blue sports coat is from Hugo Boss.
[flo_box box_bg_color="#ff99a8″ box_text_color="#ffffff" ]SHOP THE LOOK…[/flo_box]

[flo_box box_bg_color="#ff99a8″ box_text_color="#ffffff" ]…[/flo_box]
LUXE, BUT ECO-FRIENDLY
Any unique or interesting elements you want to point out?
We drove around San Francisco in a Prius (environmentally friendly) and we used biodegradable confetti.
VENDORS
Photography: tina joiner photography